Top athletes respond after 2020 Summer Olympic Games are postponed
AFP via Getty Images, FILE
As the most decorated gold-medal athlete in the world and a new mother, Allyson Felix felt ready to take on any challenge at the 2020 scheduled Tokyo Olympics -- until she got the call.
The Tokyo Olympic Games are postponed until 2021 due to the global coronavirus outbreak.
"It was a flood of emotions," said Felix, who planned on retiring after the 2020 games. "Initially, the biggest feeling was disappointment, Just having worked so hard and everything is so calculated, it's crazy. My family had made so many sacrifices in order to have this opportunity."
"[The postponement] was just a bit overwhelming ... but it was quickly put into perspective, just knowing what was happening in the world around me and that everyone was experiencing this enormous loss of jobs and huge disruption. So because my family was healthy and I just felt like I couldn't really stay down," she added.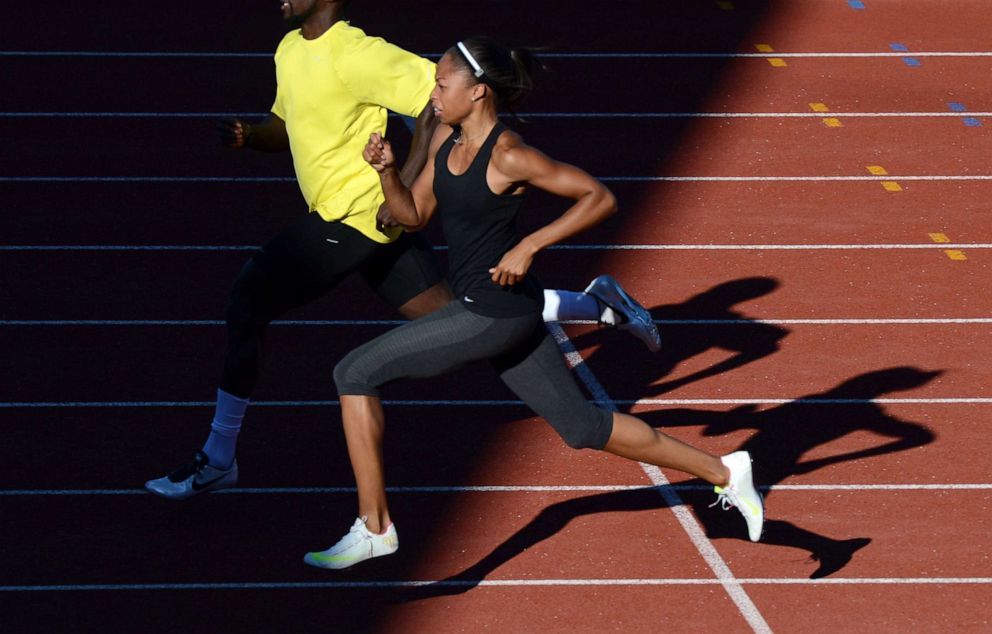 Like millions of Americans, Felix adapted to the new normal of life under stay-at-home orders. Unlike most, the Olympian needed to keep training and got "creative," opting for neighborhood runs on secluded trails and isolated soccer fields.
"I am making sure I'm constantly pushing myself every day, not wasting time. Period," said Felix. Quoting legendary runner, Steve Prefontaine, Felix said she tells herself "that to give anything less than the best is a sacrifice."
Her goal is to be on the Olympic podium in 2021.
The silver-lining of it all is being able to spend more time with her 1-year-old daughter, Camryn, and her husband, said Felix.
"There's definitely some tough days where I still struggle, but I just try to make that conscious decision to use my mind to focus on the positive," said Felix. "Everyday waking up and being thankful and grateful for health and family. Looking at the positive side [of postponement], I have more time to prepare, I have more time to be at home with family and just kind of breathe."
Using her voice to stand up for female athletes
In 2019, Felix left her former sponsor Nike after speaking out alleging that female track stars were penalized contractually by the brand for being pregnant. In May 2019, Nike said it would change its pregnancy policy and do more to protect female athletes' pay during and after pregnancy.
"Last year we standardized our approach across all sports to support our female athletes during pregnancy, but we recognize we can go even further," the company said in a statement in May 2019. "Moving forward, our contracts for female athletes will include written terms that reinforce our policy."
Felix has moved on and started a new chapter in partnership with Athleta.
She said the number one thing the industry can do to support female athletes is to protect them contractually.
"That's what I was fighting for with Nike, just across the industry in general," Felix said. "To completely support [new moms] and allow them time to come back to be the best they can be, you know, the best outcome that they can be."
"What I really love with my new partnership with Athleta and how they're supporting me holistically. That's something that I haven't experienced before," she added. "So supporting me, not only as an athlete, but also as a mom and an activist."
Along with speaking up for female professional athletes, Felix has also been an activist for black maternal health.
This Saturday, May 9, ahead of Mother's Day, Felix will take part in Athleta's first-ever (em)Power Hour, a free virtual event featuring inspiring women in sports, fitness and female empowerment for a candid conversation.
"I hope that people are inspired by [the event], but also feel supported and energized," she said. "During this time of crisis, I think it's something that we all need."
When the time comes to start training and competing in-person again ahead of the 2021 games, Felix said she feels confident steps will be taken to ensure the safety of all athletes.
"I think we're seeing the power of sports, now more than ever," she said."It's so much bigger than people just playing games… So when it does return, I hope that it has the power to bring people together, and also be a sign of healing. We are overcoming and things will eventually return."