Charity Lawson talks about becoming the new Bachelorette
Season 20 of ABC's "The Bachelorette" kicked off Monday with 27-year-old family therapist Charity Lawson ready to find her soulmate.
The audience was first introduced to the star on Zach Shallcross' season of "The Bachelor," where her combination of confidence, compassion and charisma immediately won over Bachelor Nation.
Lawson's first surprise of the season came when her brother Nehemiah unexpectedly showed up, seemingly to lend his support -- but it turns out he had an ulterior motive.
Unbeknownst to both Charity and her suitors, Nehemiah, disguised in a fake mustache, hat and wig, pretended to be a bartender and chatted up the men in an effort to spot "a bad apple or two."
Most of the men passed muster, but Brayden, a 24-year-old travel nurse from San Diego, rubbed big brother the wrong way when, after sharing a long kiss with Charity, he displayed what Nehemiah and some of the other men described as overconfidence bordering on arrogance regarding his chances of snagging the first impression rose.
Brayden's cockiness turned to concern when Nehemiah revealed his identity and said that he was going to report his findings to his sister.
During a follow-up conversation with Brayden, he told Charity that he was "giddy" over the kiss, and didn't mean to come off as arrogant. After thinking it over, Charity followed her heart and gave Braydon the first impression rose.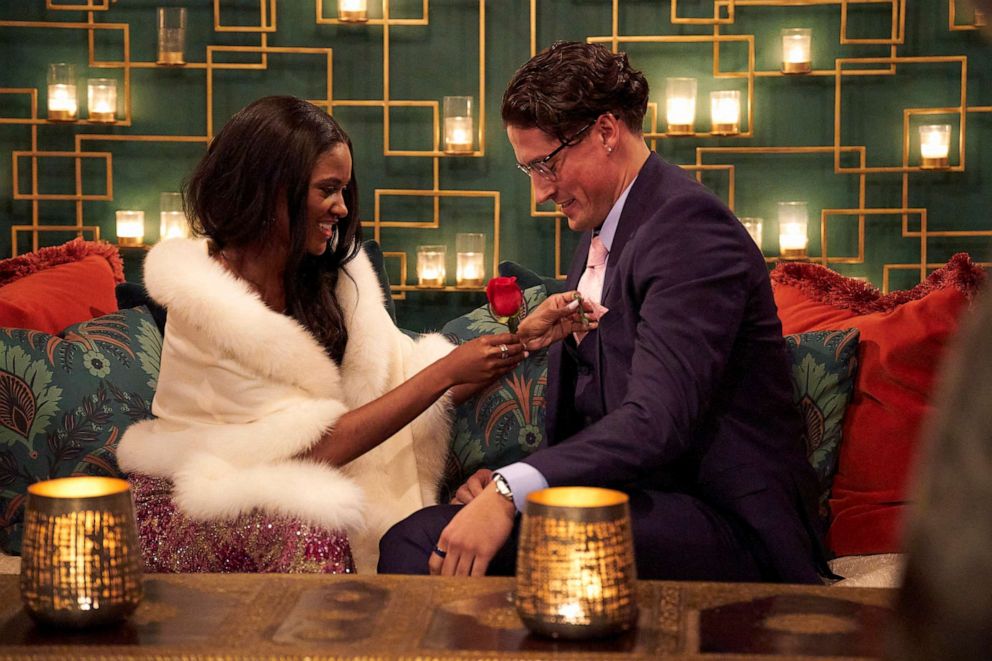 At the rose ceremony, Chris, Joe, Khalid, Nic, Peter and Taylor were sent home.
Here are the men remaining after the first rose ceremony:
Aaron B., 29, a software salesman from San Diego, California
Aaron S., 33, a firefighter from San Diego, California
Adrian, 33, a realtor from Northridge, California
Brayden, 24, a travel nurse from San Diego, California
Caleb A., 29, a resident physician from Ann Arbor, Michigan
Caleb B., 24, a pro wrestler from Orlando, Florida
Dotun, 30, an integrative medicine specialist from Brooklyn, New York City, New York
James, 28, an attorney from Chicago, Illinois
Joseph "Joey," 27, a tennis pro from Lawai, Hawaii.
John., 27, a data scientist from New York City, New York
John Henry, 30, an underwater welder from Virginia Beach, Virginia
Josh, 28, a Harvard grad student from Bethlehem, Pennsylvania
Kaleb K., 26, construction salesman from Norcross, Georgia
Michael, 28, a yacht captain from Chicago, Illinois
Sean, 25, a software sales representative from Tampa, Florida
Spencer, 32, a medical sales director from Moorpark, California
Tanner, 30, a mortgage lender from Pittsburgh, Pennsylvania
Warwick, 27, a construction manager from Nashville, Tennessee
Xavier, 27, a biomedical scientist from Carrboro, North Carolina