Brie Larson took over the red carpet at the 'Captain Marvel European Gala' in London Wednesday.
The Academy Award-winning actress and star of the film wore a custom blue Valentino Haute Couture gown that featured a cape for the European Gala screening of the film.
Larson, who will play the first solo female Marvel superhero, shared some snaps of her Captain Marvel-inspired look on her Instagram.
The gown's colors closely resembled her character's iconic Captain Marvel costume.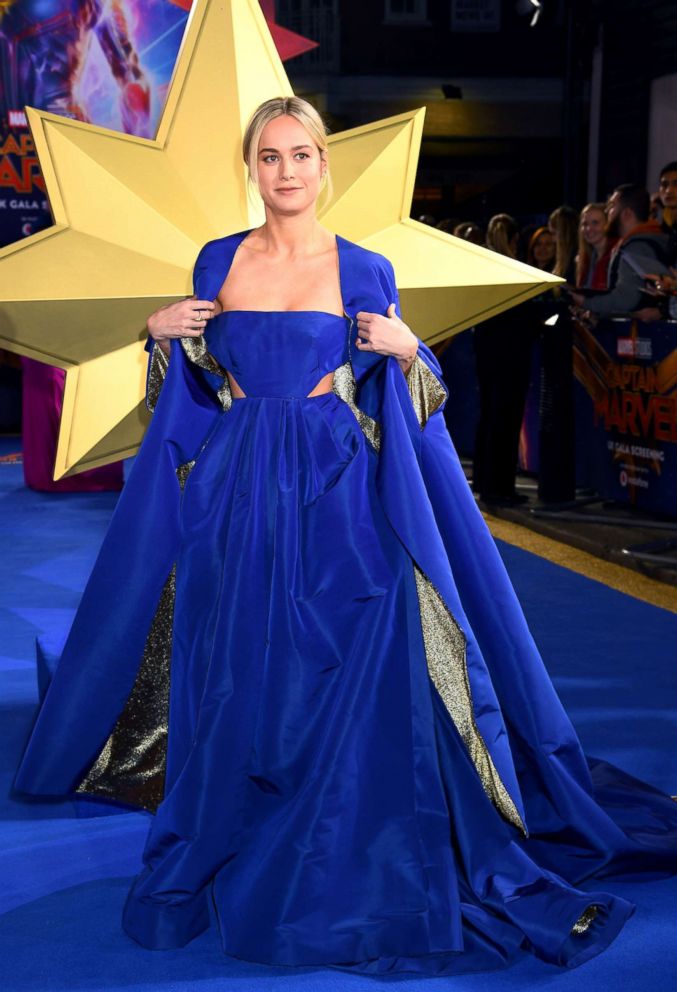 While on the carpet, Larson signed 8-year-old Illie's comic. The young girl dressed in a Captain Marvel costume for the big premiere.
Larson shared a snap of the special moment on her own social account, captioning the image, "I did it for you, superstar."
Illie was there with "The Female Lead," a nonprofit dedicated to highlighting female roles in film.
She interviewed Larson and another star of the film, Samuel L. Jackson, along with the film's directors, Anna Boden and Ryan Fleck.
"We chose Illie as our mini Captain Marvel so she could meet her real life superhero @brielarson. You can't be what you can't see! By meeting role models young people start to believe in their own power," said Edwina Dunn, founder of The Female Lead, according to an Instagram post.
While at the premiere, Larson also posed with women from the UK Armed Forces. She told "Good Morning America" in 2018 why she wanted to take part in the film.
"I think what brought me to this film was Carol," Larson said. "She's so inspiring and incredible and so to have the opportunity to play a role like this is amazing and I hope just a little bit of her amazingness and strength can rub off onto me."
"Captain Marvel" hits theaters on March 8.
Disney is the parent company of Marvel and ABC News.