Millie Bobby Brown talks getting her license during quarantine
Robert Viglaski/LEGENDARY 2020 via Netflix
"Stranger Things" star Millie Bobby Brown, who just turned 16, shines her talent on its highest beams in "Enola Holmes." The British actress plays the title role, the kid sister that Sherlock Holmes -- Man of Steel Henry Cavill, no less -- never really had in the classic fictions of Sir Arthur Conan Doyle. My advice when watching this is: Just go with it, since Brown is totally irresistible and brings a cool vibe to this family entertainment.
Based on the first book in a six-book series by Nancy Springer, the film adapts the same style its director Harry Bradbeer used in "Fleabag," in which Emmy winner Phoebe Waller-Bridges talked directly to the camera, meaning to us. It's an old trick, but Brown gives it a fresh spin that works like a charm.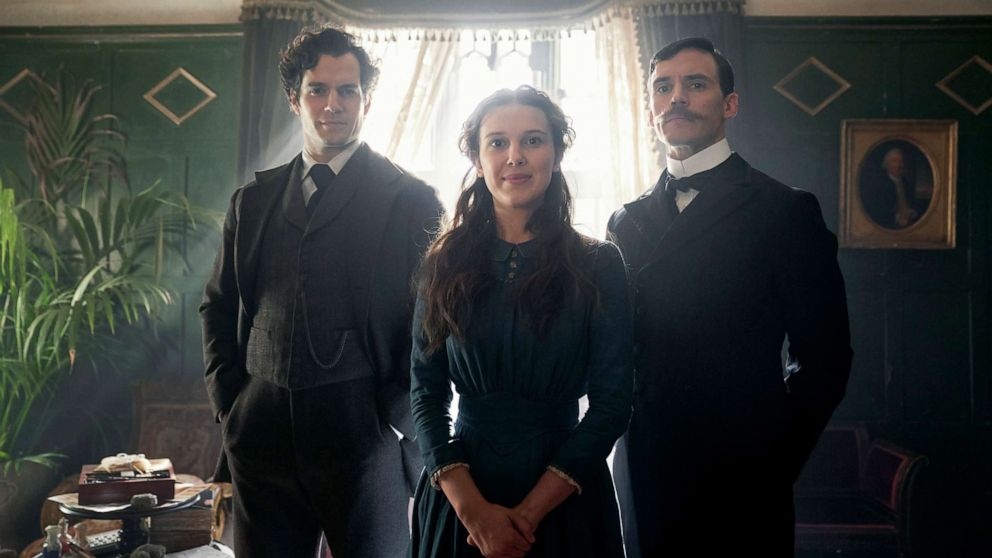 The mystery pivots around Enola's missing mother, Eudoria (Helena Bonham Carter), a suffragist widow who raised her daughter alone (that's Enola spelled backwards) in the country, while her much older sons, spiffy Sherlock and sulky Mycroft (Sam Claflin), were off making their names in Queen Victoria's London, circa 1884. Ever the rebel, Enola sets off to find mum and prove she's just as smart as her famous sibling. Dressed as a boy (shades of "Mulan") and trained in fencing, jujitsu, and blowing things up, Enola is a teen force of nature.
On the road to the big city, Enola meets another orphan of the storm. This young runaway (Louis Partridge, looking very Timothée Chalamet) is actually the Viscount Tewkesbury, Marquess of Basilwether, and he has family problems of his own. A few members of his clan have hired an assassin (Burn Gorman) to kill him -- it has something to do with a new bill the Basilwethers don't want their heir to sign since it would give women the right to vote.
And so the two plot strands combine in the breezy script by Jack Thorne, who wrote the hit stage version of "Harry Potter and the Cursed Child." There's just a hint of romance between wild-child Enola and the juvenile lord who likes to embroider. She doesn't like to embroider, and marriage also holds no interest. (Take that, gender conformity.)
]
Meanwhile, the action hurtles in every direction, sometimes creating a jumble the turns logic into the film's missing link. Luckily, Brown stays dazzling as Enola outsmarts Sherlock and battles Mycroft for sending her to, ew, finishing school. Cavill underplays nicely as Sherlock, letting the detective's droll tolerance of his sister grow into grudging admiration. Purists didn't mind when Robert Downey, Jr. and Benedict Cumberbatch energized the Holmes mystique with their modern takes, so why kick now just because a fiercely independent teen girl is bringing a millennial zing to the Holmes mystique? Note to Netflix: Get busy making the films of the other Enola books. And if a young-adult audience, charged by seeing Brown in the role she was born to play, wants to shout, "Enola Forever," it's about time.
Rated PG-13
Download the all new "Popcorn With Peter Travers" podcasts on Apple Podcasts, Spotify, Tunein, Google Play Music and Stitcher.