Bob Saget's "Full House" co-stars joined together Monday to pay tribute to the late comedian.
Saget, who became known as "America's Dad" thanks to his role as Danny Tanner on "Full House," was found dead Sunday in his Orlando hotel room, the Orange County Sheriff's Office said. He was 65.
A preliminary autopsy performed on the comedian and actor showed "no evidence of drug use or foul play," the chief medical examiner for Orange and Osceola counties said Monday.
In a joint statement, the cast remembered their beloved co-star.
"Thirty-five years ago, we came together as a TV family, but we became a real family. And now we grieve as a family," they wrote. "Bob made us laugh until we cried. Now our tears flow in sadness, but also with gratitude for all the beautiful memories of our sweet, kind, hilarious, cherished Bob. He was a brother to us guys, a father to us girls and a friend to all of us. Bob, we love you dearly. We ask in Bob's honor, hug the people you love. No one gave better hugs than Bob."
Saget was currently traveling across the country as part of his "I Don't Do Negative Tour," which kicked off Jan. 7.
The "How I Met Your Mother" star is survived by his wife, Kelly Rizzo, and his three daughters from a previous marriage.
In the wake of Saget's sudden and shocking death, tributes have poured in on social media from his former "Full House" castmates and other throughout Hollywood. See more of the tributes honoring Saget below.
The "Full House" cast reacts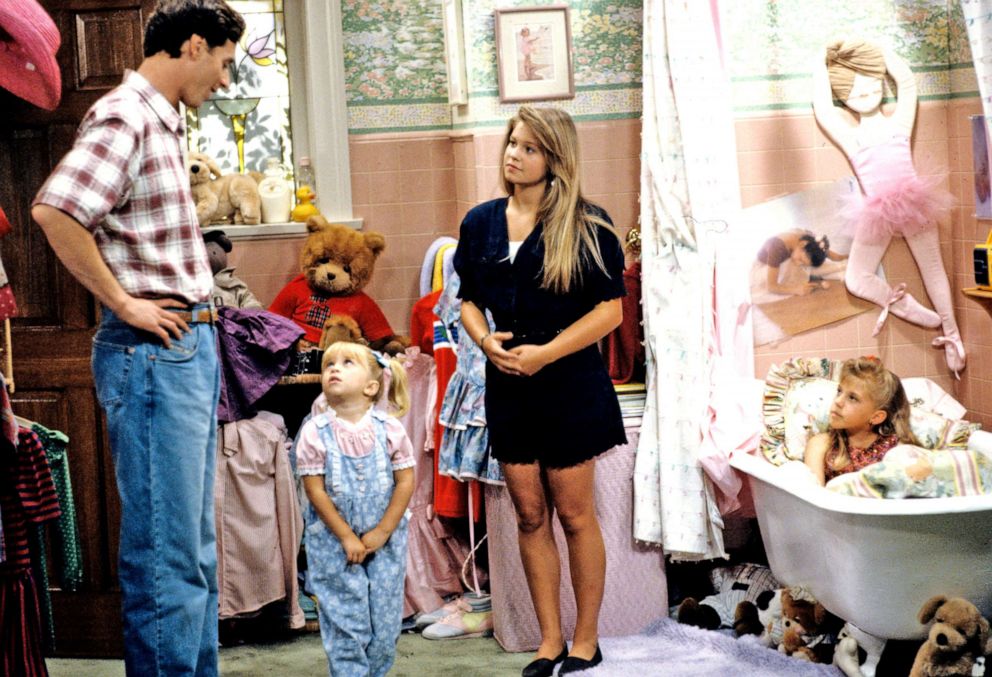 Andrea Barber, who played Kimmy Gibbler, wrote on Instagram: "This one hurts. 💔 He had the biggest heart of anyone in Hollywood. He gave the biggest hugs. I am gutted that I will never be able to hug him again. Bob ended every text, every interaction with 'Love you.' Didn't matter how long or short we'd been apart. He loved so deeply and so fiercely. And he never hesitated to tell you just how much you meant to him. This is the greatest lesson I learned from Bob Saget - don't hesitate to tell people you love them. I feel at peace knowing that Bob knew exactly how much I adore him. Rest well, my dear friend. I have no doubt you are making everyone in Heaven laugh until their cheeks hurt, just as you did here on Earth."
Candace Cameron Bure, who played Saget's TV daughter, D.J. Tanner, shared a tweet which read, "I don't know what to say 💔. I have no words. Bob was one of the best humans beings I've ever known in my life. I loved him so much." She followed that with an Instagram post which read, "I love you sooooo much. I don't want to say goodbye 💔. 35 years wasn't long enough."
Dave Coulier, who played Joey Gladstone, first said on Twitter, "My heart is broken. I love you, Bob. Your forever brother, Dave." He later added on Instagram, "I'll never let go, brother. Love you."
Lori Loughlin, who played Rebecca "Becky" Katsopolis, said in a statement, "Words cannot begin to express how devastated I am. Bob was more than my friend, he was my family. I will miss his kind heart and quick wit. Thank you for a lifetime of wonderful memories and laughter. I love you Bobby."
Mary-Kate and Ashley Olsen, who played Saget's TV daughter, Michelle Tanner, said in a statement, "Bob was the most loving, compassionate and generous man. We are deeply saddened that he is no longer with us but know that he will continue to be by our side to guide us as gracefully as he always has. We are thinking of his daughters, wife and family and are sending our condolences."
John Stamos, who played Jesse Katsopolis, tweeted: I am broken. I am gutted. I am in complete and utter shock. I will never ever have another friend like him. I love you so much Bobby."
Jodie Sweetin, who played Stephanie Tanner, wrote on Instagram: There aren't enough words to express what I'm feeling today. Nor are they big enough to capture even a slice of who he was. One thing I do know, is that we never missed a chance to tell each other, 'I love you'. Every time we talked, there were at least 3 or 4 exchanged at the end of a conversation, whether it was text, phone call or in person. And he usually had to have the last word, 'I love you more…' There are so many songs that I hear of and think of him… he introduced me to some of my favorite music through the years. Talking comedy bits with him. The love of standup and comedy history he shared. The hundreds of inside jokes we all had, the kind that only a family knows and that nobody else will ever understand or think is funny. Notes sessions on the show, sitting and laughing all together at the kitchen table on set. He and Dave dancing together at my 13th Birthday party, being ridiculous, as usual. Spending weekends at his house with his daughters when I was young, and having blueberry pancakes. The time I out 'Bob'd' Bob, with some joke I told. Him telling me he was proud of me. These are just a few of the special memories I hold in my heart and that keep playing on the carousel of memories in my mind. Bob was a wonderful human being. A human being that could drive you nuts at times, and he knew it, but who was so genuine that you couldn't even get that frustrated. Someone who would also call and profusely apologize for at LEAST 15 minutes if he thought he MAY have perhaps said something he shouldn't have or thought maybe he took a joke too far. He was a genuinely kind spirit who made it through so much in his life, and was most happy when he was helping others. Whether it was personally or through SO many of his different avenues of philanthropy. He gave great hugs too. I would always say 'you're the best TV dad ever'. And he was. I'll miss you Bob. I'll make sure and tell an inappropriate joke at your funeral. In your honor. I know you would've wanted that. But you were supposed to be here longer… How Rude. Thank you all for the love. And to his amazing wife @eattravelrock and my FH family- we'll get through this together.
Blake Tuomy-Wilhoit, who played Nicky Katsopolis, wrote on Instagram: "I'm speechless. We kept running into each other unexpectedly, always followed by some sarcasm or a silly joke... You never know when you will see someone for the last time. @bobsaget, you'll be missed dearly by me and by the world. Rest In Peace Uncle Tanner."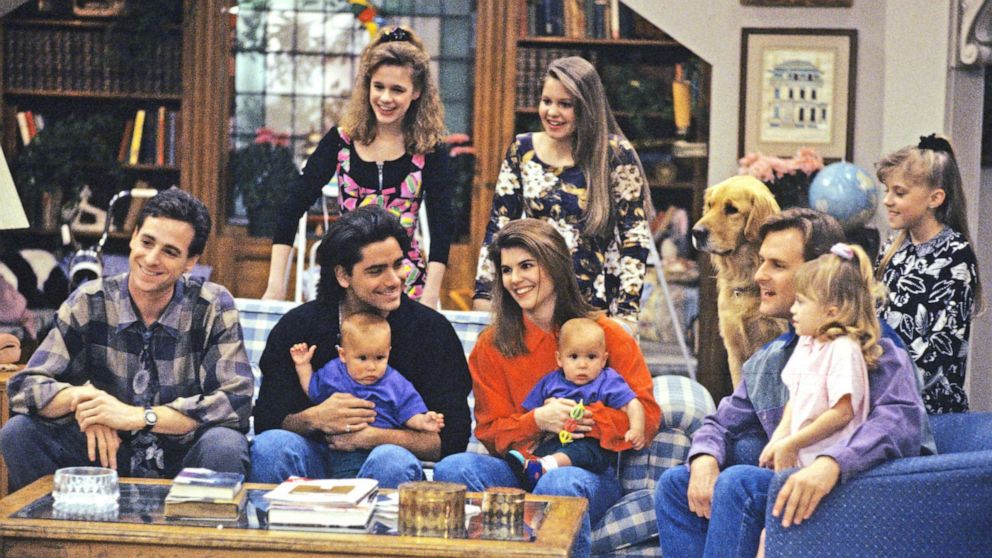 Saget's famous friends and colleagues react
Alfonso Ribeiro: "I am deeply saddened by the passing of my friend and fellow @afvofficial host @bobsaget today. I had the pleasure of meeting him in the early 90s when the show started. He was amazing. There's no AFV without Bob. RIP Bob. We will all miss you."
Andy Cohen: He had the biggest heart and wore it on his sleeve. He was so generous with his feelings. A mensch."
Bob Iger: "Devastating news about Bob Saget today. He graced ABC with his presence in 2 hit shows: Full House & America's Funniest Home Videos, making us laugh & smile a thousand times over. Hard to accept that someone so full of life is gone so suddenly."
Carter Bays, co-creator of "How I Met Your Mother," said on Twitter: "There was simply no better guy. He was the best. Sending love to the many, many, many people who are heartbroken right now. I can't think of anyone whose memory will be more of a blessing."
Chelsea Handler: Bob Saget was the kindest, warmest male comic there was. I loved it whenever I saw him, or heard from him. He was the guy that everyone loved. Love you, Bob Saget. You will be missed and loved for a long time.
Craig Thomas, co-creator of "How I Met Your Mother," began a Twitter thread by saying: "I don't even know what to say about Bob Saget. I loved him and was so lucky to work with someone so funny, soulful and kind. His role on himym was a voice in the future, looking back on all of life's complexity with a smile, and that's how I'll always remember him."
George Takei: "Deeply saddened to learn of the untimely passing of comedian Bob Saget. Beloved by millions as America's Dad, he was a regular presence in our living rooms, bringing to us the funniest videos and countless belly laughs. Gone too soon, like so many of the brightest souls."
Guy Fieri: "Lost a great guy and a friend. RIP Bob Saget."
Jason Alexander: "I know that people lose loved ones, good people, every day. No one gets a pass. But the loss of Bob Saget hits deep. If you didn't know him, he was kind and dear and cared about people deeply. He was the definition of "a good egg". Too soon he leaves."
Jim Carrey: "Beautiful Bob Saget passed away today at 65. He had a big, big heart and a wonderfully warped comic mind. He gave the world a lot of joy and lived his life for goodness' sake."
Joel McHale: "I'm so shocked at @bobsaget's passing. One of the most kind & thoughtful people I've ever come across & he just happened to be one of the funniest on the planet. I will miss you so much Bob. Love you dear friend. I'm so sorry @kellyrizzo. And so sorry to the rest of the family."
Jon Stewart: "Bob Saget… Just the funniest and nicest…"
Josh Gad: "There wasn't a kinder person in Hollywood than Bob Saget. I am having trouble wrapping my head around this. I do not want to believe this. It's all too much to handle."
Josh Radnor began a lengthy Twitter thread by saying: "Bob Saget was the older wiser 'me' for nine years on How I Met Your Mother. He was the kindest, loveliest, funniest, most supportive man. The easiest person to be around. A mensch among mensches."
Judd Apatow: "Bob Saget was so kind and when you spent time with him he made you laugh hard. He loved to be funny and he was hysterical. He was also there for everyone. A beautiful soul."
Kat Dennings: "I just can't believe it. What a wonderful guy. He always went out of his way to make me comfortable and talked nonstop about his kids. Such a loss."
Marc Maron: "Oh no. RIP Bob Saget. Truly one of the nicest guys and so funny. Very sad."
Norman Lear: "Bob Saget was as lovely a human as he was funny. And to my mind, he was hilarious. We were close friends and I could not have loved him more."
Patton Oswalt: "Bob was at my house in October interviewing me for a documentary. He was sharp and dark and funny as always and we were gonna catch up over coffee when he was done editing and now I'm crying."
Pete Davidson, via his friend and "King of Staten Island" writer Dave Sirus, said, "I don't have social media so I asked Dave to post this for me. Just wanted you guys to know that Bob Saget was one of the nicest men on the planet. When I was younger and several times throughout our friendship, he helped me get through some rough mental health stuff. He stayed on the phone with my mom for hours trying to help in any way he can — connecting us with doctors and new things we can try. He would check in on me and make sure I was okay. I love you Bob, it was an honor to know you. Thank you for your kindness and friendship. My condolences to the family."
Tom Bergeron: "Just heard the news. Devastated. I'm going to miss you, my friend."
Whitney Cummings: "My heart is broken. Saget, thank you for being the warmest, most accepting, relentlessly kind and hilarious person. I never heard you say a bad word about anyone unless it was a brilliant roast joke, where even your target was in tears."
Whoopi Goldberg: "Sail on my friend Bob Saget With your huge heart and abject lunacy, my condolences to his daughters & other family."