King of country music Garth Brooks looks back on his career in new documentary
Evan Agostini/Invision/AP
Garth Brooks may be the king of country music, but even his own daughter has repeatedly checked her dad when it comes to her budding music career.
The best-selling solo artist of all time told "Good Morning America" that from a young age his youngest daughter, Allie Brooks, has been immune to his advice.
"I can't give her any," he said of the now 23-year-old, who just released her first album. "Ever since she was a little kid, [she said] 'Dad, I got this.'"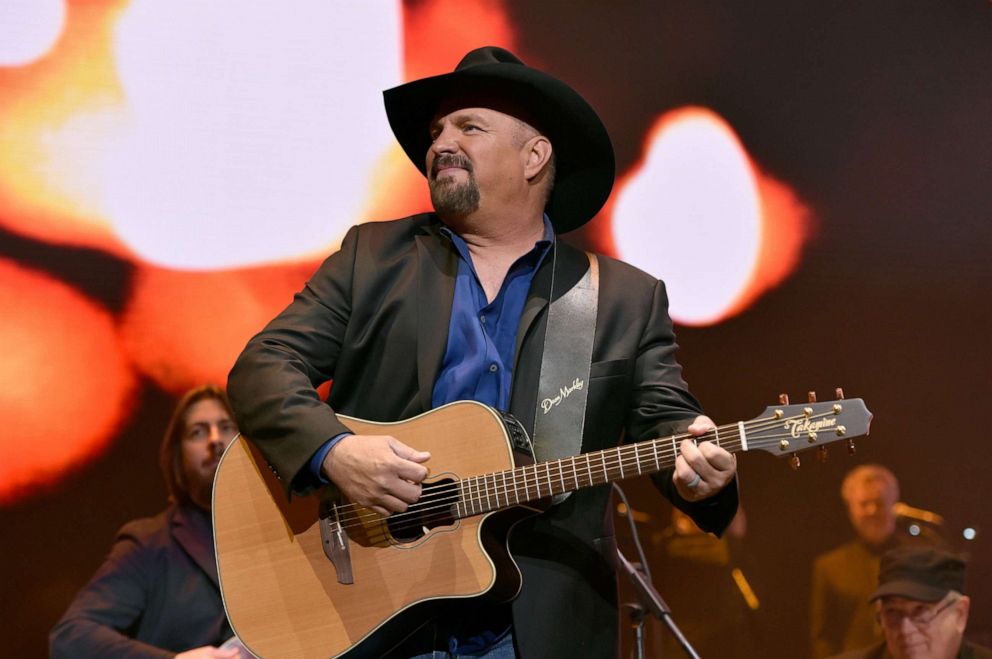 Brooks explained that he offered his support in the country music industry, but she quickly gave him the same self-assured response.
"So I get to be a fan, which is really nice," he said. "And I'm a big fan of that young lady. She's doing it the right way."
Brooks also hailed a few of country music's top female artists, who took center stage at the 53rd Annual Country Music Association (CMA) Awards, including one of the queens of country music, Reba McEntire.
"Reba taught us all what entertainment was. Every guy in that room got his butt kicked by Reba," he said with a smile.
Many fans and artists thought Carrie Underwood would take home the night's top prize, including Brooks, but the "Friends in Low Places" singer ultimately notched a record seventh Entertainer of the Year win.
"It was the year of the women so we were all expecting Carrie anyway and she justly deserved it as well as the other nominees," Brooks said. "We were sitting there talking [and] boom, your name gets called and you don't have anything prepared or nothing, so you pretty much just tell them what you thought of the show."
Like a true entertainer, Brooks is focused on the fans rather than the accolades. Three days after his CMAs victory, Brooks played a show at Neyland Stadium on Knoxville, Tennessee, for a record-breaking crowd of more than 84,000 people.
"The CMAs was Christmas Eve, Knoxville that Saturday was Christmas morning for me," Brooks said. "That was a gift right there."
Brooks said he kept up with what has become an annual tradition with his wife, country singer Trisha Yearwood, and after they celebrated with their entire band and crew the pair went "somewhere really nice to eat -- Taco Bell."
The country superstar said "it's been fun to be Garth" coming off the heels of the awards into what A&E Network has dubbed "Garth Week" to celebrate his upcoming documentary, "Garth Brooks: The Road I'm On," which looks back on his life and career.
"To see it all kind of put within a period of time on TV it all kind of comes as fast as it did when you were living it," Brooks said. "Every artist should get this wonderful treat to get to sit down and look at the things you got to be a part of and enjoy it."
The biography was able to capture times of his family's life when he said they were "all just moving too fast to sit down and talk about then," which has made them closer than ever.
"You can't help but sit there and cry and weep. But it's good," the superstar said. "It's one of those things that once everybody sees it on our side, we're all going to get a lot tighter afterward too because you get to hear things that maybe you've been running too fast to say to each other."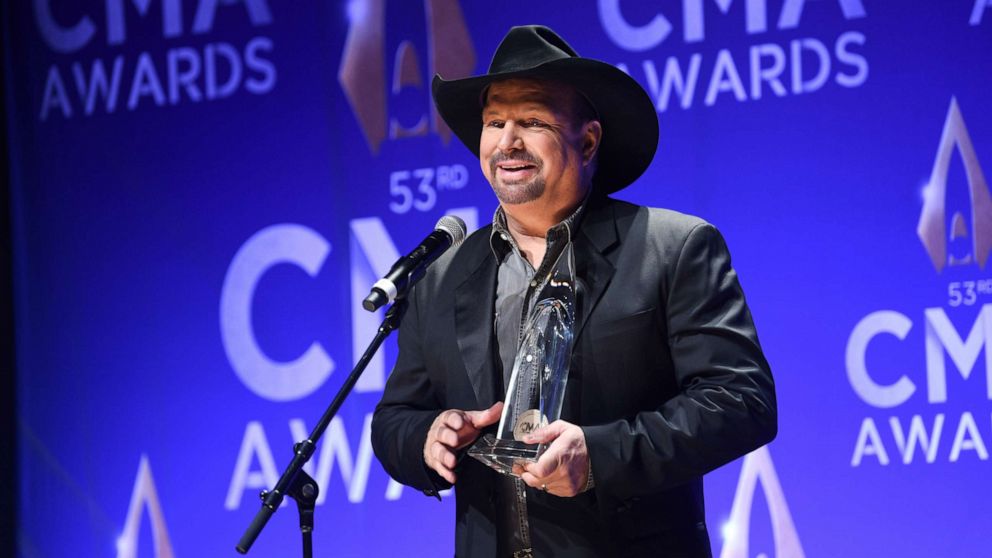 As Brooks continues his 2019 Stadium Tour, he also released "Legacy," which is a seven CD and vinyl collection of his hit albums, but the singer said records made in front of an audience is his personal favorite.
"Live is so much fun because you get to hear them sing. You get to feel kind of how the music is affecting their life and you get to become a fabric of people's lives," he explained.
Coming off his record-breaking show in Knoxville, Brooks' said his favorite part of playing stadiums is "how small they become."
"I'm stunned how small Knoxville felt," Brooks said of the 84,000 person crowd. "It felt like you could reach out and touch everyone. I think that's what music does and that's what people that love music do -- they get together and become this unit. That's my favorite part."
Whether it's in a sold out stadium or an intimate dive bar, Brooks also said that "it all still feels like a warm blanket."
"The greatest gift you can give a gypsy is a home and, man, when we roll into town and these guys show up -- you're not from there but you feel from there that night and they treat you like you're from there," he said. "You feel like you're home."
Although Brooks also said there's another reason dive bars feel so comfortable to him, he used to be a bouncer at one.
"I was by far the smallest one so I danced a lot," he said laughing. "I got to dance with all the girls and hopefully didn't have to work much in the evenings."
But, whether you're a country music fan, bouncer or artist, Brooks said, "it's so much fun being in country music."
"Ninety nine percent of them are there just to have a good time -- it's great," he said.