Ken Jennings reveals his reaction to being asked to return to 'Jeopardy!'
After a $0 wager and correct final answer, Ken Jennings became the undisputed greatest "Jeopardy!" champion of all-time and said he "had no idea what to do after you win."
"Turns out you walk over and stand next to Alex [Trebek]," Jennings told "Good Morning America" about his winning moment. "I just remember feeling shock -- I've been in a lot of these 'Jeopardy!' super tournaments and I have an amazing talent for finishing second."
He also called it "a real honor" to be a part of the game show that has "spanned generations like almost nothing else."
"I was very happy to have one more bite of the apple. It's always been my favorite show," he said.
Jennings beat his all-star competition James Holzhauer, a.k.a. Jeopardy James, and Brad Rutter to win the $1 million in prize money in the special prime time tournament.
The newly crowned "GOAT" said he was strategic and hedged his bet for a reason.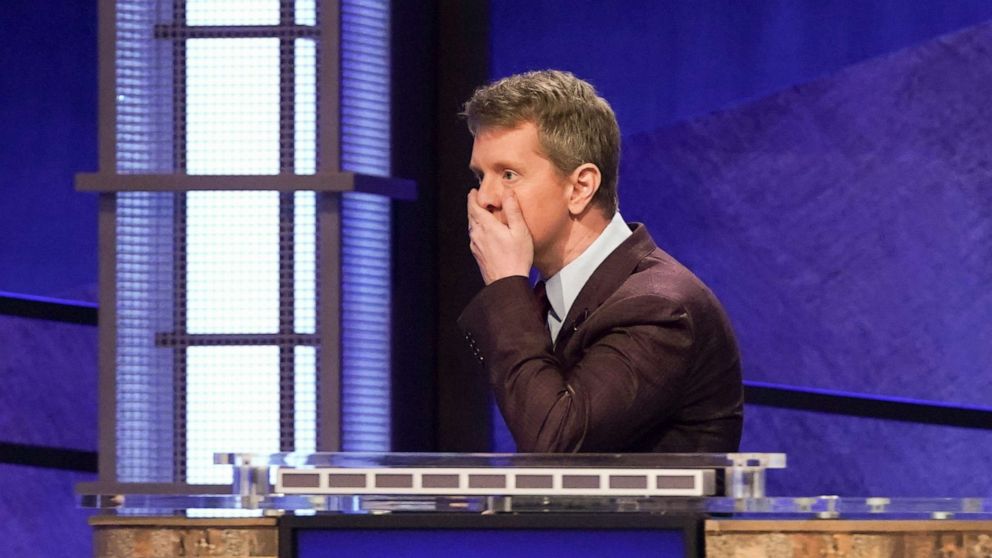 The final clue for Shakespeare's tragedies was, "He has 272 speeches, the most of any non-title character in a Shakespeare tragedy." Jennings correctly guessed Iago but did not make a wager.
"There's a little bit of math that goes into wagering on 'Jeopardy!' and generally what happens is the person in second should often make a very small wager, you're counting on the person in first to make a big wager, so it doesn't matter at that point, if they get it wrong they're out so it doesn't matter what you wager," he explained. "You want to risk as little as possible for that eventuality."
Jennings won two of last week's three matches, with Holzhauer just behind after winning Wednesday's contest. The first to reach three wins was crowned champ.
Although Jennings took home the top prize Tuesday, he said it could have been anyone's game, especially with the new style of play from Holzhauzer.
"James was building a lot of momentum in last night's game -- it looked like I had put the game away and he came racing back and if he gets that final answer right, suddenly it's two games to two and he's got momentum on his side," Jennings said. "It was not a dominating win at all. I think all three of us are very experienced 'Jeopardy' players and if you run this back 10 times, you're gonna get a different winner."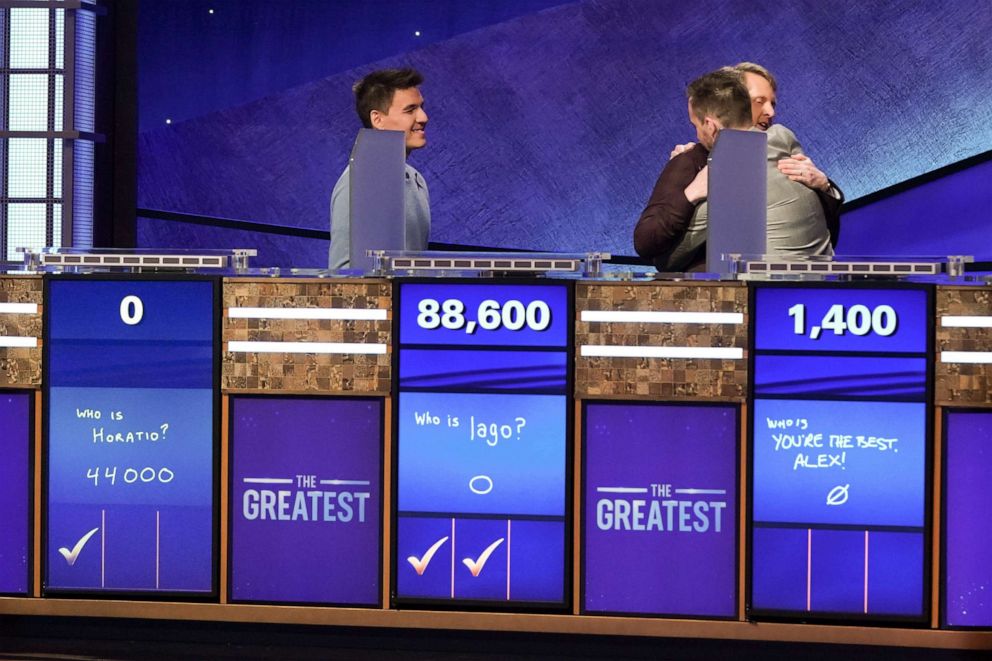 It's been 15 years since Jennings first appeared on the popular trivia game show and he still holds the record for the longest winning streak with 74 consecutive games, winning a total of $3,370,700.
But even the seasoned champ said he had to change up his strategy this time around.
"It's really just a credit to James how much he's changed the game of 'Jeopardy,'" he said. "We were gonna have to play like him if we were gonna have any hope of containing it, that's how smart and demoralizing his strategy is."
"You gotta make those big bets even if it scares you. Cause it puts the fear of God into those contestants," he added.
One thing that has only gotten better with time: Jennings' ability to feel the opportune moment to buzz in with his answer once Trebek finishes reading the question.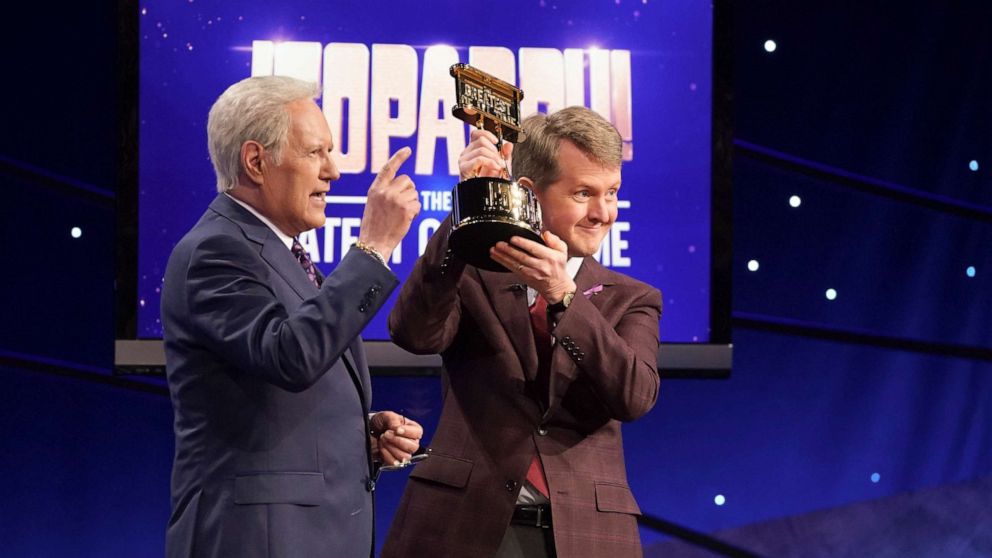 "You need to find this exact second and for me it's just following the rhythm of Alex's voice," he said. "You just know how he's gonna say it, there's gonna be one beat and then you buzz -- it's kind of a zen thing."
Jennings also talked about the special bond he shares with the longtime host who is battling stage 4 pancreatic cancer.
"It's always a delight to see Alex," he said. "You know he's a guy who loves his job and thrives on 'Jeopardy!' Even facing this tough cancer diagnosis I think work is something that helps get him through it . He would never give that up."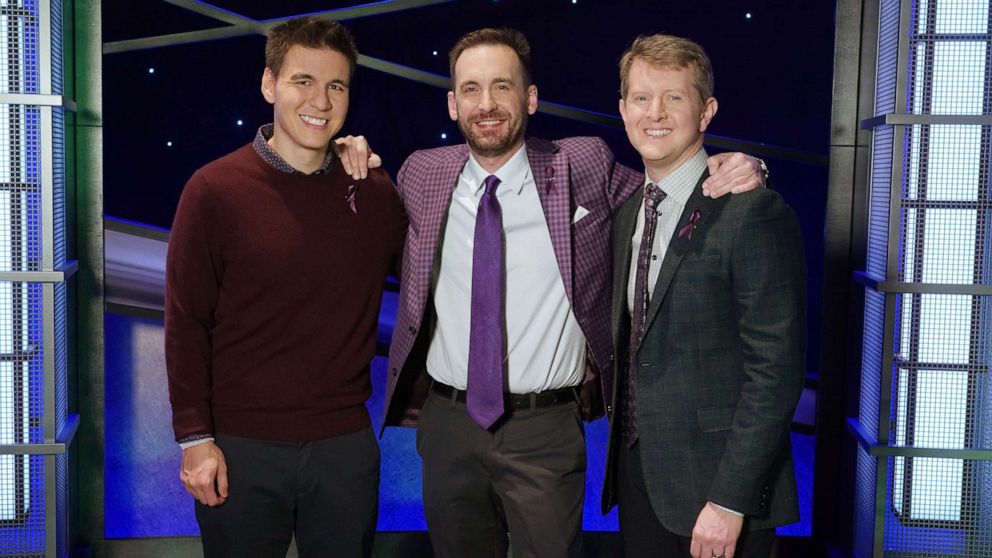 He added that "there's something special" during a tournament where he knows all three contestants: "There's a connection and there's some affection."
Jennings added, "It's very special to have another, to have one more chance to play with Alex."
All in all, Jennings has loved every aspect of his "Jeopardy!" experience, from growing up as a fan of the show to being crowned its greatest champion.
"It is a real honor to be associated with a show that nobody ever has a bad thing to say about. It encourages learning, it makes smart kids feel like it's OK to be smart and that's always the kind of kid I was," he said. "I could not be prouder that I'm associated with it."