Chip and Joanna Gaines give preview of new Magnolia Network
Courtesy of Magnolia Network
It's been nearly nine years since Chip and Joanna Gaines became household names with their breakout series "Fixer Upper."
The design duo is now coming back to television in a big way.
The couple joined "Good Morning America" on Wednesday to kick off the launch of their own Magnolia Television Network, a rebranding of the DIY Network.
"I think the message of hope and inspiration, the storytellers and the stories that they're telling, I mean, I just think the world is ready for that kind of beauty to be seen," Joanna Gaines told "Good Morning America."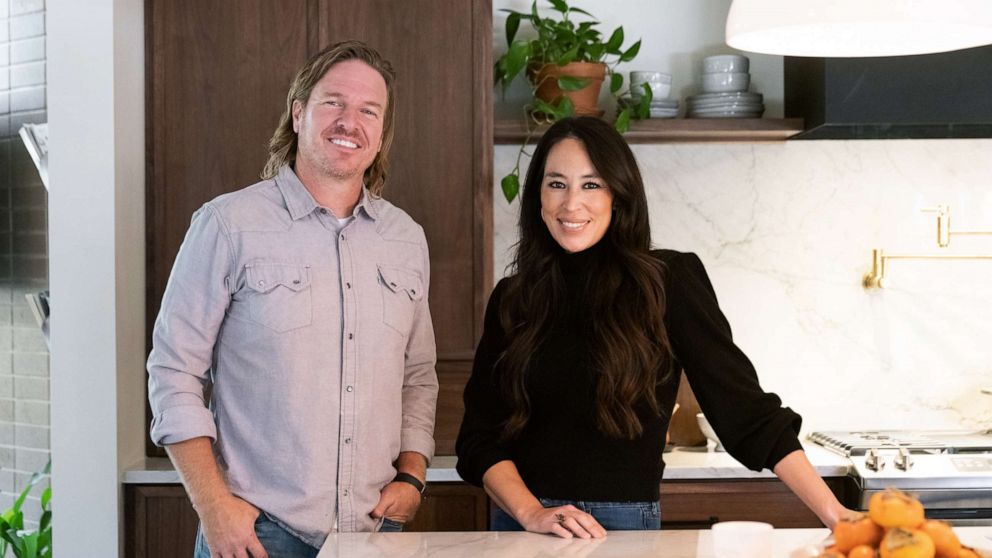 Her husband continued, "I really feel hopeful and optimistic and feel like this message is going to fuel those thoughts."
There will be over two dozen shows with stars like Chef Andrew Zimmern, Clint Hart and Chip and Jo, who are back with "Fixer Upper: Welcome Home."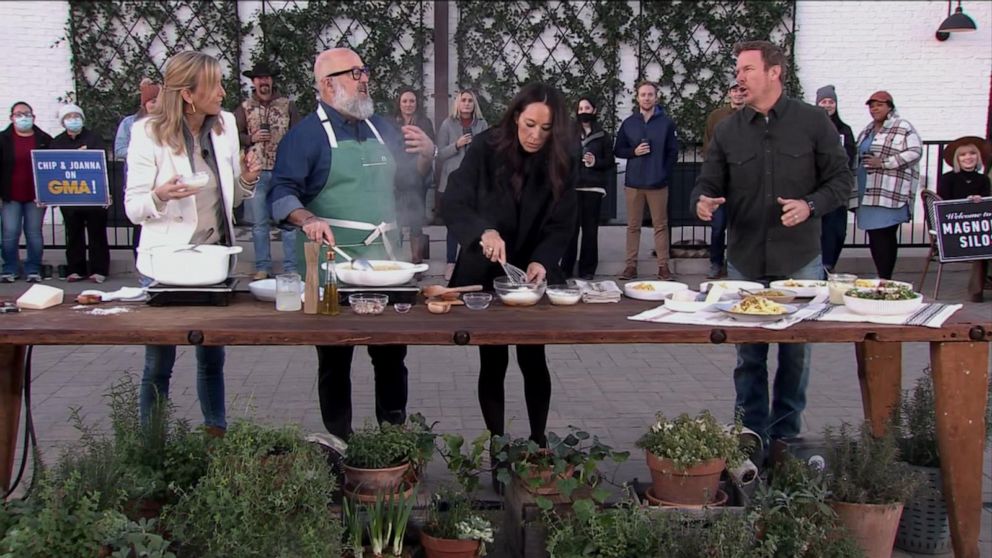 Joanna Gaines also explained what it was like finding and working with their full slate of storytellers for their 26 new shows.
"That was my favorite part of the process was the curation and getting to dream up like, 'who do we want to do shows with? What do the shows want to be about?'" she said. "At the end of the day, it was finding people that were doing the work that they love doing already and we had to talk them into doing a television show."
Before the fame and the television show, Chip and Joanna Gaines were just a couple who loved everything about home design. Though they never had any intention of being on television, the couple were asked if they'd be willing to submit a tape of their home renovation and home goods business. The tape ultimately ended up being the casting tape for a pilot that eventually became the popular home renovation series, "Fixer Upper."
To celebrate the couple's return to TV, Magnolia Network released the original "Fixer Upper" casting tape from 2012, which has never been seen before. Take a look below:
In addition to their love for home renovation, the Gaineses' Magnolia business empire has grown over the years into magazines, home decor and books – including several cookbooks.
Gaines shared her biscuit recipe with "GMA." Keep scrolling to get the recipe to try at home.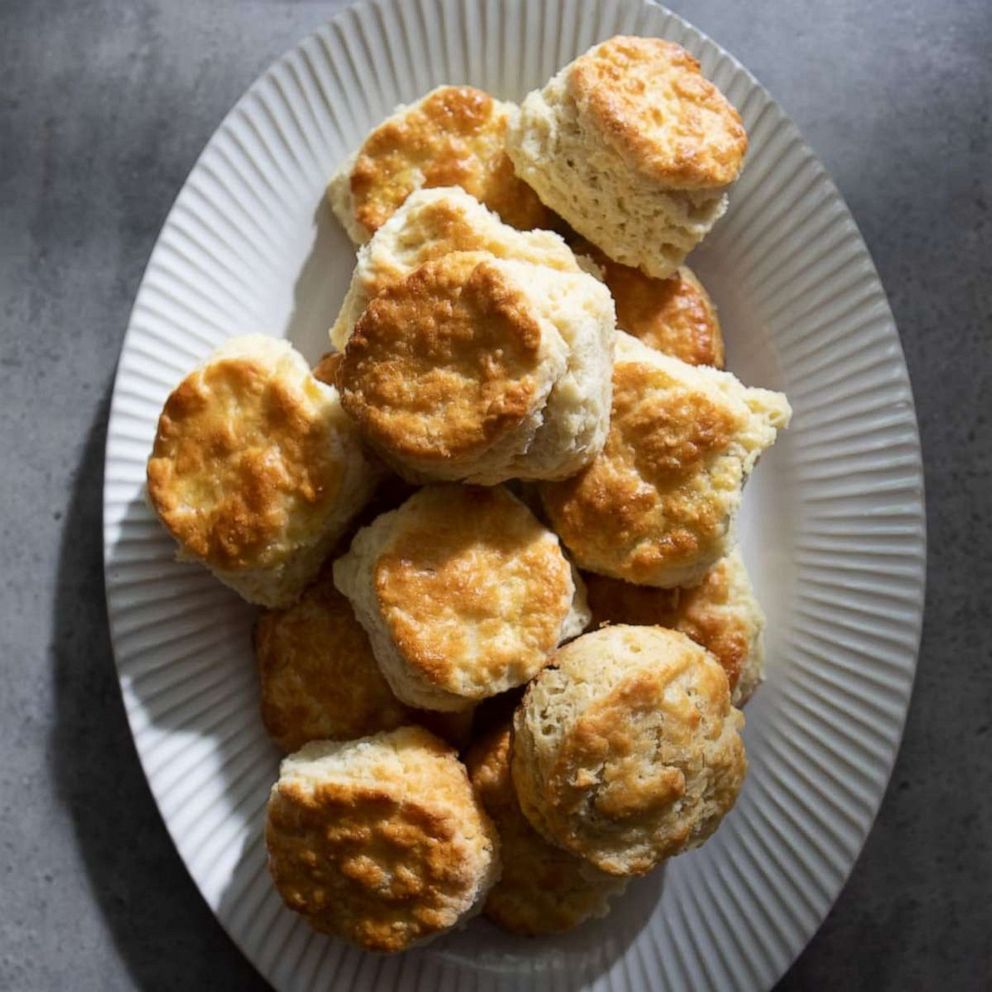 Jojo's Biscuits
Total cook time: 1 hour and 40 minutes
Makes: 20 biscuits
TIP: For longer storage, arrange the unbaked biscuits about ½-inch apart on two parchment-paper-lined baking sheets and freeze until solid. Transfer them to a zip-top plastic bag and freeze for up to 2 weeks. There is no need to thaw them before baking.
Ingredients:
4 cups of self-rising flour, plus more for the work surface
2 tablespoons of baking powder
1 teaspoon of baking soda
3/4 pound (3 sticks) salted butter, cold, cut into ½-inch pieces or grated
2 large eggs, beaten, plus 1 large egg for brushing
1 1/2 cups buttermilk, or as needed, plus 1 tablespoon for brushing
Strawberry jam or classic sausage gravy, for serving (optional, recipe follows)
Classic Sausage Gravy:
1 1/2 to 2 pounds pork sausage
6 tablespoons unsalted butter
6 tablespoons all-purpose flour
2 cups whole milk
Kosher salt and freshly ground black pepper
Directions:
In a large bowl, whisk together the flour, baking powder, and baking soda. Add the butter and use a pastry blender to cut the butter into the flour until the pieces are even and about the size of peas.
Stir in the beaten eggs with a wooden spoon until combined. Stir in one and a half cups buttermilk until the dough comes together into a sticky mass. If it is too dry, add more buttermilk 1 tablespoon at a time, mixing after each addition, until it reaches the correct consistency. Cover the bowl and refrigerate for at least 30 minutes and up to overnight.
Position a rack in the middle of the oven and preheat the oven to 400 degrees. Line a baking sheet with parchment paper.
Scrape the dough onto a floured work surface. Use your floured hands to press it into a round roughly 14 inches across and about half-inch thick.
Use a floured 2 and 3/4-inch round cutter to cut about 20 biscuits. If necessary, collect and pat out the scraps to cut more biscuits.
Transfer the biscuits to the prepared baking sheet, arranging them so that they all are touching (see Cook's Note).
In a small dish, beat together the remaining egg and 1 tablespoon buttermilk. Brush the mixture on the top of the biscuits.
Bake until golden brown, 15 to 20 minutes. Let cool slightly in the pan on a rack.
Biscuits are best the day they are made (and ideally fresh out of the oven!). Serve with strawberry jam or gravy, if desired. Store leftovers in an airtight container at room temperature for up to 2 days.
In a large skillet, cook the sausage over medium heat until cooked through and nicely browned, about 15 to 20 minutes. Transfer the sausage to a platter and set aside.
Add butter into the rendered grease in the skillet, scraping the pan to incorporate any browned bits. Once the butter is melted, whisk in the flour until smooth. Then, whisk in the milk 1 cup at a time, making sure to get any lumps out until the mixture is smooth. Bring to a simmer over medium heat and cook until slightly thickened, about 5 minutes.
Stir the sausage into the gravy. Season generously with salt and pepper. Serve warm.
Store leftovers in a covered container in the refrigerator for up to 4 days. Reheat gently over low heat.
Recipe by Joanna Gaines from "Biscuits!" in "Magnolia Table with Joanna Gaines"