Malia and Sasha Obama speak out in new documentary
Former first daughters Malia and Sasha Obama make rare public speaking appearances in their mom Michelle Obama's new "Becoming" documentary.
The documentary shows the behind-the-scenes of Obama's blockbuster stadium book tour to promote her bestselling "Becoming" memoir and offers a glimpse into the former first lady's work to empower women and girls.
At one point in the documentary, Malia, 21, is seen visiting her mom backstage during the tour.
"You're so good, I love you too much," says Malia, adding that she "cried again" during the tour stop.
"This has demonstrated in a way ... those eight years weren't for nothing. You know?" Malia tells her mom. "You see that huge crowd out there and that last kind of speech you gave about — people are here because people really believe in hope and hope in other people."
"And also every time you guys play Stevie Wonder, I don't know, I cry a little bit," Malia adds with a smile.
At another point in the documentary, Malia joins her sister Sasha, 18, in a video that was originally recorded to be shown at Obama's book tour events.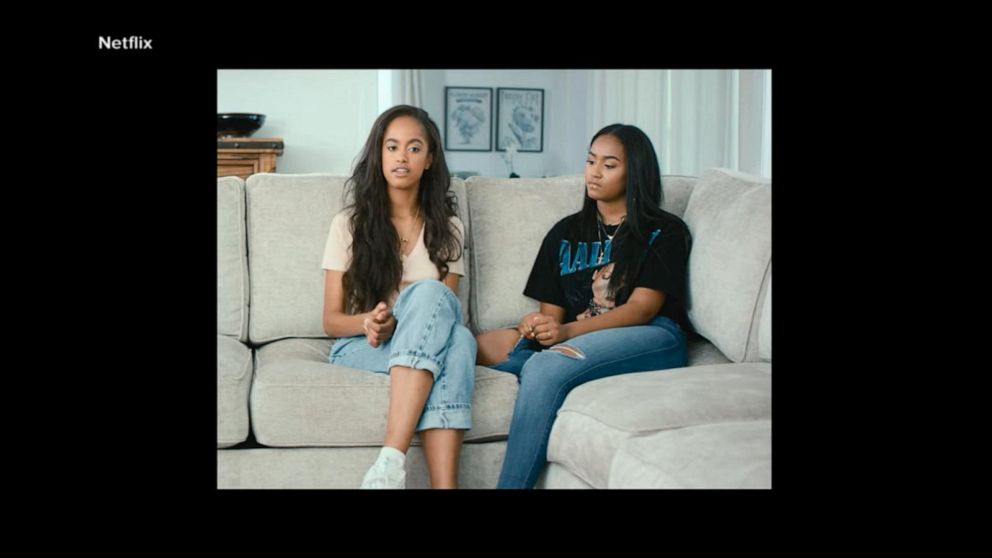 "I'm excited for her to be proud of what she's done," Sasha says in the clip. "Because I think that's the most important thing for a human to do is be proud of themselves."
"No longer facing that same scrutiny, being able to let all of that leave your mind, creates so much more space," says Malia.
Malia is a student at Harvard University while Sasha attends the University of Michigan.
Both Obama daughters are now finishing their college semesters at home with their parents in Washington, D.C., after their respective campuses were closed due to the coronavirus pandemic.
Obama told Ellen DeGeneres last month that the family of four was home together working and "doing a lot of Netflix and chilling."
"The positive side, I know for us, it's forced us to continue to sit down with each other and have real conversations," she shared. "It's a good exercise in reminding us we just don't need a lot for the stuff we have."
"Becoming" premieres Wednesday, May 6, on Netflix.