Paul Bettany talks about new Disney+ series, 'WandaVision'
"WandaVision," Marvel's first original TV series for Disney+, is here.
The series -- from director Matt Shakman and head writer Jac Schaeffer -- centers on two beloved Avengers: Wanda Maximoff (aka Scarlet Witch), played by Elizabeth Olsen, and Vision, played by Paul Bettany.
"'WandaVision' will be the very first Marvel Studios series on Disney+," Marvel Studios president and Marvel CCO Kevin Feige said. "Wanda and Vision are two of our most powerful and complex heroes, and this series is a perfect expansion point for MCU storytelling."
The show, consisting of nine episodes, premieres today, Jan. 15, on the streaming platform and will air weekly.
Here's everything you need to know about Marvel's "WandaVision" on Disney+:
WARNING: Spoilers ahead.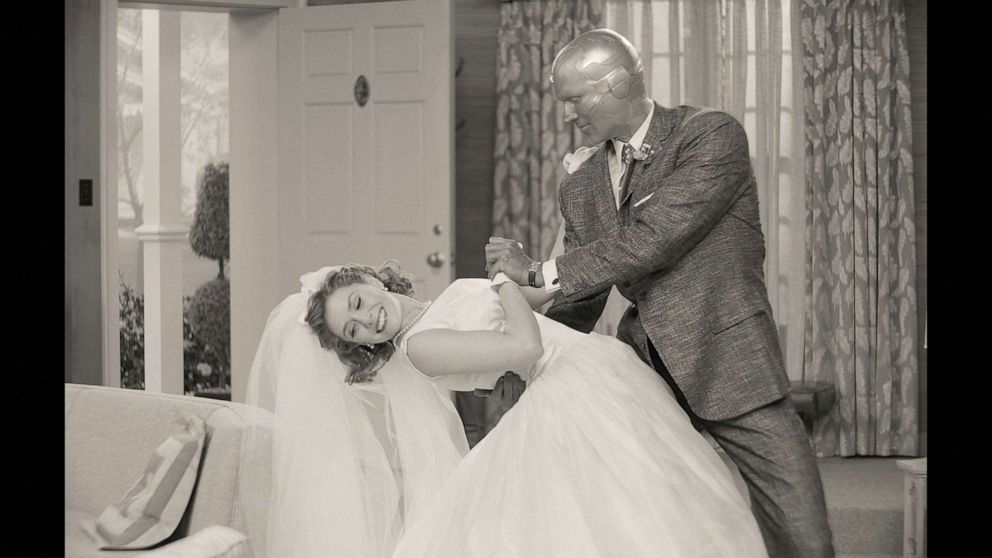 What's the premise?
"WandaVision" is described as "a blend of classic television and the Marvel Cinematic Universe," which features our superheroes "living idealized suburban lives." But things unravel when they "begin to suspect that everything is not as it seems."
Having just gotten married, Wanda and Vision find themselves in the picture-perfect town of Westview, where they're forced to hide their powers.
"They're madly in love, and there is not a hint of the Avengers or the larger MCU," Schaeffer teased. "We see them going about their day, making breakfast. She's a witch, he's synthezoid. She can dry dishes in the air. He can change density and walk through things."
Shakman called it a "mash-up of classic sitcoms and large-scale Marvel action," as we will experience different eras of sitcoms from throughout the decades of TV, from the 1950s to the 2000s, in each episode. That means we'll see homages to shows like "I Love Lucy," "The Brady Bunch," "Family Ties," "Sabrina the Teenage Witch," "Full House" and "Roseanne."
Feige and Shakman even had lunch with Dick Van Dyke one day and got to pick his brain, as the actor dominated the format with "The Dick Van Dyke" show back in the day.
Olsen said they went through a "sitcom crash course" to get every aspect from the various eras right, including vocal changes and mannerisms. They even shot the first episode in front of a live studio audience -- which Bettany said made him "really nervous" at first, but he "loved it" in the end.
Bettany revealed that the show makes its way through the sitcom eras "at breakneck speed" and the world Wanda and Vision find themselves in is on a "collision course" with the real world. He also teased that fans can expect lots of action to accompany the high-concept plot.
"In fact, there were more special effects requirements for the show than for 'Endgame,' so it's going to get big," Bettany said on "GMA."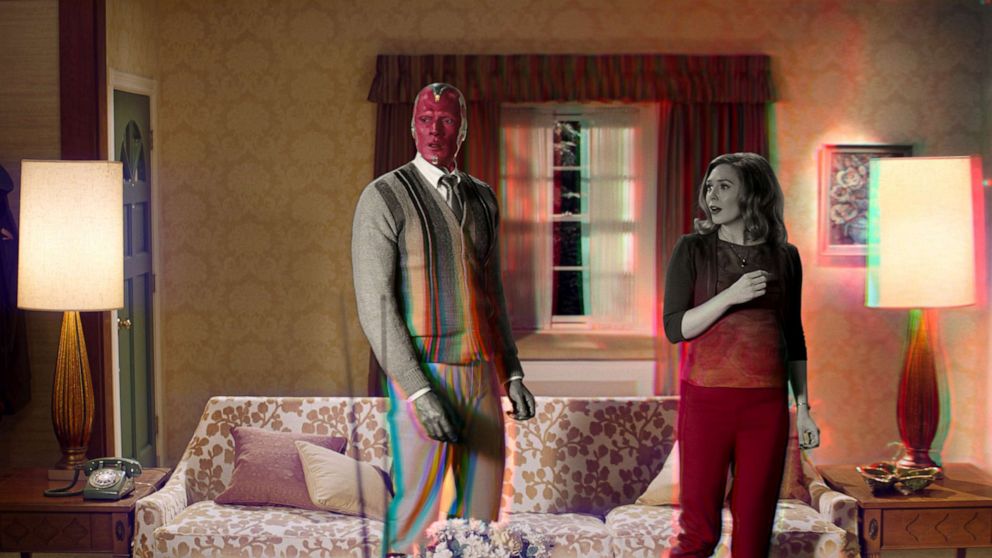 How does it fit into the MCU?
The show takes place after the events of "Infinity War" and "Endgame." This means Thanos, thanks to Wanda and all the other Marvel superheroes, has been dealt with. On the flip side, it also means Vision is dead, having had the Soul Stone -- one of the six Infinity Stones -- plucked right out of his head. How did we get him back? Only time will tell.
As for what happens after "WandaVision," Feige explained at Disney's Investor Day presentation last month that the series would tie into the next "Doctor Strange" film. The sequel to 2016's "Doctor Strange" -- titled "Doctor Strange in the Multiverse of Madness" and releasing March 25, 2022 -- will also have ties to the next Spider-Man movie.
Olsen herself said the show would be a "natural progression" into the upcoming Doctor Strange-centric offering.
"There's never much we can talk about in Marvel, but I do think that 'WandaVision' is a natural progression into what happens in 'Doctor Strange 2,'" she told "GMA." "I think Kevin Feige's doing a really amazing job intertwining the television format with the films so that we can tell more interesting stories moving forward."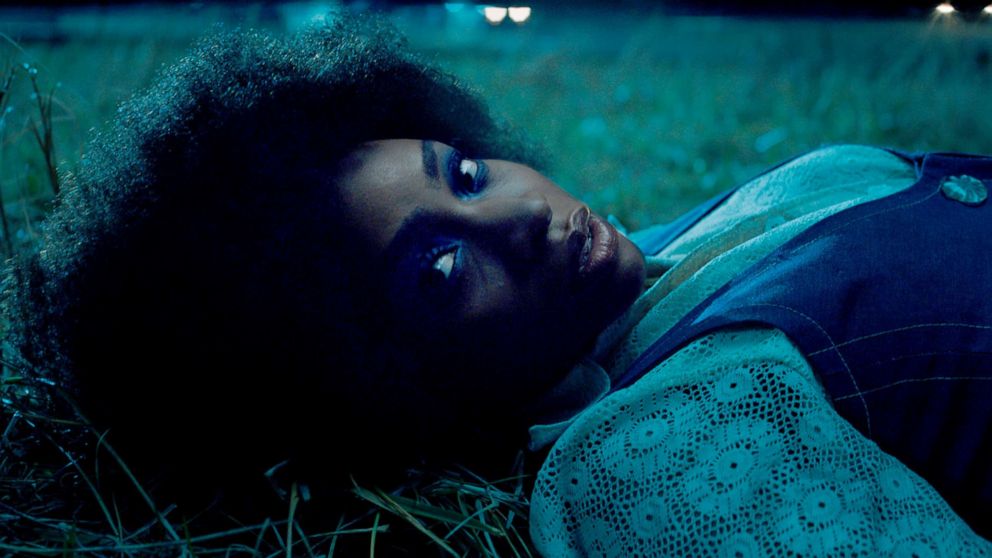 Who is in the cast?
Aside from the titular characters, a few familiar faces from previous MCU entries will appear in "WandaVision." First up is Monica Rambeau, who was seen in 2019's "Captain Marvel" as a young girl. Now, as an adult, Monica will be played by Teyonah Parris.
Parris told Entertainment Weekly she feels "so special and honored to be able to walk in [Monica's] shoes and bring her story to life." The actress said she also hopes this Monica "gives a group of people who are underrepresented a chance to see themselves" and seeing her in the role "helps [viewers] engage with Black women and our humanity."
Also returning is Kat Dennings as Darcy Lewis, who appeared in both 2011's "Thor" and 2013's "Thor: The Dark World" while "Fresh Off the Boat" alum Randall Park is back as Jimmy Woo from 2018's "Ant-Man and the Wasp."
"They have a mystery to solve," Schaeffer said of Darcy and Jimmy. "They have so many questions and no answers."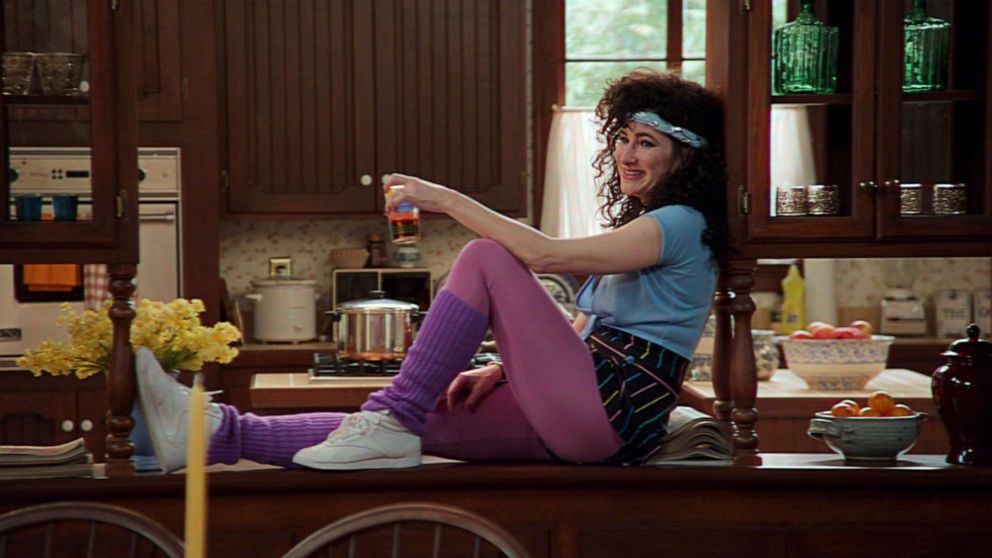 Kathryn Hahn joins the Marvel Universe as Agnes, Wanda and Vision's "brassy, nosy neighbor." Little is known about Hahn's character other than that -- including whether or not her character is more important than she seems.
"I've always loved that gasp of human magic that they have," Hahn told EW of the Marvel Universe. "It's not like I had never done anything like this, but especially since becoming a mom, I have always been interested in those jolts of adrenaline and humanity."
Marvel's "WandaVision" premieres on Disney+ today, Jan. 15.
Disney is the parent company of Marvel as well as ABC News and "Good Morning America."