Michelle Obama speaks out on historic midterms and whether Hillary Clinton should run in 2020
Michelle Obama on historic midterms and whether Hillary Clinton should run in 2020
Former first lady Michelle Obama, in an exclusive interview with "Good Morning America" anchor Robin Roberts, said the results of the midterm elections were inspiring and addressed whether Hillary Clinton should run for office again.
"I think that this election gives us hope," Obama, 54, said of the 2018 election. "I'm not talking about what it means for one side or the other. What it speaks to is that our democracy is still ours to own and control."
"Thank God people saw that voting matters," she said.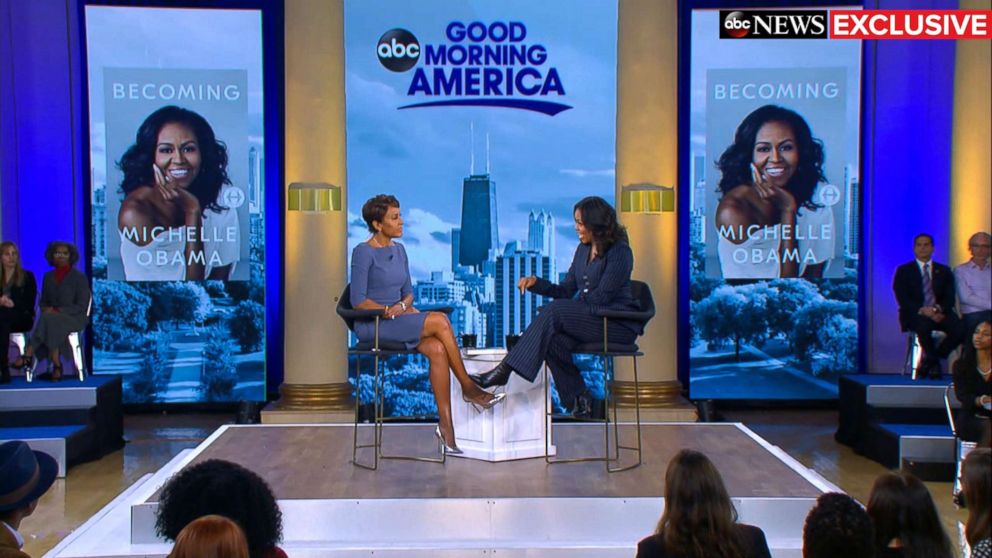 Obama spoke to Roberts in a live interview in Chicago on the day her memoir, "Becoming," was released. "Becoming" is an in-depth, personal look at Obama's life before, during and after her family's eight years in the White House.
(MORE: Michelle Obama shares lesson she's learned during her 26-year marriage: 'My happiness was up to me')
The former first lady has consistently said she is not interested and has no plans to run for public office.
When asked what potential candidates she is watching for the 2020 presidential election, including Hillary Clinton, Obama joked that maybe she could tap her teenage daughter Sasha to run.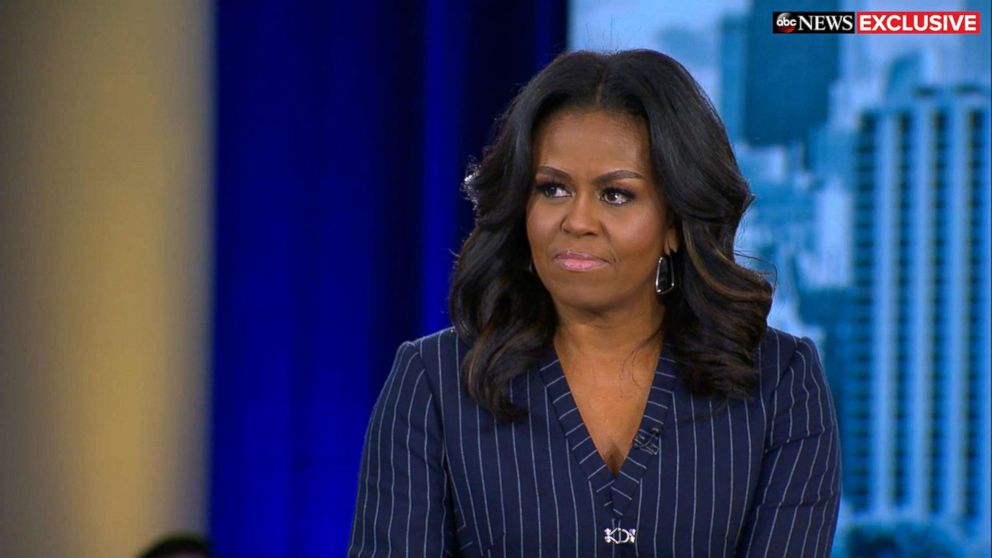 "I think at this point everybody is qualified and everybody should run," she said. "I might even tap Sasha."
When asked if her joke was in reference to President Donald Trump, Obama clarified her response, adding, "Where I am right now is that anybody who feels the passion to get in this race, we need them in there."
"I hope we have a lot of great candidates who get in there and treat each other respectfully," she said. "That's the thing I'm going to be looking for personally."
"I don't want people on either party tearing each other up in the process of getting to the nomination," Obama added. "I'm going to be looking closely at who handles themselves and each other with dignity and respect so that by the time people get to the general people aren't beat up and battered."
'All of our stories matter'
In "Becoming," Obama writes about deeply personal issues, including her past fertility and marital struggles, her anger at President Donald Trump and the bigotry and hate she encountered on the campaign trail.
(MORE: Michelle Obama reflects on being the first black first lady and her reaction to Donald Trump winning the presidency)
She described the release of the memoir as exciting but also "a little unnerving."
"I'm talking about me, all of me, in a way that I do with my friends, my girlfriends," she said. "Now I'm talking about it with the world. It's not that I'm nervous about my story but I hope that it inspires people and it encourages people and it starts a conversation."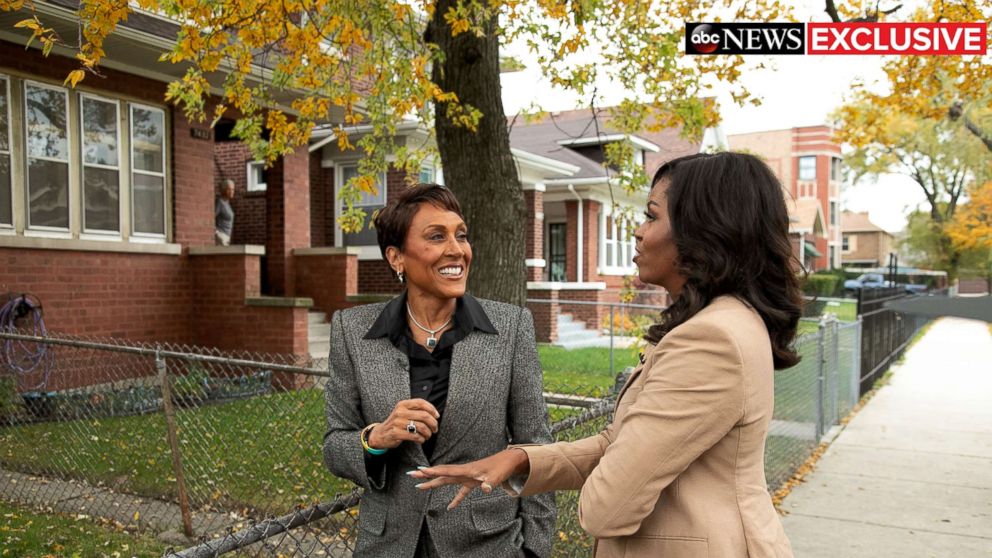 When asked what she hopes people take away from "Becoming," Obama replied, "That all of our stories matter."
"We feel somehow that our stories don't matter and that's because we hear so few stories. The stories of what it means to be human, what it means to be American, those stories are limited," she said. "I want people to be as proud of their stories as I am of mine because I believe my story is a quintessential American story, as is all of our stories."
Obama also writes in "Becoming" about how she prevents herself from becoming cynical about the world today.
"In my most worried moments I take a breath. I remind myself the dignity and decency I've seen in people throughout my life, the many obstacles that have already been overcome," she admits. "I hope others will do the same."
For people struggling to find hope, Obama said Tuesday to "think about our young people."
"We owe our young people hope because what's the alternative?" she said. "Young people grow up better than us. They're growing up in a different world than even we grew up in, more diversity, more openness."
She went on, "Yes we still have problems but, as Barack [Obama] would say, if he had to pick any time in history to be born, if you think throughout the history of this country, what time, what period would you want to be alive in? Today. Now there is more acceptance, more openness, more equality."
"It's not all fair," Obama said. "We still have problems but this is where we want to be for our kids. We want to invest in them now."
"Becoming" is expected to be a bestselling book. Oprah Winfrey announced on the eve of the book's release that she had selected it for her next book club.
Winfrey will interview Obama in Chicago Tuesday night -- the first stop on her high-profile book tour.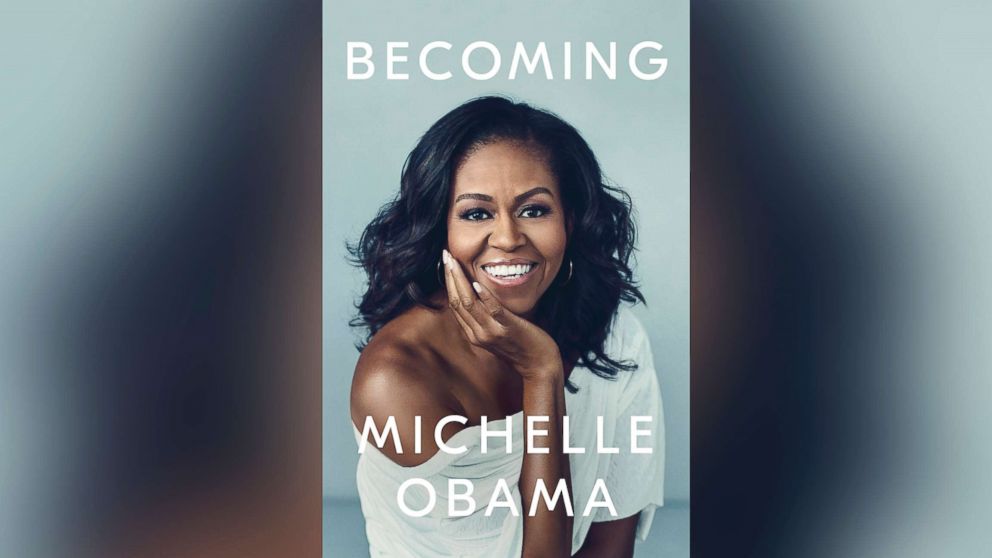 She'll be joined by Reese Witherspoon, Sarah Jessica Parker, Michele Norris and former White House aide Valerie Jarrett, among others, as she travels across the country to discuss her book.
Obama kicked off her book tour Monday by talking with students at her alma mater, Chicago's Whitney M. Young Magnet High School.
ABC News' Teri Whitcraft contributed to this report.