Mindy Kaling remembers the moment she felt most self-conscious about her body.
She was 25 years old, right around the time she was stealing scenes as Kelly Kapoor on "The Office," when a co-worker in a different writers' room suggested a simple joke: that their character should tell hers she could lose 15 pounds. But to Kaling, there was nothing funny about it.
"This is my greatest insecurity and someone just called it out. It's really devastating," Kaling recalled thinking, noting that she was already waking up extra early to go to the gym before work. Pushing aside her hurt feelings, Kaling began to look inward.
"I had a reckoning where I'm like, 'People are scrutinizing [me], and not only are they scrutinizing [me], they're verbalizing their displeasure with how I look because I don't look a certain way. That kind of dissonance has really affected so much of what I write about [and] the kind of characters I play," she told "Good Morning America" in an exclusive interview. "Almost all of those kinds of things [in my work] come from something really real."
Kaling, now 42, has created beloved TV shows, written two New York Times bestselling memoirs, starred in hit movies like "Inside Out" and "A Wrinkle in Time" and is a bonafide Hollywood power player -- not to mention a mother of two. While Zooming with "Good Morning America" on a sunny August afternoon, she reflected on her career and some of the "valuable" lessons she learned from some of her most "painful" experiences.
Making a difference for underrepresented communities
Kaling said she had a perception of herself that she was stylish, smart and funny -- an assessment her millions of social media followers would agree with -- but for a long time, people who looked like her weren't properly represented in TV and film.
"On TV, if you were really thin, then you could be the lead. Otherwise, you had to be like 250 pounds, and you had to be the slapstick comic relief. But what was crazy, what was left out, is just like this range of people which is a majority of American women over the age of 24," she said. "What if you're like a [size] 12 and you want to just live your life and look cute and date? At that time, when I wrote "Is Everyone Hanging Out Without Me?" [in 2011] it was like a no man's land. That has really changed, I think."
She's also aiming to move the needle for people of color. In 2020, Kaling's Netflix series, "Never Have I Ever," about an Indian American girl growing up in Southern California, premiered on Netflix to rave reviews and killer ratings. And while Kaling said that the show has "really registered with teens," she's most excited about how it's impacted older viewers.
"I was obsessed with TV as a kid and it informed my worldview and it informed who I was attracted to. It informed so much, right? And it makes me so happy that this show can be on Netflix, 40 million people can watch it, it's No. 1 around the world and it stars a girl who is a young, dark-skinned Indian girl," she said. "She's real, and she dates and boys like her, boys hate her, she goes in and out of drama, fights with her friends, but she's normal and she's the point of view character and so you can look to that and feel seen, to use a phrase that people much younger than me use."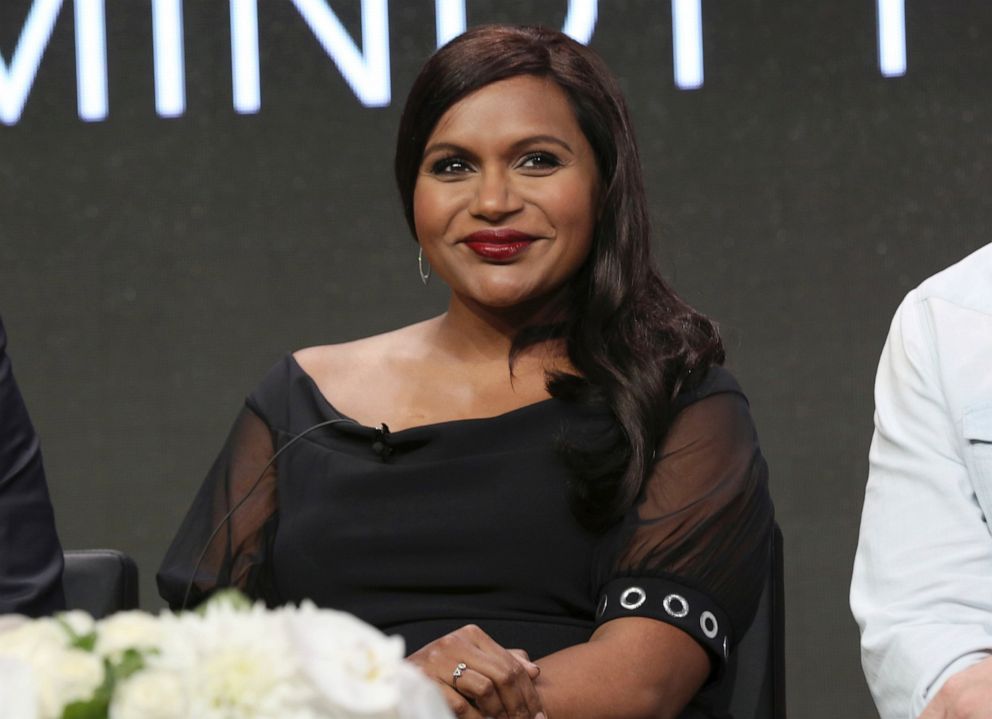 "It would have been really valuable for me when I was coming up," Kaling added. "It would have been just great to show [my parents] like, 'OK, this show is written by a woman of color, it stars a woman of color, it stars a bunch of women of color, it can be done.' So it just makes it so that when you want to go down a certain career path, their pump has been primed."
How becoming a mother changed her for good
Despite her career success, Kaling said her personal life is what gives her the most confidence these days.
Kaling gave birth to daughter Katherine Swati in December 2017 and welcomed son Spencer into the world in September 2020. Despite all the ups and downs of life, Kaling said she feels "so much more happy and confident after having children" than she did before. "In each subsequent year of my life, I'm just feeling happier and happier, and I am amazed at that," she said.
While her first pregnancy was very public, her second took place in private -- during the global COVID-19 pandemic, no less.
"I'm hesitant to even say this because obviously the past year and a half has been so challenging and continues to be with the variant ... but being pregnant during COVID was, in my estimation, kind of a dream," she said, noting she got to be by herself and wear sweatpants as much as she wanted without fear of being judged.
That said, there were "challenges" associated with having a baby during a pandemic. "Like the actual giving birth during COVID was a little scary, wearing the mask during delivery and all that," she continued. "I have to say that it was highly unusual, but I would not say it was totally unpleasant being pregnant during COVID."
Kaling said she felt "a lot of pressure" to get back to her pre-pregnancy weight after her daughter was born because she had to shoot a movie weeks after giving birth. Due to the pandemic, there was less of that after her son arrived.
"Having children really changes your body," she said. "Most of the stories in Hollywood are these insane glow-ups like three months after someone gives birth and I'm like, 'Why can't I do that?' I put myself to the same standard. I want to have that same bounce back. And the truth is it just didn't happen after my son was born."
Why having female friends matters
These days, Kaling is passing on her knowledge via T.J.Maxx's new pen pal program, The Change Exchange, via the company's The Maxx You Project. Beginning Thursday and through Sept. 20, participants can sign up for free to take part in exchanging letters physically or digitally with their pen pals.
"The truth is that as you get older, as a woman, you don't mean to but sometimes your support network you kind of alienate because you take on new responsibilities, you have new relationships, you have children," Kaling, who is currently writing "Legally Blonde 3", said. "And what's so exciting about The Change Exchange is it's basically designed to help women connect with each other and feel supported."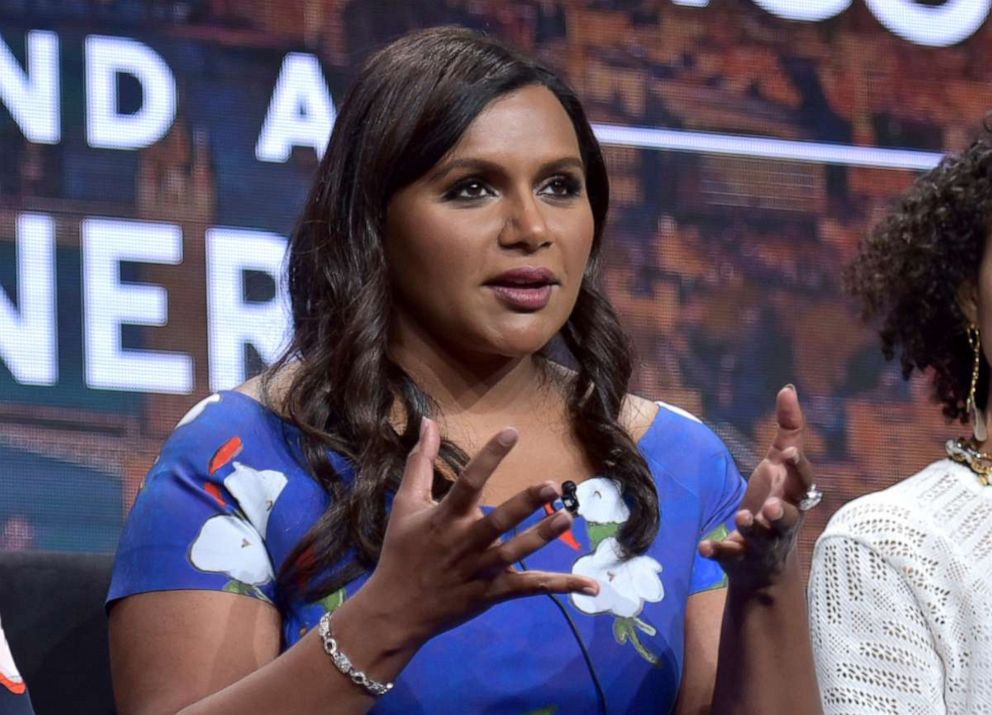 "The point is we can keep evolving and making friendships and I think that's sometimes hard to understand," she said. "I'm a single mom. I have two kids. So finding those people has been hugely important to me. It's vital to have those people -- otherwise you start feeling like you're going crazy."
How her career came full circle
While Kaling is proud of her more than two decades in Hollywood, perhaps some of her most personal work can be seen in "The Mindy Project," which ran for five seasons from 2012 to 2017. On the show, she played Mindy Lahiri, a curvy and quirky NYC-based OB-GYN who was not only obsessed with rom-coms but also spoke fluent pop culture and dated the hottest guys in the city -- looking absolutely fierce while doing it.
During the pilot episode, Kaling, who was the show's creator, star and executive producer, got to return to the scene of the emotional crime from her twenties and stand up for herself the way she wished she would have been able to at the time, by asking, "Do you wanna get smacked?"
"I don't even know that my character reacted that great enough, but so much of writing is just catharsis," she said. "I just wanted someone to be able to say that -- but in this instance, I'm not wearing no makeup, jeans and a T-shirt. I'm looking fabulous because [the series' costume designer, Salvador Pérez Jr.] put a beautiful costume on me so that when people see it, they can feel my anger and injustice but I'm also looking great."
Righting the wrongs of her youth -- and empowering the women of today -- has given Kaling a sense of peace. It's also made her more comfortable with aging than she ever could have imagined.
"I'm just so much smarter than I was before," she said. "Life experience just makes you smart. I was so stupid. I was just hung up on dumb stuff. It feels like such a blessing to get older."