Prince Harry and Meghan Markle hit the beach Friday in Australia, where they donned floral leis and met with representatives of a mental health advocacy group -- a key theme in their royal foundation's work.
The royal couple visited the iconic Bondi Beach in Sydney, Australia, where they met with representatives from the OneWave Organization, a local group that works to raise awareness for mental health.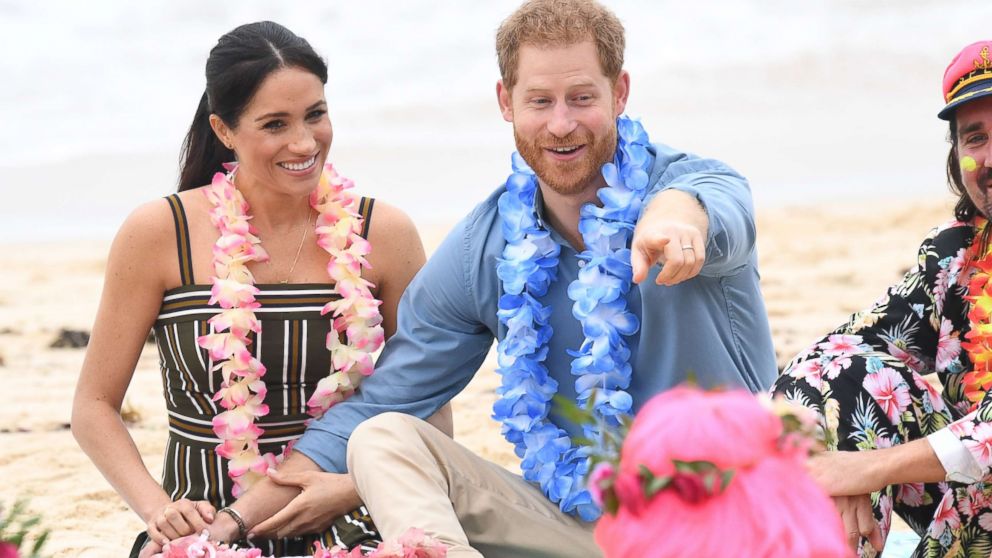 Meghan opens up about her pregnancy
Meghan, who is currently pregnant with the couple's first child, donned a Martin Grant maxi dress -- continuing her tradition of dressing in Australian designers during her visit Down Under.
She revealed she had woken up at 4:30 am to do yoga, calling it "so good for healing your mind."
The Duchess of Sussex, who is about 12 weeks along, also spoke out about her pregnancy, saying it was "like having jet lag without actually traveling."
Sunrise mental health session on the beach
On the picturesque beach, the couple participated in one of the OneWave organization's Fluro Friday Sunrise sessions, where people of all ages and from all backgrounds are invited to share their experiences of mental health issues.
The OneWave organization encourages its participants -- now in over 20 countries and at more than 100 beaches around the world -- to destigmatize and speak openly about mental health.
Raising awareness surrounding mental health issues has been a cornerstone of the humanitarian work Harry and Meghan, as well as Prince William and Princess Kate.
While on the beach, Harry and Meghan also met with some local surfers, as well as dozens of well-wishers who showed up to greet them during their Australia tour.
Prince Harry climbs landmark bridge
Later in the day, Prince Harry went solo to climb the Sydney Harbour Bridge to raise the flag of the Invictus Games, which kickoff this weekend in Sydney. He was accompanied on the climb by Invictus Games competitors and the prime minister of Australia.
Harry, a military veteran, founded the Paralympic-style competition for wounded sick and injured service members in 2014. It is one of his most important accomplishments and has been an inspiration to many in the military community recovering from their wounds and suffering from invisible injuries.
Empowering young people
Meghan changed into a blue dress by Roksanda Ilincic for a visit with Harry to a local girls' high school, where they watched a contemporary dance performance.
Harry and Meghan also met with young people involved in a program that focuses on "building a positive sense of self, setting goals, appreciating diversity, developing communication skills and work with others to achieve common goals," according to Kensington Palace.
Meghan, who grew up in Los Angeles, told the students that her first job, at age 14, including "taking out the trash," which, she said, made her the person she is today.