Melbourne fan breaks down in tears after receiving hug from Prince Harry
Phil Noble/Pool Photo via AP
Prince Harry and Meghan Markle spent the third day of their Australia tour in Melbourne, where they met with members of the public, including one Harry fan who broke down in tears when he stopped to hug her after spotting her sign in the crowd.
The girl, identified as India Brown, held a sign that read,"Been Here Since 4 am! Loved U Since I Was 8!!!"
Harry found the sign in the crowd, and as he gave India a big hug, she could be seen breaking down in tears.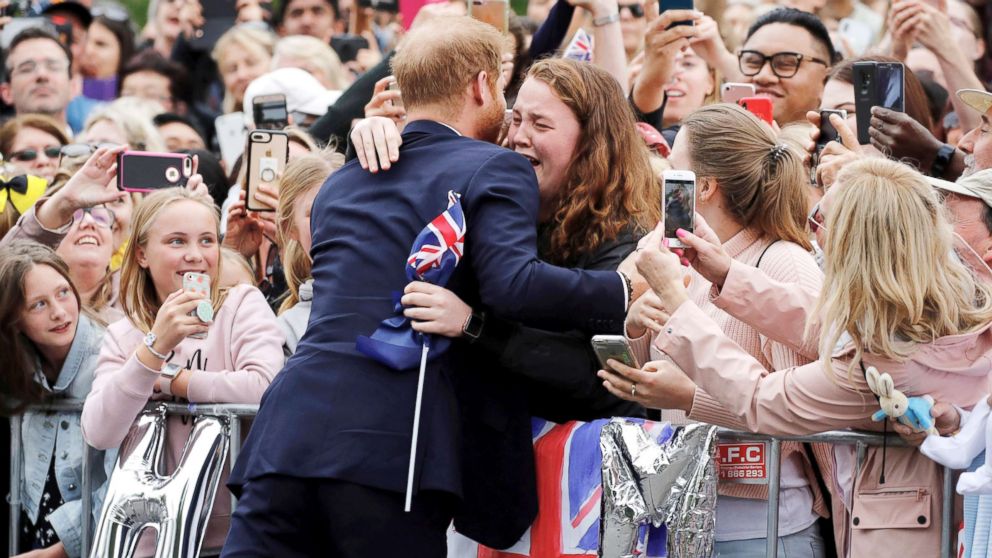 Meghan also had a poignant moment with a fan when she was offered a bouquet of lily of the valley flowers, the favorite flowers of Prince Harry's mother, the late Princess Diana.
Like Diana before her, Meghan has continued to engage in diplomatic fashion while in Australia.
Meghan wore in Melbourne a Dion Lee maxi dress and Martin Grant trench coat, both made by Australian designers.
The so-called "Meghan effect" or "Markle Sparkle," where just about everything the duchess wears sells out instantly, has been a staple of the royal tour this far.
Today was no exception. Dion Lee's folded sail dress was instantly besieged with online requests, causing the company's website to crash. The dress, which was a custom-made bespoke dress for Meghan, will reportedly become available later this week.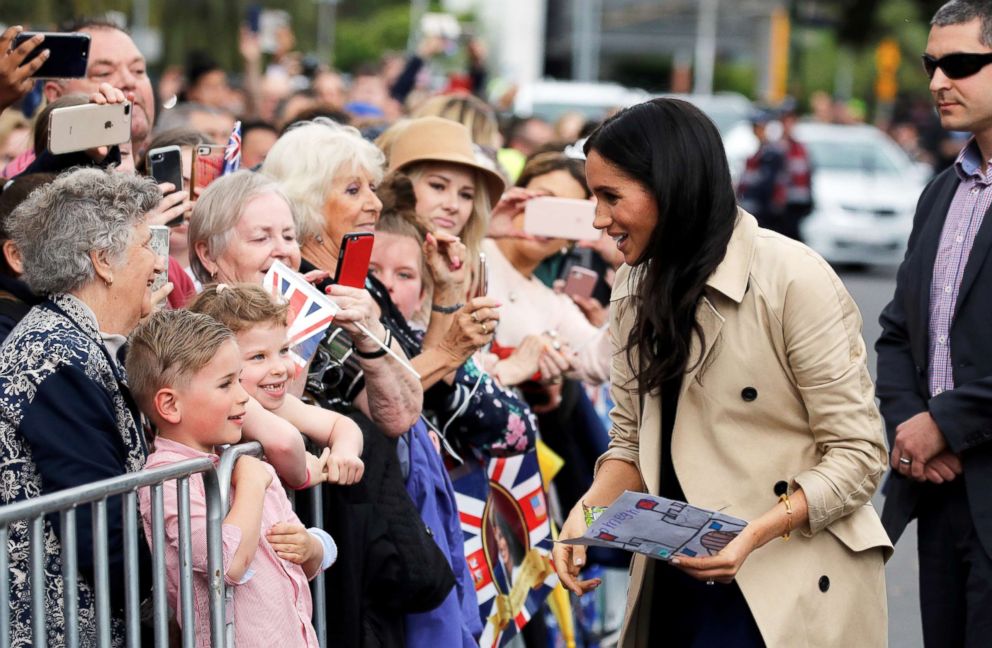 The CEO of Outland Denim revealed in an Australian TV interview the Australia-based company had sold out every pair of the ethically-sourced Outland jeans Meghan wore during her engagement Wednesday in Dubbo, Australia. The jeans benefit women who have survived human trafficking in Cambodia.
Meeting with young leaders
Meghan and Harry, who spent less than five hours on the ground in Melbourne, began their visit with a stop at the Royal Botanic Gardens Government House.
The couple attended a reception hosted by the governor of Victoria that recognized young leaders from across the state.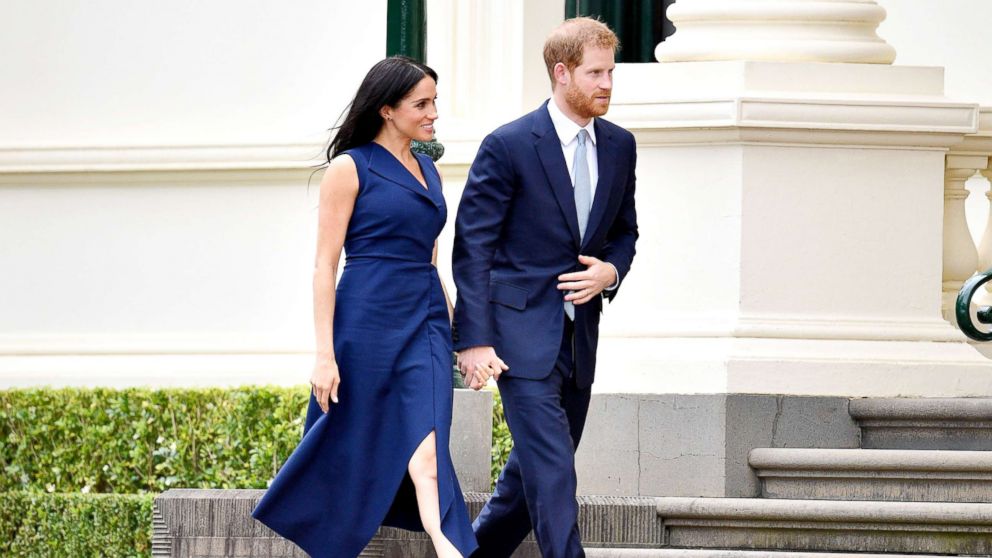 Harry was recently named Commonwealth Youth Ambassador by Queen Elizabeth, and the royal tour is an opportunity to connect with the next generation of leaders in Australia. One-third of the Commonwealth is represented by people under age 30, and Harry and Meghan hope to listen to their ideas and concerns.
Harry spoke about the work he and Meghan expect to do in this arena during their engagement interview, saying, "Both of us have passions for wanting to make change, change for good. With lots of young people running around the Commonwealth, that's where we are going to spend most of our time hopefully."
Meghan and Harry also got a chance to meet Willow, a golden Labrador guide dog. Meghan, a dog owner, told attendees, "Everyone knows my Achilles heel is dogs."
Promoting women's empowerment
Meghan and Harry also took time to meet young women from the This Girl Can campaign, with Meghan even taking part in drills outside on a field.
Meghan has long been an advocate of women's empowerment and it's expected that women's empowerment, gender equality and education will be key themes in her future work as the Duchess of Sussex.
Another passion of Meghan's is cooking and the Duke and Duchess of Sussex also had a chance to step inside a kitchen.
They joined a cooking session at Charcoal Lane, a social enterprise cafe that trains young Aboriginal and Torres Strait Islanders and provides employment opportunities for the indigenous population.
Cleaning up the beach
After visiting a school, where Meghan and Harry were shown a worm farm and vegetable garden by students, the royals jumped on a tram and headed to South Melbourne Beach.
Meghan and Harry traveled on the tram with kids who reportedly asked about baby names. The couple is expecting their first child.
After the tram ride, the kids told reporters that Meghan said she'd "been given a long list of names" and that she and Harry would sit down and take a look at them.
Meghan changed outfits for the beach visit, donning a Club Monaco dress and Rothy's flats, which she wore earlier this week.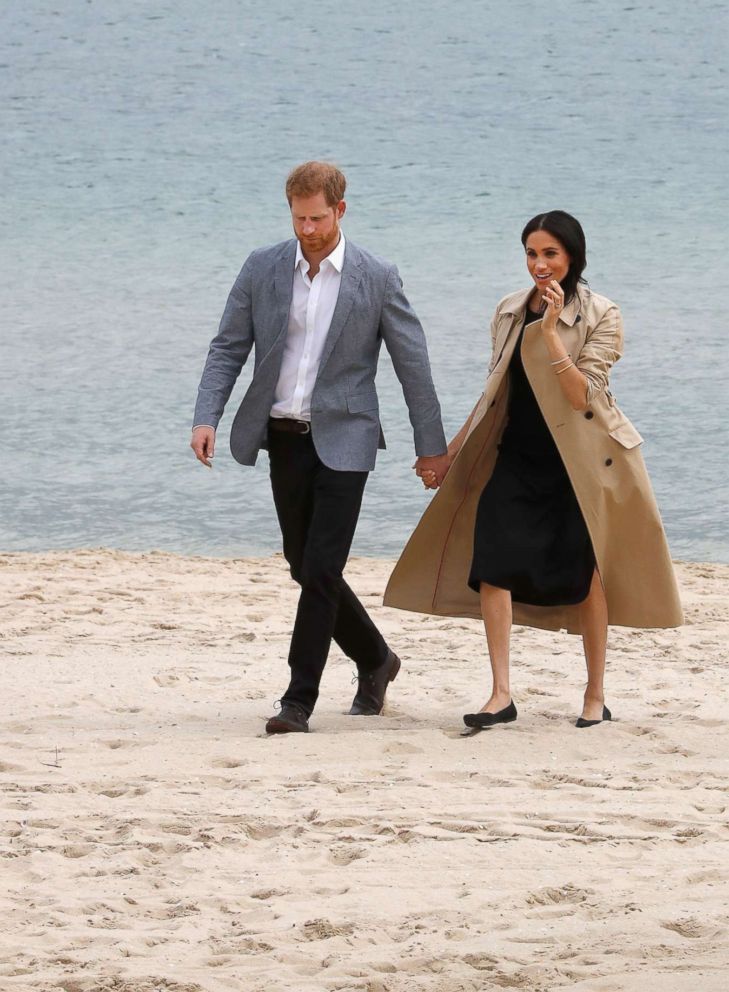 She and Harry met with lifeguards and joined a group working to clean the beach.
Friday will be another beach day for Meghan and Harry, who will visit the world-famous Bondi Beach and meet with a local surfing community group that works to raise awareness of mental health.