Do you want to see the movie that's sold the most advance tickets on Fandango? Then check out "Black Widow" (in theaters and on Disney+ Premier Access) with a knockout Scarlett Johansson in the title role. Delayed more than a year -- thanks, COVID-19 -- this Marvel epic is worth the wait.
Black Widow
Scarlett Johansson stars as Natasha Romanoff in Marvel Studios' action-packed spy thriller, "Black Widow."
Packed with Oscar and Emmy nominees who act like they mean it instead of faking it for a paycheck, this thrilling backstory lets us see Johansson's Russian assassin Natasha Romanoff, aka Black Widow, in the days before she became an Avenger.
You'll be hooked even if you never watched any of the 23 "Avengers" movies. "Black Widow" speaks for itself with rousing hand-to-hand combat deepened by emotions that befit the most provocative woman in the Marvel Cinematic Universe. Romanoff is a kick-ass spy (take that, James Bond) with no need for superpowers and no interest in racking up sexual conquests.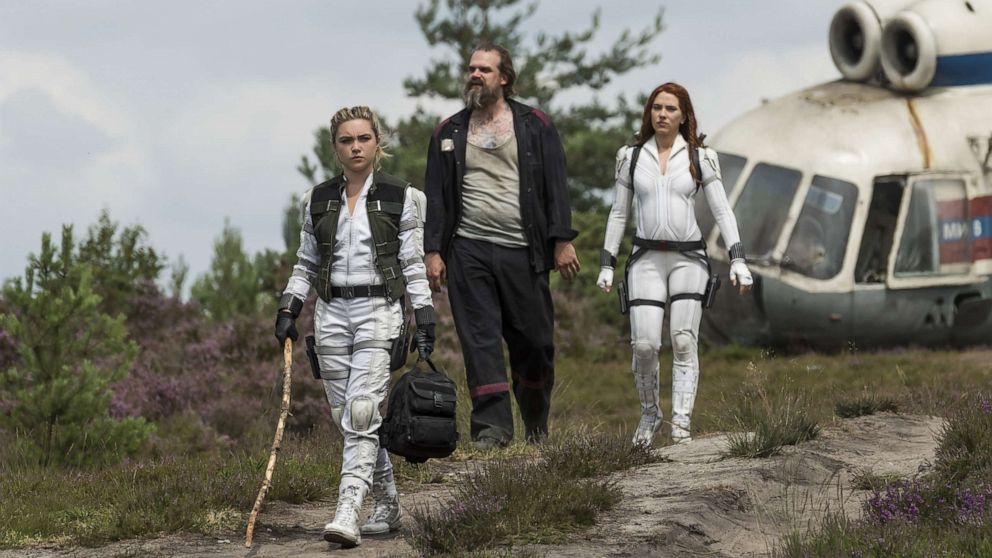 Smartly directed by Aussie dynamo Cate Shortland, "Black Widow" focuses on Romanoff's plan to end the reign of General Dreykov (a hissable Ray Winstone), the brainwashing Russian tyrant who trained her as a killer for his rogue espionage agency, dubbed the Red Room.
To complete her mission impossible, Romanoff must reconnect with the undercover U.S. family that -- shades of "The Americans" -- once passed themselves off as 1995 Ohio suburbanites. Dad Alexei (David Harbour) may have been a super-solider known as the Red Guardian. But he and his scientist wife Melina (Rachel Weisz) had to blend in as Buckeye State rubes.
For three years, Romanoff and her pretend sister, Yelena (Florence Pugh), formed an alliance that had nothing to do with being pawns in a Red Room game. That is until their cover is blown and these faux Americans are separated into factions they could never have anticipated.
In Norway, where she evades capture by U.S. Secretary of State Thaddeus Ross (William Hurt), Romanoff watches the 007 caper "Moonraker" as a primer for escape. In Morocco, Yelena yanks a Dreykov tracking device from under her skin and dodges a fembot army of "Widows" designed to aid Dreykov in his plan for global domination.
Download the all new "Popcorn With Peter Travers" podcasts on Apple Podcasts, Spotify, Tunein, Google Play Music and Stitcher.
All the actors come up aces. Harbor ("Stranger Things") nails it as a goofball strongman whose prison break generates a bonfire of excitement. And Weisz ("The Favourite") radiates a fierce humanity that shows her maternal instincts weren't all manufactured by Dreykov.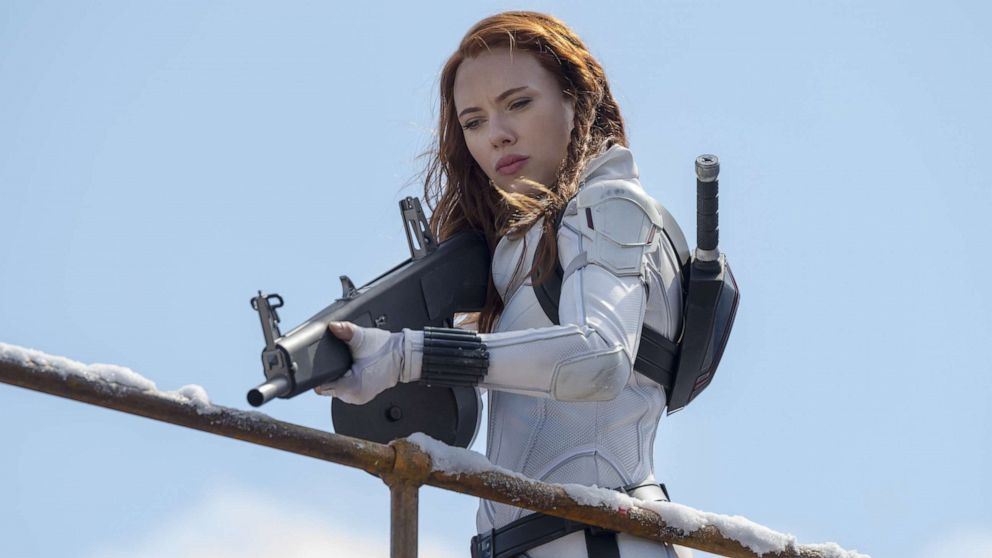 Still, "Black Widow" belongs to the two women at its center, both haunted by broken childhoods and both determined to break free of the dictates of toxic masculinity. You've never seen a Marvel movie like "Black Widow," and that's the point.
Johansson, equally adept at drama ("Marriage Story") and comedy ("Jojo Rabbit"), is a startling and soulful screen presence.You can't take your eyes off her. And it's no accident that the spectacular Pugh ("Little Women") is generating Oscar buzz as the kid sister who teases her sibling's hair-tossing poses while never compromising a bond that goes deeper than blood.
In typical Marvel fashion, the action sequences range from bracing to bloated and often rob the film of intimacy. "Black Widow" is best when it busts out of the Marvel mythology bubble to become a stirring, standalone tribute to female empowerment. I'd call that progress.