Underdog sports stories—think "Rocky" or "Creed" or "Jerry Maguire" or "Moneyball"— are hardly rare birds. But when they're done with force and feeling like "Hustle," the Adam Sandler basketball slam dunk now on Netflix, they can slap a smile on your face that just won't quit.
Sandler made his name with farcical jokefests that range from good ("Billy Madison," "Happy Gilmore") to grating ("Jack and Jill," "Hubie Halloween") but require no range at all from him as an actor. The truth is that Sandler got rich by repeating himself in movie money grabs.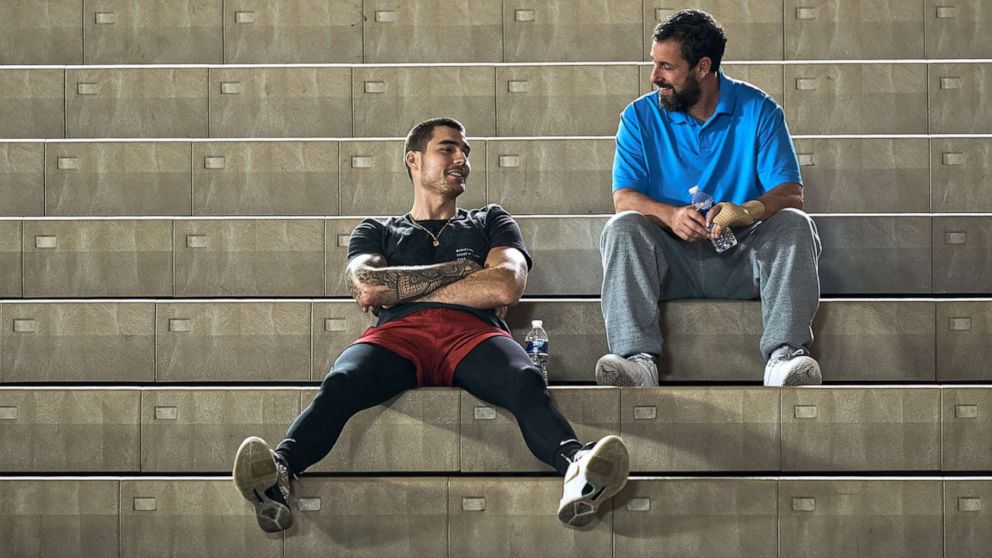 Still, scattered among the junk, are films that show Sandler as a formidable talent. I'm thinking "Punch Drunk Love," "The Meyerowitz Stories" and especially 2019's "Uncut Gems," in which Sandler's brilliant tour de force as a compulsive gambler should have won him an Oscar. Instead, he wasn't even nominated. Hollywood is slow to take low-road comics seriously.
That's a shame. Sandler again shows what he can do when fully committed to a role as he is in "Hustle." As Stanley Sugerman, a longtime scout for the Philadelphia 76ers, he is devoted to his wife Teresa (a warm, funny Queen Latifah) and their teen daughter Alex (Jordan Hull). But his continent-hopping life on the road, even at five-star hotels, only intensifies his inner sadness.
An accident ended Stanley's early dream to be a player. But his goal to land a job as a coach seems in reach when team owner Rex Merrick (the great Robert Duvall) finally grants his wish. Sadly, the owner's jealous jerk of a son, Vince (Ben Foster), sends Stanley back on the road.
It's at a street pickup game in Spain where Stanley spots a diamond in the rough in the giant form of tattooed construction worker Bo Cruz. He's played by Juancho Hernangómez, the Utah Jazz power forward, a non-actor whose spontaneity and natural grace can't be taught in school.
The soulful teamwork between Sandler and Hernangómez is devoid of the usual Hollywood clichés. Both Stanley and Bo have troubled pasts and there's an assault charge on Bo's record, a dealbreaker for Vince. That means Bo, with a mother and a young daughter back home, will have to be trained, housed and fed on Stanley's shrinking bankroll.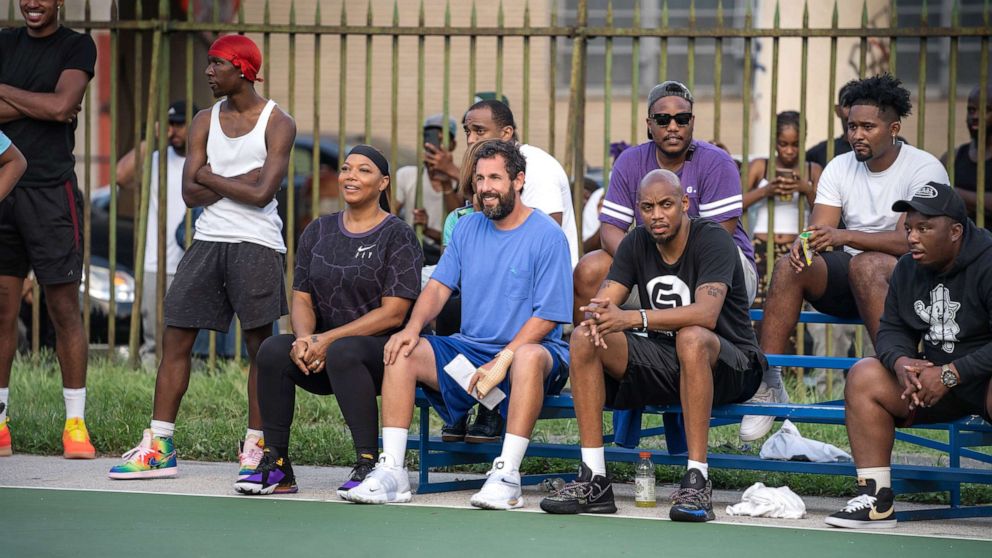 There's a gimmicked-up conflict between Bo and another draft pick, the arrogant, needling Kermit Wilts, played by Anthony Edwards, a former teammate of Hernangómez on the Minnesota Timberwolves. But both players bring a realistic heat to their on-court rivalry.
Even the training sessions we've seen since Rocky was a pup still work like a charm because the actors make us care. Sandler shows admirable restraint in a role he could have played for obvious laughs. Instead the humor feels organic to a character who knows Bo is his last chance. "Guys in their fifties don't have dreams," he says, "they have nightmares and eczema."
The usual rah-rah ending at the big game is replaced by the NBA Draft Combine, featuring the top draft contenders showing each other what they can do. Director Jeremiah Zagar ("We the Animals") stages the court action with an excitement that can't be faked.
It's no secret that Sandler loves basketball and in tandem with co-producer LeBron James — stacks the film with NBA all-stars, including Shaquille O'Neal, Julius Erving, Doc Rivers, Trae Young, Kenny Smith, Dirk Nowitzki, Tyrese Maxey, Seth Curry, and Allen Iverson.
Thanks to Sandler and his hoops addiction—he had Kevin Garnett play himself in "Uncut Gems"—"Hustle" radiates love for the game in every frame, traveling down formulaic paths with bracingly fresh results. Hot damn! We have a winner.