Get ready for the "woke" version of "A League of Their Own," the eight-part, eager-to-please-and-provoke Amazon Prime series that re-imagines the beloved 1992 film classic in which director Penny Marshall and a cast led by Geena Davis, Tom Hanks, Rosie O'Donnell and Madonna, celebrated the 1943 formation of the All-American Girls Baseball League.
Now, with fresh research and three more decades of hindsight, the new "League"—created by Will Graham ("Mozart in the Jungle") and "Broad City" breakout star Abbi Jacobson in a lead role—casts a refreshingly queer and diverse eye on a baseball revolution that the film barely hinted at.
The creators fumble the ball more than a few times, but their intentions are honorable. The jolt of seeing a subtext brought front and center gives a wised-up, Gen Z spin to a 1940s period piece that can also feel jarringly anachronistic, especially to those who actually lived it.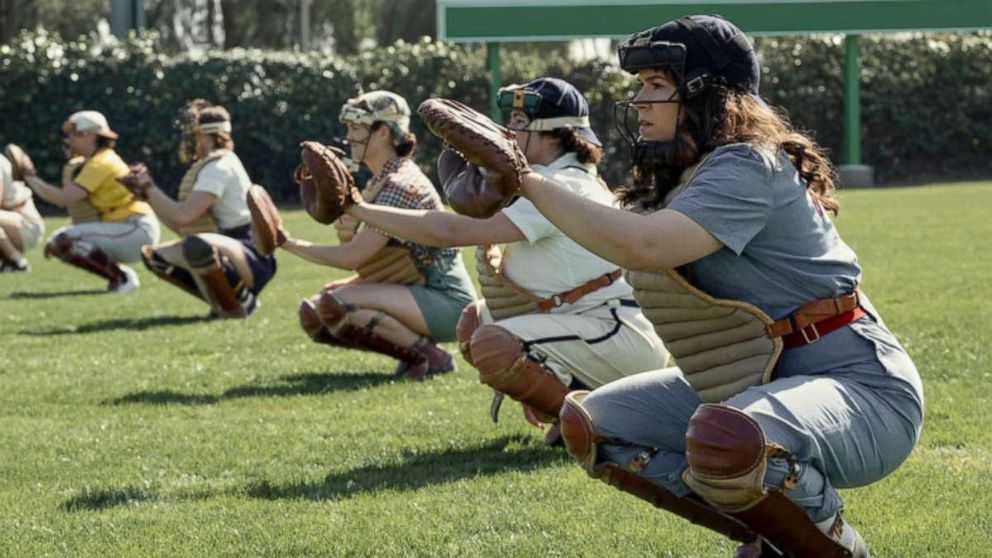 Jacobson stars as Carson Shaw, an Iowa housewife who hits the Chicago tryouts to catch for the Rockford Peaches, one of four female teams launched to sub for men at war. Though the teams lasted until 1954, the women mostly returned to domestic duties when their Johnnies came marching home. It wasn't until 1988 that the Baseball Hall of Fame bothered to honor them.
But Carson knows none of this, only the exhilaration she feels at being chosen to play and later coach the game. Her guilt kicks in when she acts on her attraction to player Greta Gill (a livewire D'Arcy Carden) and writes a conflicted confession to her soldier husband (Patrick J. Adams).
On a parallel plot track, Chanté Adams burns up the screen as Max Chapman, a Black pitcher whose killer arm is still not enough to cross her over into the white ranks of the Peaches. Can she make it in the Negro League? Will her closeted lesbian proclivities alienate her from her family and her married friend Clance? (a knockout Gbemisola Ikumelo) Stay tuned.
There is more sex in this series than baseball, though we do get the jeering, leering male fans in the stands and a coach who wants his players to be lookers. Nick Offerman underplays the role that Hanks took on with boozy brio ("There's no crying in baseball.")
There's a whole new crop of Peaches this time. But don't get the impression that the series creators made up things to fit their ideology. Max's character is based on interviews with three women in the Negro league: Toni Stone, Mamie Johnson and Connie Morgan.
And the real-life pressure on the Latinx members of the Peaches to pass for white comes through strongly in the performances of Roberta Colindrez ("Vida") as Lupe and Priscilla Delgado ("Julieta") as Esti. These historical offenses still need addressing and get it here.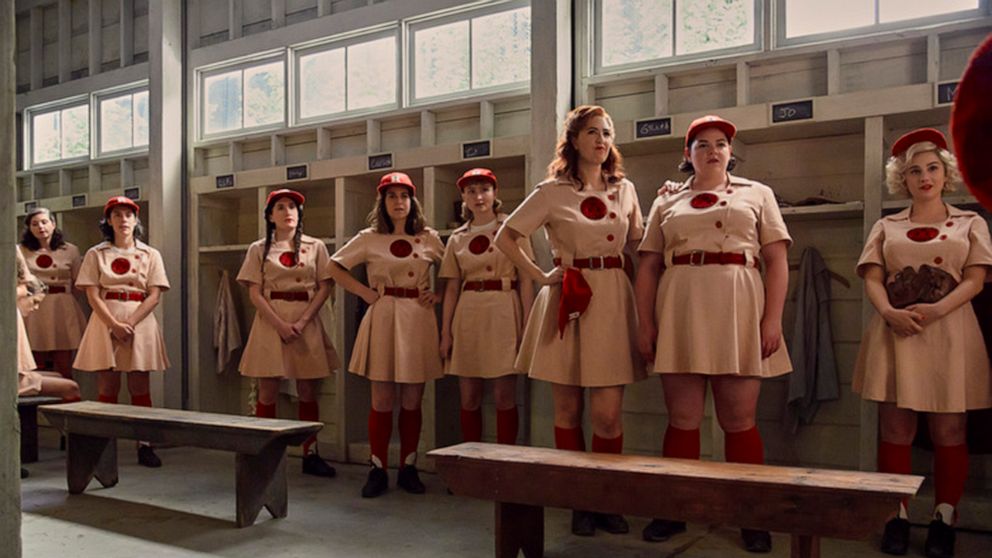 The downside is that many characters are treated like signposts for social issues instead of flesh-and-blood humans. The actors, good as they are, can't always compensate since the series lacks the warm, gooey center of Marshall's feel-good movie.
It helps that the series gets better as it goes along when the characters break free from their social agendas. In episode six, set at a gay bar owned by Vi, played by Rosie O'Donnell—the only movie cast member to makes an appearance in the series—Carson looks around in awe, experiencing a sense of belonging that she only previously felt on a baseball field.
You may have noticed that racism and gay-bashing are still eating away at America. "A League of Their Own" is eager to remind us that ignoring history leaves us damned to repeat it.
That's a lot of heavy dramatic lifting. The Hollywood version was comfort food while the series wants to make the laughs stick in our throats. It's a rookie move to want it both ways. But even as season 1 leaves us hanging in hopes for a better and more cohesive season 2, it's hard not to salute this band of outsiders with a rousing, "Go, Peaches!"