'Schitt's Creek' star Emily Hampshire reveals cocktail orders each character would drink during Super Bowl
Whether it's jetting off to Europe with the cast of "Schitt's Creek" to unplug or for the theme of an upcoming Super Bowl commercial, Emmy award-winning actress Emily Hampshire is a certified cut-out enthusiast.
Hampshire, who starred as the witty, deadpan desk clerk turned motel owner Stevie Budd, spoke to "Good Morning America" about her latest project as the face for another award-winning title.
"I don't do a lot of commercials 'cause I think it takes a brave brand to want a human sloth like me -- some might say -- to endorse them," she said with a laugh. "But when I found out Cutwater was doing a campaign about cutting out, I thought, 'hmmm, this is a match in canned cocktail heaven' -- it's the best feeling."
Hampshire, who stars in Cutwater Spirits' new ad campaign, said she recently had a luxurious break from the limelight thanks to Dan Levy with the entire cast of their hit comedy sitcom.
"Dan got us a villa in Tuscany for us all to go and spend two weeks together to say goodbye to each other," Hampshire shared, adding that everyone went with the exception of Eugene Levy, Catherine O'Hara and Chris Elliott. "We actually all really like each other."
The co-creator who played David Rose has publicly hinted at a possible reunion, movie or spinoff, but Hampshire said "I cannot share any details, 'cause I want to do it and I wouldn't be asked back."
"I would be down for all of that," she continued. "Usually when you're on a show you don't want to spend another day with your entire cast and we did. We loved it -- I would do anything with that group of people."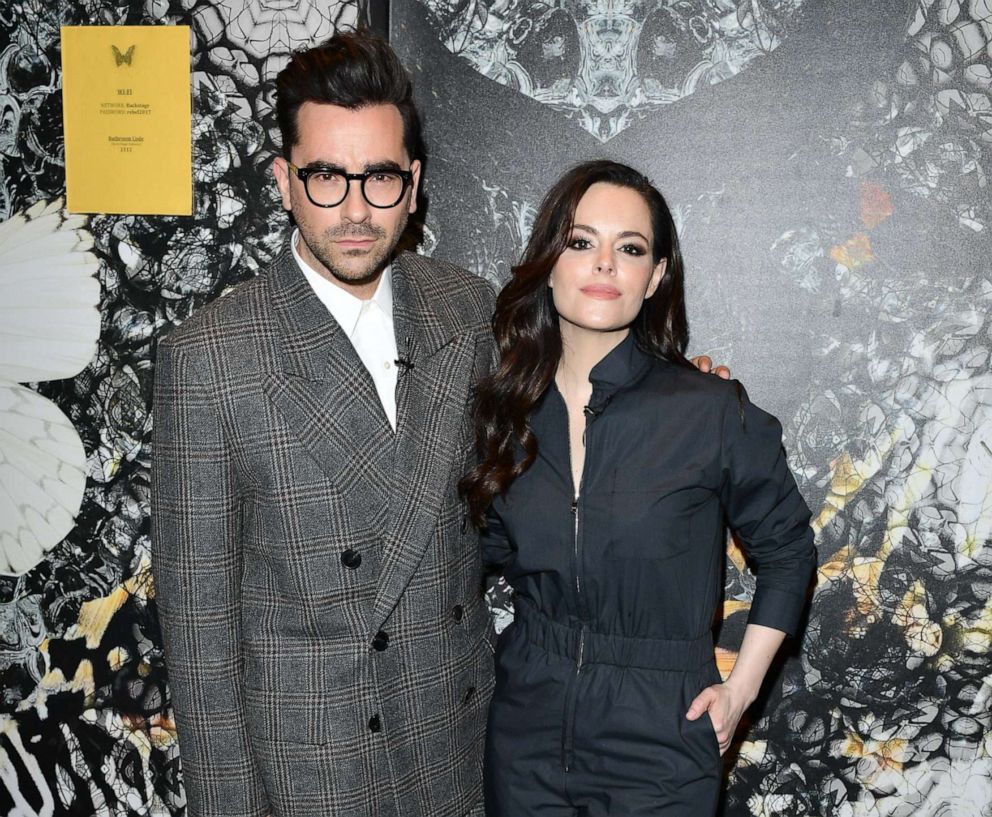 After six seasons, Hampshire said it "was extra special" for "Schitt's Creek" to end on such a high note. "Even though none of us wanted to end, I was glad we were done because I would never want the pressure of going for another season after you've swept the Emmys, it's all downhill from there."
Ever since the hit series wrapped last year, Hampshire has found other fun ways to keep busy during quarantine -- like joining TikTok.
"It's a very, very deep hole that I can go easily down. I'm there for like hours scrolling through my for you page," she said of her feed that's filled with everything from "an underdog story, also real dogs and teenagers singing."
On her own page, she's recently recorded some hilarious cooking attempts.
"So far I've made a video about how to scramble eggs. That video is the first time I ever scrambled eggs and used my stove. So I'm going through that journey as I cook," she said.
When thinking back on the show and the iconic cast of characters, Hampshire came up with accompanying cocktails orders for each person.
"Stevie Budd would be a fan of the Long Island iced tea I would say, because of it's dive bar vibes. She might also like a spicy bloody Mary or two on a Sunday -- that's Stevie vibes," she said.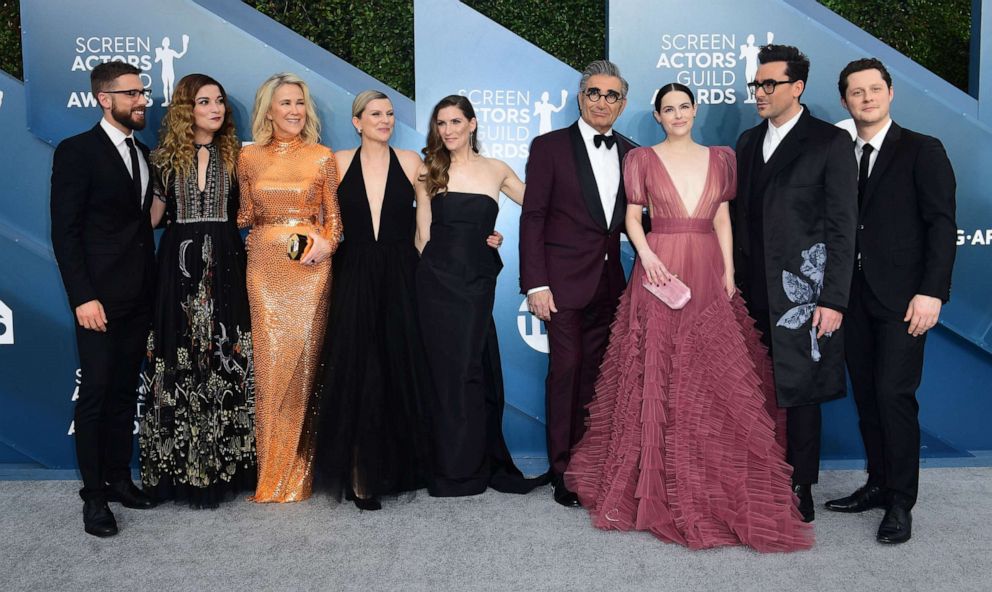 "David would most likely go for anything with tequila -- he would love the new mango marg 'cause he would just want to say 'marg' all the time," she repeated in her best David Rose impression. "Johnny is a classic man so he would love any mule -- Alexis would love the vodka soda cause it's like zero sugar, zero carbs -- she'd probably also gravitate towards cucumber because it's like fancy spa water, but with vodka." Finally, she said O'Hara's overly articulate, actress would choose the Tiki Rum Mai Tai, "'cause I would make her just to hear her say it in her Moira Rose accent."
Cutwater's campaign that rolled out on social media on Wednesday encourages people to live in the moment and "cut out" from their daily grind.
"While the TV commercial comes to life with lively outdoor 'Cut Out' occasions, Emily will highlight her own hilarious at-home interpretations of the theme," the brand said of its first 30-second Super Bowl Sunday spot and separate digital push with the actress.
"Many of us no longer have that physical divide between home life and work life, so it's hard to feel entitled to cut out, let alone know how to do it," Hampshire said. "As a long-time cut out enthusiast, I'm here to educate and inspire. Cutting out is not self-care. It's caring enough about yourself to not feel guilty about all the self-care exercise and meditating you're not doing. Cutting out is self-care without all those hashtag goals -- cutting out doesn't judge you for mixing weekends with weekdays."
In addition to the big game ad that will air in key regional West Coast markets, Cutwater has planned for additional digital takeovers, a national rollout on YouTube as well as a backyard sweepstakes.
The brand is also expanding its products with new tequila-based, ready-to-drink offerings including a new mango margarita and a series of frozen tequila pops.