'On Their Shoulders': Charles Melton called his mom his 'queen' and we're not crying, you're crying
Charles Melton called his mom his 'queen' and we're not crying, you're crying
ABC News Photo Illustration, GMA
In celebration of Asian American and Pacific Islander Heritage Month, "Good Morning America" presents "On Their Shoulders," a series featuring newsmakers, actors and musical artists who share tributes to those who paved the way for them.
From the football field to the screen, actor Charles Melton has had a unique career journey.
Before Melton was winning over the hearts of "Riverdale" fans as Reggie Mantle, he was a cornerback on the football team at Kansas State University with dreams of playing in the NFL.
Melton played football for 10 years, including under legendary football coach Bill Snyder at Kansas State. He left classes early every day to attend his football meetings.
"Sports being such an essential part of my life, I wanted to literally put everything and be the best I could at what I was doing and at that time, that was football," Melton told "GMA." "I wouldn't be here today if it wasn't for that."
Now he has a following of more than 5 million people on Instagram alone and is starring in a new romantic movie, "The Sun Is Also a Star," alongside Yara Shahidi.
Melton shares a special bond with his character in the film, Daniel Bae, as both their parents are immigrants.
"Daniel Bae is first-generation Korean," Melton shares. "I'm first-generation [Korean] on my mother's side, so that storyline, a parallel, I drew a similarity with Daniel Bae and I just love my mother."
"My hero"
The actor's mother, Sukyong Melton, moved to the United States with his father Phil Melton in 1990 after they got married. Melton calls her his "hero."
"My mom [at this point] has never been to America," he said of her move. "She doesn't have her driver's license, she has no friends in America, and then my dad finds out he's getting orders to go to the Gulf War in '91.
"I can't imagine being a woman and coming from a different country to being pregnant with a baby, with me," he shared.
"Then spending a year with your in-laws and your sisters-in-law, who you've never met, while your husband is at war for the next year, not knowing if he's gonna come back, and that takes a lot and my mom did that."
His biggest cheerleader
While Melton was at Kansas State University, his schedule was filled with classes, practices, games and football meetings, none of which he said he would have been able to attend without the help of his mother.
"I can't imagine being a woman and coming from a different country to being pregnant with a baby, with me"
"My mom would pick me up from class every Tuesday and drive me to the football complex so I could be in time for the meetings," he said. "It wouldn't have been possible for me to get to the meetings if it wasn't for my mom.
"Anything I chose to do, my mom would support."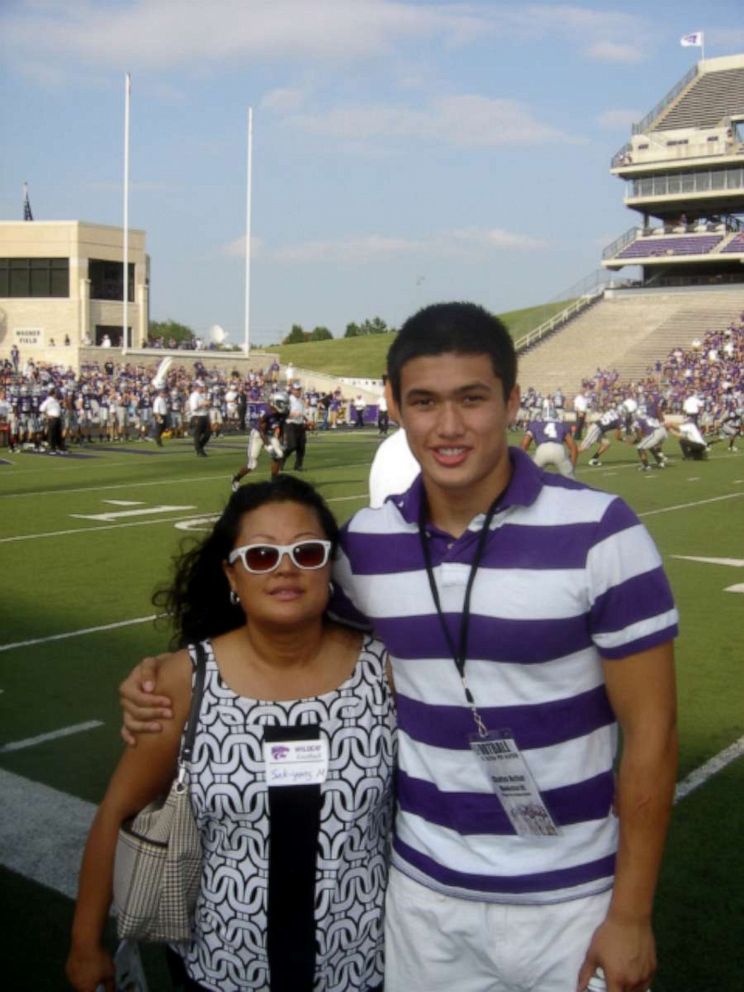 A strong support system
"I don't think you need a Plan B when your support system is so great, because they're just so focused on Plan A," Melton said.
His support system included mother, father, siblings and his "Halmoni," his mother's mom. And they were there for him when he had to choose between continuing to pursue football or his other passion: acting.
"I remember my mom, she packed 60 cans of tuna, 60 cans of chicken noodle soup," he said. "My Halmoni loves almonds, but you can't find those types of almonds that she likes in Korea, so she gave me her almonds and her nuts, which makes sense [because that's her mom] because they're so similar, giving me so much food."
"My mom said, 'It's gonna be good. It's gonna be tough for two months. If you don't work or make any money, you'll have this.' This is the best that she could do."
With the food his family provided him and just $500, Melton drove out to L.A. to pursue his dream.
Melton and his mother remain close to this day. She recently attended the premiere of "The Sun is Also a Star" in support of her son.
"I wouldn't change my relationship with my mother for anything -- like anything," Melton emphasized.
"That's my queen."
"The Sun Is Also a Star" is in theaters May 17, 2019.
Editor's note: This was originally published on May 16, 2019.