Taylor Swift responds to Keith Urban's cover of 'Lover'
George Pimentel/LP5/Getty Images for TAS
Country and pop music fans are freaking out over this star-studded crossover they didn't know they needed.
When Keith Urban stunned on stage with a beautiful cover of Taylor Swift's newest hit song, even the "Lover" artist herself was singing his praises.
Urban said he was "fully winging it" with his band at the Washington State Fair on Saturday when they played the title track from Swift's seventh studio album.
"Every now and then you hear a song that you love and wish you'd written ... and a HUGE thx to my band as well - we didn't get to rehearse so ... this is us fully winging it," Urban wrote along with the video.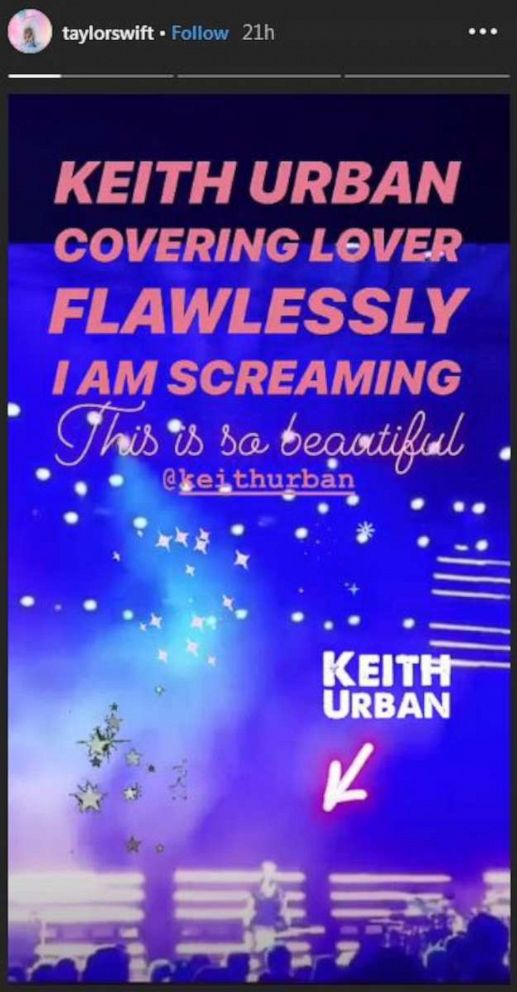 Swift immediately gushed over Urban's rendition on social media, retweeting and sharing the performance on Instagram stories.
"Keith Urban covering Lover flawlessly I am screaming this is so beautiful," she wrote over the video on IG with a glowing arrow pointing to him on stage, a GIF of a cat throwing confetti and a heart bursting with tiny hearts spilling out.
The perfomance of the chart-topping hit, first tweeted by Urban, has over 13.7K retweets and has been viewed more than 1.3 million times.
Naturally fans of both artists quickly clammored over the idea of a collboration, and although no hints of a duet have dropped it certainly sounds like music to our ears.