Just in time for Halloween comes the PG-rated "Roald Dahl's The Witches," in which family audiences are warned that witches are everywhere and their primary goal is to turn children into mice so they can be easily exterminated. With a diabolically funny Anne Hathaway fully committed to playing the Grand High Witch as an unrepentant sadist, prepare for plenty of shivers and nervous laughs. That's typical of Dahl's twisted wit in such bestsellers as "Charlie and the Chocolate Factory" and "Matilda."
Placing the author's name in the title is meant to separate the new movie from Nicolas Roeg's 1990 film, with Anjelica Huston as the Grand High Witch, and suggest a stricter faithfulness to the 1983 book -- but not too much. Director Robert Zemeckis ("Forrest Gump"), working from a script he wrote with Kenya Barris ("Black-ish") and Guillermo del Toro ("The Shape of Water"), moves the initial setting from Norway -- Dahl was born to Norwegian immigrant parents -- to Alabama in 1968. He also changed the tale's unnamed boy hero to an African American orphan (a terrific Jahzir Bruno) left in the care of his loving grandma (the ever-glorious Octavia Spencer). Chris Rock is the unseen narrator, further underlining the racial awareness meant to speak to a 2020 audience with a pertinent understatement that is otherwise in short supply.
Knockabout farce kicks in as Grandma, the boy and his pet mouse Daisy (voiced by Kristin Chenoweth), check in at a swanky resort hotel to escape witches who are all over the place, especially here. The snob hotel manager (Stanley Tucci) greets his Black guests with racial disdain, but sucks up to the Grand High Witch and her glamorous coven who pretend to be at a convention to help children. Ha! It's the boy and his new friend, Bruno (Codie-Lei Eastick), who sneak behind closed doors to spy on what these ladies are really up to.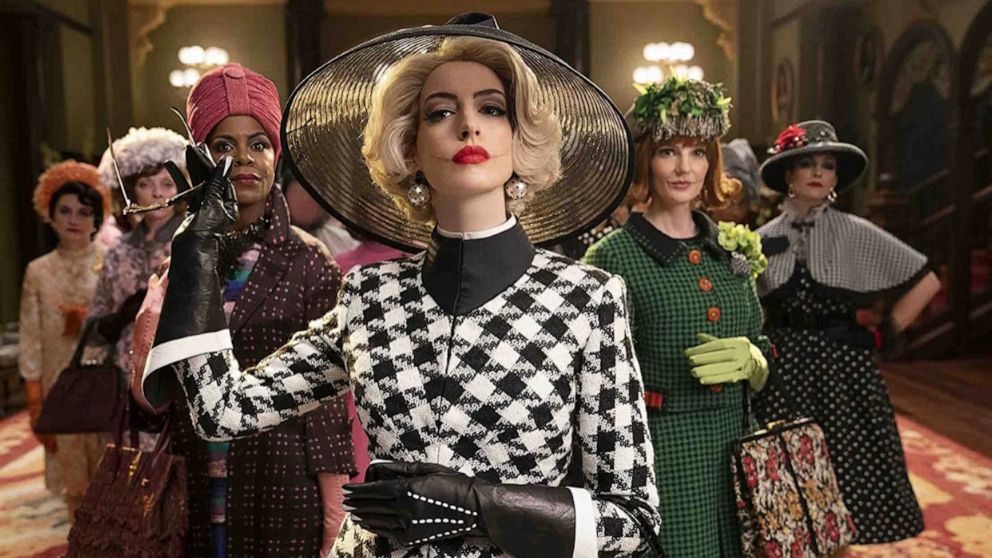 It's a scary sight to see, thanks to the smashing special effects. Stripping off their fake skin, the witches are revealed as hideous crones with bald heads, scabby with rashes, claws they hide behind white gloves and bare feet with only one hideous, elongated toe. Eek, indeed. The boy and Bruno try to run when they watch the witches unveil the magic potion that will turn kids to mice. But not before Hathaway's royal menace, with her Joker grin, stops them with her potion.
They escape to Grandma, who after her initial shock at their transformation into talking rodents, hatches a plan to turn the tables on the witches. Zemeckis directs it all like a slapstick hellzapoppin. Dahl was criticized as a misogynist for making the witches such, well, witches. But that accusation ignores the role of Grandma, whom Spencer invests with enough warmth and wisdom to become the ultimate protector. Though the director has been rightly criticized in the past for favoring flashy pyrotechnics over flesh-and-blood characters (see "The Polar Express" and "Welcome to Marwen"), the actors come through for him here. The scenes where the boy accepts his fate as a mouse to get closer to his grandma and his own sense of himself are not only true to Dahl's book -- as the 1990 film was not -- but they also provide a depth of feeling the movie would otherwise miss. So, see "Roald Dahl's The Witches" on HBO Max for a tricky Halloween treat, but stay for a fright-fest that won't settle for skin deep.
Download the all new "Popcorn With Peter Travers" podcast on Apple Podcasts, Spotify, Tunein, Google Play Music and Stitcher.