Actress Zooey Deschanel visits Napa Valley ranch to travel with a purpose
Jamie Mccarthy/Getty Images
"New Girl" actress Zooey Deschanel and "Property Brothers" star Jonathan Scott are opening up for the first time since they got engaged.
In their first interview since Scott popped the question to Deschanel in August, the couple told People about their love story, their blended family and the home they've built together.
"We've just been basking in engaged bliss," Deschanel said.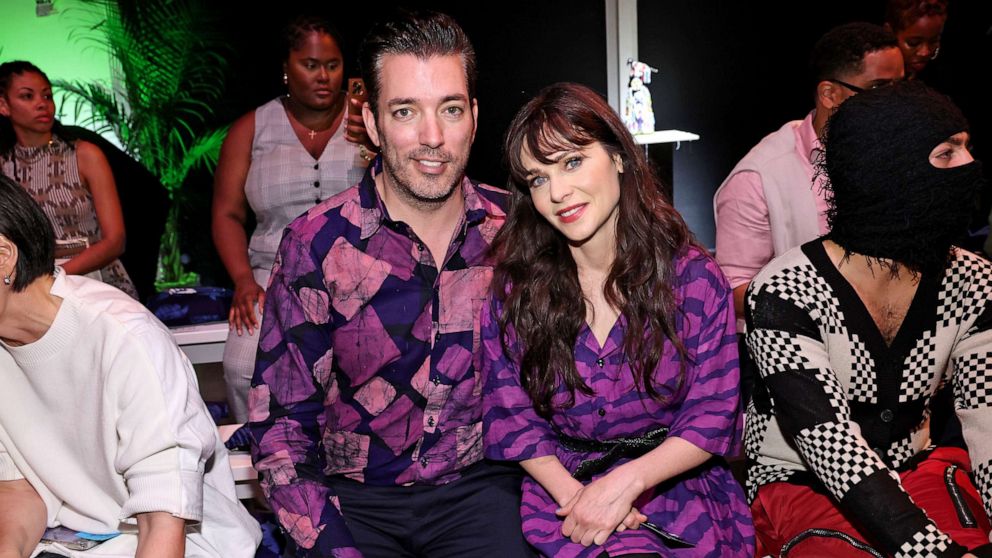 A fairytale engagement
The couple's engagement was one out of a fairytale with Scott asking Deschanel to marry him at Scotland's Edinburgh Castle.
Scott told the magazine he had been planning the surprise for months. On the day of the proposal, he ensured that he and Deschanel were the last people at the historic site.
The proposal included a bagpipe band and a guitarist who performed Neil Young's "Harvest Moon," their favorite song.
The special moment also included Deschanel's kids, Elsie, 8, and Charlie, 6, whom she shares with ex-husband Jacob Pechenik. "I was like, 'I think something's happening,'" Deschanel recalled about the moment, which involved her kids holding a sign that read, "Zooey, will you marry me?"
"When Elsie turned around and read the sign, she immediately goes, 'Did you just get married?' And we're like, 'Well, no not yet. But we got engaged!'" Scott said. "The kids didn't know until the moment it happened."
On their blended family
Deschanel, who has been open about co-parenting Elsie and Charlie, called her family "very blended."
"Our family is very deeply rooted and very blended," Deschanel said.
In an Instagram post from Father's Day, the actress, whose divorce from Pechenik was finalized in 2020, shared a photo of her with Pechenik, their kids and Scott on a Disney trip. In the caption, she talked about how "grateful" she is "for the dads in mine and my kids' lives."
She also called Scott, Charlie and Elsie's "bonus daddy."
"I feel the kids have opened up a whole new depth of love in his heart," Scott's brother, Drew Scott, said.
Creating a home together
While the couple said they "haven't really figured out anything" in terms of their wedding, Deschanel and Scott have already created a home together for them and their children.
In 2020, they bought a home in the hills above Los Angeles, which they said Elsie and Charlie called Park House. The house took three years to complete, but it turned into a sustainable home for their family.
"If we have survived this, we could literally survive anything in the future, because this house was a challenge," Scott said.
"I have that dream for our kids that they will come back here, and eventually maybe they'll move back in," he added.