A 9-year-old Massachusetts boy has gone viral after sewing a dress shirt for his father.
Aaron Gouveia shared a video of his son Sam showing him the custom creation on TikTok over the weekend, and in just three days, the post on his @daddyfiles account had garnered more than 13 million views.
Gouveia, a dad of three from Franklin, Massachusetts, told "Good Morning America" that Sam has been taking sewing classes for over a year and was inspired by his great-aunt Val to pick up the hobby.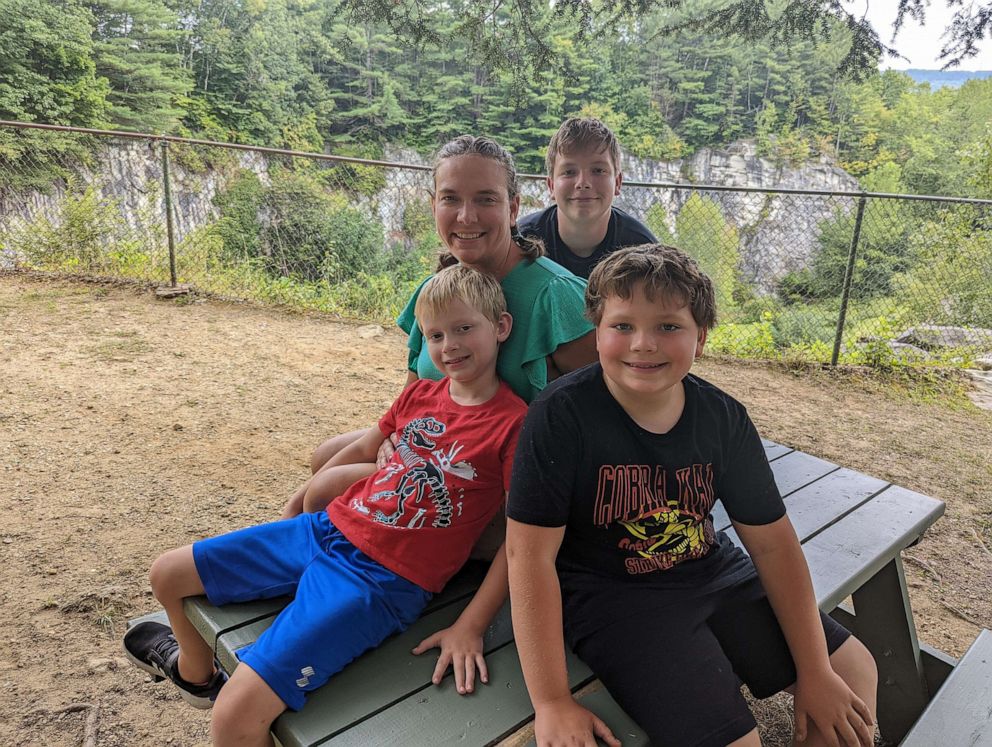 "His great-aunt is [an] unbelievable seamstress. She sews everything. She's been making us gifts our whole life and he thought that was so cool," Gouveia explained. "So for the last few years, she has been showing him how to do things and it got to the point where he wanted to kick it up a notch."
Sam has been honing his sewing skills at a local store called the Franklin Mill Store. So far, he's made a pair of cat pajama pants for his brother, scrunchies, a dress for his cousin, a pillowcase and now a shirt, according to his dad.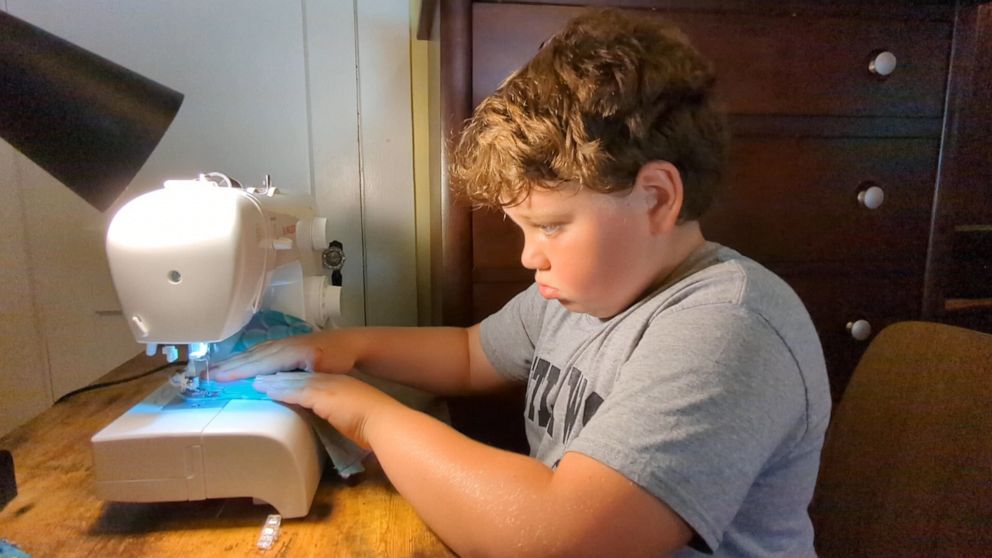 "I was so impressed and so flattered that he wanted to make it for me," Gouveia said.
"It's really good. It's definitely different. It looks very '70s. It's almost got a leisure suit lapel. But it fit and it was my style," he said of the navy blue shirt, which features a floral print with roses.
Gouveia, who is also the author of "Raising Boys to Be Good Men" and "Men and Miscarriage," said the night after he received the shirt, he wore it out for the first time to a birthday dinner for his own father, and he plans on wearing it again soon.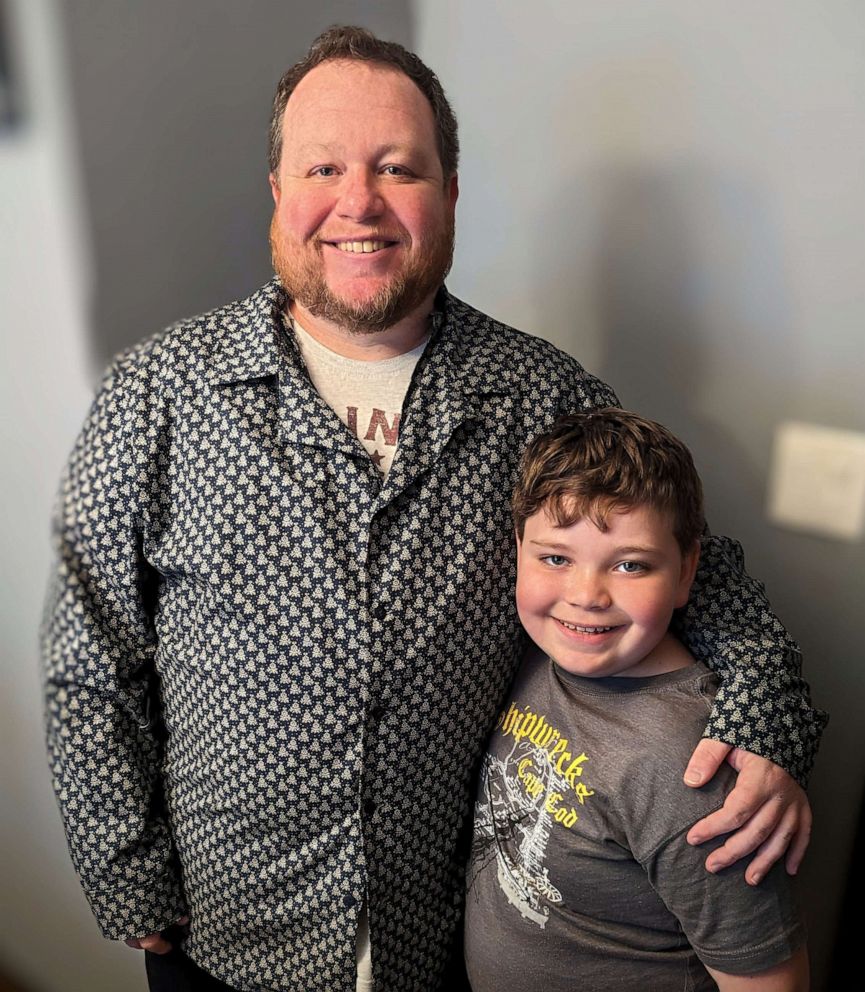 Although Sam is the only boy in his sewing class at the moment, Gouveia said it hasn't deterred Sam's motivation.
Gouveia said he and his wife encourage Sam to pursue his passion.
"He's the only boy there but he doesn't care. That doesn't stop him. He just loves it," he said. "[Franklin Mill Store is] such a safe and educational space. We're really grateful to them."
"He's only 9 and he's making these dresses and shirts and pants and pillowcases and scrunchies and things like that. It's really amazing," he added.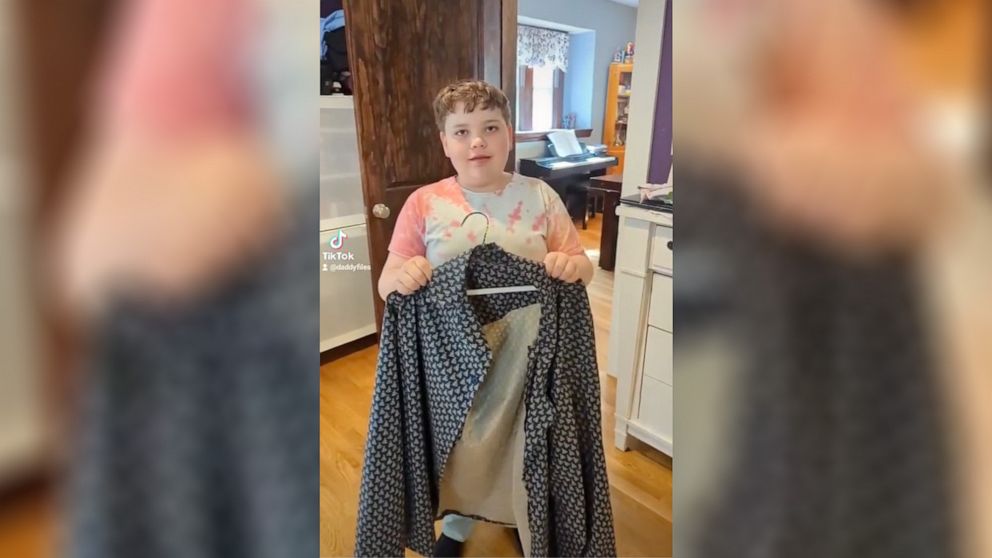 This isn't the first time Sam has gone viral. His reaction to receiving a sewing machine for his 9th birthday also captured social media users' hearts, and back in 2018, news of Sam getting bullied for wearing nail polish had strangers chiming in with their support.
At the end of the day, Gouveia said he wants to share his gratitude for the support he and his family have received from strangers online.
"The comments from around [the world], the support, it's tangible, it's palpable and it means the world to him. He reads those. I show him the positive comments and they make an enormous difference," Gouveia said. "We are so appreciative for all the life-affirming positivity that has come from this experience. So thank you, everybody out there."
As for Sam, he's got a new sewing project to embark on.
"He doesn't want his mother to feel left out, so now he's working on a shirt for her too," Gouveia said.
Editor's note: This was originally published on Mar. 29. 2023.