Some of Gerber's powdered infant formula products that were manufactured at a facility in Eau Claire, Wisconsin, have been voluntarily recalled due to possible bacterial contamination.
The infant formulas are "being recalled out of an abundance of caution due to potential presence of cronobacter sakazakii," Perrigo Company, which makes the recalled formulas, announced Friday.
Cronobacter sakazakii is the same type of bacteria that led to the recall of Enfamil's plant-based powdered infant formula last month.
No adverse events have been reported in connection to the recall, according to Perrigo Company, and no distributed product has tested positive for the presence of the bacteria.
What type of infant formula is being recalled?
Only powdered infant food products under the Gerber Good Start Infant Formula Brand that were manufactured between Jan. 2 and Jan. 18 are currently impacted by the recall, according to Perrigo Company, which purchased Nestlé's Gateway infant formula plant in Eau Claire, as well as the U.S. and Canadian rights to the Good Start brand from Gerber last November, according to a press release that same month.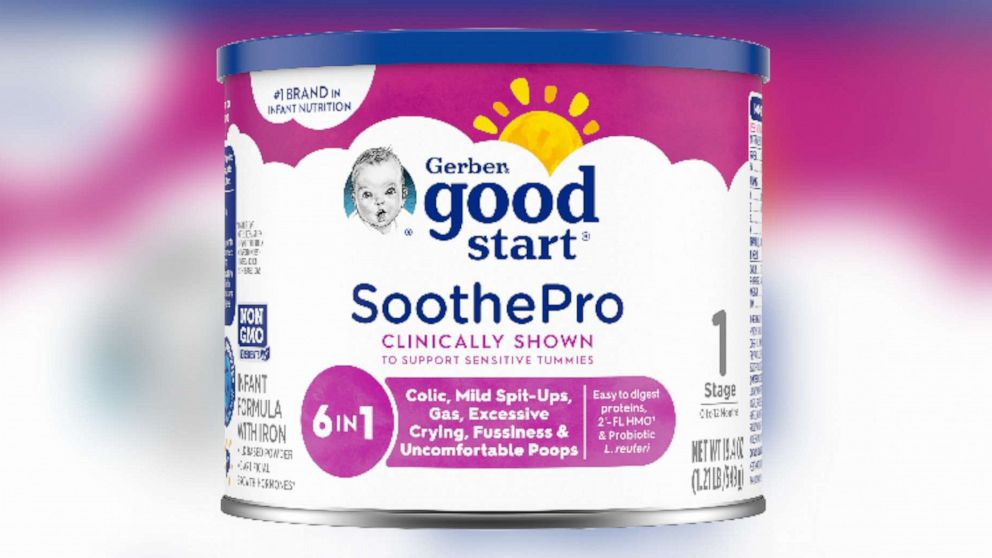 The specific items recalled include Gerber Good Start SoothePro products in 12.4-ounce, 30.6-ounce and 19.4-ounce cans with July 2024 use-by dates. Consumers can find a full list of recalled infant formulas on the Gerber website.
What is cronobacter sakazakii?
Cronobacter sakazakii is a common bacterium found in people's homes and in the broader natural environment overall. This type of pathogen tends to thrive in dry foods such as powdered infant formula, powdered milk or starches, and herbal teas, according to the U.S. Food and Drug Administration.
For many people, contact with the bacteria is harmless, but in infants and young children under 12 months old, it can turn into a rare infection. If left untreated, it can be life-threatening, according to the FDA.
The FDA notes that babies under 2 months old, premature babies, children with weakened immune systems and kids with a low birth weight are especially at risk if they develop a cronobacter sakazakii infection.
The Centers for Disease Control and Prevention estimates that the agency receives between two and four reports of cronobacter infections every year, but notes that the low number of reports may not accurately reflect how many people each year get ill from the bacteria.
What are the signs of a cronobacter sakazakii infection?
According to the FDA, a cronobacter sakazakii infection in babies and children can cause a fever and lead to other symptoms such as excessive crying, poor feeding, and low energy. In some cases, infants may also develop seizures. If you suspect a baby has an infection, experts recommend the child be examined by a medical provider immediately.
What do I do if I have a recalled infant formula product?
The Perrigo Company said consumers who have recalled infant formulas should stop using the product and call the Gerber Parents Resource Center any time at 1-800-777-7690 to request a refund.
Consumers should expect to provide a photograph of the recalled product with the product's batch codes visible.