"GMA" meteorologist Ginger Zee gave birth to her second son, Miles Macklin, in February. Zee and her husband, Ben Aaron, are also the parents to 2-year-old Adrian. Zee returned to "GMA" today after three months of maternity leave. Here, she shares her journey of returning to work.
Monday May 7.
Mommy goes back to work.
And let me be clear. I'm a worker. I love my job.
Since I graduated college I've rarely taken a vacation and when I do it's to visit family in Michigan for a week. Excluding my two-week honeymoon, I've worked almost every day of my life and enjoyed it immensely.
But the past 12 weeks on maternity leave have been absolute bliss. Miles is a tall, beautiful baby, smiling and laughing and so full of joy.
Going back to work this time I still feel a mixture of emotions: Excited, scared, guilty.
And this isn't my first time.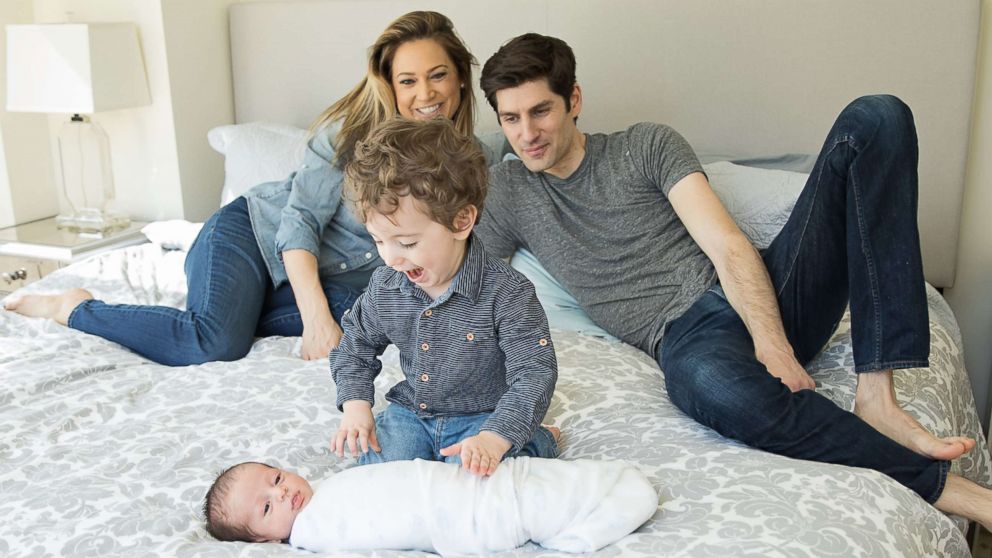 When I got pregnant with my son Adrian, now 2, all the anxieties of having a child were eventually compounded by the frightening realization that I would be taking a significant amount of time off from work.
Far from unique, I worried about the safety of my job. I toyed with whether or not to take six or 12 weeks or somewhere in between. I didn't want people to forget who I was because I went and had a baby.
All irrational fears, of course.
I quickly learned that not all of that would be in my control and amazing opportunities would present themselves in the wake of having Adrian that would change whatever I thought I wanted.
I had a Caesarean section with Adrian so that automatically pushed my leave to eight weeks. So many people weighed in, "You have to take the full time; You'll never get that time with your baby back"; "They grow up so fast, take as much time as you possibly can."
Then I was offered [a chance to compete on] "Dancing With the Stars," and I couldn't pass that up. So six weeks after Adrian was born, I started crisscrossing the nation, Los Angeles to New York, not only returning to "GMA" but doing another full-time job and show.
Sounds wild, and it was, but it taught me something. I learned focus and found such joy in becoming a parent.
It was the first time I was genuinely living "in the moment" because I had to! The moments were all so important and I was so grateful for time with Adrian, time rehearsing with Val [Chmerkovskiy], time with my husband and time back at "GMA." After "DWTS" ended, I started writing my books.
Then I got pregnant with Miles. By choice, but a little sooner than expected.
Ben and I have been so fortunate to be able to conceive and we didn't want to wait too long after Adrian to have another child.
This time I planned to take the full 12 weeks. Then I realized I had written two books.
A memoir that we pushed up the date of release because I got pregnant and a children's book that I've been dreaming about since I started in this business. That book would release at the end of my maternity leave.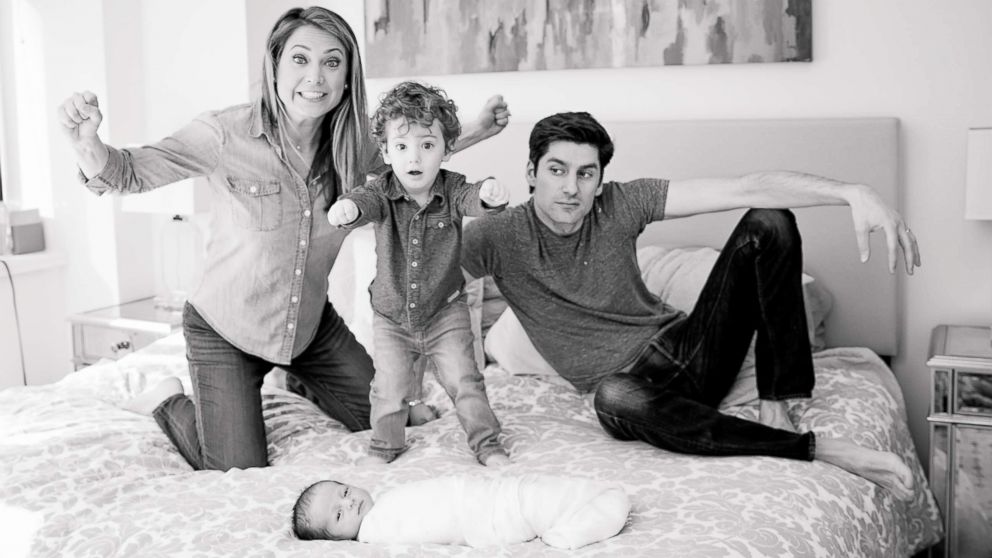 So here I am, on an airplane flying to San Francisco for a book tour stop, my breast milk stored in a cooler in the overhead compartment above my head, realizing that I'm a worker AND a mom. And that's OK!
I have an incredible job that has allowed me to utilize this platform to write a children's book, "Chasing Helicity," that will help inspire kids in science.
I'm living my dreams both personally and professionally. And that's OK.
Our maternity leave and parenting "stories" don't all have to be the exact same to deem us good parents. I know the bond I have with my sons and it's beyond my wildest dreams.
My husband is on hiatus from his show so we have extra help for the next two months and so much love to go around. The kids will be more than well-taken care of.
That doesn't take away my mommy guilt though. This book tour has been a shock to my system: A reminder that I go back to work Monday and real life is starting back up again.
I'm sure when I hear that alarm at 4:15 a.m. Monday, it will be an appropriate combination of feelings: Excitement like the first day back to school and sadness that I won't hear Adrian's little voice say "Mommy" from his crib. Nor will I see those plentiful morning smiles from Miles.
But I'll be seeing the other smiles that have gotten me here. The smiles of Michael, Robin, [and] my team behind the scenes like Samantha, Max, Lisa, Jamie and Juanita.
I worked so hard to get to this point where I can have a family and a career. I ignored my personal life for years so I could build my career.
Then they both came together and life couldn't be sweeter.
When people ask, "How do you do it all?" I simply answer with an honest "I don't."
I do all I can when I can and give myself grace. I have set up my children's lives with a super supportive, loving partner in Ben. We have an incredible nanny and we, the team, are going to be just fine.
And I'll get to see those smiles and hear that "Mommy" as soon as I step in the door after work.
My mom worked "24s" as a neonatal nurse practitioner, meaning she worked 24 hours, which was always 30 [hours] by the time she got home, bleary-eyed and cranky.
She was "gone" for at least 36 hours, but that didn't change our relationship. We are still incredibly close and she set a wonderful example for me that you can work and be a great mom, too.
My family at work is my family as well, and we are going to have a great time Monday.
I just hope no one gets annoyed with me playing videos and flashing pics of my new little babe at every turn :)