Dana Gendreau, a mom of three in Cincinnati, Ohio, turned what she described as "sadness" into action after reading an article about the hardships faced by many local public high school football players, including going without food or places to live.
Gendreau, 46, a diabetes care specialist, reached out to the Cincinnati Enquirer reporter who wrote the story and asked to be put in touch with one of the teams in need of help.
The reporter connected Gendreau to Chris Mobley, the head football coach at Hughes High School, a school in downtown Cincinnati with a large population of minority, low-income and special needs students.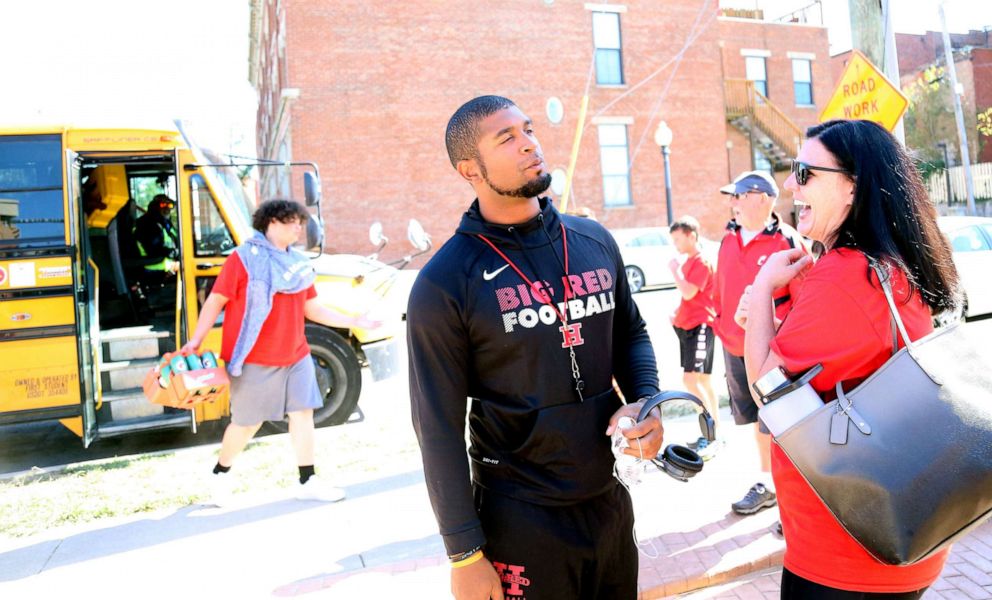 "He told me the biggest thing they needed was help with food because some of the players don't eat from the time they leave school to when they go back to school the next morning," Gendreau told "Good Morning America." "Having a son who plays football, I knew how important it was for the players to be hydrated and fed."
Gendreau's son, Alec, 10, plays on a fifth-grade football team with Kings Youth Football in an upper-middle-class area about 30 miles north of downtown Cincinnati.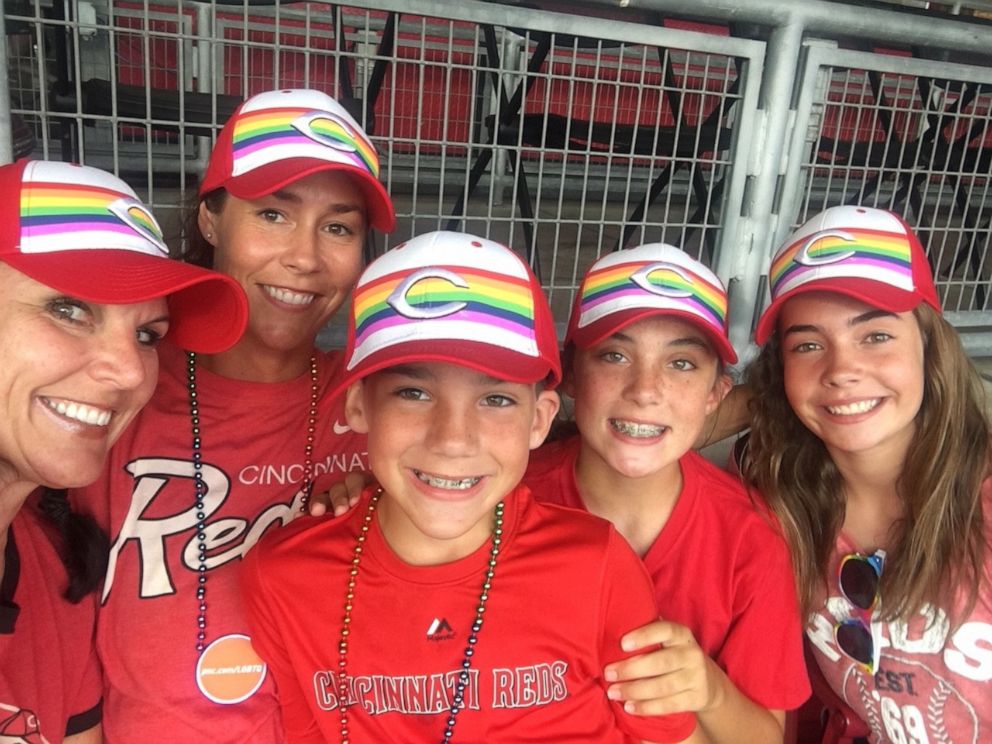 Gendreau decided she would on her own purchase healthy foods like fruit and high-protein snacks for the Hughes High football players. She also emailed her son's football team to see if any other parents wanted to help.
The response -- which Gendreau described as "amazing" -- has turned Gendreau's idea into a ongoing effort that has bonded the two teams in ways no one could have predicted.
"Our boys look at the Hughes team as an NFL team and the Hughes players have been unbelievably kind to our players," said Gendreau. "Their team built into our boys and hopefully we built into them to show them that people they don't even know love and support them and will be there for them no matter what."
Gendreau and her fellow parents on the Kings Youth team have supplied the Hughes High football team with around $500 worth of groceries each week since September.
During the Hughes' football season, which just ended, the parents would sign up via an app for the food they planned to buy each week and bring it to Gendreau at the team's weekly Thursday practice. Gendreau would then organize the food over the weekend and bring it to Hughes High every Monday.
Instead of just dropping off the food once and leaving it at that, Gendreau and her family made individual bags of food for the nearly 30 players each week. The rest of the food stayed in Mobley's office where the players knew they could access it at any time.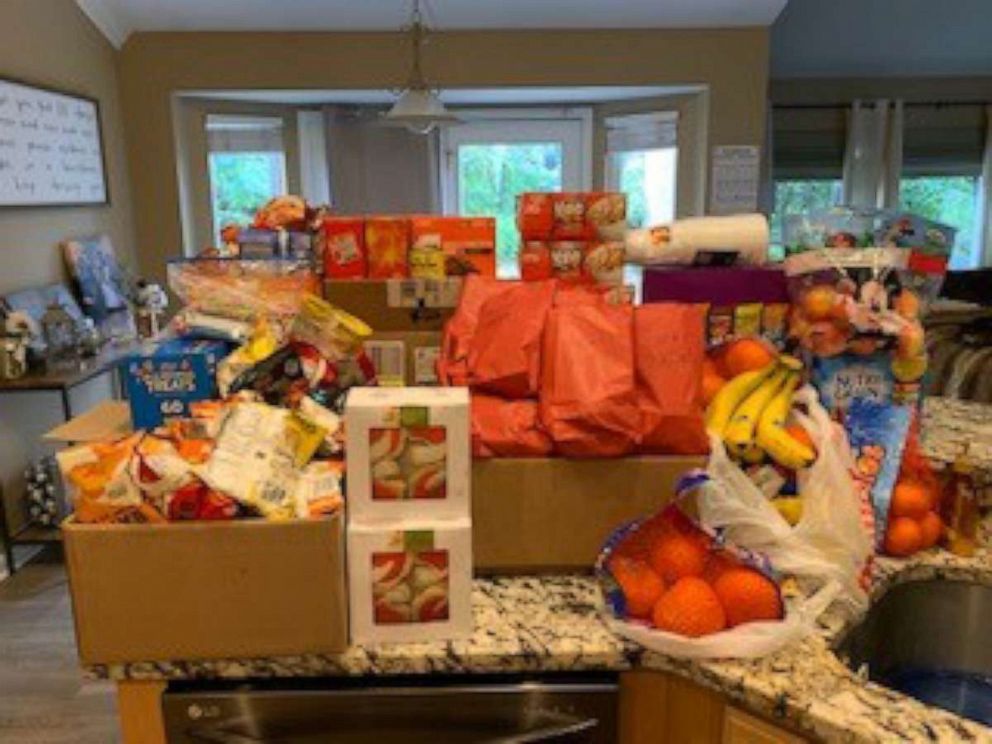 "On our team we have team moms who make spirit bags every week for our players," said Gendreau. "So we made individual bags for all the players with motivational messages, just like most other football teams get."
"They don't have a booster club like most of us suburban schools do," she said of Hughes High.
Mobley, in his fourth year as Hughes' head coach, credits the food donations as a main reason for the team's first winning season in more than a decade.
The Hughes High team went on a five-game winning streak after the first food donation, according to Mobley. The team went 7-3 this year -- their best record in 13 years -- and just narrowly missed making the playoffs.
"We'd have to tone down practices in the past because kids were feeling nauseous or lightheaded because they hadn't had enough to eat," said Mobley. "Practices now have been full energy. I think that is a direct reflection of Dana."
Mobley, who played college football at Indiana State University, left his college coaching job four years ago because he wanted to coach football at an inner-city high school, where he hoped he could have a big impact.
As the head coach at Hughes High, he estimates about 5% of his job is devoted to football and the other 95% is devoted to serving as a mentor, big brother, father figure and support system to his players.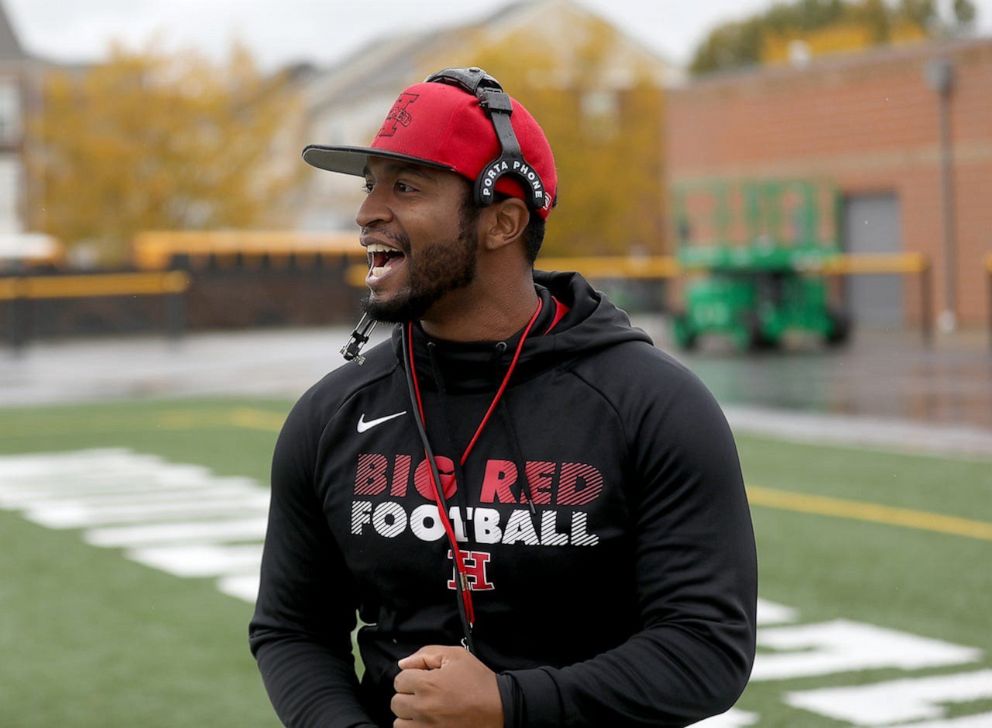 "They come from tougher neighborhoods and poverty," he said. "I've had kids live where gun shots go off across the street or around the corner, meals are hard to come by sometimes and a lot of them come from single-parent homes where they may have to be a father figure to their siblings or have to miss practice to work and help take care of their home."
The Hughes High team also usually plays to a near-empty football stadium because it's hard for the players' parents and fellow students to make it to games.
When Gendreau learned about this from Mobley, she arranged for groups of dozens of Kings Youth Football players and families to attend the team's football games. One of her favorite memories, she said, is when a Kings Youth player asked a Hughes High player for his autograph.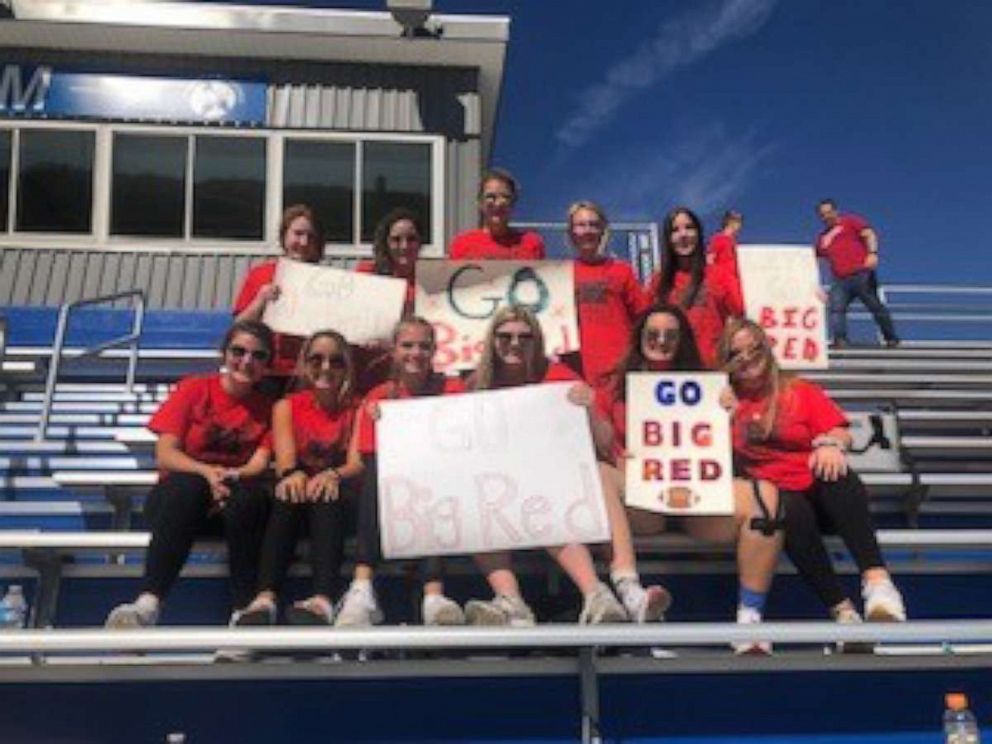 Likewise, the Hughes High players have attended the younger players' games, helped to motivate them through a losing season and wrote letters of encouragement and advice to them at the end of the season.
"My players view them as these superheroes," said Joe Lyman, head coach of the Kings Youth fifth-grade team, on which both his son and Gendreau's son play. "In general, football teaches you so many different life lessons and this was awesome because it brought another life lesson for our kids."
Gendreau said this experience has reminded her of a lesson she learned firsthand as a child, that a seemingly small effort can make a huge impact.
Gendreau was raised by a single mother and experienced homelessness as a child herself. She lived for several years with the family of her best friend after she and her mom and brother had to split up because her mom, whom she describes as "hardworking," could no long afford rent.
"I remember one of my coaches gave me a Christmas gift of money so I could buy a pair of shoes for the sport," she said. "That never left me, the kindness she showed me. I knew that no matter what happened in my life I was going to help others."
"It also taught me that, even though my children will never have to go through what I did, and I'm glad they won't, I wanted to always raise children in this world who are going to lend a hand to anyone who possibly need it," Gendreau added.
In addition to Gendreau's children who stepped up to help, a group of students at Kings High School also volunteered, donating food and helping to assemble spirit bags for the team.
A friend of Gendreau's who is a chef hosted a dinner last weekend to celebrate Mosley and his six assistant coaches.
"It's amazing the contagion that kindness has when people reach out to ask, 'How can I help?,'" said Gendreau. "That's what I hope people take away -- to look in your community, asks who needs help and make a plan and do it."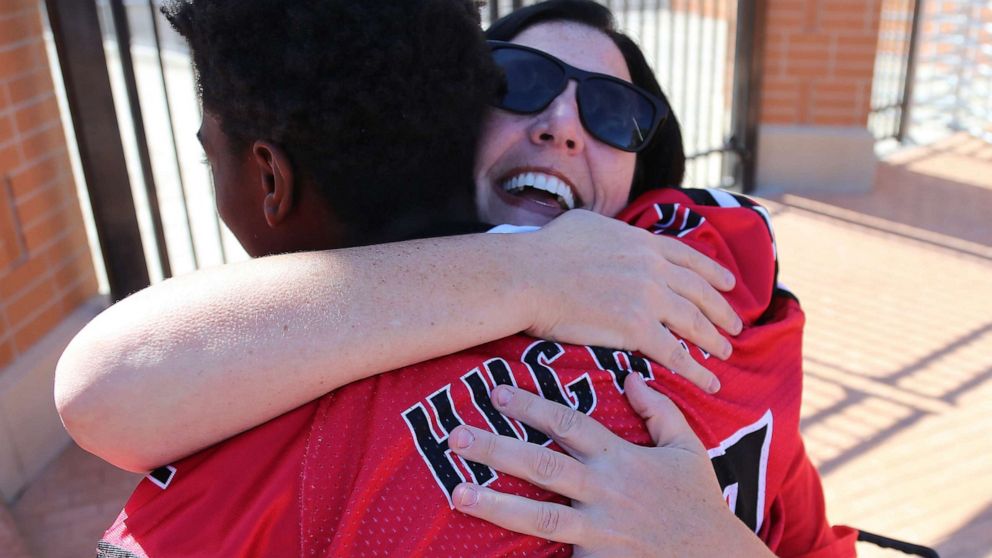 Gendreau and Mobley both say they have talked to each other almost daily since their first phone call in September.
Gendreau is not only planning with Mobley for next football season but also hoping that now that her son has moved on to basketball season, they can help support basketball players at Hughes High.
She also has ideas about a permanent food pantry at Hughes High, partnerships with other schools and ways to help the football team's graduating seniors find jobs and other opportunities.
"It's an ongoing partnership as far as we're concerned," she said. "I feel like I have 30 new sons."