Like many moms, Meg St-Esprit has a lot on her plate.
With summer starting to settle in, the Pennsylvania mom, along with her husband, has to figure out child care for their four children, who range in age from 4 to 11.
That means she'll have to rework her schedule, and at times, look at her email inbox less frequently than she usually does during other months, something she tries to do often as a freelance journalist.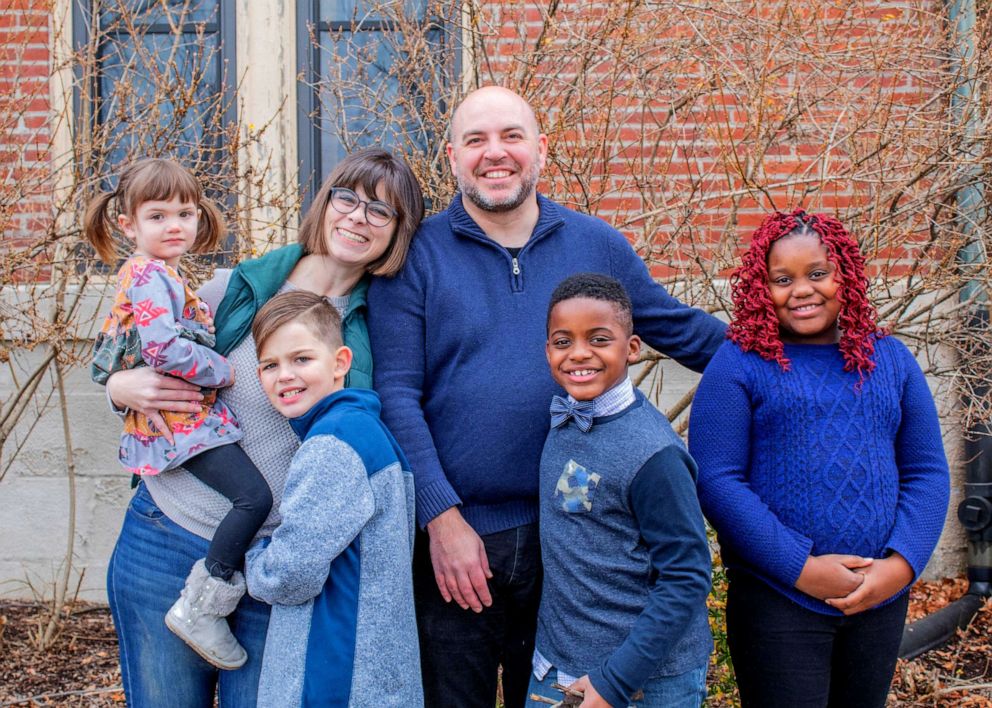 But when she recently received a follow-up email from a client about a work matter, it prompted her to add a one-liner to her email signature that has since gone viral after she posted about it on Twitter.
Underneath her name and credential, St-Esprit's email signature now also reads: "Please note I may be slower to respond to email in the months of June, July, and August due to the United States' inability to provide affordable childcare for working mothers."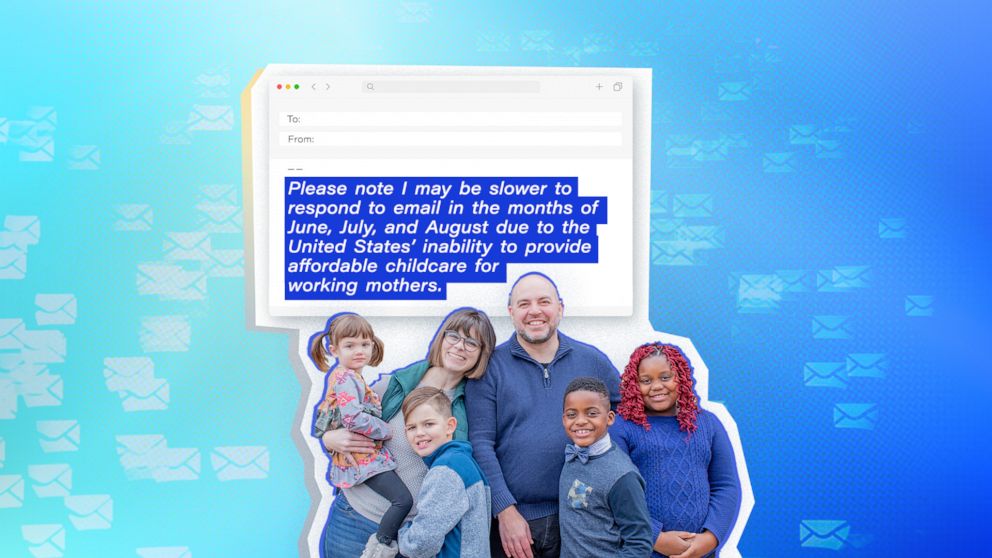 "I had gotten a snippy response from a client that I hadn't responded within 24 hours to something that was not even really timely," St-Esprit recalled to "Good Morning America." "I'm normally pretty good at email so I think maybe it was unexpected but the snippy response felt just really, honestly, a little bit crushing."
"I was like, 'I am doing my best here. You know, it's the last week of school, there's a million events and then I'm going to have summer with my four kids home,'" she added.
In the U.S., where federally subsidized child care is limited to low-income families, child care continues to be an unattainable service for many American households. Data from the National Database of Childcare Prices shows median child care costs, when adjusted for inflation, range from $5,357 and $17,171 per year, or about 8% to 19.3% of a family's income per child.
For St-Esprit and her husband, child care, especially during the summer months, has persistently been what she described as a combination of "piecemeal" solutions.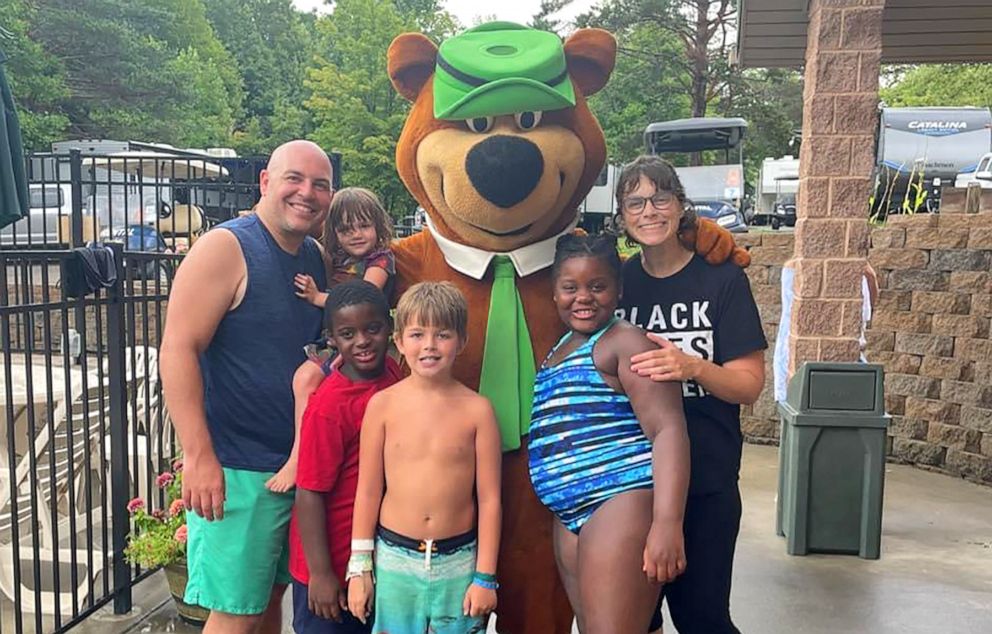 "We've never been able to just pay for a summer full camp for four kids or even honestly, even for just the older kids. It's not tenable," she told "GMA." "So it's always been a mixture of teenage sitters, grandparents, a couple camps thrown in if we find an affordable one or a scholarship."
Last summer, St-Esprit said she enrolled three of her four children in a weeklong summer camp at their local YMCA but it cost about $250 per child or $750 a week, after they received a "multiple kid discount," and it still amounted to about 75% of her take-home pay for a single week. St-Esprit said other similar summer programs in their local Pittsburgh area that were on the affordable side also range from $250 to $350 a week. She and her husband decided the YMCA camp just wasn't sustainable to continue after the week was up.
"I want to be a good mom and be a good journalist and not lose my mind in the process. And it just seems like it's getting harder and harder," she said.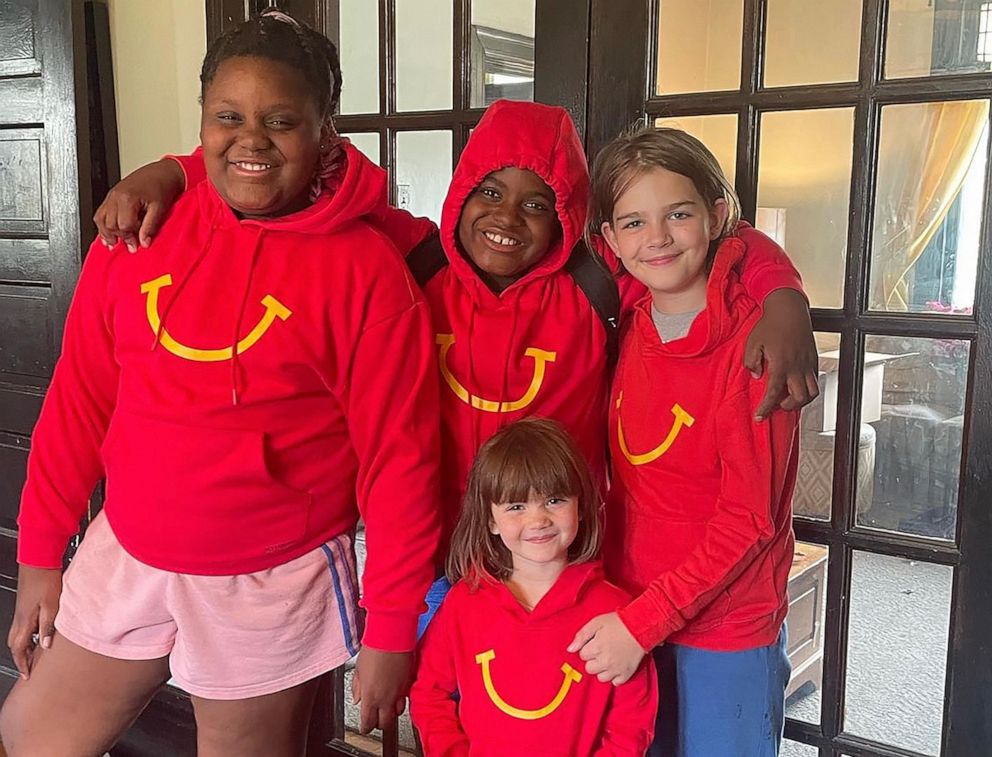 After sharing her experience on Twitter, St-Esprit said she was surprised it clearly "struck a chord." Responses started trickling in, many of which were from other mothers.
"Now, I'm just getting emails that are people sending me their email signatures, which is so great, like a little mini out-of-office revolution, that we just feel not alone. Like, it's OK to take a day or two to respond to something," St-Esprit said.
St-Esprit said she's also heard from others who aren't parents themselves.
"I've heard from a lot of people who are not parents too, saying they love it, which is really interesting and also that it's given them perspective to think about their parenting coworkers and why they might not be firing on all cylinders for the next couple of months, which is good, that there's a little bit of compassion there," she said.
St-Esprit said he hopes continuing the conversation about child care needs and the realities for families like hers can bring about change on the state and federal level.
"I really think that there's no way for the child care centers or the camps to honestly charge less. I mean, I worked at a daycare. I made $10 an hour. If they would have paid me more than that, I don't know how the parents would have afforded to send their kids there. So the solution truly needs to come from the government. There is no other option. I mean, vote for policies that support families," the mom of four said.
"I do have some hope that we're going to make some progress in this area. I honestly think the hope might lie in the financial benefits to subsidized child care. That might really be what crosses the aisle," she added.