A first-time mom who's reaching the end of maternity leave has shared the most refreshing email from her manager after she told him she planned to pump upon returning to the office.
Erin Freehan of Phoenix, Arizona, posted the message from her boss on Reddit Tuesday, where it garnered plenty of comments from women applauding the man for his support.
Freehan, a project and change manager at real estate property management company Progress Residential, told "Good Morning America" that she recently reached out to her manager and reminded him that she'd be returning to work on Feb. 4. She also laid out a proposed pumping schedule for his awareness.
Here was his reply:
"Yes, whatever you need to do to be successful here, I am supportive. I think it would be helpful to block your calendar or the times that you will be unavailable as I (or others) may inadvertently schedule something over these times. And nothing here is so crucial that you should not take care of yourself so please let me know if there's anything else that we need to discuss."
Freehan said she posted the email on Reddit to share something positive with other working parents.
"I wanted to give other moms hope that they could get support from their managers [as well]," Freehan said. "I was super happy that he was supportive of my choice to continue to breastfeed."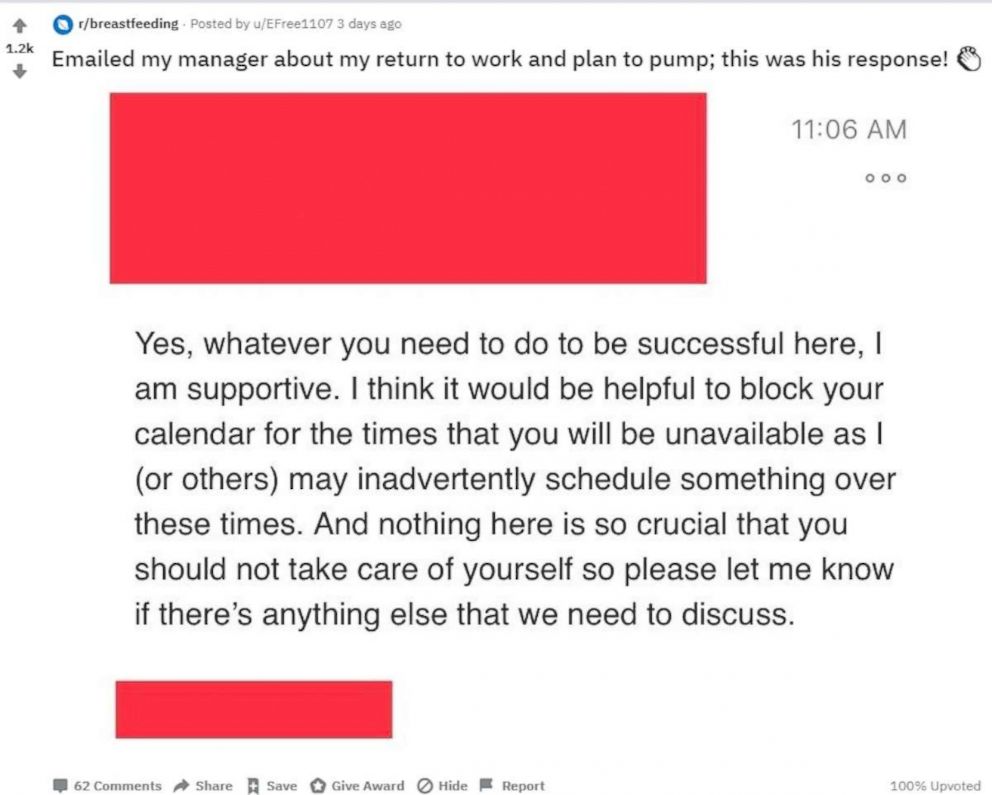 Patrick Murphy, Freehan's manager and a director of project and change management at the company, told "GMA" that he had no idea she posted his email on Reddit.
"The first thing that came to mind was, 'How could I be as helpful as possible when she was trying to figure this all out?'" said Murphy, a dad of two. "To me, it's still kind of unfortunate that people aren't as empathetic."
Fellow moms commented on Freehan's post. Many wished they had managers like Murphy, saying that they are either denied time to pump or are forced to pump in restrooms.
A recent report from the Center for WorkLife Law at the University of California, Hastings College of Law found that two-thirds of alleged breastfeeding discrimination cases led to employees losing their job.
The federal Break Time for Nursing Mothers law requires employers covered by the Fair Labor Standards Act (FLSA) to provide basic accommodations for breastfeeding mothers at work. This includes time for women to express milk within a private space that is not a bathroom each time they need to pump — bathrooms are not a sanitary place to handle food for babies or anyone else.
The Center for WorkLife Law said breastfeeding workers have rights, but all of those rights vary by state. Check the laws in your state by visitng the Center'swebsite.
Murphy said his advice to fellow managers is to put yourself in your employee's shoes and try to make their transition as smooth as you can.