A mom in the United Kingdom says her young daughter is speaking like an American thanks to a hugely popular YouTube star.
Kelly Convey, a mom of two in London, shared a video on TikTok of her 21-month-old daughter Bea saying words like "car," "zebra" and "more" with an American accent.
"Has anybody else got a British -- and I have to stress, British -- toddler who watches Ms. Rachel and, as they've started to speak, you realize they've actually got an American accent," Convey says in the now-viral video.
Ms. Rachel is Rachel Griffin Accurso, the star of the YouTube channel "Songs for Littles."
Accurso, a mom herself and a teacher by training, is known for sharing videos to help young kids learn how to speak, how to identify colors and numbers, and how to learn through songs.
She has more than 3 million subscribers on YouTube and her videos typically each get millions of views.
Convey, a comedian by trade, told "Good Morning America" that Bea gets "really engaged" and enjoys watching Ms. Rachel's videos.
"She's not glued to the screen ... but watches it here and there when I need to get things around the house done," Convey said. "Bea has a little sister, Talulah, who's 5-months-old, so it's a pretty crazy house. So when I need to cook or shower or tidy, Ms. Rachel is the perfect solution as Bea really enjoys the videos while learning at the same time."
"She's started to speak more and more recently and we've really picked up on the accent," she added.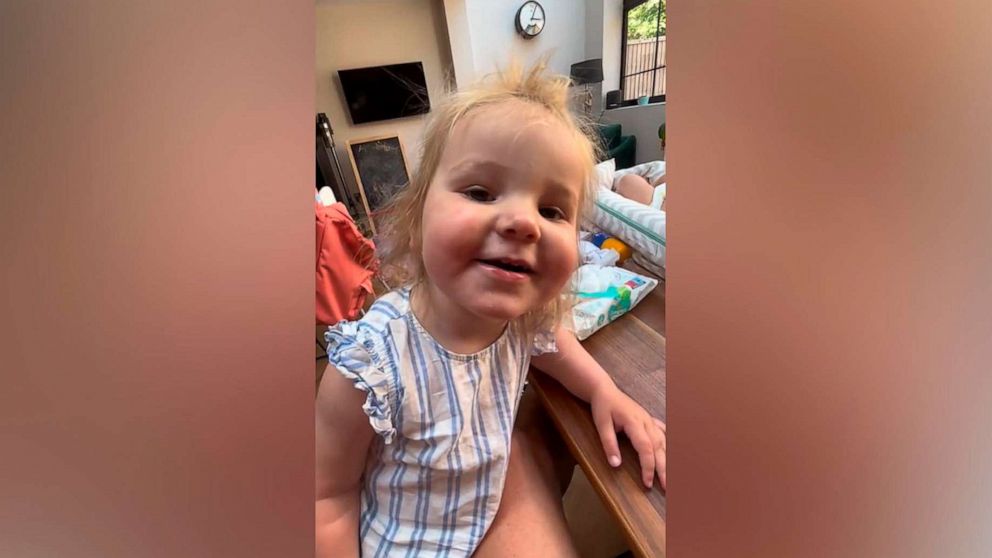 Bea's American accent thanks to watching Ms. Rachel quickly drew reactions from American parents whose children developed British accents from watching "Peppa Pig," a British animated series for kids.
"Put all the ms Rachel British kids and all of the peppa American kids in one preschool and let's see what we get," wrote one commenter on Convey's TikTok video.
"Yes payback for Peppa Pig! My daughter and her, 'I'm famish mummy,'" wrote another commenter.
The video of Bea's American accent even drew a response from Ms. Rachel herself, who commented on the video, "I'm sorry."
Ms. Rachel also shared a video of herself watching the video of Bea.
"I'm sorry, Kelly!🥴 Flashing back to when I thought a little girl's parents were British because of her accent.. they were American. It was Peppa!," she wrote alongside the video.
Convey described the response from Ms. Rachel, which she also showed to Bea, as the "cherry on the cake."
"As a comedian, I'm always trying to find relatable subjects for content but this was just a family moment I thought I'd share, not realizing that so many people would relate to it," she said. "To get a response from Ms. Rachel herself was the cherry on the cake."