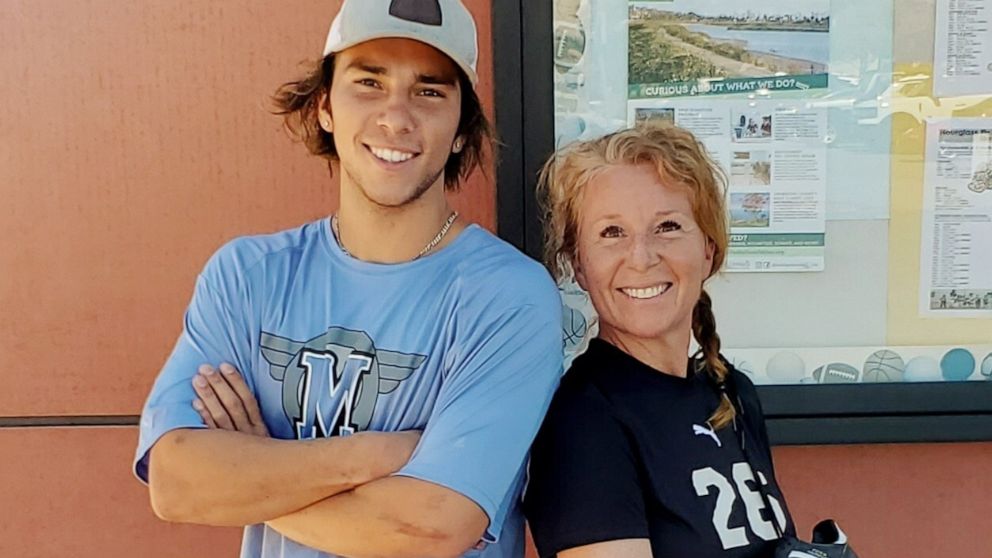 Athletics run in the family at the Mitchell household, as mom and son are scoring points at the same college.
Brandi Mitchell, 45, has made a splash as the co-captain of the soccer team and her son, Maverick Mitchell, 18, as part of the water polo squad at San Diego Miramar College.
Despite the 27-year age gap, the two are both freshman at the school and love the idea of playing for the same side.
"I think it seemed unbelievable in every way, you know," Brandi said about starting her collegiate career at 45.
She played soccer throughout her youth and her passion for the sport only increased as she got older. She joined women's leagues after having her two kids, where she played with people at various ages -- 20s, 30s, 40s and beyond.
An "age advocate," she even founded the website, San Diego Soccer Women, which aims to show that women can "play at every age."
Despite this passion, the midfielder had never played at the collegiate level until now.
She first got involved with the Miramar soccer team this summer when she enrolled in a conditioning course to improve her skills. At the end of the summer, "it was proposed to me that you are eligible [to join the team]," Brandi told "GMA," because she had never played at the collegiate level before.
"I thought she was joking at first," Maverick admitted. But he soon realized his mom had the skills to make the team and was good enough to be named co-captain.
Her competitors and teammates are more than half her age, but on the field, it's clear that age is nothing but a number.
"It really is. I'm amazed to be out there with them," she said, adding, "I know, women in their 50s even into their 60s who have as much ball-control-dribbling skills."
I like the idea that we're having to change the concept of soccer moms
She went on, "I like the idea that we're having to change the concept of soccer moms to the fact that women are soccer players, period, and that some of them also have children."
Stephanie Beall, head coach of San Diego Miramar College Jets women's soccer team, said, "We are similar in age and I admire her courage and bravery to accept this challenge. Brandi is a huge part of our team as a starter and co-captain."
"I often hear the other girls on the team say, 'Hey, I hope I can do what she's doing when I reach her age,'" Beall added. "She also brings a different perspective to the team that we all greatly benefit from."
Maverick, who is a starting goalie on the Miramar College men's water polo team, loves seeing his mom getting her second chance at the sport.
"It definitely has brought us closer," said Maverick.
Their situation means the 18-year-old and his mother definitely have their own unique dynamic when it comes to things like college life and homework.
In order to maintain eligibility to play, Brandi and Maverick have to be enrolled in courses at San Diego Miramar College. They even take a class together at the school, Microsoft Excel, where Brandi jokes about the "role reversal" where he knows more than she does.
"A lot of times me coming to him with questions and coming to him to get the information I needed ... that's not something that [most parents and kids] expect to happen," Brandi said.
And at the end of the day, they know their biggest fans are always found in the family.
"This is probably more than anything he's ever had in his entire life, just as far as ... what it feels like for me to get to know him and for him to get to know me," Brandi said.