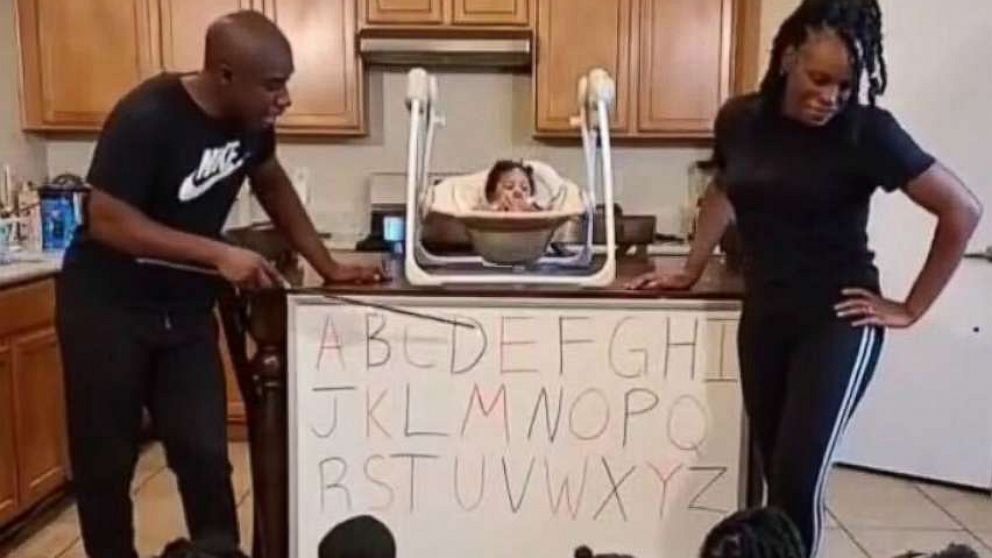 Remote learning can be a real drag, unless your parents are the Cheathams.
The Phoenix, Arizona, parents of seven posted a video that they originally created on TikTok and now has been viewed hundreds of thousands of times on Instagram.
"On the day that we recorded the video, my wife called me on my way home from work and she was describing how frustrated she was working with [their daughter] Aryanna on her ABC's," Aaron Cheathams told "Good Morning America." "She [his wife, Latovia] said that I needed to work with her a little more. When I got home we took out the big white board, wrote out all the letters and me and Ariana started practicing. Thirty minutes into practicing I was reminded of the sound I had heard on TikTok. We already had a presence on TikTok and I thought it would be a cool way to make it stick and have fun."
The feedback on the video has been "overwhelmingly positive," Cheathams said.
The fact that the video has gone viral is ironic since they are "absolutely not" a homeschool family, Cheathams said.
"Due to the pandemic we were forced into it," he added. "You can't really take the education of your kids lightly so we went full steam ahead trying to make it an educational and fun time for all of us."
Cheathams think that parents have learned more than the kids during these trying times.
"First of all, Teaching is an undervalued profession and they deserve more credit," he said. "Secondly, are kids are not as well behaved as we thought they were. We are absolutely burnt out."
The family is preparing to send their kids back to in-person learning at their neighborhood school, providing proper safety measures. His advice? "If you are teaching your kids at home, take the time to make the environment conducive to learning and keep them engaged. If you can't wait to send them back to school like us, take note of how important it is to support the teachers in educating your little one."