Police officer comforts little girl after she asks: 'Are you going to shoot us?'
iamsimeonb/Twitter via Reuters
A Houston man who filmed a police officer comforting his young daughter at a George Floyd protest said he wants to thank the man for "giving him a different perspective."
Simeon Bartee, 29, attended a George Floyd march in downtown Houston on June 2 with his wife, Sion, and their 5-year-old daughter Simone. He said his daughter became frightened at the number of police patrolling the area and cried as she asked him: "Are they going to shoot us?"
In a now viral video filmed by Bartee, an unidentified Houston police officer can be seen kneeling in front of Simone and telling her: "We are here to protect you, we are not here to hurt you at all."
Bartee said his daughter asked, "Can we protest?"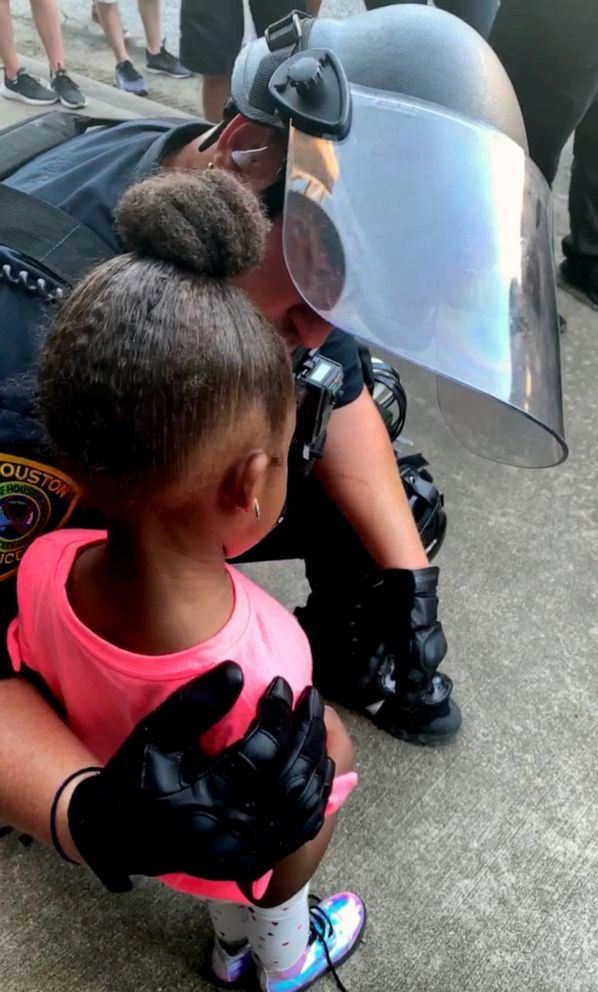 "You can protest, you can march, you can do whatever you want -- just don't break nothing," the officer responded.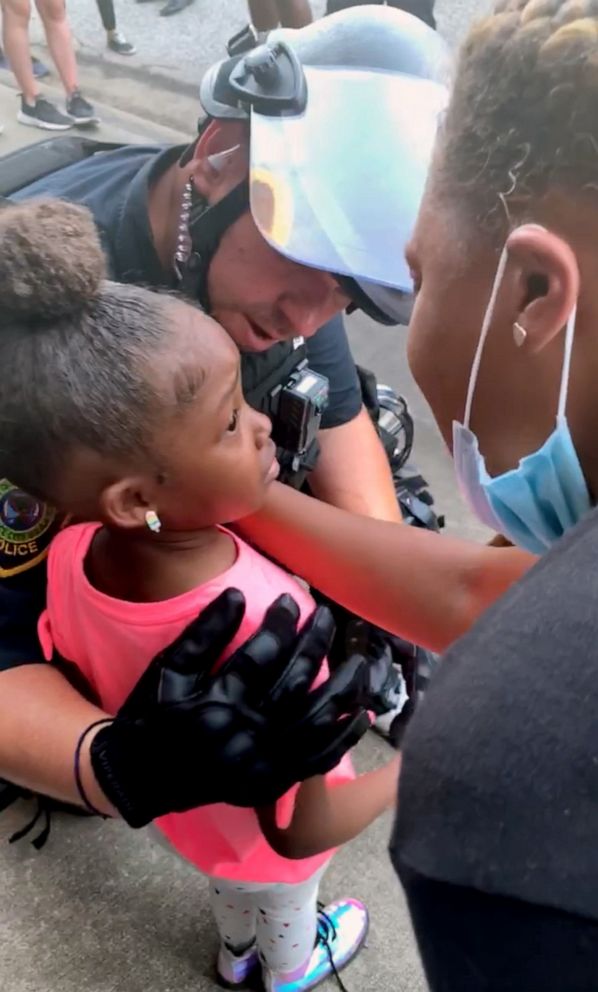 Bartee said the incident has hit close to home because his family has been grappling with an incident of police brutality against Jerome Bartee, his brother, which occurred in 2016. Jerome Bartee has an active civil case against Harris County Jail after five officers allegedly broke his nose and shattered bone around his eye socket, injuries which resulted in him undergoing reconstructive surgery, ABC Houston affiliate KTRK reported.
"We have dealt with a lot of pain from that and it's kind of gone full circle for me now," he said. "I just want to tell the officer thank you for giving me a different perspective on what police officers, the good police officers, are like."
Bartee said he believes his daughter also received a new perspective after speaking with the officer. He said the officer later told Simone that he had a daughter and he wanted to make it home for his daughter, too.
"She looked up at me and said, 'I didn't know police officers had kids,'" Bartee added.