Summer is here which means it's too hot to turn on the stove. But with an abundance of fresh veggies, what could be better than chilled sides to satisfy any craving and keep cool all season long!
"Good Morning America" sought culinary advice from an array of cookbook authors, restaurant chefs, James Beard Award-winners and more.
Check out their full recipes below that will be perfect as any summer side dish!
Roasted Tomato and Pistachio Pesto Pasta Salad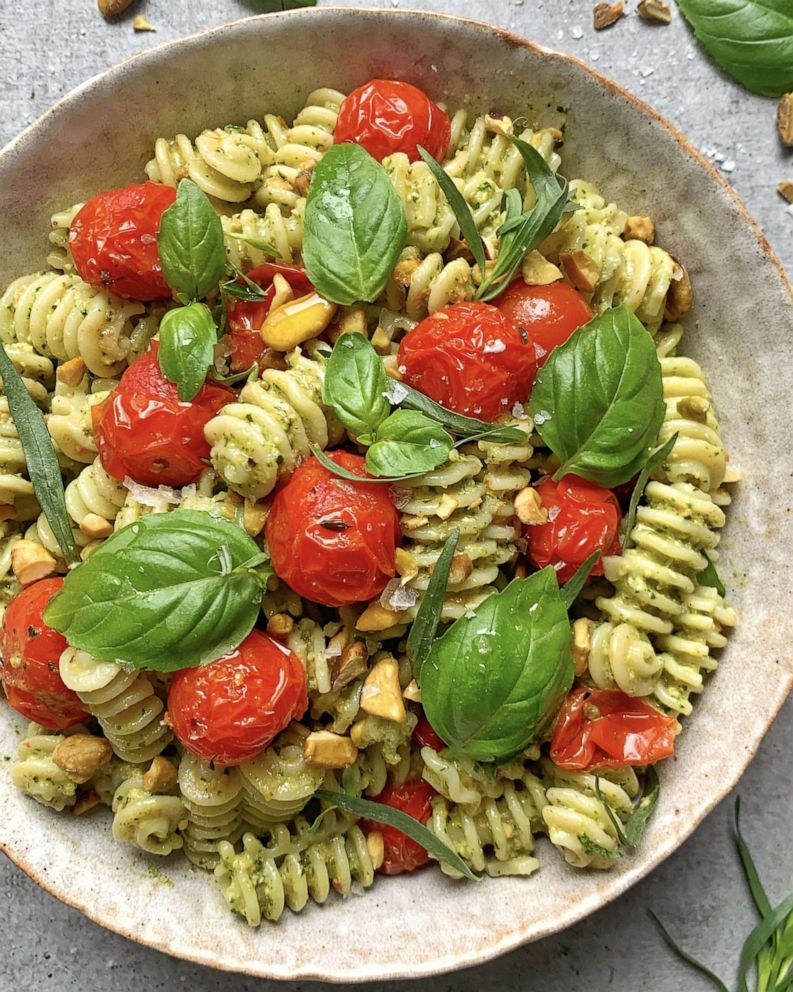 Jake Cohen, editorial and test kitchen director at The Feed Feed, said that he embraces pasta even more in warmer months, especially when it comes to a pool-side BBQ. Combining different pasta shapes with a variety of sauces makes for a much-needed break from the mayo-drenched pasta salads of our childhoods. And Cohen's lemon, herb and pistachio-tossed radiatore pasta salad is a new style salad and summer-go to we can get behind!
12 ounces grape tomatoes, or cherry tomatoes
1/2 cup olive oil, divided
1/2 teaspoon crushed red pepper
4 sprigs thyme
2 cloves garlic, smashed and divided
Kosher salt to taste
1 cup basil, leaves only
1/2 cup shelled pistachios, toasted
1/4 cup tarragon leaves
1 lemon, zested and juiced
1 pound pasta, (we used radiatore)
Directions:
Preheat oven to 450 degrees. On a sheet pan, toss cherry tomatoes with 1/4 cup olive oil, crushed red pepper, thyme sprigs, one smashed garlic clove, salt and pepper. Roast until lightly blistered and split open, 20 minutes. Discard thyme sprigs and set aside.
In a food processor, combine remaining 1/4 cup olive oil and garlic clove with the basil, pistachios, tarragon, lemon juice and zest and process until a smooth paste forms. Season with salt and set aside.
Bring a large pot of salted water to a boil. Stir in radiatore and cook until al dente, 8-10 minutes. Drain, reserving half a cup pasta water, and rinse under cold water to cool.
In a large bowl, stir pesto with reserved pasta water to loosen, then add cooled pasta and roasted tomatoes with any juices. Toss until well incorporated, then adjust seasoning with salt and serve.
Jicama Slaw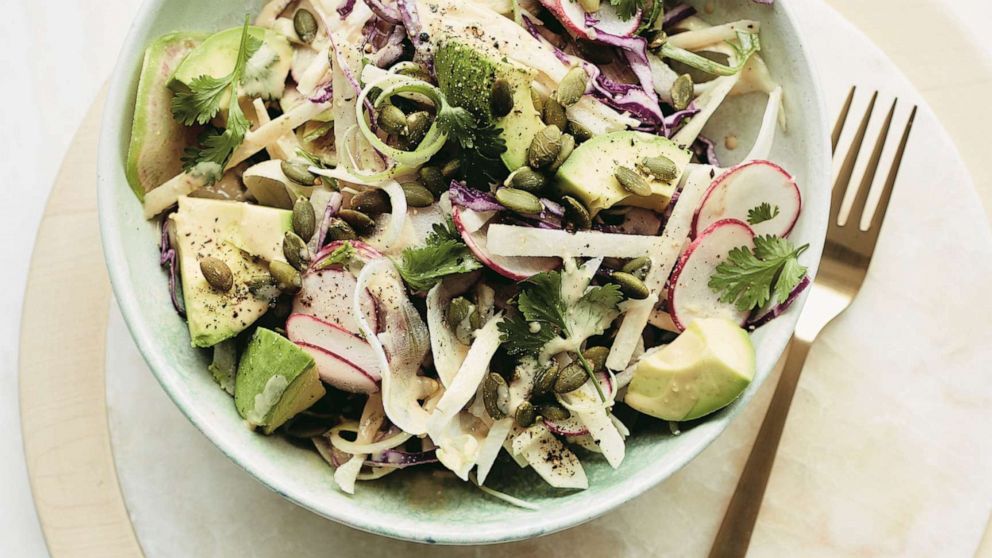 Amy Chaplin, former executive chef at the renowned former New York vegan hot spot Angelica Kitchen and James Beard Award-winning cookbook author, chef, teacher and consultant, shared her vegetable forward slaw from "Well + Good" that "ups your fiber intake" and adds "serious crunch."
Ingredients:
For the dressing
Zest of 1 lime
3 tablespoons raw cashew butter
6 tablespoons fresh lime juice
1 tablespoon apple cider vinegar
1 small garlic clove, crushed
3 tablespoons extra-virgin olive oil
For the slaw
1 large jicama, peeled and cut into matchsticks (3 to 5 cups)
1/4 medium cabbage, thinly sliced (about 2 cups)
1 medium fennel bulb, cored and thinly sliced
2 watermelon radishes, shaved
3 red radishes, shaved
2 scallions, thinly sliced
Kosher salt
1 large avocado, pitted, peeled and sliced
3 tablespoons pumpkin seeds, toasted
2 cups fresh cilantro leaves
Directions:
In a small bowl, stir together the lime zest, cashew butter, and three tablespoons of the lime juice until smooth. Stir in the remaining three tablespoons of lime juice, vinegar and the garlic, then stir in the olive oil and season with sea salt.
If the mixture is too thick, stir in water, a little at a time, until the desired consistency is reached.
In a large bowl, toss the jicama, cabbage, fennel, both radishes and scallions to combine.
Drizzle the dressing over the salad and toss again. Taste and season with kosher salt as needed. Arrange the avocado on top, sprinkle with the pumpkin seeds and cilantro and serve.
Gazpacho Superior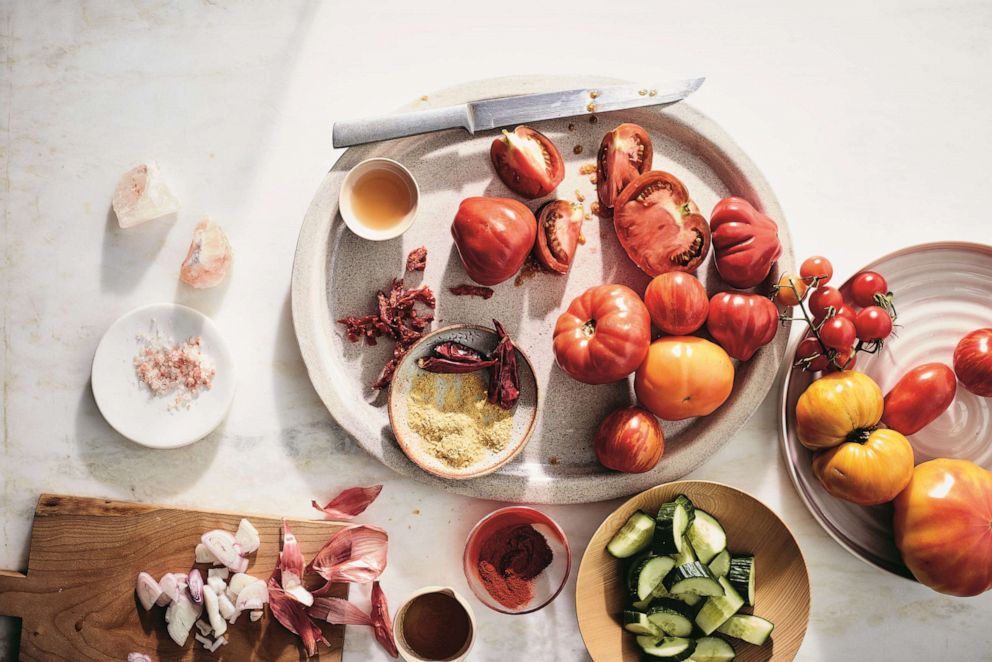 Kerrilynn Pamer and Cindy DiPrima Morisse, founders of CAP Beauty, shared their take on an "up-leveled, hippie-inspired" gazpacho in the "Well + Good" cookbook. This recipe is dairy-free, gluten-free, vegan, and promotes better skin and energy.
Ingredients:
5 tomatoes, coarsely chopped (4 to 5 cups)
1 large cucumber, peeled and coarsely chopped
1 shallot
1 sun dried tomato, or to taste
Pink Himalyan salt and freshly ground black pepper
1 tablespoon nutritional yeast
1/2 teaspoon chile de árbol
1/2 teaspoon smoky chile flakes (chipotle works well)
1 teaspoon pimentón flakes or smoked paprika
1 teaspoon apple cider vinegar
1 tablespoon olive oil
Directions:
In a high-speed blender, combine the chopped tomatoes, cucumber, shallot and sun-dried tomato. Season generously with salt and pepper then blend until smooth enough to stir with a spoon and thoroughly combined.
Add the nutritional yeast, chile de arbol, chile flakes, pimenton flakes and vinegar and blend for one minute more, or until creamy.
Divide the gazpacho among four bowls, drizzle with olive oil and finish with salt. Serve.
Reprinted from Well + Good. Copyright © 2019 by Well+Good. Photographs copyright © 2019 by Johnny Miller. Published by Clarkson Potter, an imprint of Penguin Random House, LLC.
Corn and Green Tomato Salad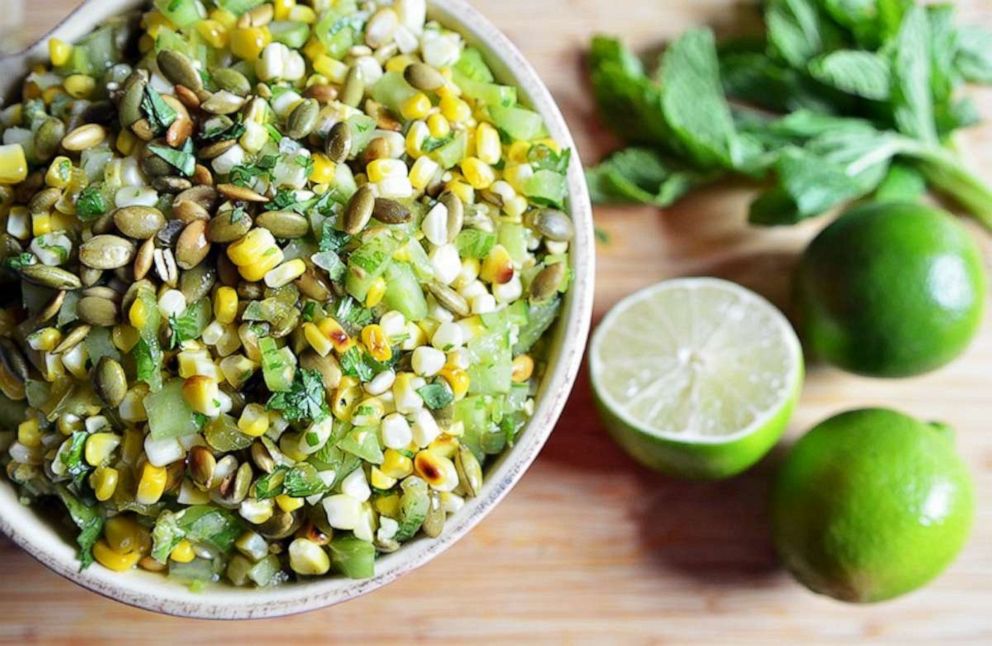 Zimmern's simple succotash–style salad with corn and green tomato is perfect for any and every meal, at least until corn stops coming into the market. "I add handfuls of every herb I have in the garden. Or sometimes I add roasted garlic or toasted croutons to make this more of a panzanella-type salad," the chef said.
Ingredients:
5 ears of corn (about 3 pounds), shucked
1/4 cup plus 2 tablespoons extra-virgin olive oil, plus more for brushing
2 jalapeños
2 large green beefsteak tomatoes, diced
1/3 cup finely chopped scallions
1/4 cup finely chopped cilantro
3 tablespoons finely chopped mint
1/4 cup fresh lime juice
1 tablespoon sugar
1 1/2 teaspoons ground cumin
1 1/2 teaspoons ground coriander
Sea salt and pepper
1/2 cup toasted pumpkin seeds
Directions:
Light a grill. Lightly brush the corn with olive oil and grill, turning occasionally, until charred in some spots and tender, about 10 minutes. Transfer to a work surface and let cool for five minutes. Cut the kernels from the cobs and transfer to a large bowl.
Meanwhile, grill the jalapeños, turning occasionally, until charred and soft, about 12 minutes. Transfer to a bowl, cover with plastic wrap and let stand for 20 minutes. Peel, seed and finely chop the jalapeños. Stir into the corn along with the tomatoes, scallions, cilantro and mint.
In a small bowl, whisk the quarter cup plus two tablespoons of olive oil with the lime juice, sugar, cumin and coriander and season with salt and pepper. Add to the vegetables and toss to coat. Transfer the salad to a bowl, sprinkle with pumpkin seeds and serve.
Chengdu-Style Hot and Cold Cucumber Salad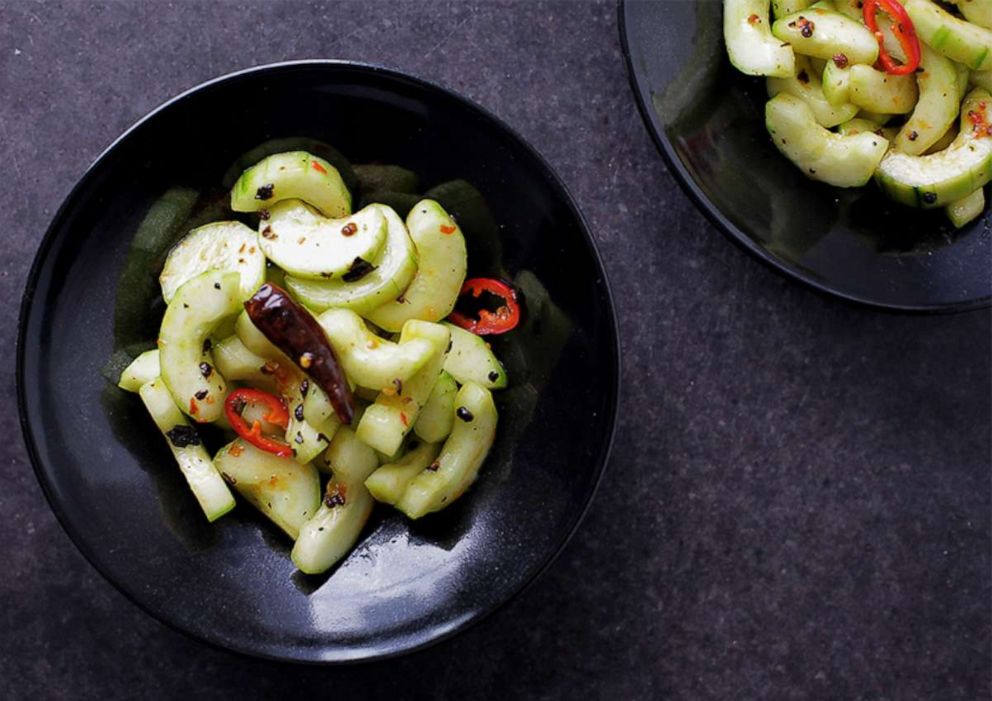 Chef Andrew Zimmern shared one of his favorite recipes inspired by his travels in China. The recipe below amplifies the silky texture of fresh cucumbers.
Ingredients:
2 large cucumbers, peeled and seeded
1 teaspoon salt
2 teaspoons sesame oil
2 tablespoons rice vinegar
1 tablespoon sugar
2 teaspoons toban djan (fermented chile bean paste)
1 fresh hot red chile, sliced in thin rings
3 tablespoons peanut oil
1 teaspoon Sichuan peppercorns, crushed
3 dried red chiles
Directions:
Cut the cucumbers into half to one inch wide pieces. Place in a colander and toss with the salt. Allow to drain for 20 minutes in the colander. Drain the cucumbers on a paper towel.
Combine the sesame oil, rice wine vinegar, sugar and chile bean paste and reserve.
Preheat a wok over medium-high heat. Once it's hot, add the peanut oil, Sichuan peppercorns and dried chiles. Cook for a minute until fragrant, add the cukes, toss once, cooking for about 5-10 seconds max, and spill into a large shallow bowl. Pour the liquid seasonings over the cucumbers and cool in the refrigerator for 25 to 30 minutes. Serve.
Cold Peanut Sesame Noodles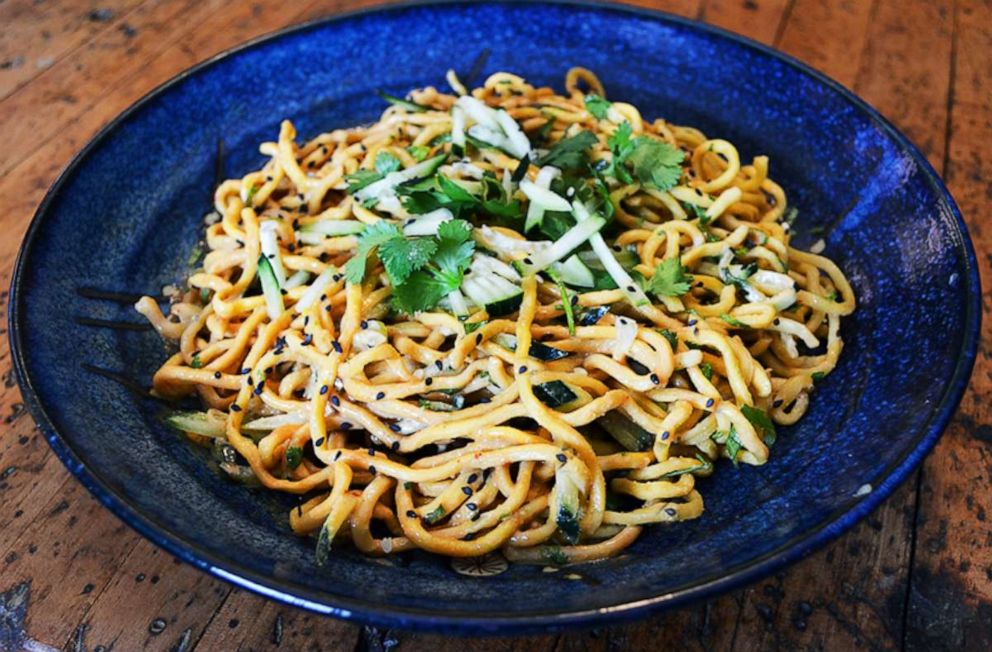 The peanut-sesame sauce for this cold, flavorful side dish can be made ahead and refrigerated for up to three days.
Ingredients:
1 tablespoon minced fresh ginger
1/3 cup soy sauce
3 tablespoons toasted sesame oil
3 tablespoons natural, unsweetened, salted peanut butter
3 tablespoons sugar
3 tablespoons rice vinegar
2 tablespoons mirin (available in the ethnic section of most grocery stores)
1 small garlic clove, minced
3 tablespoons Chinese sesame paste or tahini
1 small shallot, minced
5 tablespoons roasted peanut oil (see Note)
1 pound fresh Chinese egg noodles
1/2 large seedless cucumber—peeled, halved lengthwise, seeded and cut into fine matchsticks
4 scallions, thinly sliced
Small handful Cilantro sprigs for garnish
Directions:
In a blender, combine the ginger, soy sauce, sesame oil, peanut butter, sugar, vinegar, rice wine, garlic, sesame paste, shallot and 3 tablespoons of the peanut oil and puree until smooth. Transfer the sauce to a bowl and refrigerate for 45 minutes.
In a large pot of boiling water, cook the noodles until al dente. Drain and rinse under cold running water until chilled. Shake out the excess water and blot dry; transfer the noodles to a bowl and toss with the remaining two tablespoons of peanut oil.
Add the peanut-sesame sauce and toss well to coat. Garnish with the cilantro, cucumber and scallions.
Recipes reprinted courtesy of Andrew Zimmern, four-time James Beard Award-winning TV personality, chef, executive producer and host of Travel Channel's Bizarre Foods.
Chilled Multi-Color Watermelon Salad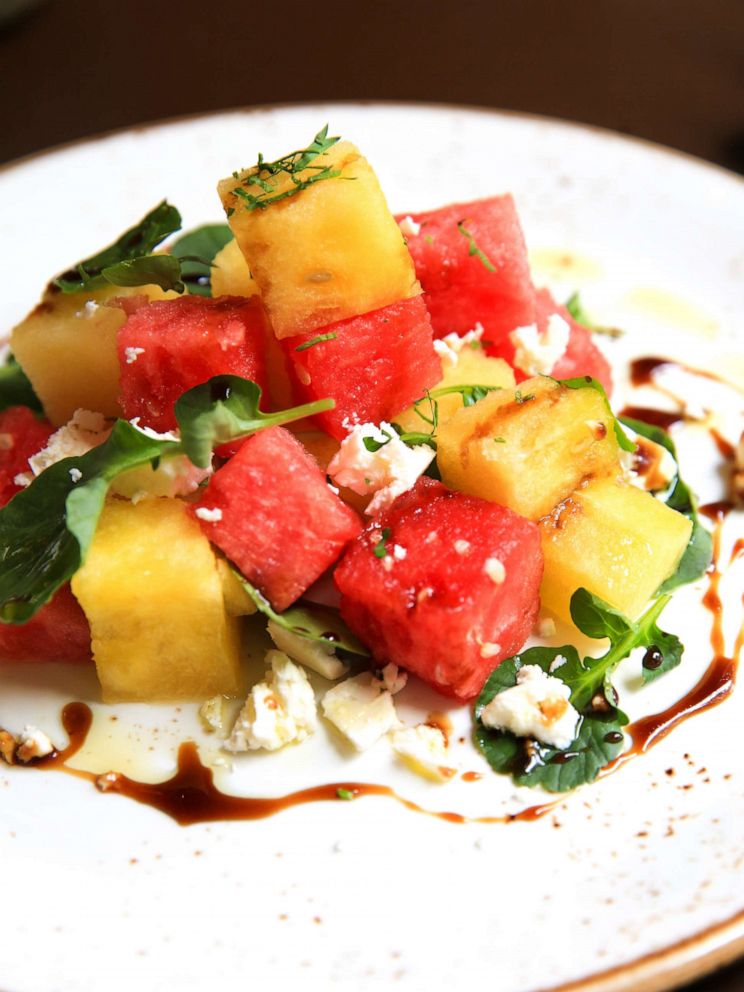 This starter is the perfect side for summer and comes straight from the brand new summer menu at Tavern on the Green in New York City.
Ingredients:
Red and yellow watermelon diced into cubes
Feta Cheese, crumbled
Upland Cress
Golden Balsamic vinegar reduction
Directions:
Cut the watermelon into one-inch cubes.
Assemble greens on the base of a small plate, top with cubed watermelon pieces and crumble feta cheese on top.
Finish with a drizzle of golden balsamic reduction and serve.
Asparagus, Arugula, Avocado, Mâche and Peas Green Salad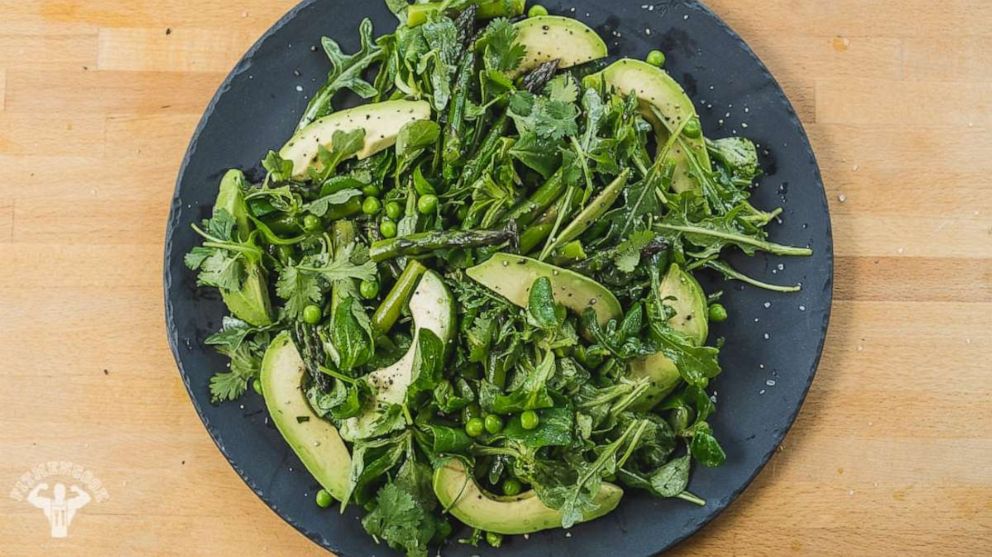 Kevin Curry, creator of FitMenCook, created a simple flavorful recipe that balances healthy fats and oils as well as fiber for a fast and healthy meal.
Ingredients:
1 bundle thick asparagus, chopped
1 1/2 cup frozen peas
2 cups mâche rosettes (Can substitute chopped bok choy or boston lettuce)
2 cups baby arugula
1/2 cup cilantro, roughly chopped
Avocado slices
Sea salt and pepper to taste
Dressing:
1 1/2 tablespoon extra virgin olive oil
Juice from 1/2 large pink grapefruit, about 1/4 cup (Can substitute orange, lemon, lime)
1 heaping tablespoon Dijon mustard
1/2 tablespoon Worcestershire sauce
1 1/2 tablespoon apple cider vinegar
Sea salt and pepper to taste
Directions:
Bring a pot of water to a boil. Add asparagus and frozen peas. Boil for six to eight minutes, then immediately remove the veggies from the water and place them in a bowl filled with ice water. This will stop the veggies from cooking and help preserve the vibrant green color.
Mix together the ingredients for the dressing in a small bowl and season to taste with sea salt & pepper (if needed).
In a large bowl, add all the ingredients for the salad, including the chilled asparagus and peas. Add the dressing and gently toss the salad in the dressing.
Garnish and season to taste with sea salt and pepper. Enjoy!
Low Carb Mediterranean Tabbouleh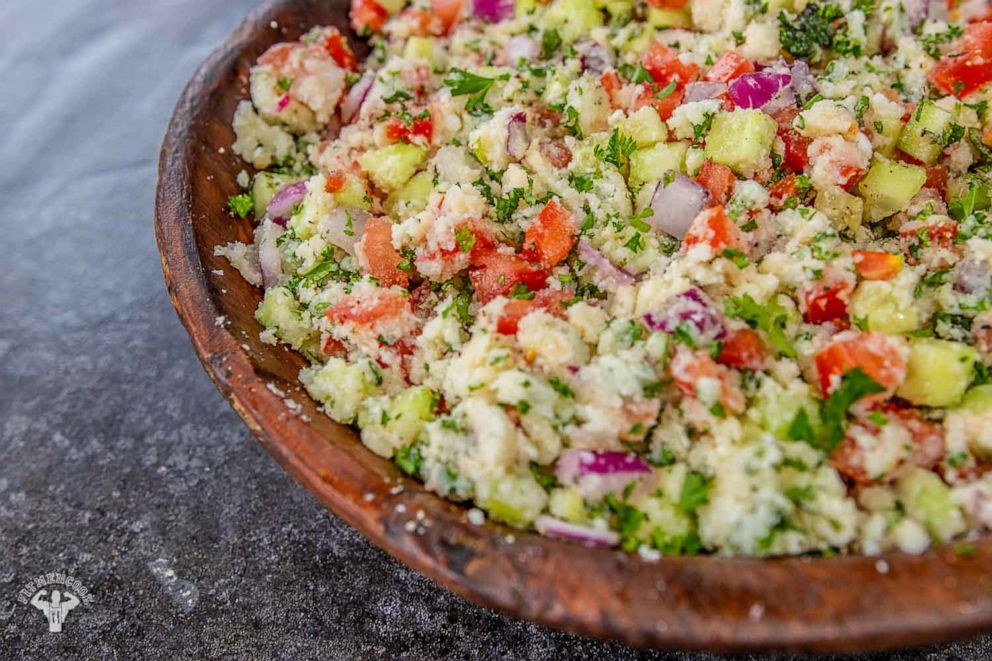 Curry also shared his simple and healthy recipe for a classic Mediterranean side dish. He swapped out cracked bulgur wheat with cauliflower to lower the amount of carbohydrates too!
Ingredients:
1 lb cauliflower florets2 tablespoons olive oil2 Roma tomatoes, diced1/2 medium red onion, diced1 medium cucumber, peeled and diced1 cup (tightly packed) finely chopped parsley1/3 cup (tightly packed) finely chopped mintjuice from 1 lemon (or more/less to taste)pinch of sea salt & pepper (to taste)
Directions:
Add cauliflower florets to a food processor and pulse blend to create cauliflower "couscous."
Add it a bowl along with the remaining ingredients. Fold and mix everything together and season to taste with sea salt and pepper, and any other of the ingredients except for oil.
Tropical Tuna Ceviche in Cucumber Cups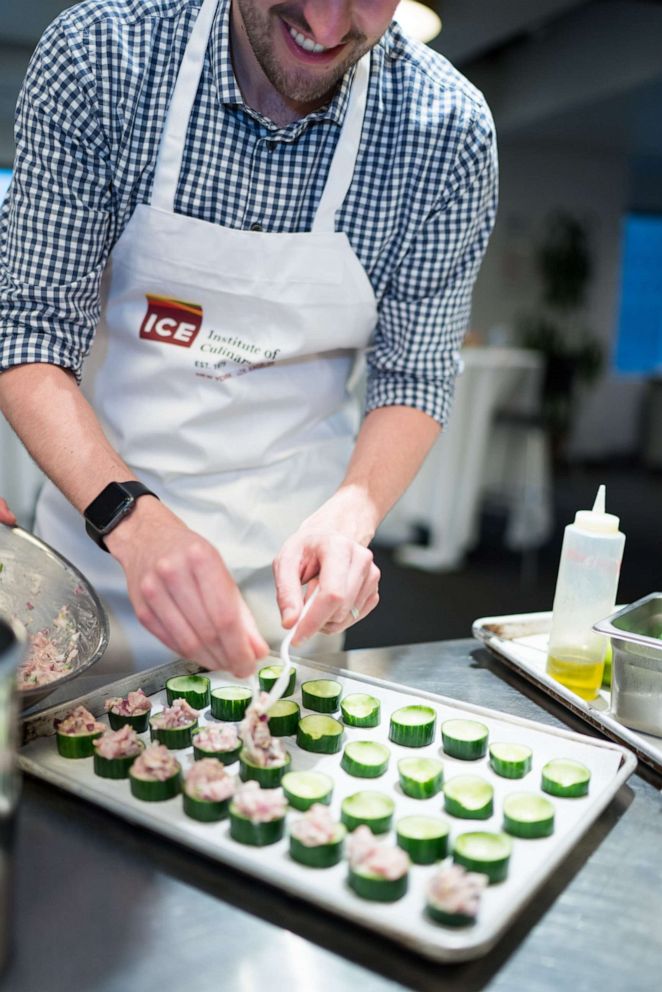 Institute of Culinary Education director of nutrition, Celine Beitchman, created this simple seafood bite that would be a healthy and fesh addition to any summer table.
Ingredients:
6 ounces red onion, small dice
1 ounce serrano chili, seeded and minced
1 1/4 ounces ginger or galangal, peeled and minced
2 ounces cilantro leaves, finely chopped1/2 cup apple cider vinegar
14 ounces coconut milk
1 lime, juiced
2 teaspoons sea salt
1/2 teaspoon black pepper
2 tablespoons olive oil
3/4 pound tuna, medium dice
2 hothouse cucumbers, cut in 1" rounds, centers scooped 3/4 through with melon-baller
1/2 cup micro cilantro or chives
Directions:
Combine all but cucumbers and micro-greens in a medium-large bowl.
Cover with plastic wrap and refrigerate 30-minutes until tuna "cooks".
To serve, scoop a half to three-quarter teaspoons of ceviche into each cucumber cup, top with micro cilantro or chives.
Fiery Chopped "Forget-Me-Not" Salsa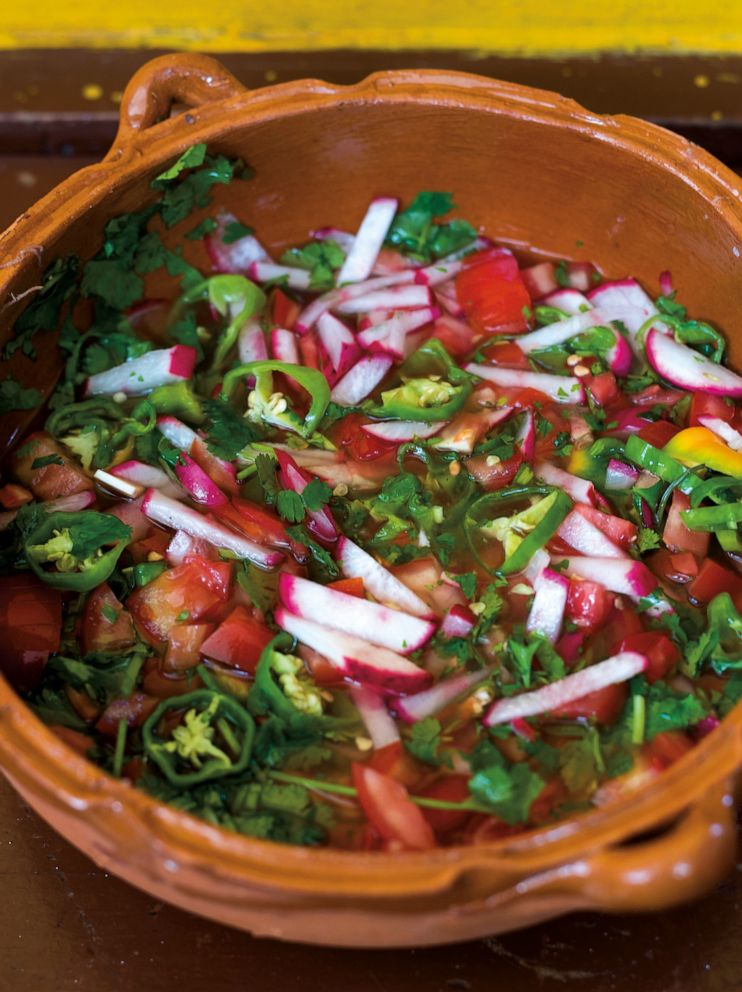 James Beard Award-winning author chef David Sterling published a part travelogue, part cookbook "Mercados" that highlights the vibrant foods found in the markets of Mexico. "Que no me olvides" salsa, as it's named in spanish, is Yucatán-inspired side that features chopped onion, tomato, Seville orange juice, and habanero chiles with shredded cabbage, slivered radishes and hearty chunks of avocado. The creamy fat adds a soothing balance to the heat from the chiles.
Ingredients
1 cup (85 g) green cabbage, finely shredded
1/2 cup radishes, halved and thinly sliced
1/2 cup tomatoes (about 1 medium Roma), seeded, cut into medium dice, and drained
1/2 cup red onion, cut into medium dice
2 medium chiles habaneros, 1/2 ounce or to taste, stems removed, leaving seeds intact; thinly slivered
1 cup Seville orange juice (substitute a mixture of 2 parts lime juice, 1 part grapefruit juice, and 1 part sweet orange juice, or all lime juice)
2 medium avocados peeled, seeded, and cubed
1/4 cup cilantro, finely chopped
1 teaspoon salt, or to taste
Directions:
Toss the first five ingredients together and refrigerate until ready to serve.Immediately before serving, add the remaining ingredients and toss to combine. Check seasonings.
Recipe excerpted with permission from "Mercados: Recipes from the Markets of Mexico" by David Sterling with Mario Canul, © 2019. Photography by Mario Canul and Mark Randall. Used with permission from the University of Texas Press.