Happy St. Patrick's Day!
Whether you hail from the Emerald Isle or an ancestry site told you you're 30 percent Irish on your dad's side, we are all Irish on March 17. To celebrate a proper St. Paddy's Day, chef Maeve Rochford shared her traditional and tasty Irish soda bread recipe that's been passed down from generations of Irish women in her family and a great staple to bring to your table.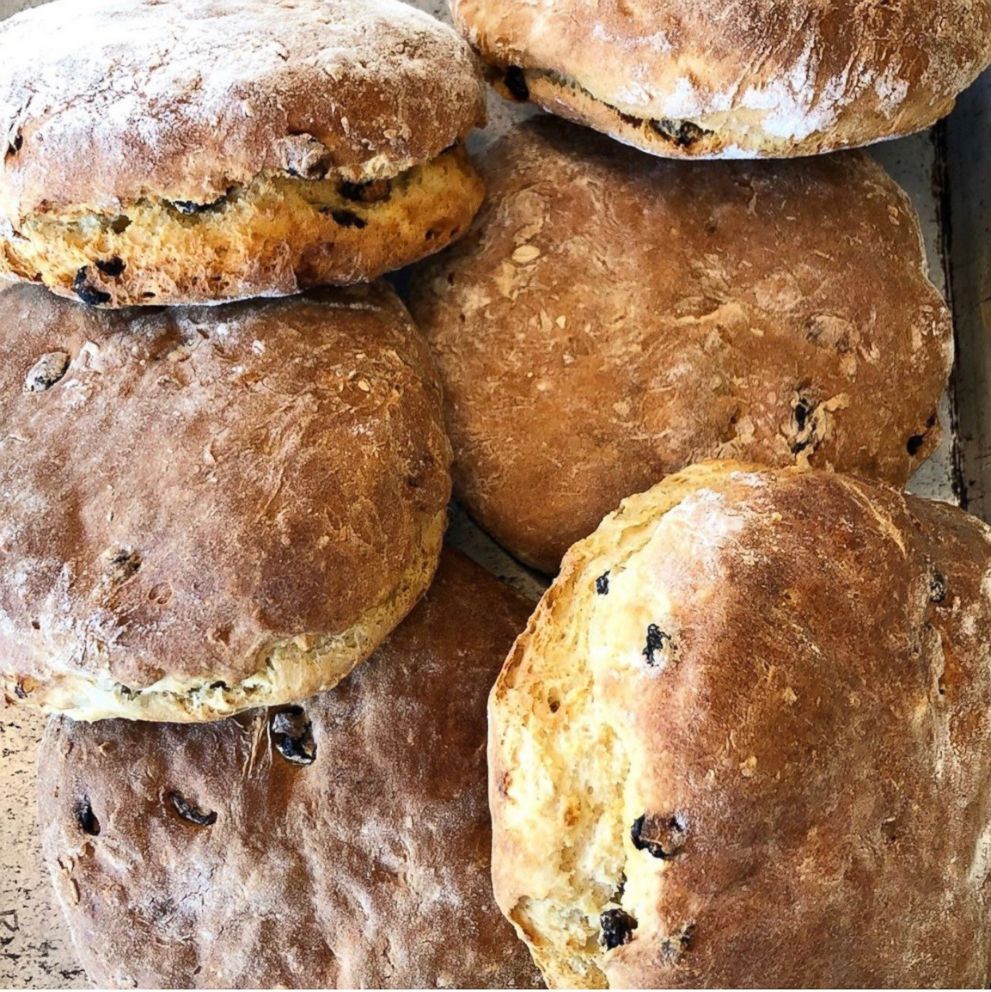 "In every culture there's bread - Naan, tortillas etc. for Ireland it's soda bread. That's ours," chef Maeve said. "It's the original sweet and savory bread because the soda makes it salty on the palate. It doesn't look like anything special, but then when you eat it you remember it forever.
Coming from an Irish-American family myself, there wasn't much I cherished more than my own grandmother's homemade Irish soda bread.
Until I discovered a little bakery that opened its doors in 2010 and has been doing big things with traditional Irish fare ever since.
Sugar and Scribe owner and executive chef Maeve, whose mother was born in Sligo, Ireland, learned how to bake the classic bread at just three-years-old from her grandmother Kate.
"Bread is the singular fundamental food that unites all cultures, even in times of war," she recalled of her grandma's words of wisdom.
Chef Maeve said she still channels her grandma's recipe and that Sugar and Scribe "sells out all the time."
"There are three schools of soda bread," chef Maeve said. "People who use caraway seed, people who use raisin or currants and just the plain soda bread."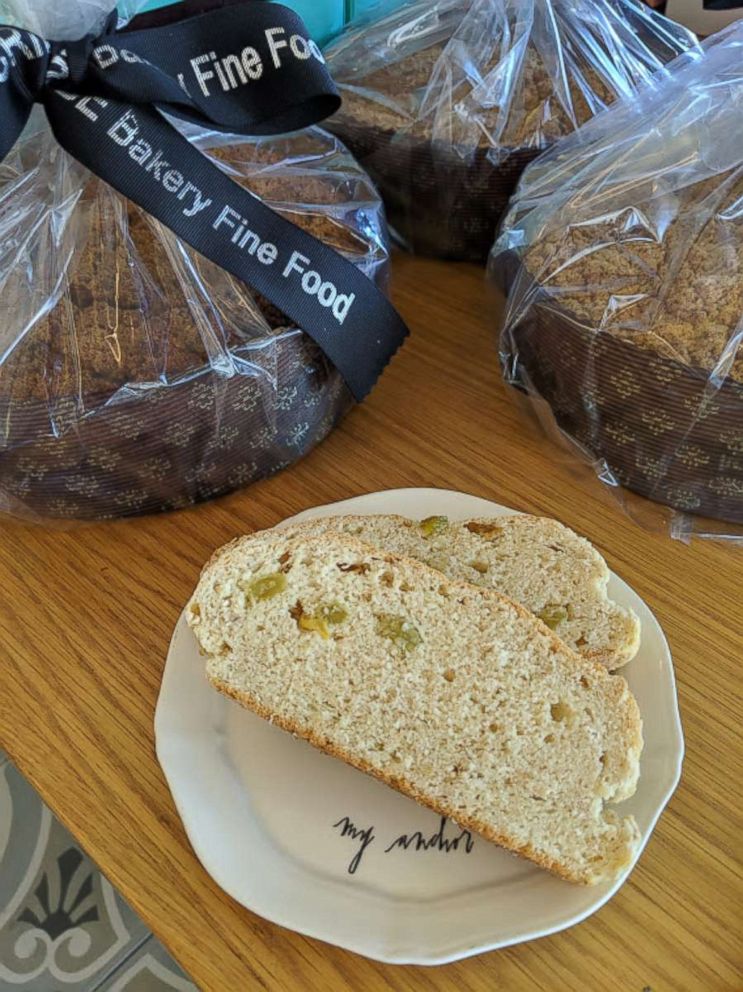 She continued, "My families is the raisin currant version. At Sugar and Scribe we use brandy soaked golden raisins, buttermilk and butter, rolled oats, flour and of course baking soda."
Her restaurant dishes out a variety of delicious Irish dishes like Guinness braised beef stew and full Irish breakfast, but the one staple that needs no adjustments is her Irish soda bread.
"I try to be as authentic as possible. I really love soda bread and we still bake them in the big cast iron pots here at the store," she said of the traditional technique that involves buttering the inside of the pot and covering it with a heavy lid.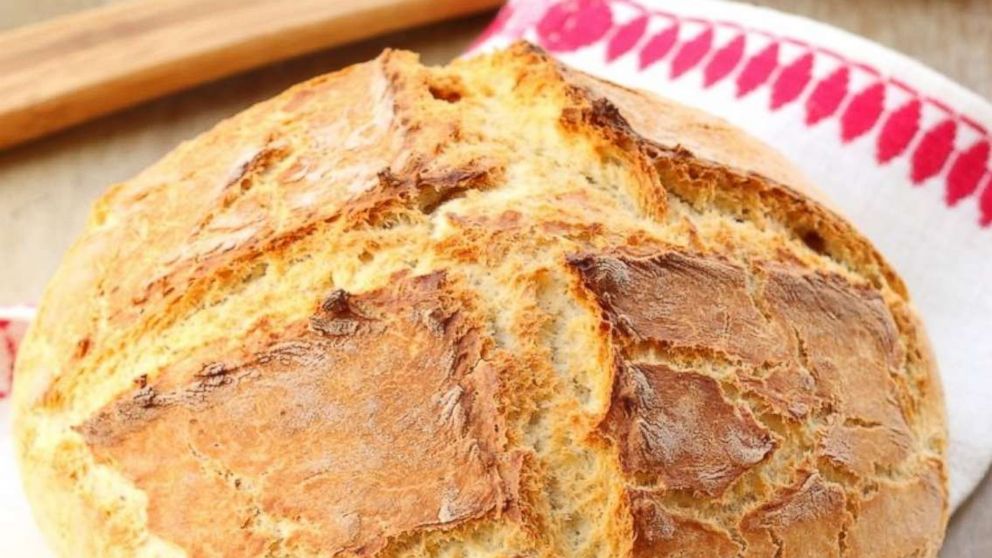 Maeve said more than anything bread making is "a very intimate experience because you have to use your hands, it really becomes an extension of you."
"I feel like bread already has this intimate nature between who's making it and who you serve it to," she added.
They have already made "hundreds of soda bread by hand" for St. Patrick's Day this year. "We made 150 for one order and did it all from start to finish in under two hours. We were cheering and high fiving after," she said laughing.
The bright and warm California-based chef said she never tires of having someone who is pleasantly surprised after tasting the unassuming loaf for the first time.
"They expect soda bread to be one way and then you try it and it's completely different in the best way," she said. "[It's] never perfectly spherical and [it] just looks odd. It doesn't have to be fancy or anything more than it is - good soda bread doesn't even need butter you can go from being crazy to calm and collected with soda bread and a good cup of tea."
Check out the full recipe below for the Irish soda bread that chef Maeve grew up with and still uses today.
Chef Maeve's Irish Soda Bread Recipe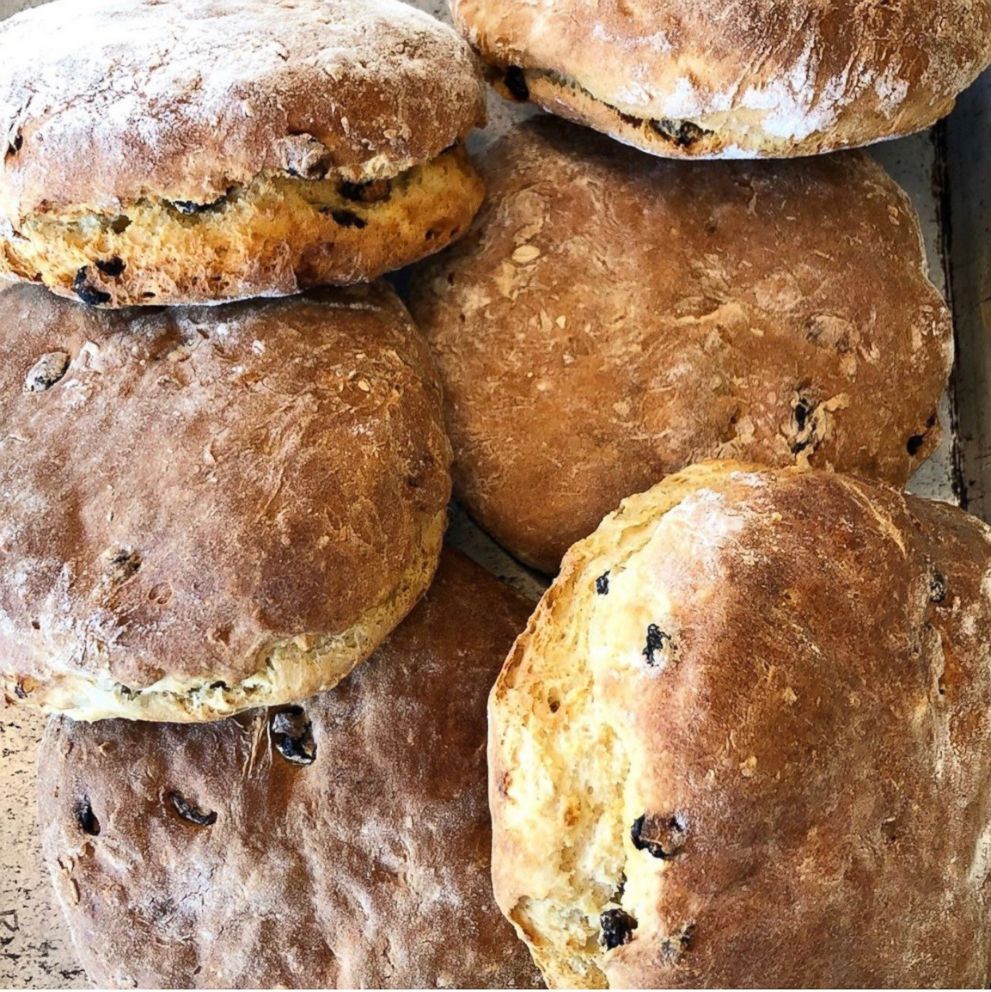 Makes: 5 loaves
Ingredients:
2 pounds, 4 ounces self-rising flour
4 ounces margarine or butter, ice cold
1 cup rolled oats
1/4 cup wheat flour
1 teaspoon baking soda1 1/3 cup golden raisins
4 cups buttermilk
Tip: Do not use quick oats for the rolled oats ingredient
Directions:
Preheat oven to 350 degrees.
Cut ice cold margarine/butter into equal-sized cubes. Combine all ingredients, except buttermilk, in a mixer.
Mix on low speed for approximately one minute (two minutes max - you are looking for a bread crumb consistency).
Slowly add buttermilk and stop mixing immediately once all buttermilk is added.
Knead and fold the dough on a surface that has been dusted with self-rising flour.
Divide dough into five one-pound balls.
Score top with a thin cross from end to end of each dough ball.
Pat top of each dough ball with self-rising flour.
Bake at 350 for 20 – 30 minutes (check readiness by inserting a skewer into the center of the dough – the skewer will come out clean when done.
"My original purpose opening an Irish restaurant was to show that I think that France and Italy and European places get credit for the amazing food, but Ireland has such a history and range as any of them. We're not pub food, we're so much more," the chef said. "Come for breakfast and you'll see!"
Other Irish Favorites
Full Irish Breakfast
Guinness Braised Beef Stew
Chef Maeve also said the classic dish topped with puff pastry is another fan favorite at the bakery and restaurant come March 17.
Granny Kate's sugar cookies and Irish cream latte
Editor's note: This was originally published on March. 15, 2019.