The chatbot revolution has raised some concerns around AI (artificial intelligence) and its potential impact on humanity, but there are also new ways in which the technology can improve our day-to-day lives. As a food reporter, I've been hungry to explore its use application to potentially help home cooks like me in the kitchen.
Could ChatGPT help figure out what to make for dinner using items in my fridge and pantry? I put it to a culinary test to develop a recipe using a mix of on-hand ingredients.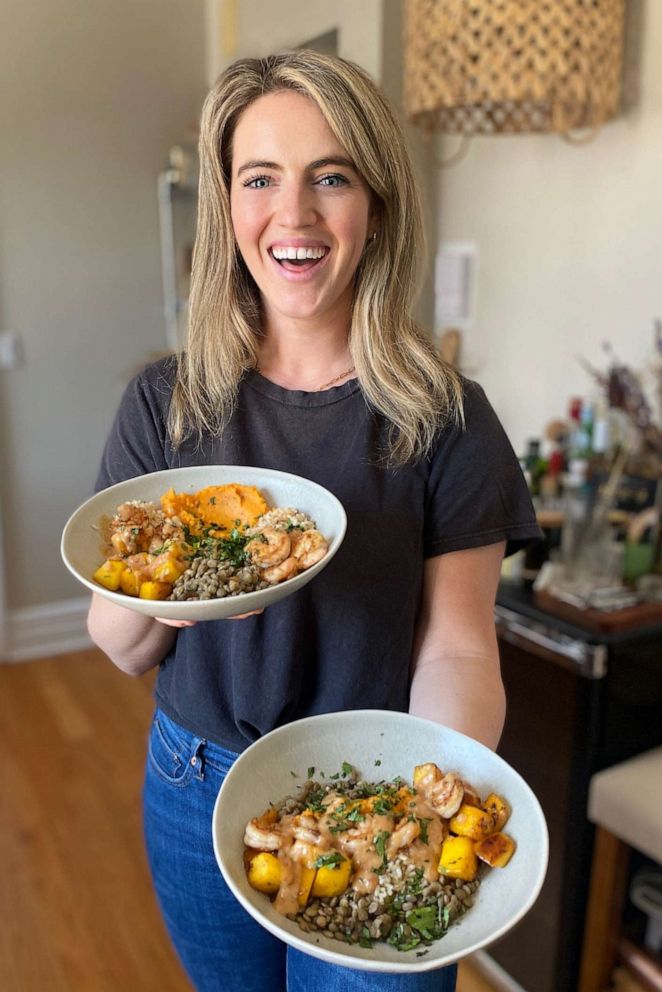 Before I got started, I first had to learn the basics, sign up for a free account, chat with the bot myself to learn its level of culinary knowledge and choose a recipe that felt unique enough to cook in my own kitchen.
What is ChatGPT and how does AI work?
ChatGPT (Generative Pre-trained Transformer) is an AI language model released only a few months ago that is already considered the fastest-growing consumer application in history.
The free service is "trained to follow an instruction in a prompt and provide a detailed response."
"It's basically a really sophisticated prediction machine. At a really high level, what these chatbots are doing is predicting what the next string of words in a sentence or a paragraph should be," said Louise Matsakis, a technology reporter at Semafor who has covered AI for the better part of the last decade. Matsakis likened the non-sentient bot to "a really fancy parrot."
ChatGPT essentially taps into "the entirety of the internet" to generate answers for users, Matsakis explained.
Using ChatGPT to create an original dinner recipe
When it comes to food, with a vast array of internet recipe sites, Matsakis said think of ChatGPT as "a bot that can talk to you about all those recipes" humans have developed over the years.
Matsakis agreed that the technology could be a unique kitchen resource since "people often struggle with what to make for dinner," she said. "You could put the ingredients you have in your fridge into ChatGPT and maybe it will give you something you didn't expect to make."
https://giphy.com/gifs/GoodMorningAmerica-ImBZqkHx7TcR38uWVo
"The people who get the most out of it are the people who are already somewhat familiar with the topic that they're using it for," she said. "If you like to cook, great, go to ChatGPT. I don't know if you're a beginning cook if you'd be able to spot something weird, like olives are a terrible addition to that recipe."
Users also have to be on the lookout for misinformation and do their fact-checking, she said. Ultimately, she suggested ChatGPT would be most helpful "for somebody who wants to take it to the next level or wants a new tool to help with a task that they have already gotten to the intermediate level on."
Putting ChatGPT to use in the kitchen
After thinking about an array of ingredients that seem to show up in my fridge, freezer and pantry on a regular basis, I turned to ChatGPT and got to cooking.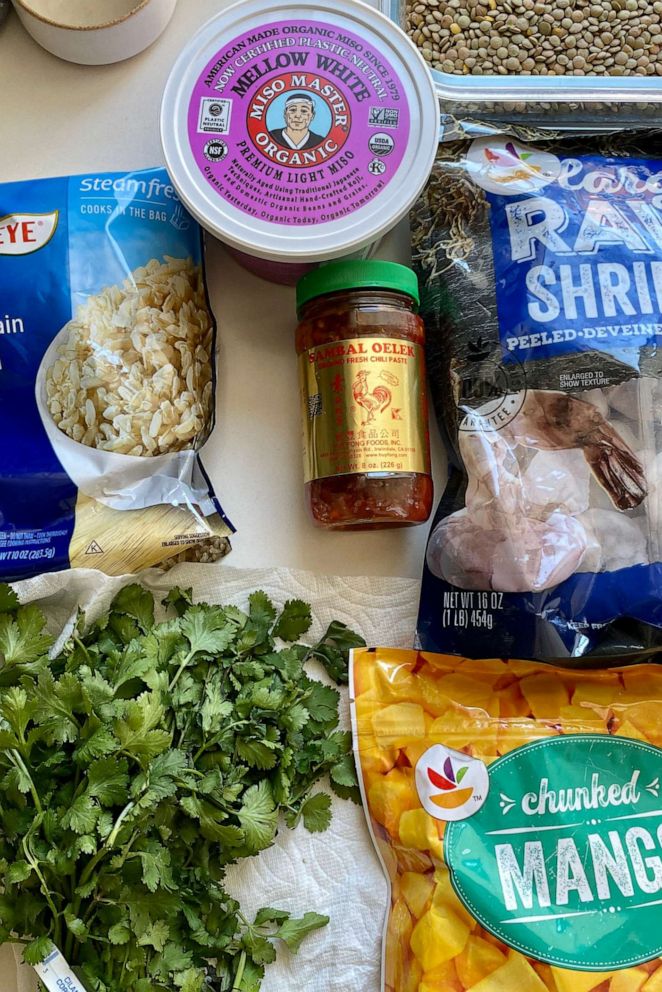 I gave it a whirl with everything from ground chicken and other base ingredients, asking ChatGPT to test specific fusion flavors, before ultimately landing on a unique combination that sounded up my alley.
"Can you please create a dinner recipe using frozen mango, chili paste, shrimp, lentils and white miso?" I asked ChatGPT.
https://giphy.com/gifs/GoodMorningAmerica-ai-recipe-chatgpt-6ZVAVQMXppKtnD9oIT
A speedy 10 seconds later, ChatGPT replied: "Sure! Here's a recipe for Mango Shrimp and Lentil Bowls with Chili Miso Sauce."
From there it began to list out all the measured ingredients and added a few additional items needed for the dish: water, salt, olive oil, rice vinegar, honey, chili powder, fresh cilantro and brown rice.
My initial thought was, "Wow, that was fast" and "This looks really easy."
As a home cook who has developed recipes for over two decades, I expected this to be pretty straightforward, but I also wanted to see if it could incorporate another suggestion.
https://giphy.com/gifs/GoodMorningAmerica-iN7qOwkT15LM6RFLpW
"I also have leftover mashed sweet potatoes, how can I add that to this recipe?" I asked. Nine seconds later, it had my answer: to use it as the base of the dish in the final step of the recipe.
Upon testing the variables to see if I could get different outcomes with the same base ingredients, ChatGPT offered a couple iterations.
One version came up with a curry, another a similar bowl but swapped cilantro for green onions and added limes for a hit of acidity. And the added question of sweet potatoes once yielded an answer for fried lentil and sweet potato cakes as a suggested side dish.
I stuck with what it gave me and got cooking. Watch the full process and result here.
Food for thought and notes for future AI recipes
All in all, I think what Matsakis said hit the nail on the head. ChatGPT is a great tool for intermediate home cooks who know how to properly balance ingredients flavors and textures on their own, but want a little inspiration without the hassle of scouring the internet, old cookbooks or magazines for a new recipe.
https://giphy.com/gifs/GoodMorningAmerica-mYXbwil0pQVNU2p1l2
The dish was delicious, lacking only in more varied textures. But taste wise and the quick cook time made for a simple, tasty and delicious experiment. I felt satiated but not weighed down since it was a lighter meal with nutritious ingredients, sans dairy, and even had some leftovers.
I had two favorite aspects of this recipe: the lentils and the sauce.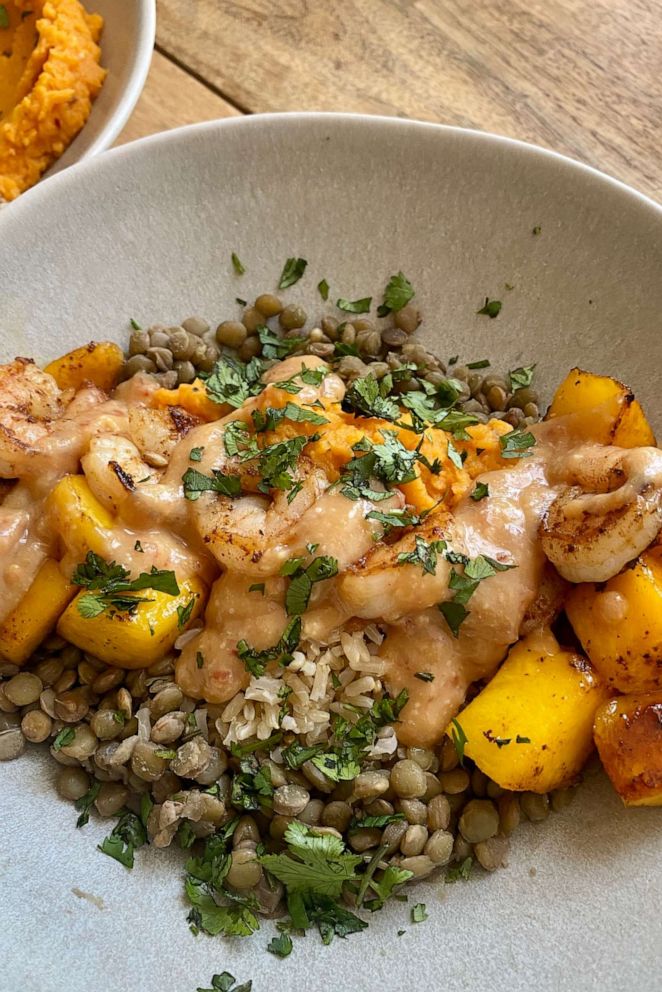 Despite always reading the instructions on a bag of lentils, I almost always have too much cooking liquid or they become mushy to the point of near-soup-like quality. I could partly blame a temperamental stove top of a dated New York City apartment, but this batch of the mighty legumes resulted in perfectly soft and tender bites, with no residual water. The instructions from ChatGPT --to rinse and drain the lentils, remeasure one cup and cook to a boil before adding a lid and lowering to a simmer and then start the timer for 20 minutes -- resulted in my new favorite method for great lentils.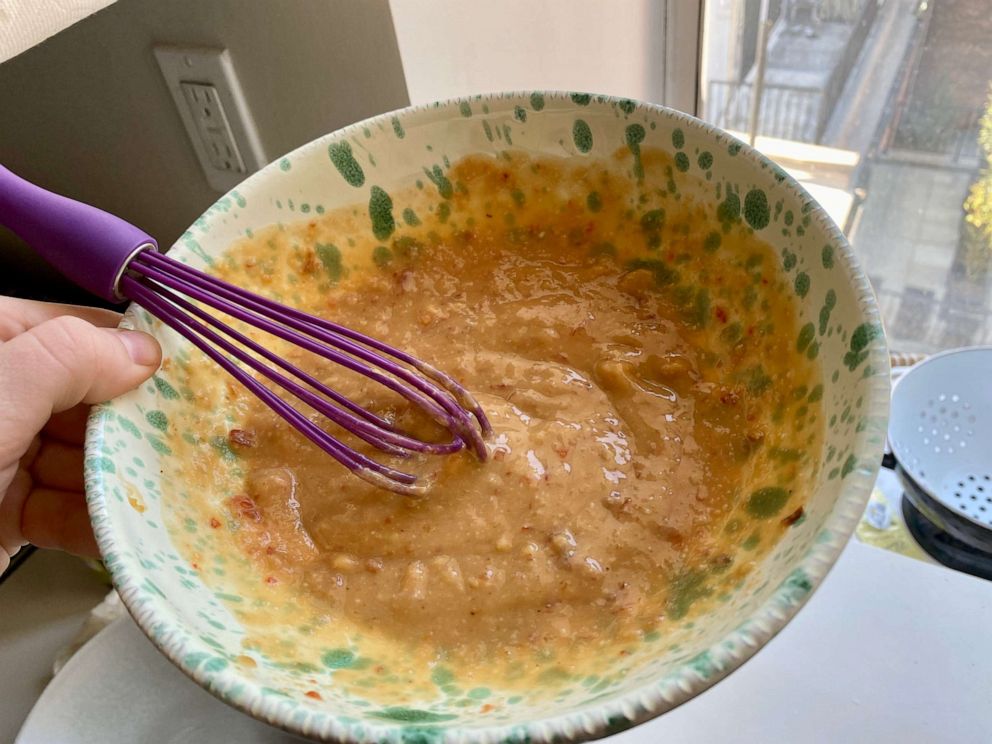 The sauce. Think hot honey meets vinaigrette. This could be a delicious sweet, savory and umami punch to add to salads, proteins and many more plates to come.
Using AI to help develop a recipe could also be helpful for households with dietary restrictions or food allergies, asking ChatGPT to avoid the use of a particular ingredient.
ChatGPT Recipe for Mango Shrimp and Lentil Bowls with Chili Miso Sauce
Ingredients
1 cup green lentils, rinsed and drained
2 cups water
1/2 teaspoon salt
2 tablespoons olive oil
1 pound large shrimp, peeled and deveined
1/2 teaspoon chili powder
1/4 teaspoon salt
2 cups frozen mango chunks
2 tablespoons white miso paste
2 tablespoons rice vinegar
2 tablespoons honey
1 tablespoon chili paste
1/4 cup chopped fresh cilantro
4 cups cooked brown rice
2 cups leftover mashed sweet potatoes
Instructions
https://giphy.com/gifs/GoodMorningAmerica-Mz0GrHPn28ShFOHbIZ
In a medium pot, combine the lentils, water and salt. Bring to a boil, then reduce the heat to low and simmer, covered, for 20-25 minutes, or until the lentils are tender.
While the lentils are cooking, heat 1 tablespoon of the olive oil in a large skillet over medium-high heat. Add the shrimp, chili powder and salt, and cook for 3-4 minutes on each side or until cooked through. Remove from the skillet and set aside.
In the same skillet, add the remaining 1 tablespoon of olive oil and the frozen mango chunks. Cook for 5-7 minutes or until the mango is softened and slightly caramelized.
In a small bowl, whisk together the white miso paste, rice vinegar, honey and chili paste until smooth.
To assemble the bowls, divide the cooked lentils, shrimp, mashed sweet potatoes and mango among 4 bowls. Drizzle each bowl with the chili miso sauce and sprinkle with cilantro. Serve with cooked brown rice on the side.
Enjoy your delicious and nutritious Mango Shrimp and Lentil Bowls with Chili Miso Sauce and mashed sweet potatoes!
Editor's note: This was originally published on Mar. 27, 2023.