Chef Yotam Ottolenghi welcomed "Good Morning America" inside his test kitchen to show home cooks how to spice up their life!
The London-based Israeli-English chef, restaurateur and food writer was joined by Ixta Belfrage, his "Flavor" cookbook co-author, and the pair recreated their recipe for Pappa Al Pomodoro -- a spice-filled take on the Italian classic.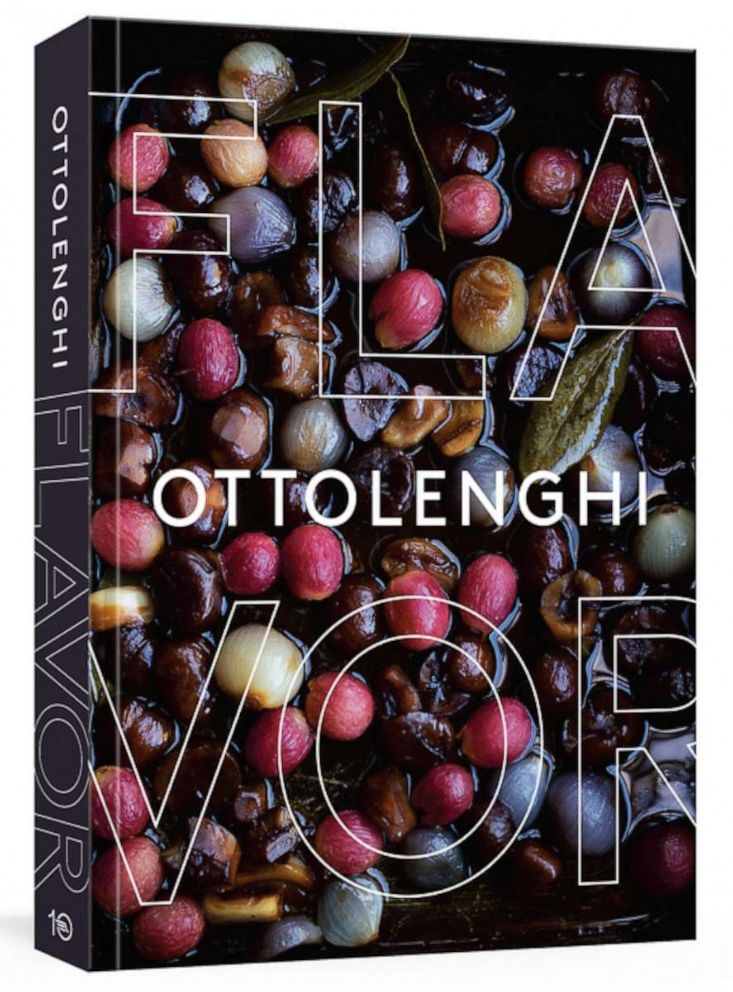 Ottolenghi explained the spiced tomato dish takes "something familiar and turns it on its head just a little bit."
It starts with fresh chilis, fresh curry leaves and mustard seeds, and is an unexpected and fragrant aromatic mix of spices that Ottolenghi is known for.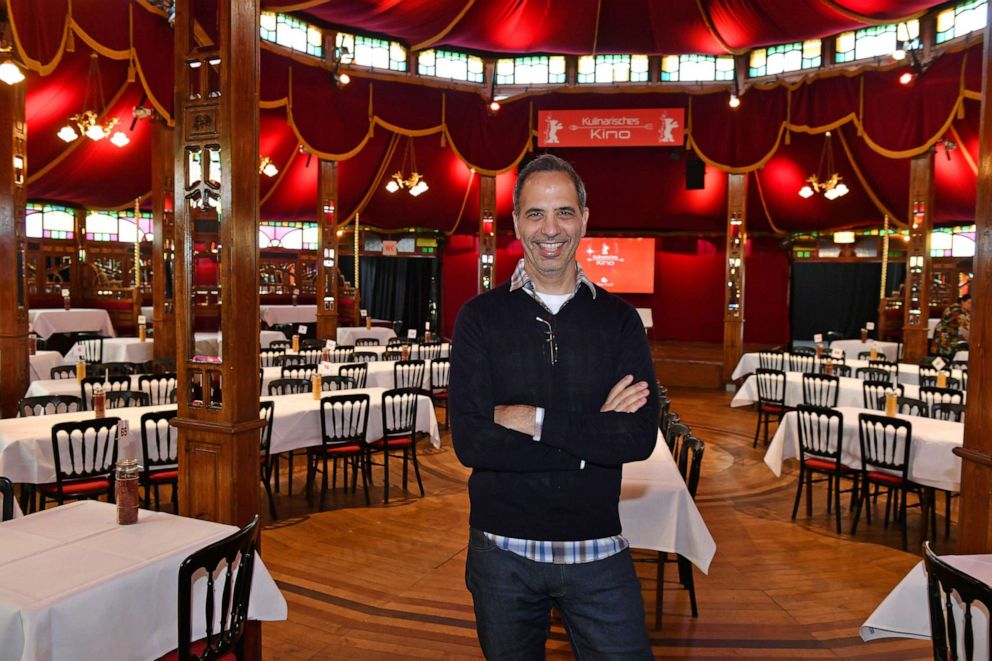 He suggested that home cooks think of spices as teammates that work better together. "This is the beautiful thing about spices. They don't come as individuals. They come as clusters," Ottolenghi said.
Some of his go-to spice combinations include coriander, cumin and turmeric; clove, cardamom and garlic; and ginger, garlic and cinnamon.
Ottolenghi's Easy Spice Blend for Tomatoes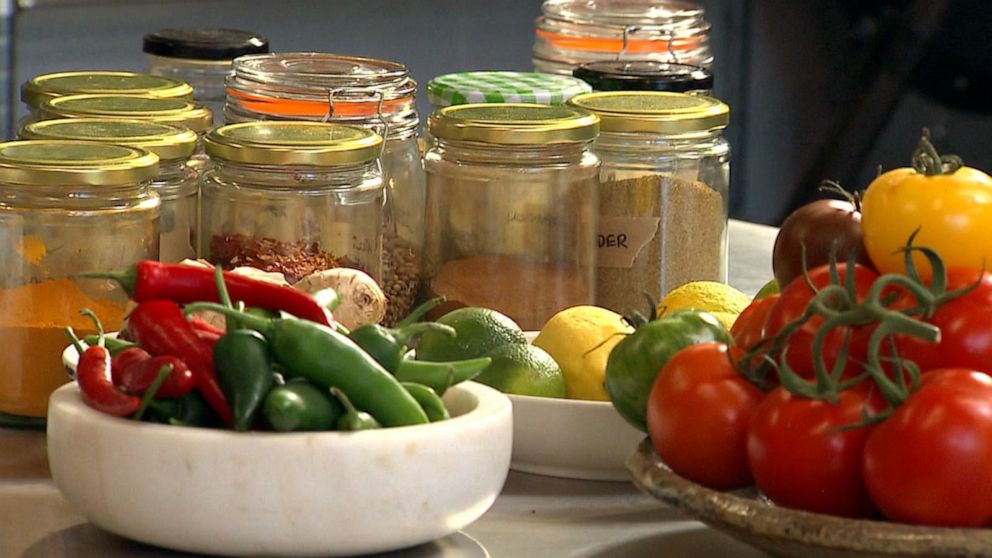 "It's got some [dried] nori seaweed and some chili flakes, some black and white sesame seeds and some flaked salt. And I'm just going to put that over the over the tomatoes," he said, adding that it helps bring out "that sweetness and acidity."
Pappa Al Pomodoro with Lime and Mustard Seeds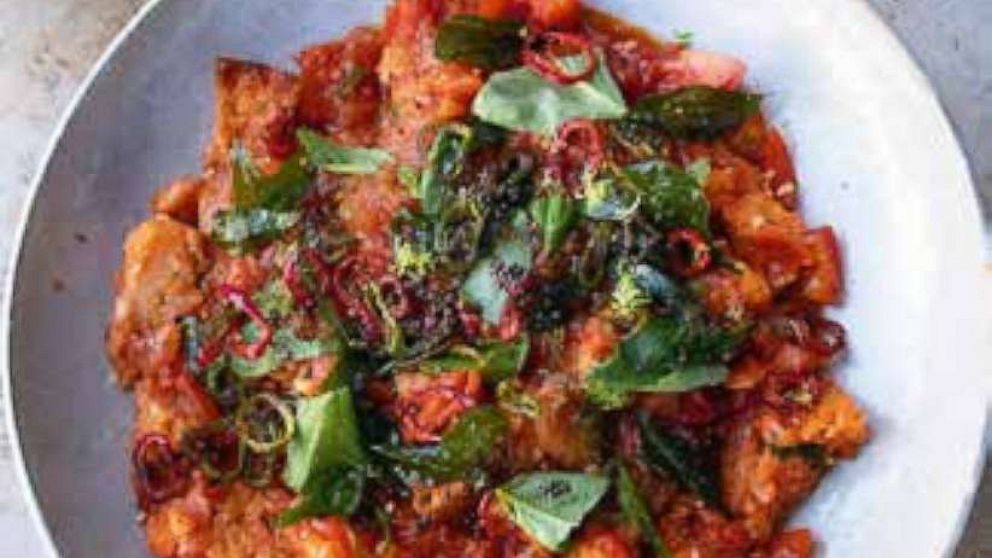 Ingedients
1/2 cup olive oil
1-2 green chiles, (¼ cup) finely sliced into rounds
1-2 red chiles, (¼ cup) finely sliced into rounds
20 fresh curry leaves (optional)
1 1/2 teaspoons black mustard seeds
Table salt
1 14-ounce can whole, peeled tomatoes
5 garlic cloves, finely chopped (not crushed)
6-8 ripe tomatoes, (31⁄3 cups) roughly chopped
2 bay leaves
1/2 cup basil leaves, roughly torn
1 teaspoon superfine sugar black pepper
3 1/2 ounces crustless sourdough bread, well toasted and roughly cut into 1.5-inch pieces
1 lime, use 1/4 teaspoon zest, 1 tablespoon juice
Directions
Line a plate with a double layer of paper towels. Heat the olive oil in a large sauté pan on medium-high heat. Once hot, add all the chilis and fry gently for 3 minutes.
Add the curry leaves (if using) and fry for 45 seconds, then add the mustard seeds for a final 15 seconds, swirling the pan as you go. Strain the oil through a sieve set over a heatproof bowl.
Transfer the chilis, curry leaves, and mustard seeds to the prepared plate and sprinkle generously with salt. Let the oil cool for 5 minutes.
In a medium bowl, roughly crush the canned tomatoes with a fork until broken up, along with any liquid from the can.
Return 3 tablespoons of the reserved oil to the sauté pan and place on medium heat. Add the garlic and 1/4 teaspoon salt and fry gently for 4 minutes, stirring, until soft and fragrant (you don't want the garlic to brown, so decrease the heat if necessary).
Add the canned tomatoes, 2 1/4 cups of the chopped tomatoes, the bay leaves, two-thirds of the basil, the sugar, 1/2 teaspoon salt and a generous grind of pepper, then increase the heat to medium-high and simmer for 8 minutes. Remove from the heat, stir in the bread and the remaining chopped tomatoes, and allow to soak up the sauce for 5 minutes. Discard the bay leaves.
Spoon the mixture onto a large, lipped platter and drizzle with the lime juice and 3 tablespoons of the remaining aromatic oil (reserve the rest for another use).
Let sit for at least 25 minutes, or up to a few hours, for the flavors to come together. Finish with the lime zest, fried aromatics and remaining basil and serve at room temperature.
Reprinted from Ottolenghi Flavor. Copyright © 2020 by Yotam Ottolenghi and Ixta Belfrage. Photographs copyright © 2020 by Jonathan Lovekin. Published by Ten Speed Press, an imprint of Penguin Random House LLC.