Chefs share their last-minute Thanksgiving food tips
T-minus one day till Thanksgiving, so just in case you still don't know what to cook or just need a little moral support in the kitchen, three chefs have all the advice and recipes to make tomorrow a breeze.
Food Network personality Jeff Mauro, Top Chef Canada host and cookbook author Eden Grinshpan, and celebrity chef Jamika Pessoa joined "Good Morning America" on Wednesday to talk sides, turkey and dessert.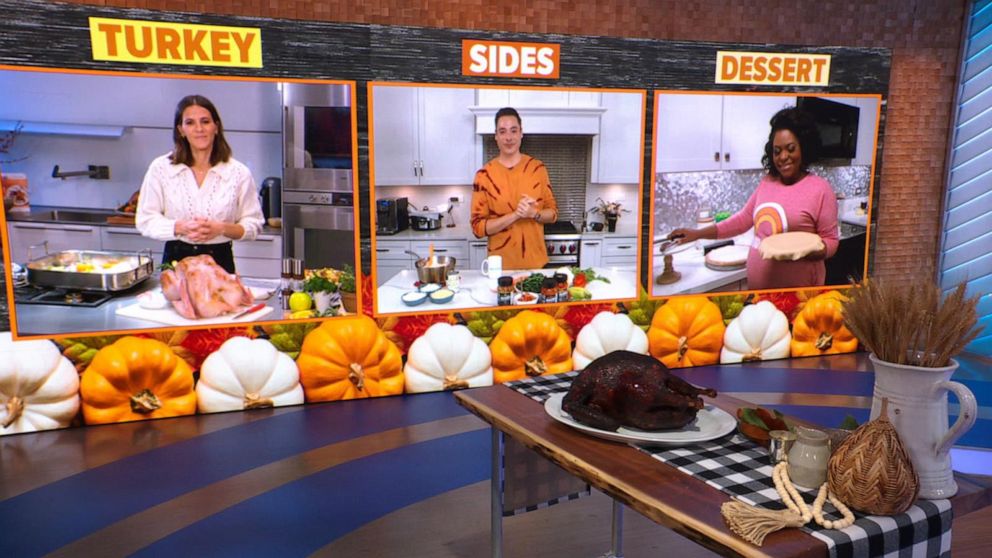 Top Tips for Turkey
The food television personality and "Eating Out Loud" author shared her suggestions to cook a great turkey along with a recipe that breaks down the bird for even cooking.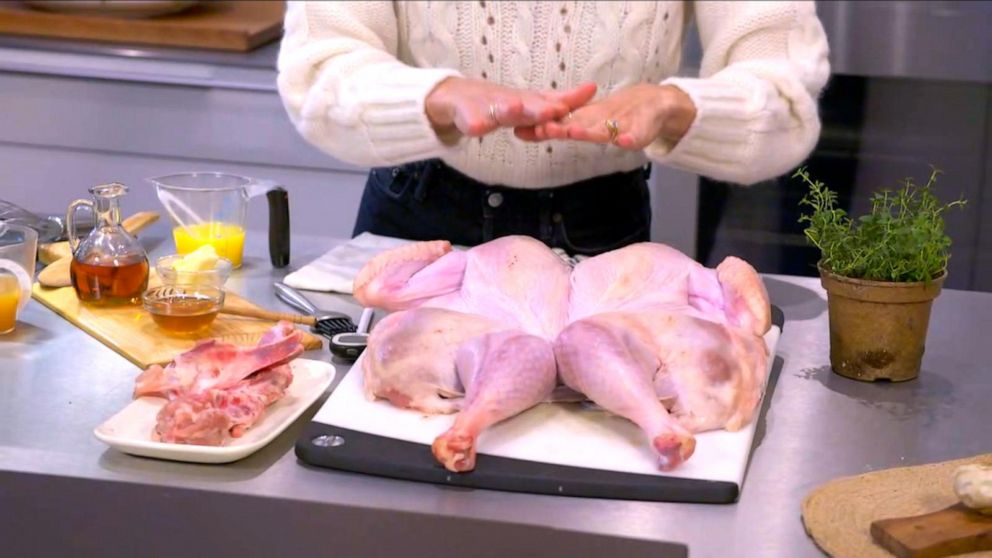 Use a roasting rack
Grinshpan said it's "super important to get air circulation underneath your turkey. If you don't have a roasting rack, aluminum foil will be your best friend, wrap it up, coil it up and put it at the bottom of your roasting rack and Turkey on top."
Don't forget the wishbone
"Take the wishbone out before you roast it. Ask your butcher to do this -- If you can't do it, take a paring knife by the breast and scrape it out, a paper towel will help you grip it and it will just make for a beautiful carved breast turkey," she explained.
Don't put stuffing inside the bird
"I don't stuff my turkey," Grinshpan said, "because when you stuff a turkey, it adds time to the roast. You don't want to keep your turkey in there longer than you need to. That will dry out the breast."
She suggests cooking and serving the dressing on the side and instead fill the turkey cavity with aromatics, fresh herbs such as sage, apple, garlic, onion and lemon.
Spatchcock Turkey Recipe
Ingredients
1 -10-12 lb turkey- spine removed
3 tablespoons unsalted butter- room temp
1 tablespoon fresh sage- finely chopped
1 garlic clove, grated
1 tablespoons extra virgin olive oil
3 large carrots- peeled and cut into thirds
2 celery stalks- sliced into thirds
1 fennel- quartered
1 head of garlic- sliced right now the center
1 yellow onion- sliced into quarters
Giblets, neck and spine from the turkey
2 cups of chicken stock
1 tablespoon AP flour
Kosher salt and black pepper to taste
Directions
Pat dry the turkey and then lay the turkey breast side up with the legs turned in. Using the palm of your hand press down on the turkey breast hard to crack the breast bone, You want to do this so that the bird lays as flat as possible.
Place on top of a flat roasting rack that fits on a roasting tray. Scatter the carrots, celery, onion, fennel, garlic, sage, giblets, neck and spine on the bottom of the roasting tray. Place the rack with the spachcock bird on top.
In a small bowl mix together 2 tablespoons room temp butter, freshly chopped sage and grated garlic.
Gently release the turkey skin from the breast by sliding your finger under the skin and place herbed butter under the skin on both sides and press it out evenly over the breast. Season generously all over the bird with salt and cracked black pepper. Make sure to get underneath the bird as well.
Drizzle over the extra virgin olive oil and place in the pre-heated 450 degree oven for an hour to an hour and a half. Check the turkey at one hour and place the thermometer in the thickest part of the leg; when it reads 165 degrees the bird is ready.
Remove from the oven and loosely tent with tinfoil to let rest for at least 20 minutes.
While it rests, make the gravy with the veg and roasted neck, giblets and spine. Strain all the ingredients from the bottom of the roasting rack through a strainer, keeping the liquid and the neck, spine and giblets and throwing away the vegetables.
Place liquid in a pot with the neck, giblet and the spine with 2 cups of chicken stock and let simmer, skimming off the fat for around 10 minutes.
Strain again keeping only the flavorful stock.
In a pot melt the butter and add in the flour. Mix together with a whisk and let get a little brown in color while you cook off the flour.
Add in the warm stock slowly whisking as you go. Bring to a simmer and whisk consistently. Check for seasoning and serve warm with sliced turkey.
Grinshpan also shared her chimichurri recipe from "Eating Out Loud" to add a bright, herbaceous and acidic component to the rich dinner.
Chimichurri
1/2 cup roughly chopped fresh dill
1/2 cup roughly chopped fresh parsley
1 small shallot, finely chopped
1 small garlic clove, grated
1 1/2 teaspoons red wine vinegar
1 tsp kosher salt
1/2 teaspoon freshly ground black pepper
1/2 cup plus 2 tablespoons extra virgin olive oil
Directions
In a food processor, combine the dill, parsley, shallot, garlic, vinegar, kosher salt and black pepper. Pulse until the mixture is finely chopped.
Continuing to pulse, stream in the olive oil just until the mixture forms a loose sauce.
Top Tips for Sides
Mauro offered up three recipes that would be a perfect accompaniment to turkey day along with tips for easy flavor boosters right from the pantry.
Use evaporated milk in mac and cheese
"Get a couple cans and mix it with a combination -- of grated cheeses, something creamy, something sharp, something funky and let it simmer and let it melt," he said.
Giardiniera adds a high note of acid and crunch
"You can do the Chicago way and use hot giardiniera -- this is just a beautiful cornucopia of veggies -- put it on your greenbeans," he suggested.
Add pecans and dried cranberries to stuffing
"I add some nice crushed pecans -- right from the pantry -- and bring a little sweetness and fun tang, tartness from dried cranberries, mix your stock in there and put it in the oven and adding more color," he said.
Out of The Box Cornbread Muffins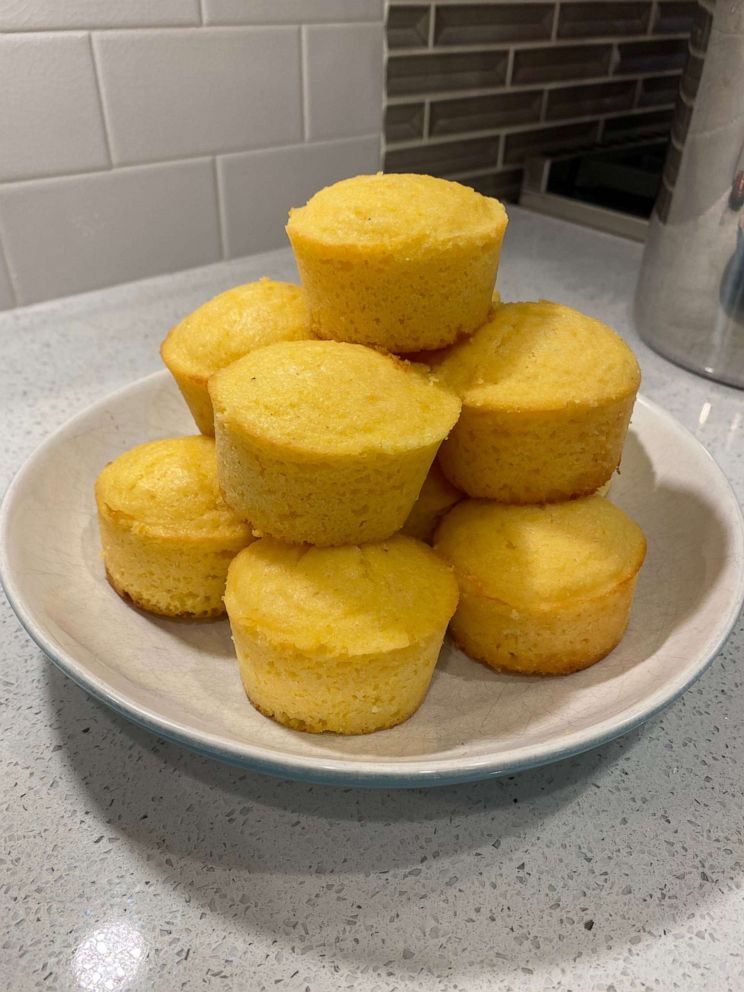 Ingredients
1-16-ounce box cornbread mix
1/2 cup milk
1/2 cup sour cream
3 tablespoons honey
2 eggs
Directions
Preheat oven to 375 degrees.
In a large mixing bowl add the cornbread mix, milk, sour cream, honey, and eggs, stir until combined. In a greased muffin tin, fill cups ¾ full. Bake for 15 to 18 minutes or until golden brown. Use a toothpick for extra insurance that your little corn breads are cooked through.
Remove and let cool, OR once your fingers can handle the heat, slather on some butter, and enjoy!
Deep Fried Crispy Stuffing Balls with BBQ and Cranberry Sauce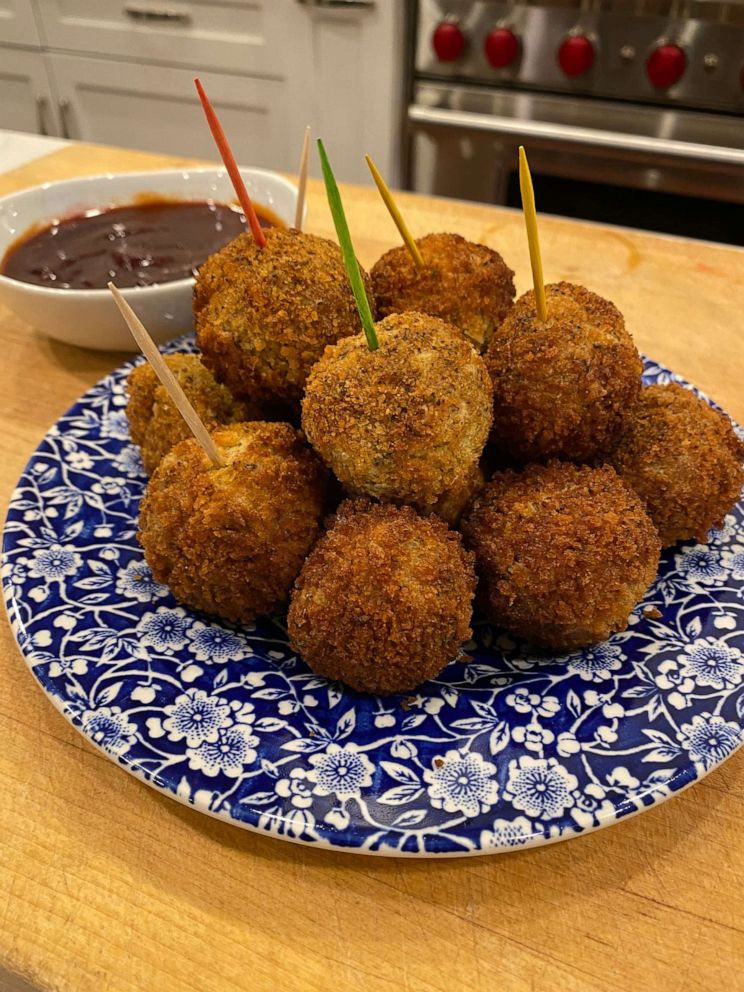 Directions
1/2 cup All-purpose flour
1/2 teaspoon salt
1/4 teaspoon fresh ground pepper
2 eggs
1 cup seasoned panko bread crumbs
3 cups leftover stuffing
1 cup parmesan cheese, grated
Oil for frying
1/2 cup BBQ sauce
1/2 cup cranberry sauce
Directions
Combine flour, salt, and pepper in a shallow bowl. Beat eggs together in a second shallow bowl until smooth. Add panko bread crumbs, and in a third shallow bowl.
In a medium bowl add the stuffing and parmesan cheese, mix. Scoop stuffing, about 2 tablespoons per serving, and roll into a ball using your hands, forming about 12 balls. Dredge each ball through the flour mixture, shaking off any excess. Transfer each ball to the egg mixture and evenly coat. Roll each ball in the bread crumbs mixture until evenly coated. Set each stuffing ball on a plate and allow to sit for the coating to stick to the stuffing.
Heat oil in a deep-fryer or large saucepan to 350 degrees.
Carefully lower 4 to 5 stuffing balls into the hot oil and fry until golden brown on all sides, about 2 to 4 minutes, transfer to a paper towel-lined plate using a slotted spoon. Repeat with the remaining stuffing balls.
For the dipping sauce simply stir together the BBQ and cranberry sauce, dip your stuffing balls and enjoy.
Pantry-Pull Cranberry Sage Stuffing
Directions
3 to 4 leftover ciabatta rolls, cut into 1/2 inch pieces
1/4 cup dried cranberries
1/4 cup celery, small dice
1/4 cup carrots, small dice
1/4 cup onions, small dice
1 1/2 cup chicken stock
2 tablespoons unsalted butter
1 small bunch sage
1/2 teaspoon salt
1/4 teaspoon freshly ground pepper
1/4 cup pecans, roughly chopped
Directions
Preheat oven to 425 degrees.
Combine ciabatta and cranberries in a large mixing bowl, set aside.
Place a medium non-stick 3-quart saucepan over medium-high heat, add butter. Once butter melts, add celery, carrots, and onions, stir occasionally until tender, about 3 to 4 minutes. Stir in chicken broth, sage, salt, and pepper. Bring to a simmer, about 3 to 4 minutes, remove from heat and pour over ciabatta-cranberry mixture and stir to combine.
Transfer stuffing mixture to a greased casserole dish and top with pecans. Cover with foil and bake for 15 minutes. Uncover and bake another 10 to 15 minutes or until golden brown. Carefully remove from oven and enjoy!
Top Tips for Desserts
Jamika Pessoa served up her three different dessert recipes and tips that make the sweet course even easier.
Use tongs to crimp pie edges
If you want to add an easy pattern to the crimped folded edges of a pie crust, Pessoa suggests clamping down with tongs to add an easy waved edge.
Add bourbon to jazz up canned pie filing
Pessoa said that it will add another dimension of flavor to a pumpkin pie and guests will "have no idea that that filling came out of a can."
Blueberry Apple Air Fryer Hand Pies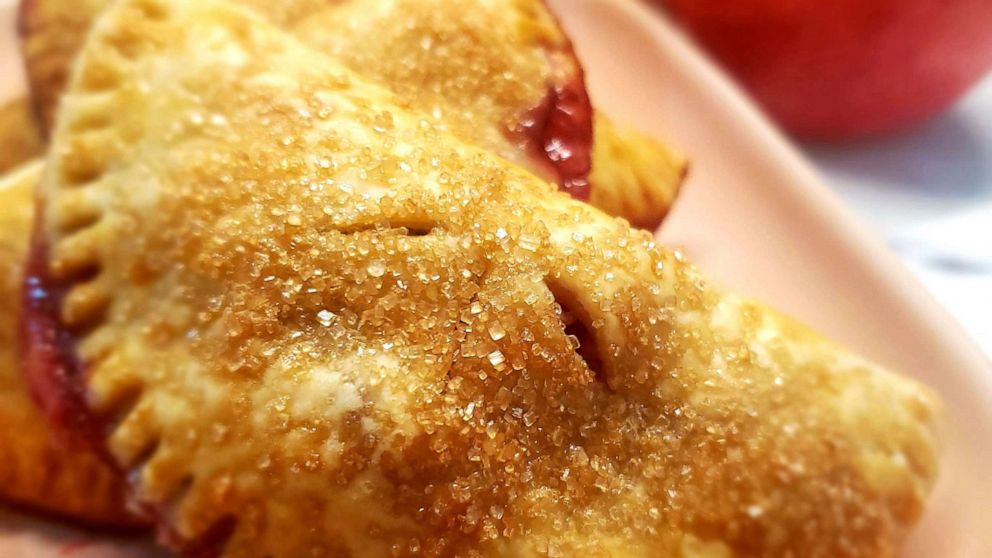 Makes: 8-10 pies
Ingredients
1 box (2-9 inch) refrigerated pie crusts; at room temperature
Flour for dusting
1 jar blueberry preserves or favorite flavor of jam
1 apple, peeled, small diced or thinly sliced
1 egg
1 teaspoon water
Turbinado sugar, for topping
Directions
Unroll pie dough on a lightly floured surface. Using a 4-inch round cutter, cut out 4-5 rounds in each dough. Place a heaping teaspoon of preserve in the center of round. Add a teaspoon of diced (or thin slice) apple on top.
Using a brush or the tip of your finger, dot around the edges of dough rounds with water. Fold over round in half and seal with the tip of a fork.
In a small bowl, whisk egg and water. Brush egg wash over pies and lightly sprinkle tops with turbinado sugar. Make 3 small slits on top of pies with a sharp knife.
Spray air fryer basket or fryer wire racks with cooking spray if necessary.
Place pies in air fryer and bake at 350 degrees or 10-12 minutes until pies are golden brown and bubbling.
Remove from air fryer and let pies cool.
Note: Baking time and temperature may vary depending on air fryer.