Welcome to GMA's New Year, Best You. As we ring in 2019, we are sharing everything you need to start the new year strong. From keeping your New Year's resolutions going to Instagram-worthy meal prep to workout programs to eating plans to taking time for yourself, we have it all covered.
Daphne Oz knows how to cook a delicious meal and she has mastered doing it with healthy and fresh ingredients too.
Oz, a host of "The Dish on Oz," shared three recipes with "Good Morning America" that are compliant with Whole30, the program that eliminates food groups like sugar, grains, dairy and legumes from participants' diets for a full 30 days.
(MORE: Everything you need to start Whole30, from a meal plan to a grocery list)
Try Oz's recipes and get inspired!
Daphne Oz's coconut beef skewers with broccoli slaw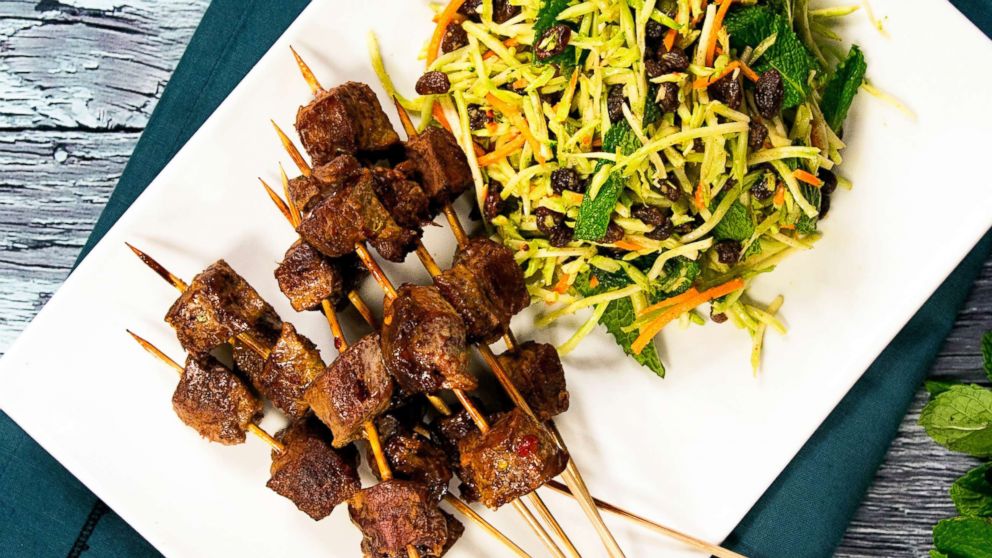 Serves 4.
Ingredients for the beef skewers:
2 pounds beef sirloin, cut into 1 1/2 -inch pieces
Kosher salt to taste
Zest of 1 lime
1 can coconut milk
2 scallions, minced
2 cloves garlic, grated
1 tablespoon grated ginger
1 teaspoon turmeric
1 tablespoon olive oil
1 teaspoon red pepper flakes
1 package 8 inch skewers, soaked in warm water
Ingredients for the broccoli slaw:
1 teaspoon grated ginger
Juice of 1 lime
2 tablespoons rice vinegar
2 teaspoons almond butter
1/2 Fresno Chili pepper, minced
2 tablespoons olive oil
Kosher salt to taste
1 bag shredded broccoli slaw
1/2 bunch mint leaves
1 scallion, sliced
1 cup raisins
Directions:
To marinate the beef: place the beef in a large bowl or zip top bag and season with salt. Stir in the coconut milk, lime zest, scallions, garlic, ginger, turmeric, olive oil and red pepper flakes. Let the beef marinate for 2 to 4 hours in the fridge.
Preheat the oven to 400 degrees F.
Cover a sheet pan with aluminum foil and set aside. Remove the beef from the marinade and place about 4 pieces of meat on each skewer and place on the baking sheet.
Bake for 4 to 6 minutes on each side and then place under the broiler for the last 2 to 3 minutes of cooking. Remove the skewers from the oven and plate with the broccoli slaw.
To make the slaw: whisk together in a large bowl, the ginger, lime juice, vinegar, chili peppers, almond butter and olive oil. Season with salt. Toss in the broccoli, raisins, mint and scallion.
Taste to adjust the seasoning if needed and divide between plates.
'The Dish on Oz''s slow-cooker beef bone broth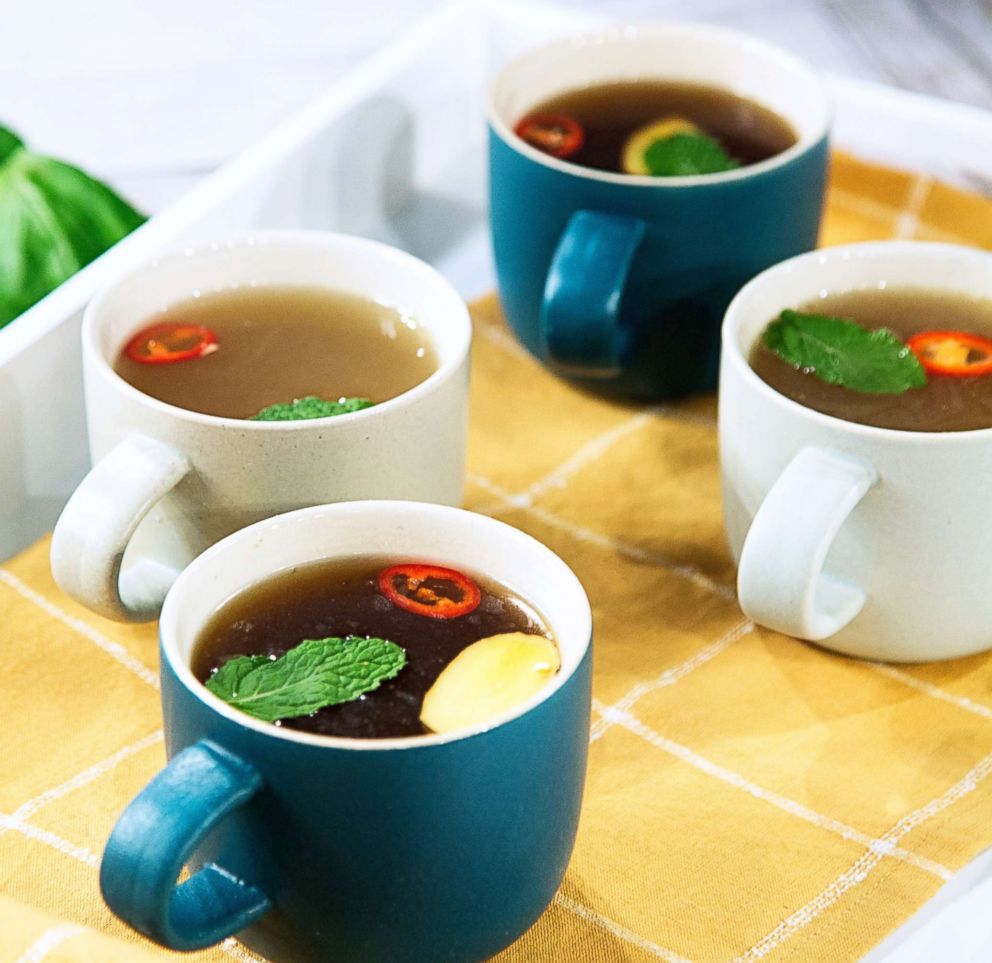 Makes 3 quarts.
Ingredients:
3 pounds beef bones, preferably marrow and knuckle
2 yellow onions
1 head garlic
1 teaspoon black peppercorns
Garnishes:
Mint leaves
Basil leaves
Thinly sliced ginger
Turmeric (fresh if possible)
Red Fresno Chili peppers, cut into coins
Directions:
Preheat the oven to 450 degrees F.
Place the beef bones into a large pasta pot and cover with cold water. Bring to a boil and skim any impurities off the top. Reduce to a high simmer and cook for 20 minutes. Discard the liquid and pat the bones dry.
Place the bones on a sheet pan and into the oven for 30 to 45 minutes, you want the bones to be very dark when roasted. Check on them after 20 minutes and give them a flip.
When roasted, add the bones to your slow cooker and scrape any brown bits from the sheet pan into the slow cooker as well. Add the onion, garlic, and black peppercorns.
Add enough water to cover the bones and cover with the lid. Cook as long as possible, 12 hours is ideal.
Strain the broth. Pour into mugs and top with your favorite fresh garnishes or use as a base for your favorite soups and stews.
Daphne Oz's spicy sheet pan chicken wings with broccoli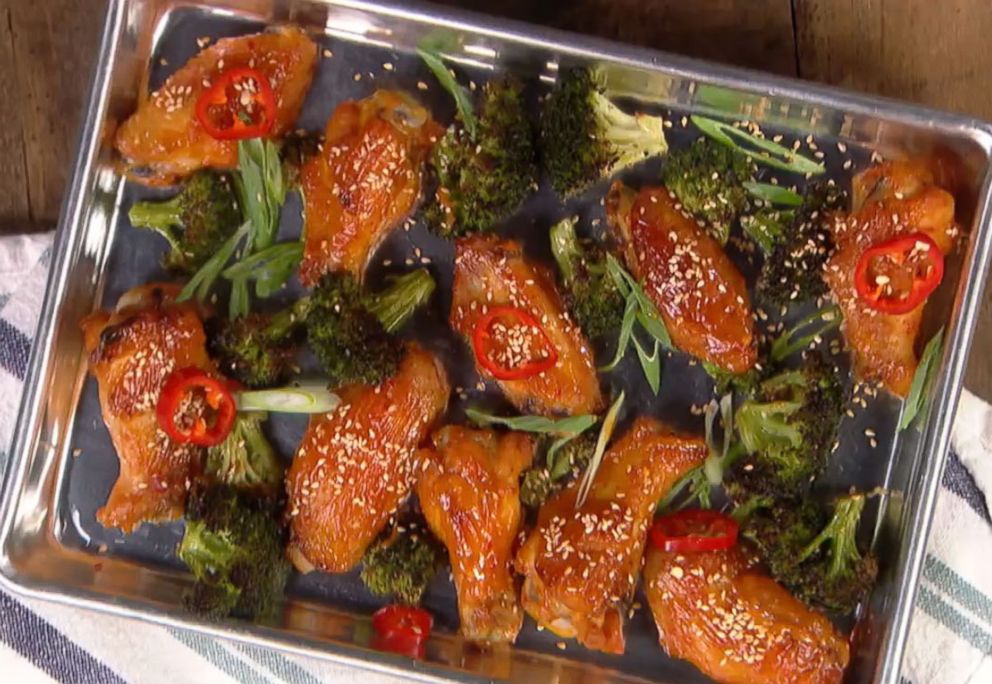 Serves 4.
Ingredients:
3 cloves garlic, peeled
Juice of half an orange
Juice of 1 lime
2 tablespoons toasted sesame oil
2 tablespoons grated ginger
2 Fresno Chili peppers, stems removed
Kosher salt and fresh ground black pepper, to taste
2 pounds chicken wings, tips discarded
1/2 head broccoli florets
2 scallions, minced,
2 tablespoons toasted sesame seeds
Directions:
Preheat oven to 400 degrees F
Place the garlic, sesame oil, orange and lime juice, ginger, and one of the Fresno Chili peppers into the carafe of a blender. Puree until smooth. Place the chicken wings in a large bowl and season with salt and pepper. Remove 2 tablespoons of the puree and set aside. Pour the remaining puree over the chicken and let marinate for 2 hours.
Remove the chicken from the bowl, discarding any excess marinade and place the chicken on a sheet pan and into the oven for 20 to 25 minutes until cooked through. Tossing halfway through.
Remove to a platter and top with scallions, the remaining pepper sliced into rings, and sesame seeds.
(MORE: Top 10 tips to navigate Whole30 without crashing and burning)
Recipes reprinted with permission, courtesy Daphne Oz and "The Dish on Oz."