If prime rib or roasted turkey have dominated the menu this holiday season, this bright pasta recipe is a perfect pivot that still packs bold flavor and warmth.
"Good Morning America" Food is taking the guesswork out of dinnertime and helping you find delicious and fast dishes to whip up any night of the week.
Orchids and Sweet Tea food blogger and cookbook author Shanika Graham-White shared her lemon and garlic shrimp pasta with "Good Morning America" for an easy-to-assemble meal.
Graham-White said this dish is "the epitome of savory, comforting, and bold flavors coming together for an easy weeknight dish."
Check out Graham-White's full recipe that takes just 10 minutes of prep and 20 minutes of cooking, below.
Savory Lemon Garlic Shrimp Pasta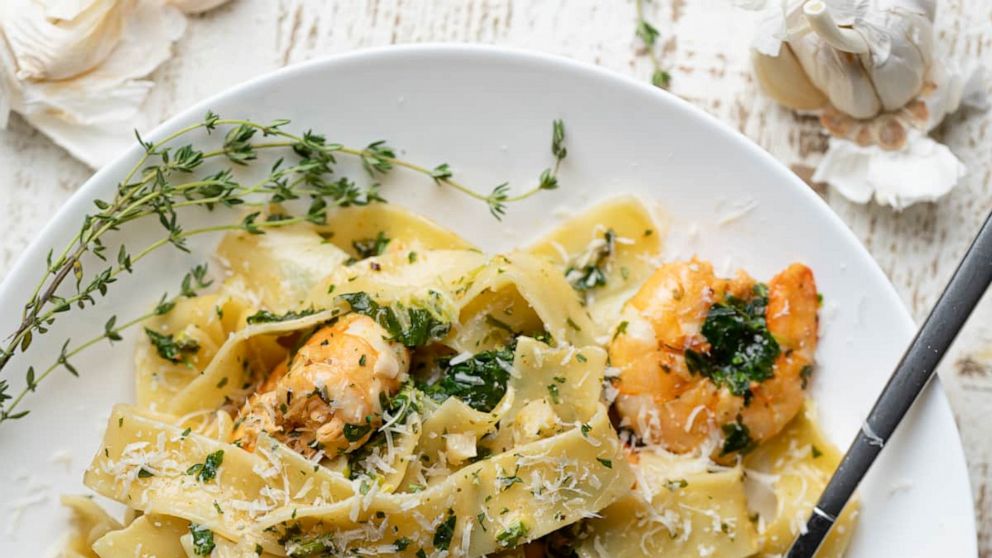 Total Time: 30 minutes
Serves: 4
Ingredients
1 (16-ounce) package pappardelle pasta
1 pound colossal shrimp, deveined (season with 1 teaspoon salt and black pepper)
2 tablespoons unsalted butter, 1 tablespoon, for cooking
4 garlic cloves, minced
3 tablespoons fresh lemon juice
1 cup organic heavy cream
1/4 cup organic chicken stock, low-sodium
2 tablespoons white cooking wine
1 teaspoon sea salt and black pepper
1 teaspoon dried or fresh parsley leaves
1/2 teaspoon garlic powder
1/2 teaspoon dried oregano
pinch of smoked paprika
1 cup chopped kale, de-stemmed (optional)
1 cup grated Parmesan cheese
Instructions
Cook pasta according to packaging. Note: pappardelle pasta doesn't take a long time to cook, usually 8-10 minutes (however, you should cook at 6-8 minutes or so -- until al dente.).
In a medium skillet over medium-high heat, add 1 tablespoon of butter until melted. Add in the shrimp (seasoned with salt and pepper) and cook on both sides (about 3-4 minutes), until pink and cooked through. Remove from skillet and set shrimp aside.
In the same skillet (with juices from shrimp and all) melt the other tablespoon of butter and add garlic and sauté for 1 minute or so, until fragrant. Add in the season and whisk until well combined.
Reduce the heat to medium-low and slowly add in the heavy cream, chicken stock, lemon juice, chopped kale and white wine, stirring until incorporated. Let it bubble for 1-2 minutes and then add in the grated Parmesan, whisking until fully melted and sauce thickens, about 2-3 minutes.
When the pasta is done, drain it and add it to the sauce, stirring until sauce fully coats and sticks to pasta. Toss in the shrimp until fully coated. Remove from heat and serve.
Notes
Any leftovers can be kept in a tightly sealed container and refrigerated for up to 3-4 days.
You can use long pastas like pappardelle, fettuccine, etc. however, I would recommend tossing with tongs to ensure that pasta is fully manageable and fully coated. Otherwise, other pastas such as penne, rigatoni, etc. are perfect.
To add a bit more flavor to this dish, you can always feel free to add in your favorite greens such as kale, spinach, collards or asparagus.