Have questions about dry brines? What about smaller scale turkey alternatives? Or perhaps, just looking for last-minute roasted turkey tips before Thanksgiving.
Chef Dan Souza, Cook's Illustrated editor and cast member of America's Test Kitchen, dished up all that and more for "Good Morning America" on Tuesday.
Basting, brining and browning tips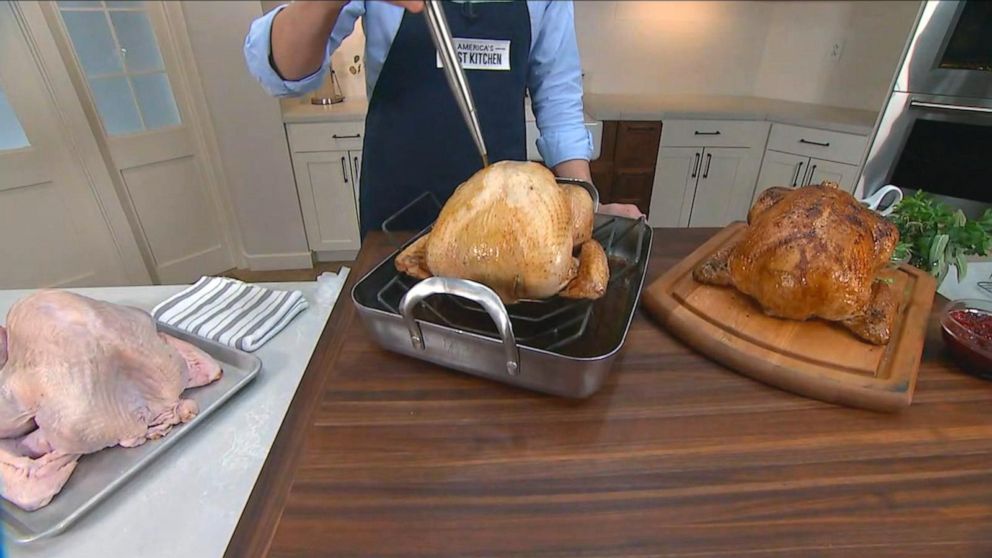 Dry brine: Salt the bird at least 24-hours in advance or up to 48 hours. It's better than a wet brine because it doesn't add moisture to the skin so there will be better browning and crisping with all the benefits of really juicy and well-seasoned meat.
Wear gloves or use a wooden spoon to go under and loosen up the skin from the meat. Make a gap and go in with kosher salt and a little bit of sugar and apply it right to the flesh, not the skin. Repeat on all sides and let sit uncovered in the fridge for 24 to 48 hours.
No time to brine: Souza suggests to get a kosher turkey that has been processed with salt and will save time but still deliver great flavor.
Avoid uneven cooking: "We've done all these things to slow down the cooking of the breast and line it up with the dark meat," he said, which is "always the problem."
The easiest way is to make a foil shield with a double layer of aluminum foil, mold it onto the outside of the breast. It will reflect a lot of heat from the oven away from the breast during initial cooking. After about 45 minutes of roasting, the foil comes off and the turkey should cook perfectly even for the remainder of the time.
Say bye to the baster: The long-used method of sucking up liquid from the bottom of the pan and pouring it back over the top of the turkey is, according to Souza, "not a great idea."
"It introduces moisture into the skin which causes it to not brown and not crisp. It slows down cooking because you're pulling it out of the oven to do it," he said. "So the basic gist is you don't need a baster. You can just get rid of it."
Plus, he talked through two different recipes for tasty turkey that you can easily cook this Thanksgiving.
1-pan roast turkey breast with herb stuffing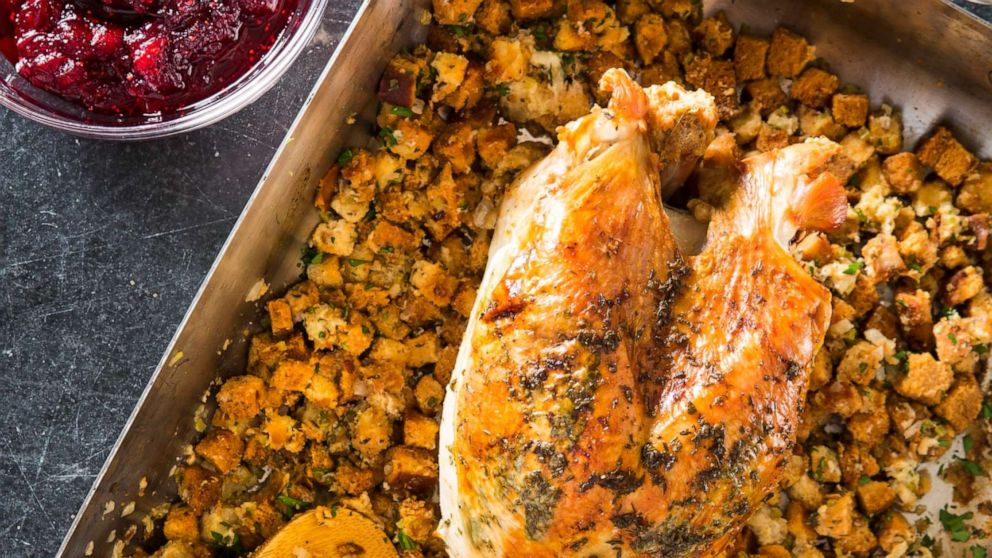 Serving a turkey breast is a great way to celebrate on a smaller scale, and this one-pan feast makes a festive, flavorful turkey dinner as foolproof as can be.
Serves: 4 to 6
Total time: 2 hours 30 minutes (plus 3 hours for brining)
Ingredients
Salt and pepper
1 (6- to 7-pound) bone-in whole turkey breast, trimmed
5 tablespoons unsalted butter, softened
2 tablespoons minced fresh sage
2 tablespoons minced fresh thyme
1 onion, chopped fine
2 celery ribs, minced
1 pound hearty white sandwich bread, cut into ½-inch cubes
1 cup chicken broth, plus extra as needed
1 tablespoon minced fresh parsley
Directions
Dissolve 1/2 cup salt in 1 gallon cold water in a large container. Submerge turkey in brine, cover, and refrigerate for 3 to 6 hours; remove from brine and pat dry, inside and out, with paper towels.
Adjust oven rack to middle position and heat oven to 425 degrees. Mash 3 tablespoons butter, 1 tablespoon sage, 1 tablespoon thyme, 1 teaspoon salt, and ½ teaspoon pepper together in bowl. Using your fingers, gently separate skin from meat. Spread half of butter mixture under skin directly onto meat. Spread remaining butter mixture evenly over skin.
Melt remaining 2 tablespoons butter in large roasting pan over medium heat (over 2 burners, if possible). Add onion, celery, a quarter teaspoon salt, and a quarter teaspoon pepper and cook until vegetables are softened, about 5 minutes. Stir in remaining 1 tablespoon sage and remaining 1 tablespoon thyme and cook until fragrant, about 30 seconds. Off heat, place turkey, skin side up, on top of vegetables and arrange bread around turkey. Roast turkey for 30 minutes.
Reduce oven temperature to 325 degrees and continue to roast turkey until breast registers 160 degrees, about 1 hour.
Remove pan from oven. Transfer turkey to carving board, tent loosely with aluminum foil, and let rest 15 minutes. Stir broth and parsley into stuffing left in pan, cover with foil, and let stand 10 minutes; add extra broth if stuffing is dry. Carve turkey and serve with stuffing.
Recipe reprinted courtesy of America's Test Kitchen and exclusive cookbook One-Pan Wonders.
Easier Roast Turkey with Gravy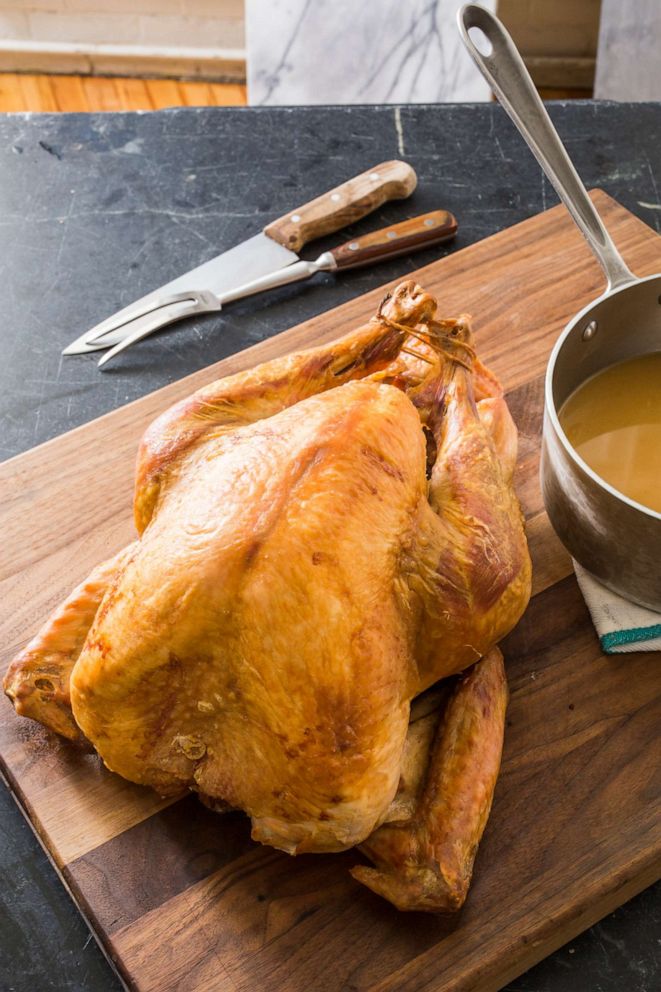 Serves: 10 to 12
This recipe requires refrigerating the seasoned bird for 24 to 48 hours.
Ingredients
Kosher salt and pepper
4 teaspoons sugar
1 (12- to 14-pound) turkey, neck and giblets removed and reserved for gravy
2½ tablespoons vegetable oil
1 teaspoon baking powder
1 small onion, chopped fine
1 carrot, sliced thin
5 sprigs fresh parsley
2 bay leaves
5 tablespoons all-purpose flour
3 1/4 cups water
1/4 cup dry white wine
Directions
Combine 4 tablespoons salt and sugar in bowl. Place turkey, breast side up, on counter. Using your fingers, carefully loosen skin covering breast and legs. Rub 4 teaspoons salt-sugar mixture under skin of each breast, 2 teaspoons under skin of each leg, and remaining salt-sugar mixture inside cavity. Tuck wings behind back and tie legs together with kitchen twine. Place turkey on wire rack set in rimmed baking sheet and refrigerate, uncovered, for 24 to 48 hours.
At least 30 minutes before roasting turkey, adjust oven rack to lowest position, set baking stone on rack, set roasting pan on baking stone, and heat oven to 500 degrees. Combine 1½ teaspoons oil and baking powder in small bowl. Pat turkey dry with paper towels. Rub oil mixture evenly over turkey. Cover turkey breast with double layer of aluminum foil.
Remove roasting pan from oven. Drizzle remaining 2 tablespoons oil into pan. Place turkey, breast side up, in pan and return pan to oven. Reduce oven temperature to 425 degrees and roast for 45 minutes.
Remove foil, reduce oven temperature to 325 degrees, and continue to roast until breast registers 160 degrees and drumsticks/thighs register 175 degrees, 1 to 1½ hours longer.
Using spatula, loosen turkey from pan; transfer to carving board and let rest, uncovered, for 45 minutes. While turkey rests, using wooden spoon, scrape up any browned bits from bottom of pan. Strain mixture through fine-mesh strainer set over bowl. Transfer drippings to fat separator and let rest for 10 minutes. Reserve 3 tablespoons fat and defatted liquid (you should have 1 cup; add water if necessary). Discard remaining fat.
Heat reserved fat in large saucepan over medium-high heat until shimmering. Add reserved neck and giblets and cook until well browned, 10 to 12 minutes. Transfer neck and giblets to large plate. Reduce heat to medium; add onion, carrot, parsley sprigs, and bay leaves; and cook, stirring frequently, until vegetables are softened, 5 to 7 minutes. Add flour and cook, stirring constantly, until flour is well-coated with fat, about 1 minute. Slowly whisk in reserved defatted liquid and cook until thickened, about 1 minute. Whisk in water and wine, return neck and giblets to saucepan, and bring to simmer. Simmer for 10 minutes, then season with salt and pepper to taste. Discard neck. Strain gravy through fine-mesh strainer, discarding solids, and transfer to serving bowl. Carve turkey and arrange on serving platter. Serve with gravy.
Recipes reprinted courtesy of America's Test Kitchen.