What better way to explore a culture than through its cuisine?
After missing out on eating our way through new cities over the last year, "Good Morning America" decided to chat up chefs from around the globe to bring us into their kitchens and share a taste of their fare from afar.
Use this as your guide to explore a new culture and cuisine in three ways: In your own kitchen with the chef's advice below; eating at a local restaurant in your neighborhood or city that specializes in these foods; and as a conversation starter once you have the opportunity to take a trip.
Our next destination -- Greece -- with Chef Christos Bisiotis.

The Athens-born and raised chef who fell in love with the sights and sounds of the kitchen at a young age alongside his grandmother, Térpsi, executes and exemplifies heritage cooking. He focuses on sourcing the best staple ingredients, honoring traditional and family-learned techniques and highlighting Greek culture on the plate.
"I want to make food here first that will prepare someone for a trip to Greece, so when you get there and have the similar flavor profiles, you already know it," Bisiotis told "Good Morning America." He described the savory smell of a woodfired grill or rotisserie smoked chicken and added, "I want to create that village smell so even if that you've never been to Greece, you to get it. I think it's one of the best ways to introduce a culture, through good food and originality."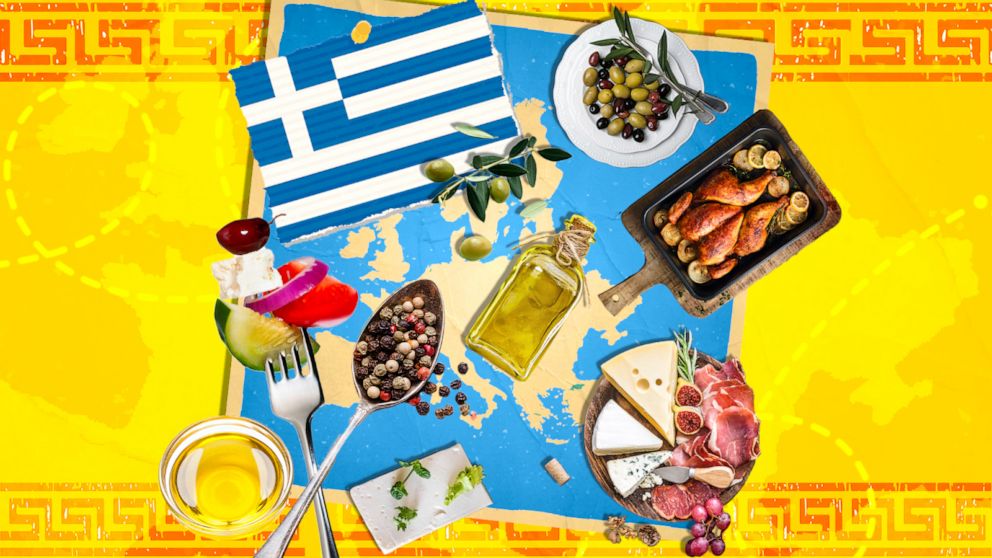 Essential ingredients of Greek cuisine
From fresh salty feta, perfectly ripe tomatoes and fruity olive oil to the heavily oceanic aroma of good sea salt, Bisiotis said, "the best doesn't mean the most expensive necessarily; it means put the effort to go search for it yourself. The more effort you put into sourcing it, the better it's going to come out and taste."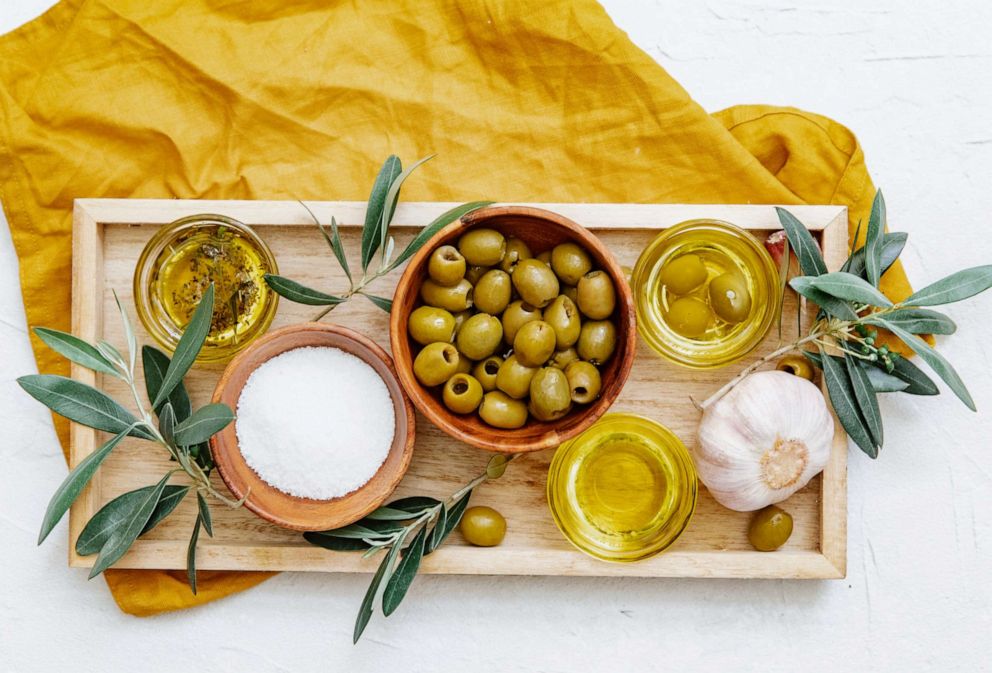 For a home cook who wants to explore and cook with authentic Greek flavors, he said, "look for the best quality of ingredients."
"One major ingredient is octopus," which he reminded, "does not need water, it needs flavors and the right cooking times and resting properly."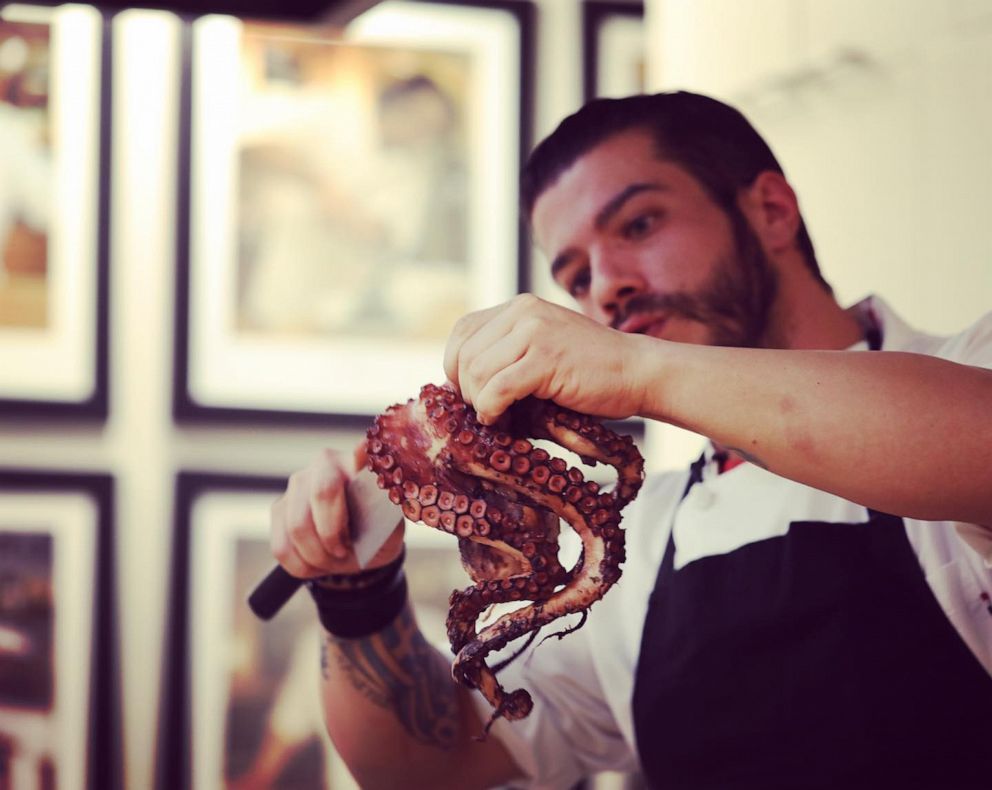 "Another is lamb chops," he said, adding that they differ from those served in the U.S. "The lamb chops in Greece, we cut the chop and we pound it. Even the bone. Some of the bone gets half broken and then grilled."
Greece on a plate: Clean flavors and rustic cooking
"I'm totally against modern cooking because I think you're moving way too fast and you forget to practice your roots," he said. "People get going into the techniques without getting into the roots and the original flavors -- all because they want to impress or get a perfect picture on Instagram -- I want people to like my food not my pictures."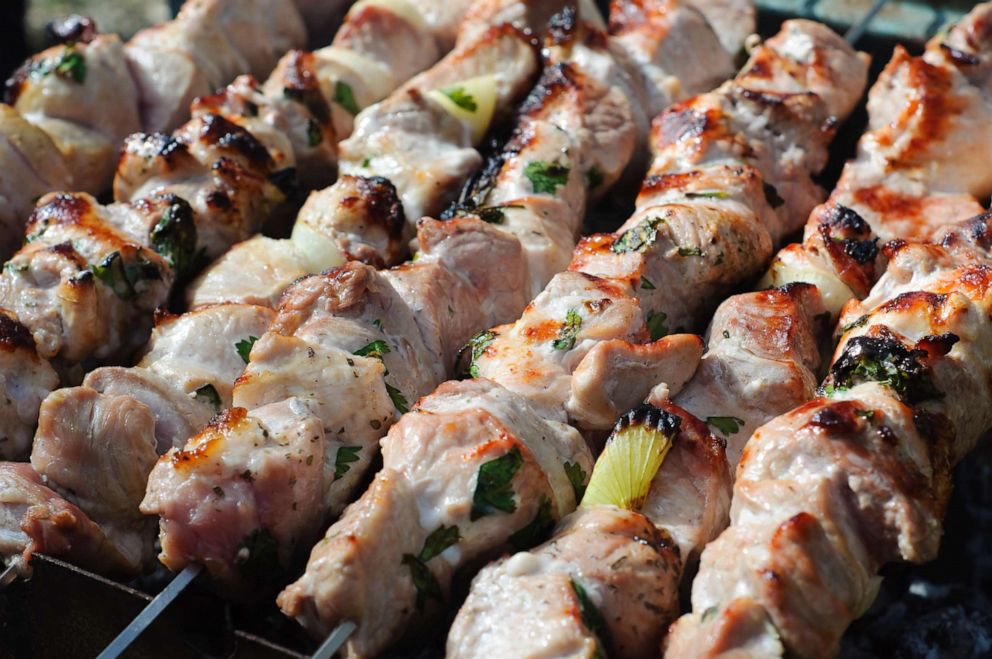 As someone who manned the grill station in a bustling Athens restaurant at the age of 14, Bisiotis said, "Greek cuisine is charcoal and wood -- you need a good fire and need to spend good time on your fire, as well as the smoking process. It's actually one of the oldest things to do: cure and smoke and grill."
"When you go into a Taverna, which is very traditional and rustic in Greece, the rotisseries are going and the soulvas [a long skewer of large meats cooked on a charcoal fire] -- the grill cook is the butcher too. He cuts the meats and puts them right on the grill."
How to make Bisiotis' classic Greek dishes to try at home
The Miami-based chef who has helmed top restaurants from New York City to Beverley Hills and Miami, shared some simple, no-recipe needed ideas that are quintessentially Greek.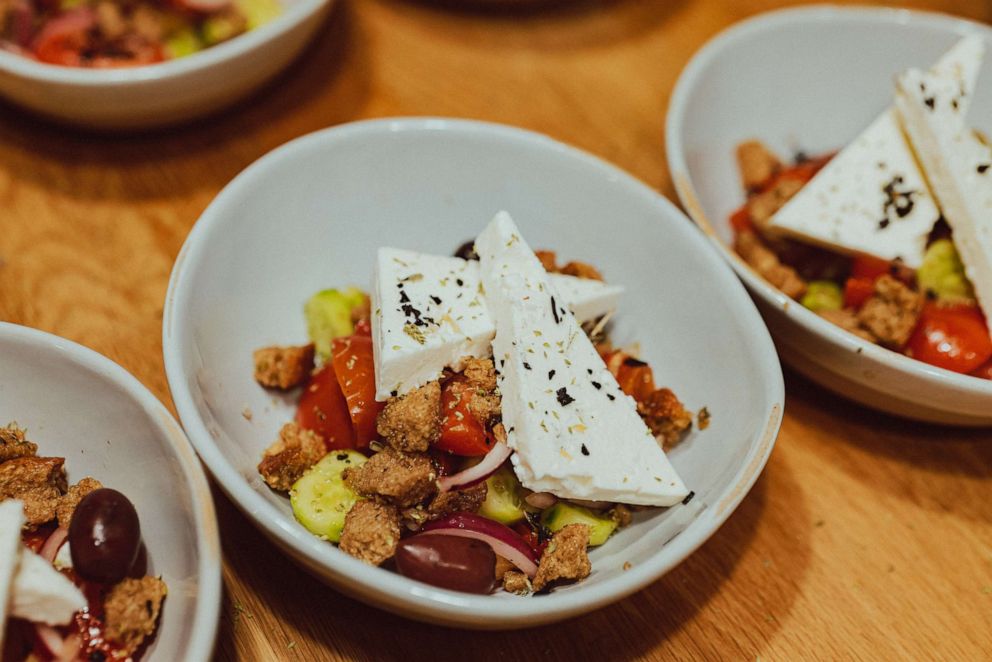 "A very good Greek salad should have no lettuce, please," he emphasized. "Use tomatoes that when you smell them you want to bite them right away. Like a beautiful local tomato -- I'm not going to use Roma tomatoes in a Greek salad. Always use Persian cucumbers. Beautiful red onion. Bottle aged feta cheese, you gotta go for some pricey feta here because the highlight for Greeks is good feta. Get beautiful oregano from the mountains, not from the shelf of a supermarket if you can help it. Olive oil and sea salt."
"I like to put red wine vinegar on my Greek salad and a lot of Greek's do," he said. "Lately, I like to add barley rusks [a whole wheat, twice-baked bread popular in Greece] with some olive oil, fresh oregano and salt and break it up with my hand inside the Greek salad so now it sucks up some of those juices and becomes part of the salad."
Spreads are also "really big in Greek cuisine," according to Bisiotis, "like a good Tzatziki."
"Use a great Greek yogurt," he recommends Fage 5%, "cucumber, garlic and dill. A lot of people put lemon juice, I don't," he said. "The technique I follow for the cucumbers because it's watery, I strain the water out very well. Grate it, that's the way my grandmother did it, and strain it if possible overnight over cheese cloth with something heavy on top of it to get all the water out."
Another Greek favorite is fava spread, made with yellow split peas.
"You wash the split pea very well and then you can saute with some onion, garlic and a good amount of olive oil. Then you just cover it with water and let it boil until it gets soft and then reserve the juices to use that liquid at the end on the side," he explained. "Blend the split peas -- a smart move would be to pass the puree through a chinois [cone-shaped sieve to ensure sauces and purees are perfectly smooth]. Add lots of lemon juice, salt and that's it -- serve on a plate with pickled red onions and capers."
How Bisiotis remained true to tradition and what's next?
After his early cooking career in Athens, while simultaneously studying cooking at OTEK of Anavissos, Bisiotis booked a one-way flight on Christmas day in 2007 to New York City with $1,100 and an unwavering desire to pursue his lifelong passion. Enamored by Eataly, the sprawling Italian food hall with hanging salumi and a piazza of produce, Bisiotis spoke with the recruiter that same day and was hired as a sous chef, then moved up to chef de cuisine within six months, where he coordinated eight restaurants and a staff of 375.
In 2012 during the Obama administration, Bisiotis was invited to work as a guest chef for the White House, becoming the first Greek-American to take on the position.
"You know what's the coolest thing? You're in the kitchen and the Obama dogs visit you and you get to pet them," he said of the pinch-me behind-the-scenes moment.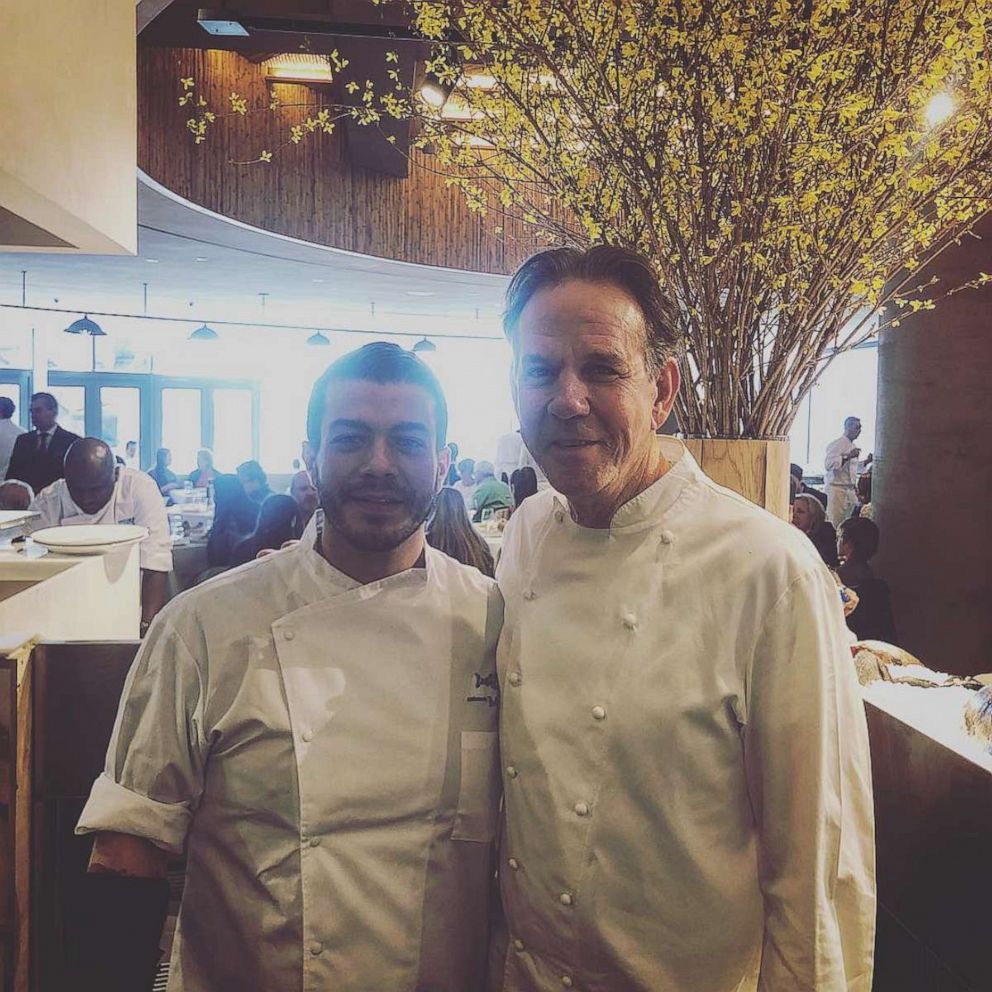 His years in New York City included staging for renowned Michelin Starred chef, Tomas Keller at Per Se, which later came full circle when the lauded French Laundry chef came to see Bisiotis as the executive chef at Estiatorio Milos in Hudson Yards. At 1 p.m., during a Sunday lunch service at full 350 capacity, he said, "I felt a touch on my back and it's Thomas Keller -- he's like, 'Hey buddy -- I just wanted to say you're doing an amazing job.'"
"That's when you go home and say even if I don't get paid, I don't give a damn because I had the legendary chef during service come and find me," Bisiotis said. "These are the moments that really touch me."
While he is currently overseeing the pasta program at the Miami outpost of New York hotspot, Carbone, Bisiotis has a traditional Greek concept up his sleeve that he hopes to open within the next two years.
"I'm looking to find a spot and open my first project, Térpsi," he said of his inaugural restaurant dedicated to his grandmother. "I want to serve the best Greek food that the Miami area has to offer."