What better way to explore a culture than through its cuisine?
After missing out on eating our way through new cities over the last year, "Good Morning America" Food decided to chat up chefs from around the globe to bring us into their kitchen and share a taste of their fare from afar.
Use this as your guide to explore a new culture and cuisine in three ways: In your own kitchen with the chef's advice below; eating at a local restaurant in your neighborhood or city that specializes in these foods; and as a conversation starter once you have the opportunity to safely travel there when it's time to take a trip.
First destination -- Portugal with Chef George Mendes.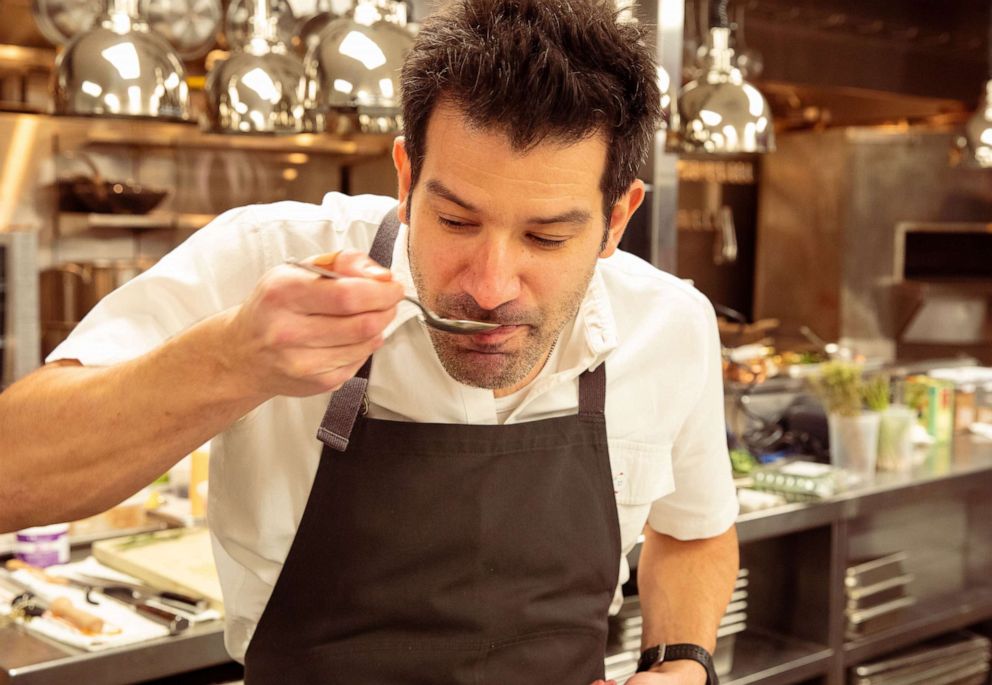 Essential ingredients of Portuguese cuisine
Starting with the pantry, Mendes said, "a lot of the dishes start with really great extra virgin olive oil." Beyond that, you'll need an array of dried spices and herbs: bay leaf, paprika and sea salts.
Portuguese food also uses lots of "fresh herbs like parsley, mint, rosemary, parsley, thyme and cilantro."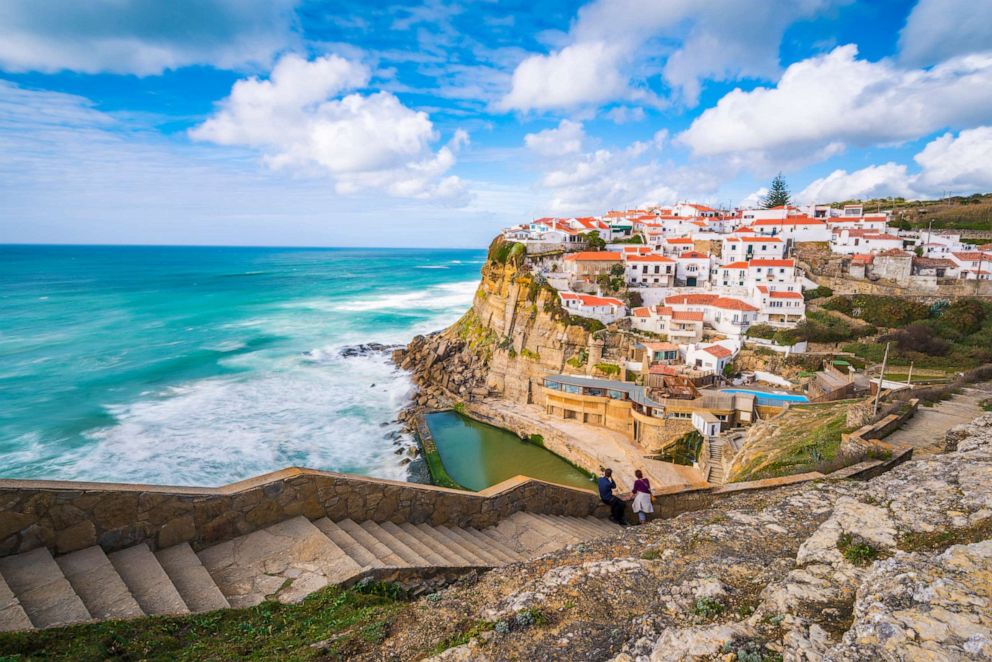 "As we head into the protein, the first thing that comes to mind is seafood. It's a country rich in seafaring history," he said. "A lot of cod, dry salted cod to preserve your catch. Then there's shrimp, mussels, clams and octopus - a very popular item."
As far as the meats go, Mendes says "pork is probably number one" and that many times it "intermingles with seafood in dishes -- like mussels with chorizo or a little neck clam and pork dish called Porco à Alentejana from the south region of Portugal" where they make a lot of surf and turf dishes.
Portugal on a plate: Rustic and simple
"Portuguese cuisine is very rustic and a lot of peasant dishes," he said. "The usage of day-old bread is in many recipes like a porridge called Açorda, where you just take day-old bread, toast it, add a stock of some kind whether it's seafood or vegetable, and whatever ingredients you have in your refrigerator. It revolves around never wasting anything and making a very satisfying, soulful peasant dish to feed the family."
For home cooks, Mendes said it's all about buying the freshest ingredients and finding a recipe to go with what you bought.
"Good cooking is only as good as your ingredients," he said. "You can't buy a bad carrot and make a delicious meal out of it."
Mendes' recipes to make at home
There are many recipes that fascinated Mendes in his travels to Portugal, exploring the country and dishes that he found had not been documented, rather "passed on by word of mouth from generation to generation."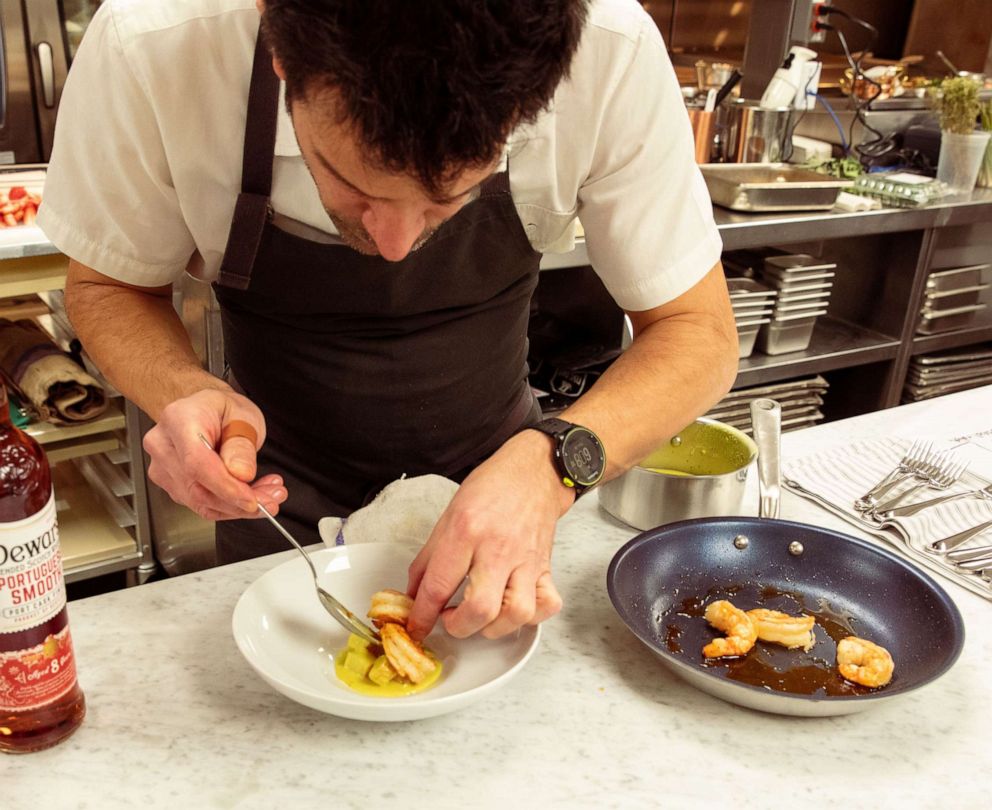 One dish Mendes suggests for anyone who wants to dive into cooking authentic Portuguese food is a very simple clam dish with a less simple name: Amêijoas à Bulhão Pato.
"It's named after a Portuguese poet in a cafe in Lisbon. He would go and request that the chef make a preparation with clams, olive oil, white wine, garlic and cilantro," Mendes said.
How to make Portuguese-style clams in white wine sauce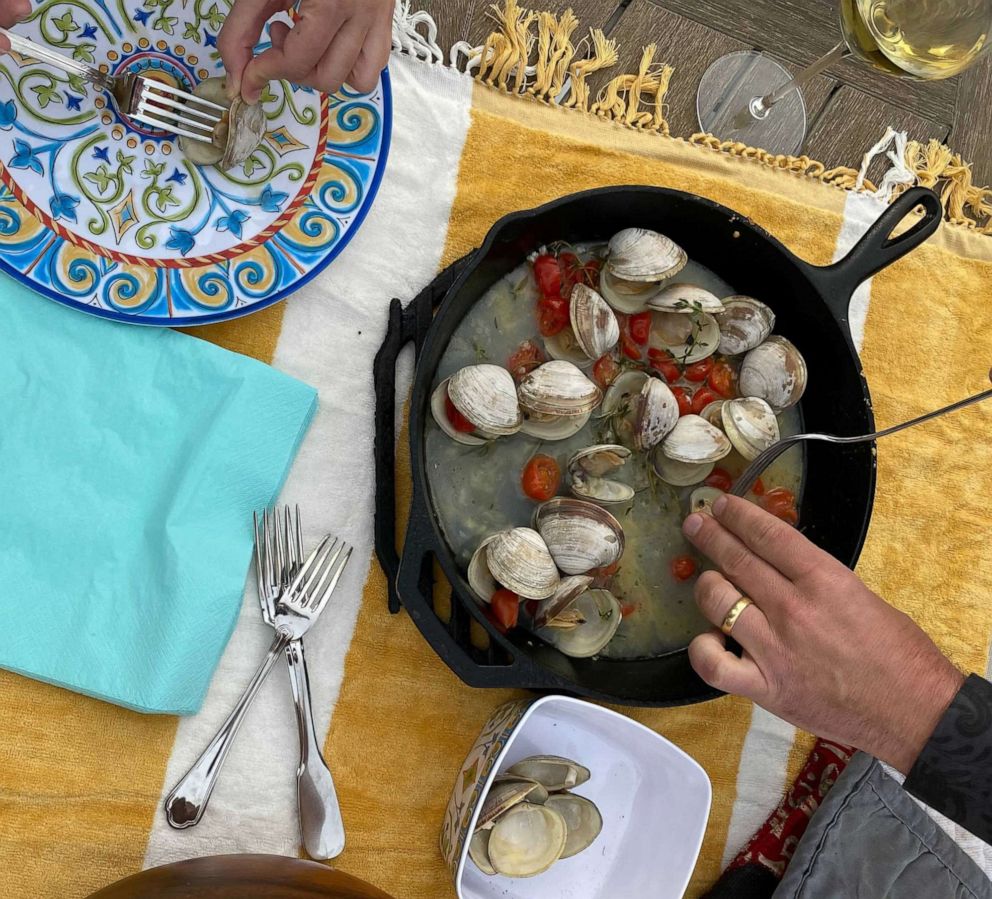 Buy really super fresh littleneck clams that are closed tightly. Rinse them well. Heat a pan with a tight-fitting lid, add the clams, olive oil, let that cook with a pinch of salt and some pepper, some sprigs of cilantro. Add your white wine, some sliced garlic and let it simmer with the lid on for three to four minutes until the clams begin to pop open. As they pop open, begin to move them out of the pot and enjoy.
"What's left is this really briny, scrumptious, soulful clam broth that you want to sop up with a crusty bread," he said. "It really represents the true flavors of Portugal -- to me, it's a go-to and epitomizes the flavor for sure."
As a whole, he added, "Portuguese cooking is very simple. It's very flavorful with a depth of what we call refogado -- or in Spanish, sofrito, which is caramelized onions, garlic, tomato and bay leaf and paprika -- and that's the base for many dishes."
How Mendes added flair to modern Portuguese food and what's next?
Talking about the pot of refogado alone brought Mendes back to his childhood, he said, smelling a pot simmering away on his mother's stove.
"I was born to Portuguese immigrants and brought up with a lot of great food on the table," the first-generation American told "GMA," harkening back memories like the big planted garden along the side of his parent's house "that always had greens, parsley, tomatoes and green beans."
"The introduction to ingredients at a young age and cooking at a very young age developed and increased as I grew up with holiday feasts -- everybody always gathered at the table it was always a very celebratory meal -- it had a big impact in my childhood, food that is," he said.
After high school, Mendes "went on a trip to the Culinary Institute of America and was shown this world of gastronomy and cooking that you could create a career out of." Despite his dad's attempt to paint a dark and dreary picture of the work ahead, Mendes said, "I loved the adrenaline and I was very athletic, so that's what drew me to the constant movement of being in the kitchen and that's how it all began."
He went on to cook and train in some of the most esteemed kitchens and Michelin-starred restaurants in France, Spain and New York City. During the past year amid the pandemic, Mendes said he took time to take a break, reflect, spend time with family and his newborn son and develop a soon-to-be-announced new concept in Downtown.
"It's going to give me an opportunity to continue my work from Aldea," he said after an 11-year run as executive chef of the restaurant that put elegant Iberian cuisine and culture on the map. "I was very focused on Portuguese cooking and modern Portuguese creative cooking, but this gives me a way to use that a bit and also visit America and its rich history of immigrants and allow other global flavors to influence it as well."