Memorial Day marks the unofficial start of summer and, for many, grilling season.
As Americans get ready to gather with friends and fire up the grill, "Good Morning America" tapped a handful of culinary experts to share their tips to tame the flames as well as easy, delicious recipes that will be a hit all summer long.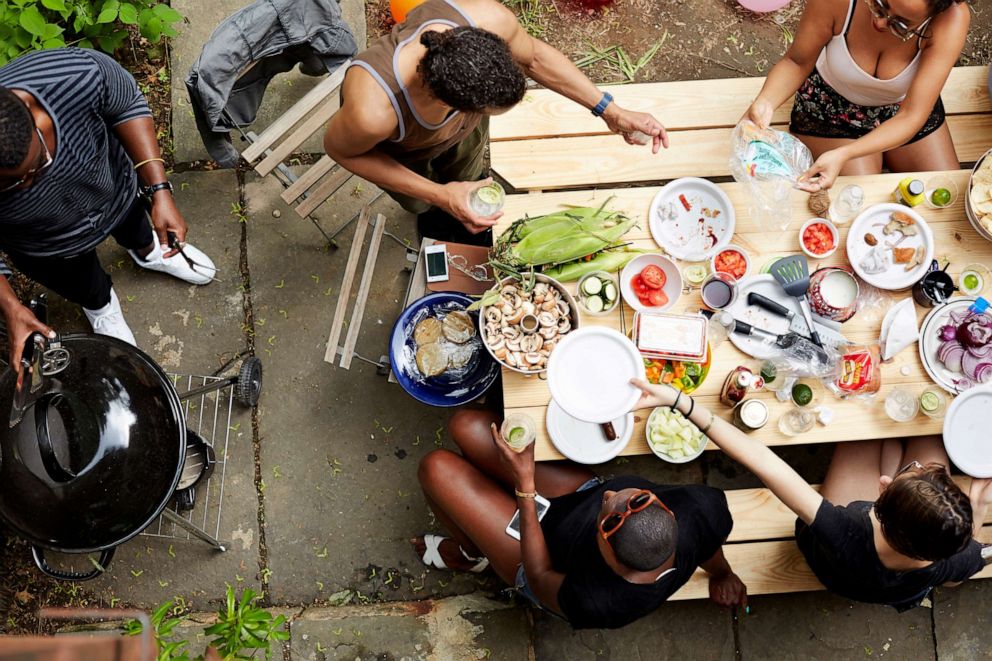 Top grilling tips for Memorial Day from a seasoned chef and grill master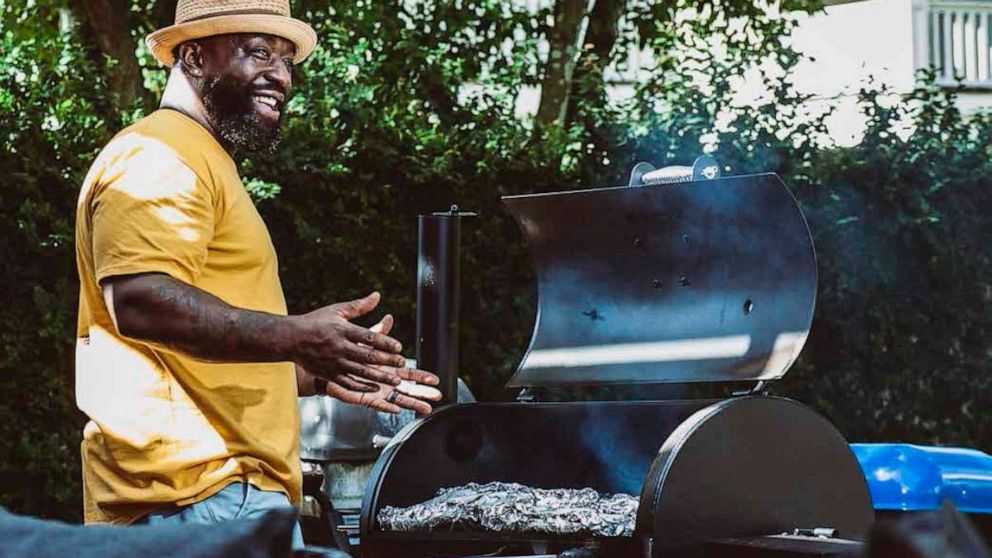 Chef Kenny Gilbert's proximity to the flame of a hot charcoal grill started as a kid in suburban Cleveland where his dad -- an avid barbecue man -- taught him everything from proper grilling techniques to how to make homemade sauces and rubs. Gilbert got his own personal Weber at age 7.
The "Southern Cooking, Global Flavors" cookbook author, restaurant owner and longtime personal chef and friend of Oprah Winfrey shared his go-to grilling advice to help everyone manning a grill this weekend.
How to get the grill started: gas vs. charcoal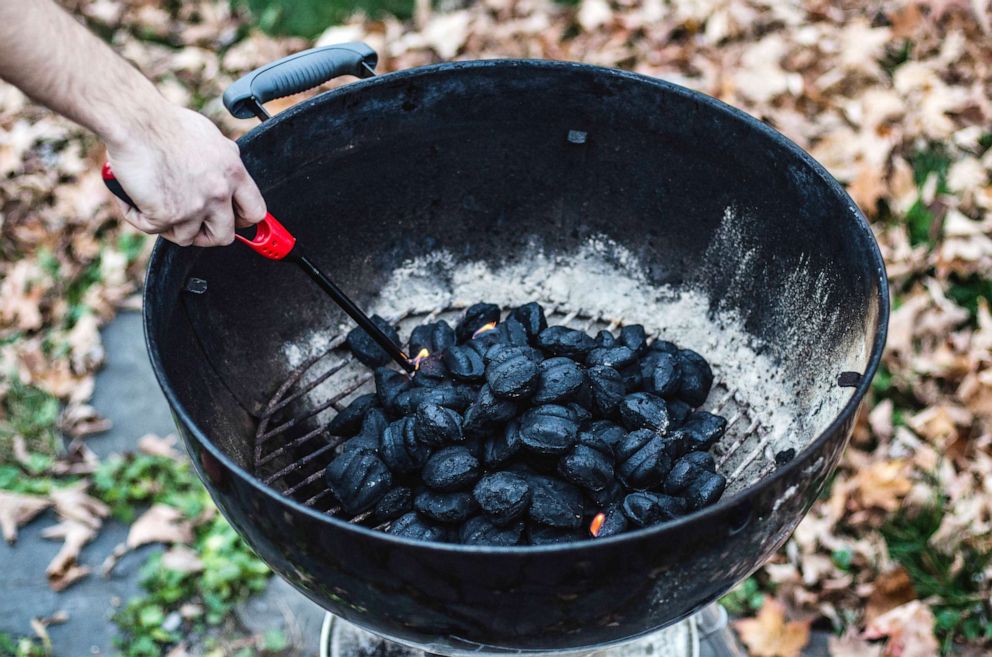 When it comes to cooking on gas grills, he said "check the propane tank and ensure that it is at least 75% full before starting. You don't want to start cooking just to run out of fuel." From there he suggests firing "up the grill on medium-high heat and burn off the grill for at least 20 to 30 minutes and brush off the grates" to make sure you're working with a clean surface.
As for anyone going with charcoal, Gilbert advises to "use a base of charcoal briquettes and level those out after the coals get ashed out. Add small logs of apple or mesquite on top of the briquettes."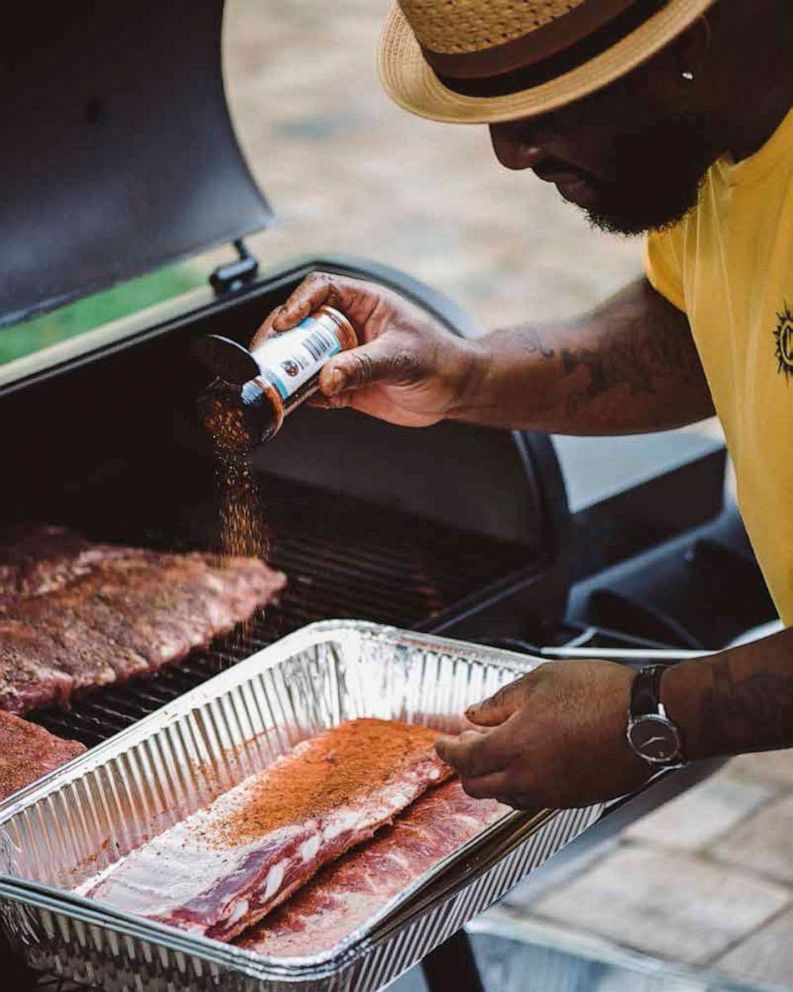 3 must-have gilling tools
Gilbert recommended to have a small fire extinguisher on hand. Next, a "good pair of long tongs and spatulas." He suggested a "squirt bottle for basting and keeping meats moist" on the hot grill.
Understand the zones of your grill
"Make sure that when using coals or wood, always have a hot spot for searing and a cooler spot for resting," Gilbert said. "Never have your entire grill just blazing hot. I like to work right to left -- hottest area to coldest."
Tips for resting, wrapping and serving hot off the grill
"Let a steak rest for at least 10 minutes before cutting directly into it," Gilbert said, which ensures the juices redistribute evenly into the meat and don't end up all over the cutting board or plate.
"Foil is your best friend. Wrap your ribs, steaks, veggies in foil to hold heat and moisture," he added.
Lastly, "A standard chest cooler will act as an amazing hot box. Wrap your items in foil and stack things in the cooler and your products will hold heat for hours," he said.
Go global with flavors on the grill
Gilbert has honed a unique culinary perspective, creating international variations of iconic Southern dishes with seasonal ingredients, which culminates in a plate of robust, global flavors.
His fellow "Top Chef" alum and friend Leah Cohen, who recently hosted Gilbert to cook at her restaurant Piggyback in New York City, regularly plates up food that pulls in her Filipino heritage with a Southeast Asian punch.
Similarly, Lebanese food creator Yumna Jawad of Feel Good Foodie, leans into crossover cuisine for home cooks to easily pull influences from various cultures. She told "GMA" that backyard grills are no exception to the explosion of interest in global flavors.
From main event proteins like ribs and burgers to seafood and simple kabobs, check out all the delicious recipes below.
Chef Kenny Gilbert's Smokehouse Burger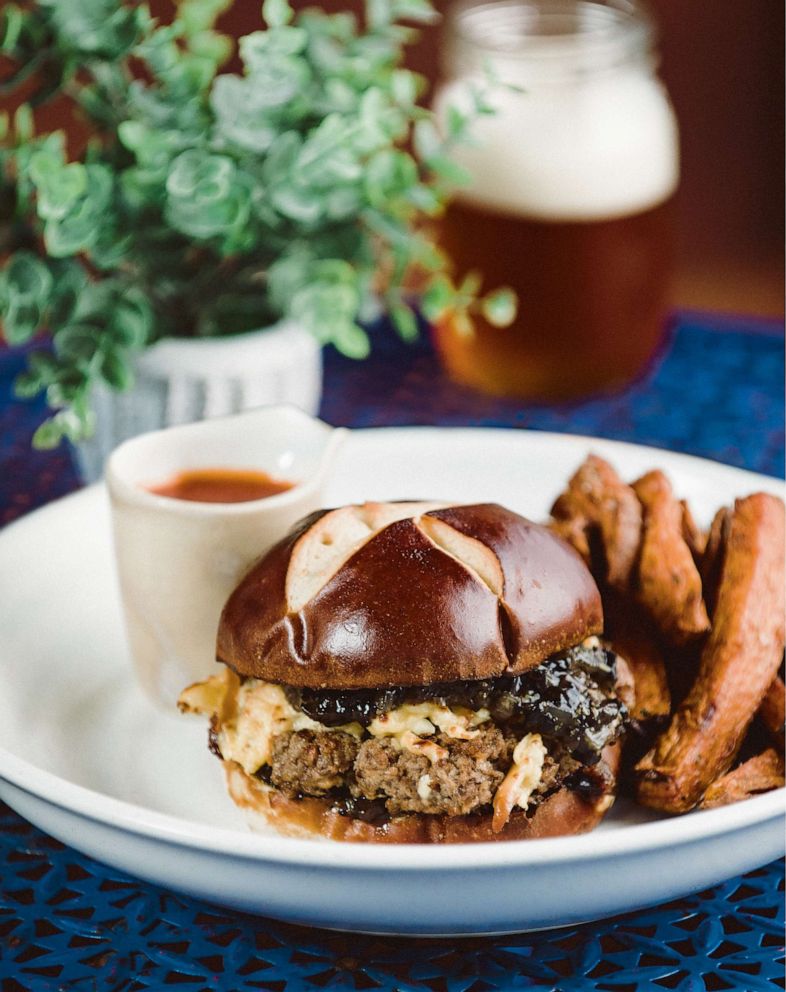 If you're going for a gourmet upgrade to wow the crowd this holiday weekend, chef Gilbert's signature burger recipe is the one to try.
The combination of fat from the ground brisket, chuck, and smoked pork belly makes for a decadent and rich burger, topped with mushroom-onion jam and truffle-honey ketchup, all sandwiched inside his favorite -- a pretzel bun.
Ingredients
For the truffle honey ketchup
1 (28 ox can) whole peeled tomatoes, tomatoes only (1 cup)
1/2 cup apple cider vinegar
1/2 cup honey
1 tbs black truffle oil
1 tsp kosher salt 1/4 tsp crushed red pepper
For the mushroom onion jam
1 1/4 cup extra-virgin olive oil
1 medium yellow or white onion, cut intosmall dice (1 cup)
6 ounces portobello mushrooms, coarselydiced (2 cups)
2 cloves garlic, chopped
1 cup apple cider vinegar
1/2 cup packed light brown sugar
2 or 3 sprigs rosemary, leaves only, chopped(1⁄4 cup)
1 tablespoon freshly ground black pepper
1 teaspoon kosher salt
1/4 teaspoon xanthan gum
For the burger
1 pound ground beef brisket
1 pound ground beef chuck4 ounces ground smoked pork belly, slab bacon,or bacon strips
1/4 cup fried shallots, preferably Maesri
1/4 cup fried garlic, preferably Maesri
1/4 cup yellow mustard
2 tablespoons Chef Kenny's Fried Chicken Seasoning, or other poultry seasoning
For the build
Shredded smoked Gouda cheese
6 pretzel burger buns, toasted
Ketchup
Directions
Put the tomatoes, apple cide vinegar, honey, black truffle oil, salt, and crushed red pepper in a large sauce pan and bring to simmer on medium heat, storring often.
Cook, uncovered, for 20-30 minutes, until the liquid in the pan has reduced by half. Puree the mixture with a handheld stick blender until smooth.
Cool and reserve at room temperature until ready to use. (Any remaining ketchup can be stored in fridge in an airtight container.
For the jam: Heat a medium skillet on medium-high. Add the olive oil and the onions and cook for1 minute, stirring constantly.Add the mushrooms and cook for 2 minutes, stirring constantly. Reduce the heat tomedium and add the garlic, apple cider vinegar, brown sugar, rosemary, pepper, salt,and xanthan gum.
Cook for 10 minutes, until the vegetables are tender and the consistency is jammy.Remove from the heat and reserve at room temperature until ready to use. (Anyleftovers can be stored in an airtight container in the refrigerator. It can be served withgrilled steak or chicken, or with Brie or similar cheeses.)
For the burger: Preheat a charcoal or gas grill to medium-high, or heat a cast-iron or other heavy-bottomed skillet on medium-high.
Combine the ground brisket, chuck, and pork belly in a large bowl, gently mixing withyour hands.
Add the fried shallots, fried garlic, yellow mustard, and chicken seasoning to the bowland gently mix with your hands until the ingredients are well incorporated.
Form 6 patties about 11⁄ 22 inch thick and place on a sheet pan. Transfer the burgers to the grill or skillet and cook for 2 to 4 minutes per side formedium doneness, or until the desired doneness.
To assemble: Place a pile of shredded Gouda cheese on each burger, then place back on the grill untilthe cheese has melted. Alternatively, put the burgers on a sheet pan, add the cheese,and broil until the cheese has melted.
Spread 1 tablespoon of the truffle-honey ketchup on the bottom and top halves of eachbun. Place the burgers on top of the bottom buns. Add some of the mushroom-onionjam to each burger and finish with the top buns.
Jerk-Spiced Spareribs with Coconut Guava Slaw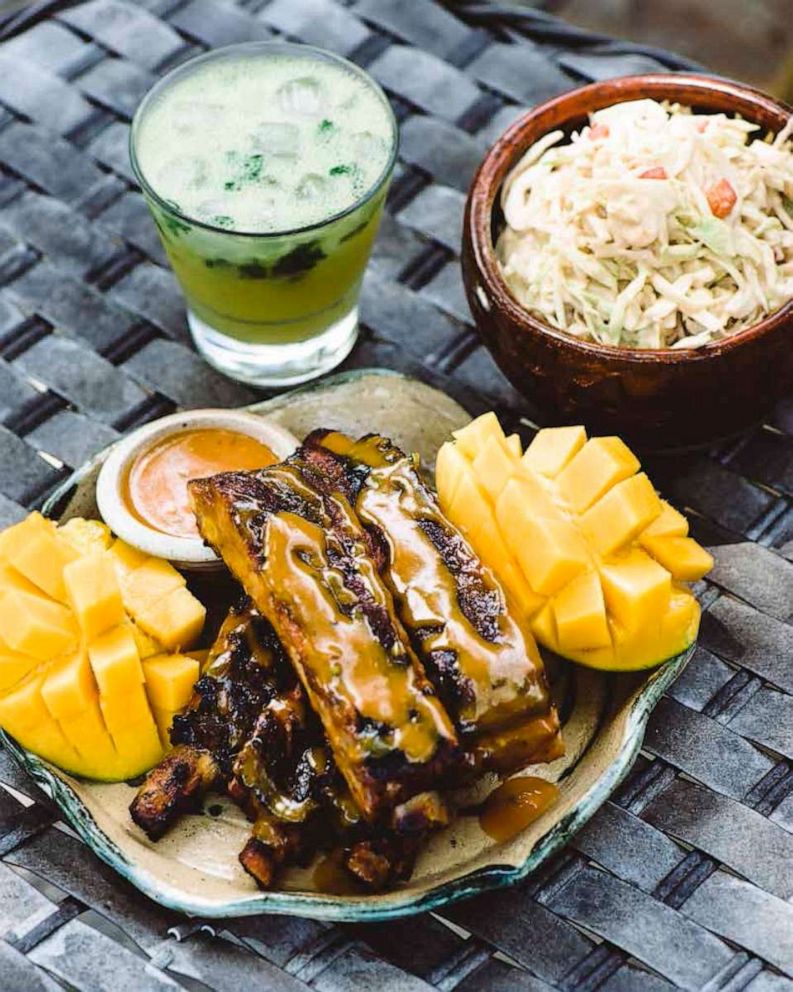 Serves 6
Gilbert was inspired by his childhood visits to the Caribbean and working there as an adult to create this tender, flavorful rib recipe that celebrates authentic island culture and flavors.
Ingredients
For the habenero mango bbq sauce, makes 7 cups
2 cups ketchup
2 cups yellow mustard
1 cup honey
1 cup coconut sugar
1 cup mango nectar
Juice of 2 lemons (¼ cup)
2 habanero peppers, finely chopped
2 Scotch bonnet peppers, finely chopped or 1 tablespoon crushed red pepper
1 tablespoon kosher salt
For the ribs
3 slabs of St. Louis-style ribs
1/2 cup Chef Kenny's Jerk Spice, or other jerk spice blend
3 cups Habanero-Mango BBQ Sauce (see above)
For the slaw
1 cup canned coconut milk, preferably Thai Kitchen
1/2 cup mayonnaise
1/2 cup guava paste
1/4 cup coconut vinegar
Kosher salt
1 1/2 pounds green cabbage, grated (6 cups)
1/2 medium red bell pepper, seeded, and cut into small dice (½ cup)
1 teaspoon ground ginger
Directions
To make the Habanero-Mango BBQ Sauce Whisk the ketchup, mustard, honey, coconut sugar, mango nectar, lemon juice, habaneros, Scotch, Bonnets, and salt in a medium saucepan. Bring to a simmer over medium heat. Reduce heat to low and cook for 15 minutes, stirring occasionally.
Remove from the heat and puree with a handheld blender under smooth. Set aside, until ready to use it. (Leftover sauce can be stored in an airtight container in the refrigerator.)
Make the Ribs: Preheat a smoker with charcoal and pecan wood to 275° or 300°F, or preheat the oven to 300°F.
Season the ribs on both sides with the jerk spice blend. Set the ribs on the grate of the smoker, backbone side down, and cook for 11⁄2 to 2 hours, or until the internal temperature is 165°F. Keep the smoker on. If cooking in the oven, put the ribs on sheet pans lined with foil and cook for 11⁄2 to 2 hours, or until they reach an internal temperature of 165°F. Keep the oven on.
Transfer each of the slabs to a large sheet of foil, backbone side down. Pour 1 cup of the barbecue sauce over each slab and wrap them in the foil.
Return the ribs to the smoker or oven and cook for another 11⁄4 hours, or until they reach an internal temperature of 195°F.
Rest the foil-wrapped cooked ribs in a cooler (without ice) for a minimum of 30 minutes and a maximum of 3 hours before serving.
Make the Slaw and Slides: In a large bowl, combine the coconut milk, mayonnaise, guava paste, vinegar, and salt with a handheld stick blender until smooth. Add the cabbage, bell pepper, and ginger and toss to combine.
To assemble: Using a sharp chef's knife, cut the slabs of ribs into three-rib portions. Be sure to cut close to the bone of the next rib; that way every rib will have meat on the bone.
Put three ribs on a plate. Place barbecue sauce in a small cup on one side of the plate and some of the slaw on the other side. Garnish with a wedge of mango. Plate the remaining servings.
Chef's Tip: Cook the ribs offset of grill or Smoker. Moisten with Mop Basting Liquid every 20 - 30 minutes.
Recipes reprinted with permission from Southern Cooking Global Flavors by Kenny Gilbert, Rizzoli New York, 2023. Photography © Kristen Penoyer.
Filipino BBQ Pork Skewers
Cohen shared her sweet and savory Filipino-style pork skewers that are sure to be a crowd-pleaser for any summer grilling.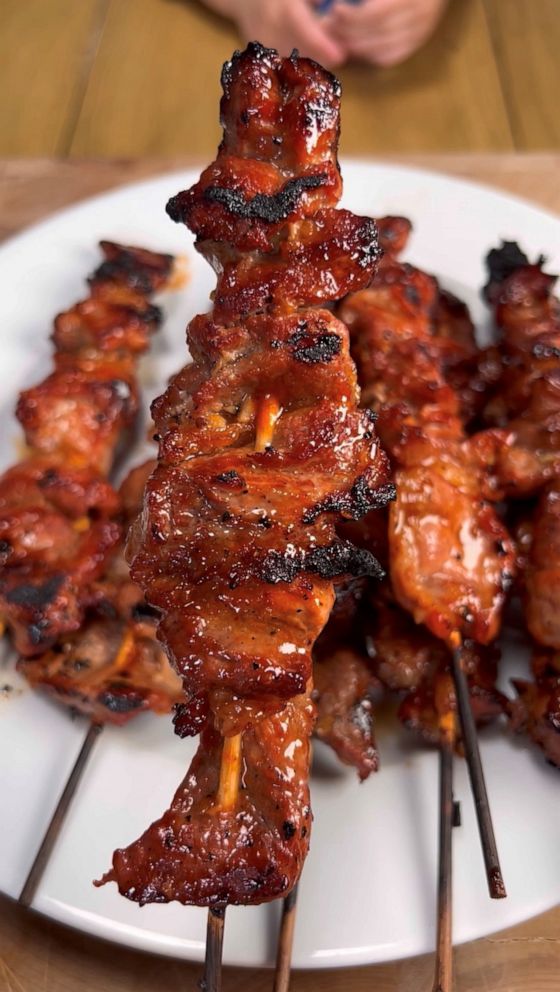 Ingredients
Marinade
1 1/2 pounds pork butt, sliced thin against the grain
1/4 cup banana ketchup
1/2 cup sprite or 7up
1/2 cup soy sauce
1/4 vinegar
2 tablespoons oyster flavored sauce
1/2 light brown sugar
1/4 cup minced garlic (more if you like)
MSG (optional)
Black pepper to taste
Glaze
2 Tbs banana ketchup
1 Tbs oyster flavored sauce
1 Tsp sesame oil
Directions
Marinate the pork for 12 to 24 hours.
About 30 minutes before grilling, you want to soak your wooden BBQ skewers in water to prevent them from burning on the grill.
Make sure to remove your marinating meat from the fridge and rest it on the counter so it's not too cold when grilling.
Cook the pork for approximately 10 to 12 min on medium heat. Glaze halfway through.
Grilled Mediterranean Chicken Kabobs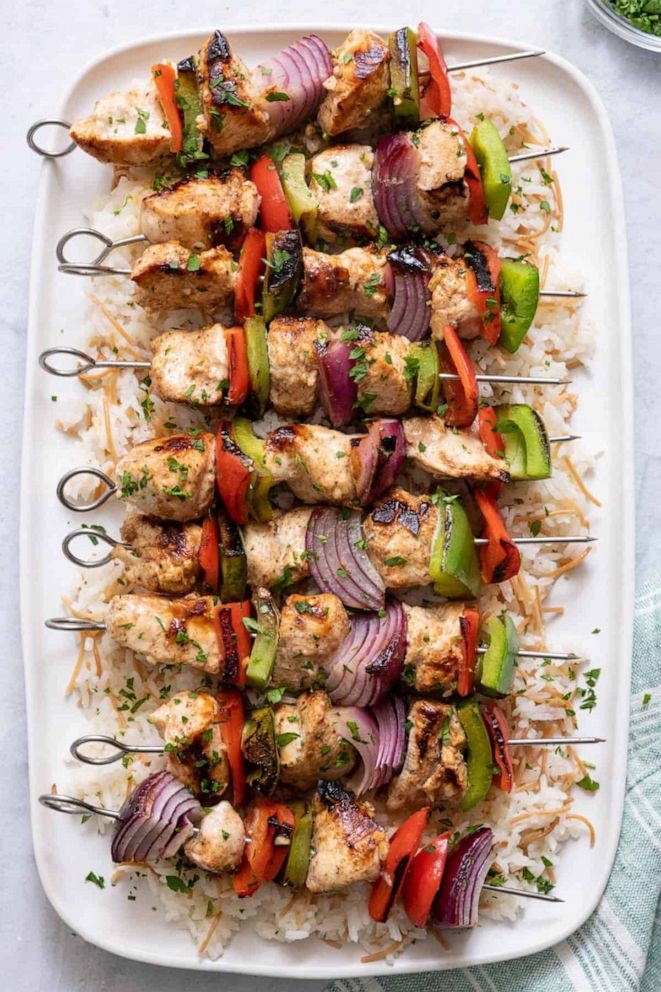 Ingredients
1 1/2 pound boneless skinless chicken breasts cut into large bite-sized pieces
2 tablespoons olive oil
1 lemon juiced
4 garlic cloves minced
1 teaspoon paprika
1/2 teaspoon cumin
1/4 teaspoon cinnamon
1/2 teaspoon salt
1/2 teaspoon black pepper
1 large red onion cut into thick slices
2 bell peppers cut into squares
Vegetable oil for greasing the grill
Chopped parsley for serving
Instructions
In a medium bowl, combine the olive oil, lemon juice, garlic, paprika, cumin, cinnamon, salt and pepper. Add the chicken pieces to the mixture and mix well to combine. Allow the chicken to marinate in the fridge for at least 30 minutes, or up to 8 hours.
Preheat the grill to medium-high heat, and grease the grill with vegetable oil.
When ready to grill, thread the chicken onto the skewers, with the vegetables in between the chicken kabobs. Pour any leftover marinade on top of the chicken kabobs. Makes 6-9 skewers.
Grill the chicken kabobs until fully cooked and golden brown, about 10-15 minutes, turning the skewers every couple minutes to allow for even cooking.
Remove the chicken from the grill and serve with Lebanese rice or any other sides, if desired.
Grilled BBQ Shrimp
Ingredients
2 tablespoons olive oil
2 tablespoons BBQ seasoning
1/4 teaspoon salt if needed
1 pound jumbo raw shrimp peeled and deveined
4 to 6 wooden skewers soaked in water for at least 10 minutes
Avocado oil as needed, for grill grates
Instructions
In a large bowl, combine the olive oil, BBQ seasoning, salt and shrimp. Stir to combine. Cover and refrigerate for at least 15 minutes, or up to 1 hour.
Once the shrimp have marinated, thread them onto the prepared skewers. Set aside while you preheat the grill.
If using a grill pan, grease lightly with a high-heat oil, then preheat for 3 minutes over medium heat. Add shrimp and cook for 2 to 3 minutes per side, or until cooked through. If using a gas grill, preheat to medium (350°F), then grill the shrimp skewers for 2 to 3 minutes per side with the lid open.
Check out even more of Jawad's grilled recipes from veggie sides to desser for Memorial Day here.