TikTok launched its Visionary Voices List during Asian American, Native Hawaiian and Pacific Islander (AANHPI) Heritage Month to celebrate and elevate AANHPI creators.
Among the 15 creators on the list, who have all utilized the platform to share their unique perspective through individual niches, is Chinese American food content creator Cassie Yeung, aka @cassyeungmoney on TikTok, who works to inspire others to cook comfortably at home.
Her step-by-step cooking tutorials have racked up more than 37 million likes and counting and showcase her love for diverse cuisines and dishes.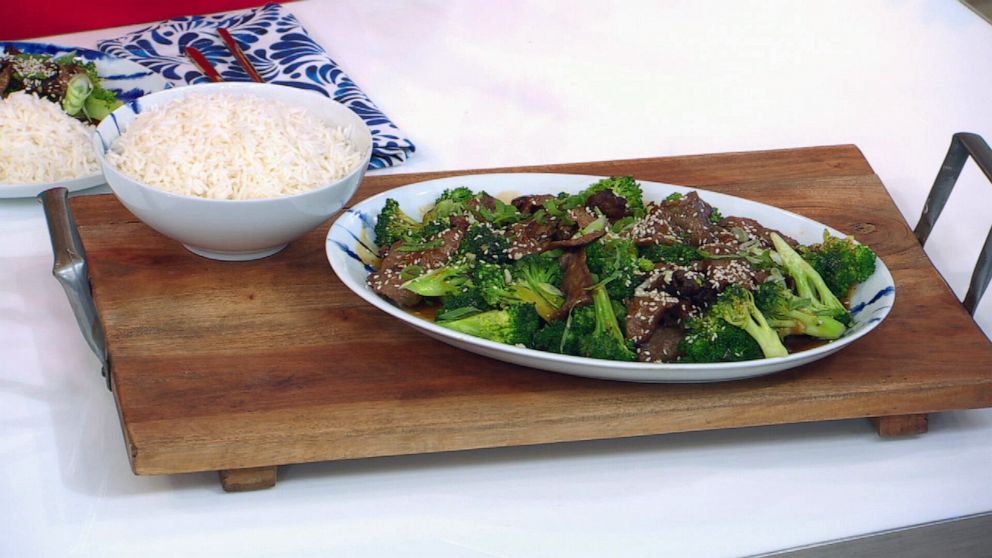 From lo mein and pad thai recipes to Chinese American classics like beef and broccoli, Yeung joined "Good Morning America" on Tuesday to give a close-up look at how it all comes together, from prep to plating.
"It's so important to me to have this platform, just to make Asian cuisine just as exciting and accessible as your typical pantry food," Yeung told "GMA."
Check out her full recipe for beef and broccoli, below.
Homemade Beef and Broccoli
Ingredients
Marinade
1 pound flank steak
1 tablespoon cornstarch
1/2 teaspoon baking soda
1 tablespoon oyster sauce
1 teaspoon soy sauce
1 teaspoon oil
1 teaspoon ginger, minced
1 teaspoon garlic, minced
For the sauce
1 cup chicken/beef broth
2 tablespoons soy sauce
1 tablespoon oyster sauce
1 teaspoon dark soy sauce
1 teaspoon sesame oil
2 tablespoons brown sugar
White pepper, to taste
1 teaspoon ginger
1 teaspoon garlic
2 tablespoons Shaoxing wine, optional
Cornstarch slurry to thicken, (equal parts cornstarch and water, add more water if too thick)
Directions
Cut your flank steak against the grain and at an angle to create thin strips.
Add ingredients for the marinade to the meat and rest for at least 30 minutes.
Meanwhile, prepare your sauce. Heat up a wok or large skillet with some neutral flavored oil and add your meat. Flatten the pieces out and leave them untouched to achieve a nice sear. Once you see the meat cooked around the edges, sauté for another minute. Remove your meat and set aside.
Add a bit more oil followed by the remaining ginger and garlic.
Add your broccoli, sauté and cover for a minute or until it reaches a bright green color.
Add in your sauce and let it come to a boil.
Mix equal parts cornstarch and cold water and add to the mixture.
Let the sauce start to thicken then add back in your meat. Let everything cook together until the sauce coats the meat evenly. Serve over white rice, garnish with green onions and sesame seeds and enjoy!