Maui residents come together to feed community
Anders Krusberg for The Guy Fieri Foundation
The hospitality industry has been quick to jump in and support relief efforts following the devastating wildfires on Maui.
Celebrity chef and Food Network star Guy Fieri hosted a star-studded 18-course dinner from over 38 award-winning chefs in Sonoma, California over the weekend, raising more than $1.5 million to directly benefit the Maui community.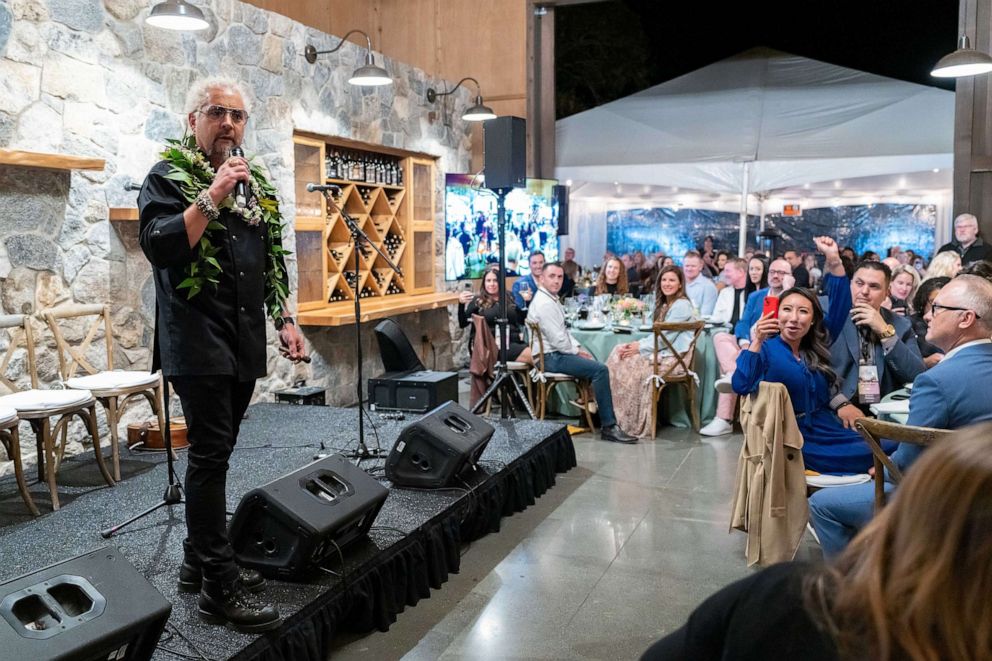 "The love, talent, and selflessness of our industry fellows knows no bounds," Maui-based chef Lee Anne Wong, whose restaurant Papa'aina at the Pioneer Inn tragically burned down in Lahaina, wrote on Instagram recapping the event. "The message: 'We see you. We care. We want to help.' Bravo to all of the culinary heroes out there who have ever contributed by feeding and raising money in times of need. Love and intention in the food feeds the stomach, and giving hope nourishes the soul. It's a two way street, and it keeps us connected."
The Guy Fieri Foundation hailed the event "an astounding success," announcing it raised over $1.5 million "from a combination of ticket sales and the live and silent auction," of which the net proceeds will benefit the Hawaii Restaurant Association and The Salvation Army Hawaiian and Pacific Islands Division.
"Hawaii is a place that I have always enjoyed visiting and I've featured the residents' warm hospitality to visitors like us on my shows, as they welcome us into their restaurants and invite us to enjoy their cooking. So, when our brothers and sisters there need our help, we must lend a hand and help in any way we can," Fieri said.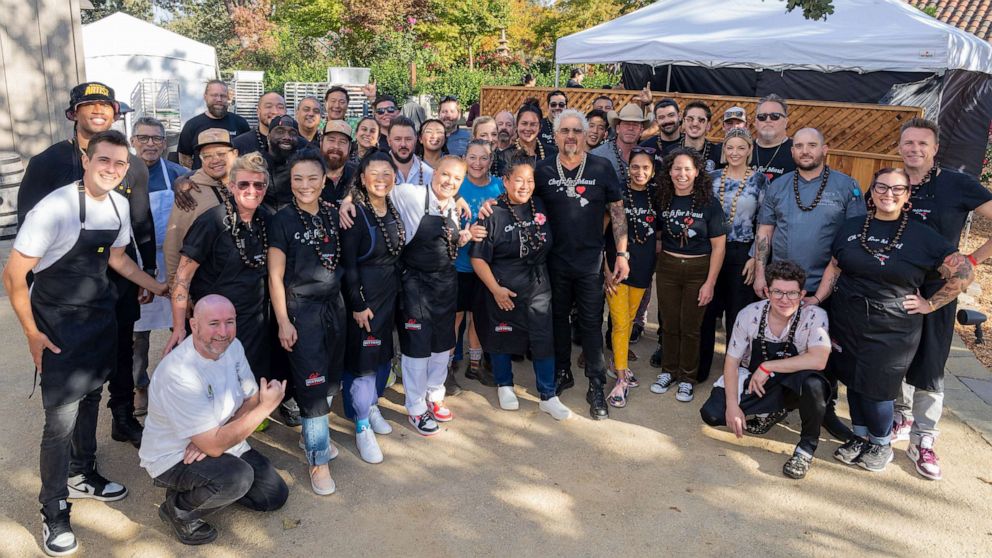 The sold-out event, which cost $2,500 per ticket, included pours of premium wines, chef interactions, live music, and auctions "to raise money for the exact relief supplies the communities of Maui need in support of disaster operations," the foundation stated on its website.
Fieri recruited an all-star team of chefs from all across the country to cook at the private event, including fellow Food Network stars, "Top Chef" alums, California restaurateurs and culinary activists.
In addition to Wong, the rest of the all-star lineup included Karen Akunowicz, Nate Appleman, Kelsey Barnard Clark, William Becker, Thomas Bellec, Domenica Catelli, Maneet Chauhan, Shirley Chung, Rocco DiSpirito, Tobias Dorzon, Duskie Estes, Tiffani Faison, Darnell Ferguson, Hunter Fieri, Amanda Freitag, Jose Garces, Stephanie Izard, Mei Lin, Antonia Lofaso, Crista Luedtke, Brian Malarkey, Bobby Marcotte, Michael Mina, Marc Murphy, Shota Nakajima, Nakoa Pabre, Damaris Phillips, Britt Rescigno, Joe Sasto, Jonathon Sawyer, Tracey Shepos, Adam Sobel, Justin Sutherland, Ming Tsai, Dustin Valette, Michael Voltaggio, Justin Warner and Brooke Williamson.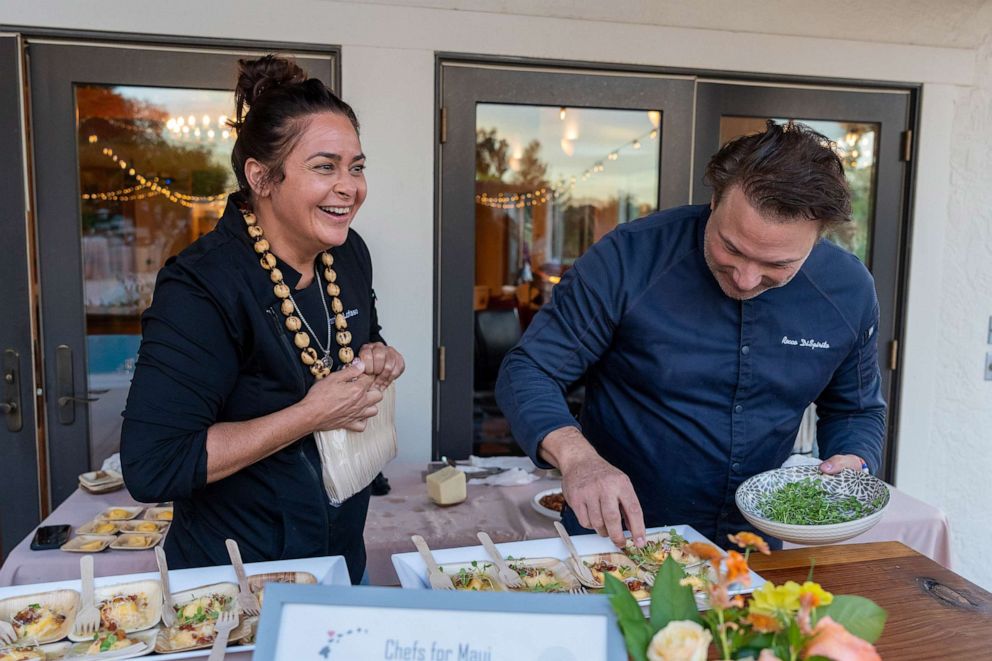 The foundation hailed support from the title sponsor Graton Resort and Casino, as well as platinum sponsors Workday and Bona Furtuna, and Fieri's friends.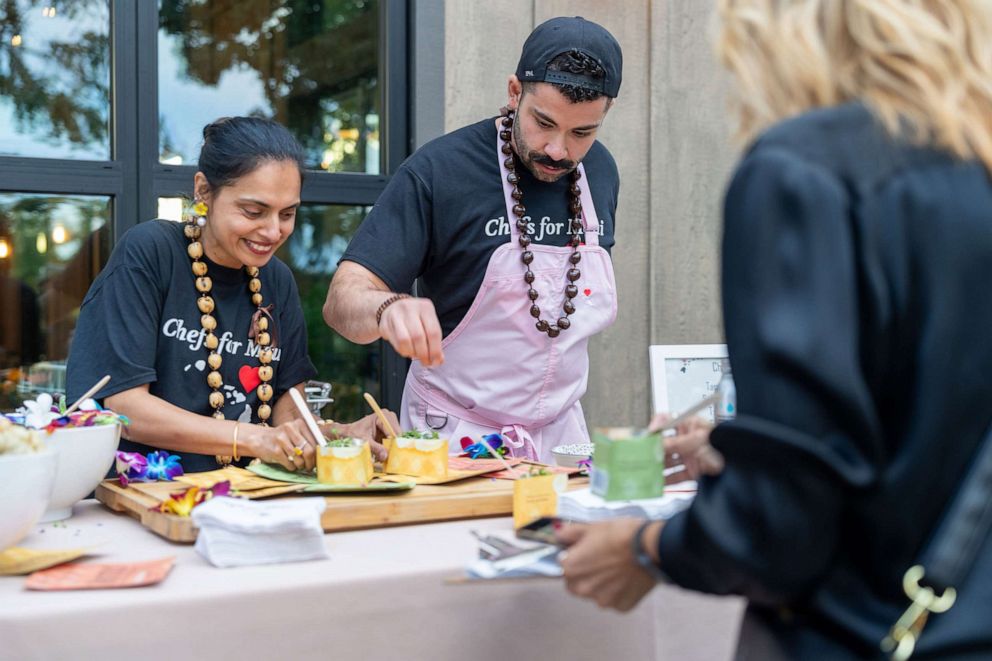 Fieri, a Santa Rosa, California, resident, previously stepped up to help feed and support fire victims in the wake of the 2018 Camp Fire and 2019 Kincade Fire.
An earlier version of this story was originally published on Aug. 28, 2023.