Rocco Dispirito shares recipes for keto comfort food
Craving classic, cozy comfort food, but trying to watch your diet?
Chef Rocco DiSpirito, author of "Rocco's Keto Comfort Food Diet," has recipes that deliver all the flavor and texture of those beloved hearty, nostalgic dishes with a keto-friendly twist.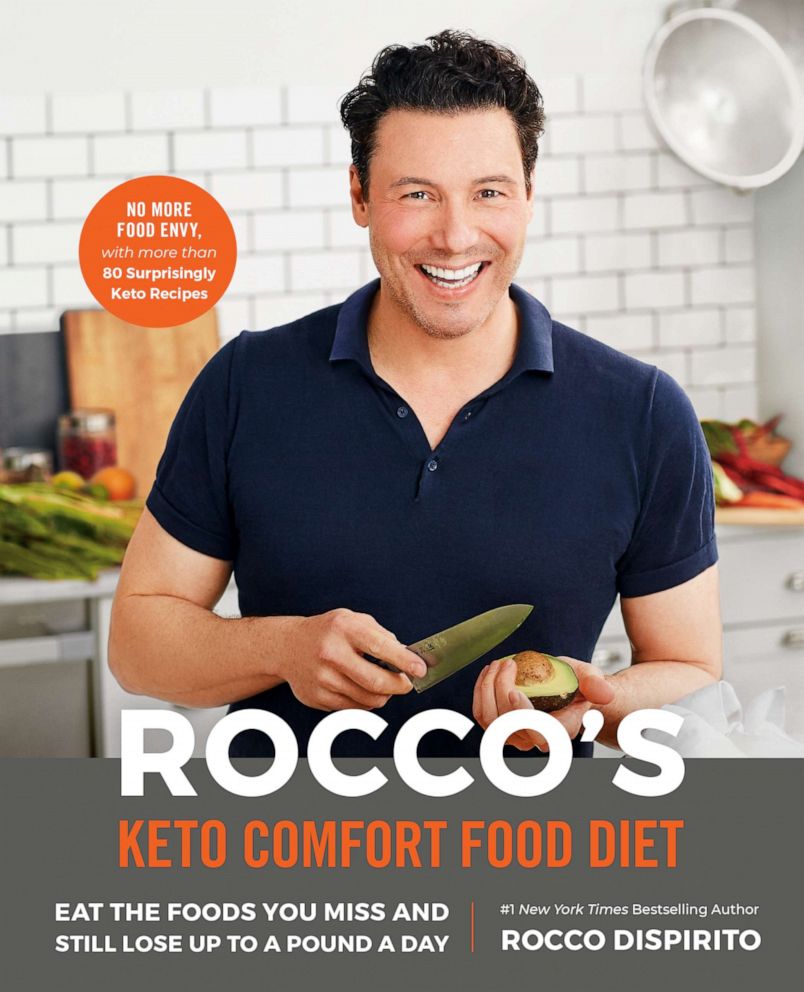 DiSpirito joined "Good Morning America" to share two different takes on fried chicken and macaroni and cheese.
Check out his full recipes and tips below.
"Macaroni" and Cheese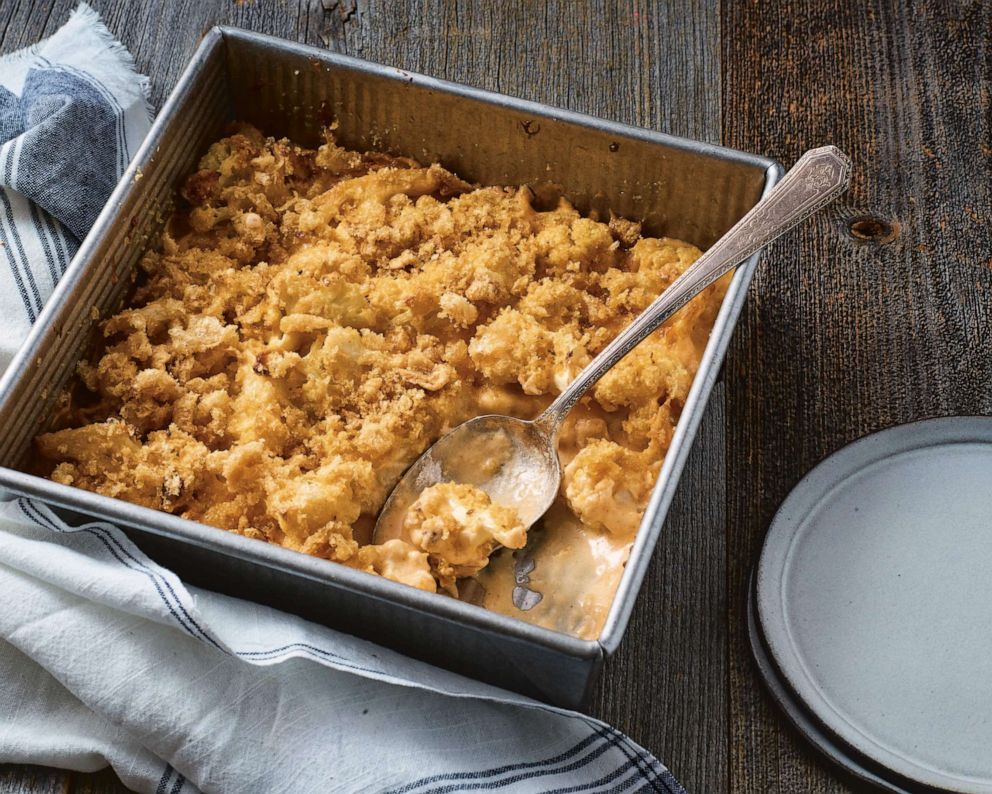 To pull off this keto-friendly version of the traditionally carbohydrate heavy baked cheesy pasta, DiSpirito enlists the use of cauliflower for a nutrient rich riff on the dish.
Cook time: 1 hour
Servings: 6
Ingredients
2 tablespoons unsalted grass-fed butter, plus
1 tablespoon melted butter for the pan
1 head cauliflower, cut into small florets (3½ to 4 cups)
1 tablespoon extra-virgin olive oil
Celtic sea salt
Freshly ground black pepper
1/2 yellow onion, roughly chopped
3 cloves garlic, smashed
1/4 cup water
1/2 teaspoon mustard powder Pinch of cayenne pepper
4 ounces full-fat cream cheese
3/4 cup whole milk
1 1/2 cups grated sharp cheddar cheese
1 cup pork rinds, pulsed in a food processor to resemble panko bread crumbs
1/4 cup grated Parmigiano- Reggiano cheese
Directions
Preheat the oven to 450 degrees. Grease an 8 x 8-inch baking dish with the 1 tablespoon melted butter. Line a baking sheet with foil.
Arrange the cauliflower on top of the foil. Drizzle with the olive oil and season with salt and black pepper to taste. Bring the edges of the foil up to enclose the cauliflower and make a packet.
Roast the cauliflower for 20 minutes. Open the foil packet, being careful of the steam, and return to the oven until the cauliflower is tender, another 15 to 20 minutes. (Leave the oven on.)
In a food processor, combine the onion, garlic, and water and pulse until smooth.
In a medium saucepan, heat the 2 tablespoons butter over medium heat. Add the onion and garlic mixture, season with salt and black pepper, and cook for 2 minutes, until the onion begins to soften. Add the mustard powder and cayenne and cook an additional minute. Add the cream cheese and whole milk and allow to melt and come to a simmer.
Season with salt and black pepper to taste. Stir in the cheddar until melted and smooth.
In a large bowl, toss together the cauliflower and cheese sauce until completely coated. Transfer to the prepared baking dish. Sprinkle the crumbled pork rinds and Parmigiano over the top of the cauliflower and cheese.
Bake until golden brown and warmed through, about 10 minutes. Allow to cool for 5 minutes before serving.
Tips for truly great "Mac" and Cheese
Cauliflower to the rescue: Swapping out macaroni for cauliflower makes this a low-carb and gluten free recipe for health-conscious mac and cheese lovers.
Forget preservatives: This mac and cheese is totally natural and packed with nutrients.
Swap for more veggies: Cauliflower can be swapped with cauliflower rice for a risotto-like result, and zoodles or veggie noodles work great here as well.
Add more protein: You can use ground beef or turkey to turn this dish into a complete one pot meal for the family.
Hot Crispy Keto Fried Chicken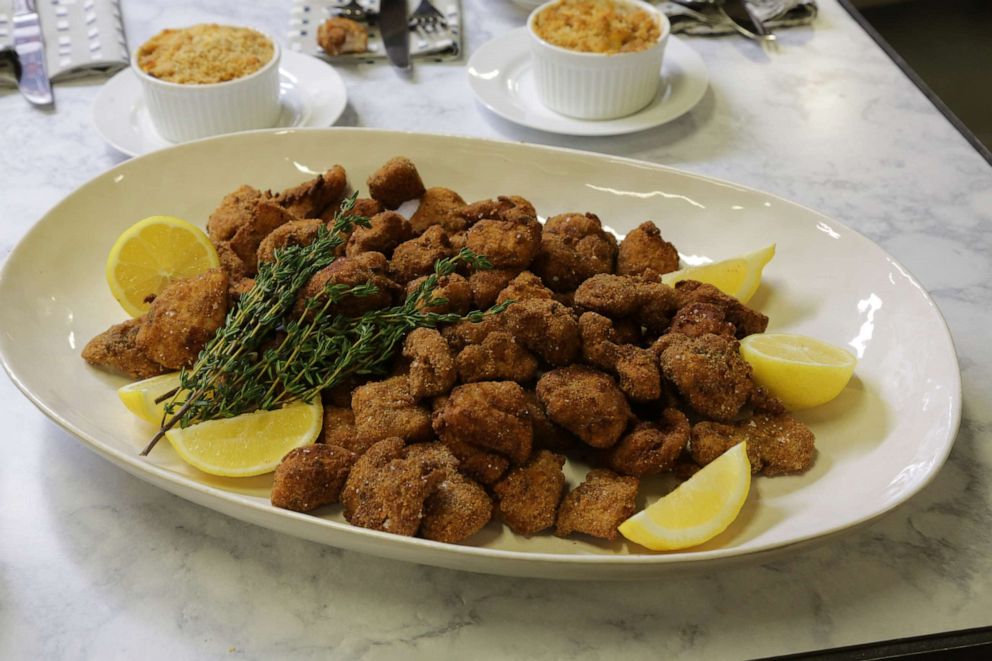 On a diet that boosts dietary fat intake, DiSpirito says it's important to use methods like flash-frying (instead of deep-frying) to ensure that the shorter frying time will reduce the amount of fat absorbed in the food.
Cook time: 15 minutes (active) 15 minutes (prep)
Servings: 4
Ingredients
Grapeseed oil (about 2 quarts), for flash-frying
1 pound boneless, skinless chicken thighs
2 tablespoons + 3/4 teaspoon adobo seasoning (such as Goya)
Celtic sea salt
Freshly ground black pepper
2 egg whites
1 cup almond flour
2 1/2 tablespoons Hungarian sweet paprika
Directions
Pour 2 inches of oil into a large heavy pot that has at least a 6-quart capacity and clip a deep-frying thermometer to the side of the pot and be sure the thermometer is not touching the bottom of the pot.
Over medium heat, bring the oil temperature to 400 degrees.
Cut each chicken thigh into 4 or 5 even-sized chunks. Arrange all the chunks on a microwave-safe plate and season all over with teaspoon of the adobo seasoning, salt, and some pepper.
Place the plate in the microwave and cook for 1 minute 30 seconds. Remove the plate and turn each piece of chicken over. Microwave again until the chunks are just cooked through, another 1 to 2 minutes, depending on your microwave. Let the chicken cool to room temperature.
Set up a dredging station: Put the egg whites in a bowl and beat with a fork until just foamy, about 1 minute. In a separate wide and shallow bowl or a cake pan, combine the almond flour, paprika, and remaining 2 tablespoons adobo seasoning and mix thoroughly.
Submerge the chicken pieces in the egg whites. With a fork, toss to coat. One at a time, lift the chicken pieces from the egg whites, transfer to the almond flour mixture, and coat each piece thoroughly.
Set up a plate with a wire rack or paper towels on top and have it near the stove. Working in 4 batches, fry the chicken in the oil until deep golden brown, about 12 seconds. With metal tongs or a stainless steel spider basket, remove the chicken pieces and transfer tothe rack or paper towels to drain off any excess oil. (Turn the stove off immediately after your last batch.)
Tips for perfectly crisp Keto Fried Chicken
Flash-frying for 12 seconds instead of deep frying for 8-9 minutes cuts down on the amount of fat absorbed but still gives you the delicious crispy coating!
If you prefer not to microwave, you can pre-bake the chicken instead.
Use Cajun spice in the batter for a blackened Bayou effect.
This dish can be made ahead and then quickly flash fry for a true crisp mouthfeel.
Recipes reprinted courtesy of Rocco DiSpirito. Copyright 2020 by Rocco DiSpirito. Published in the United States by Rodale Books.