These nails will get you in the Halloween spirit
Burrito skulls are a delicious and spooky way to get in the Halloween spirit this October.
The recipe is one of Pinterest's top-10 Halloween recipes of 2019. I made all 10 recipes to see how difficult or easy they were to actually pull off IRL. This recipe was one of the few of the bunch that could actually be eaten for dinner, which I loved, and was one of the few savory recipes I got to make.
I changed the recipe a bit by using my go-to taco meat recipe and instead of making the dough from scratch I used pre-made Pillsbury crescent roll dough. If you're looking for an eerie, but fang-tastic tasting Halloween dish, then this is one you should try!
Burrito skulls
Recipe IRL: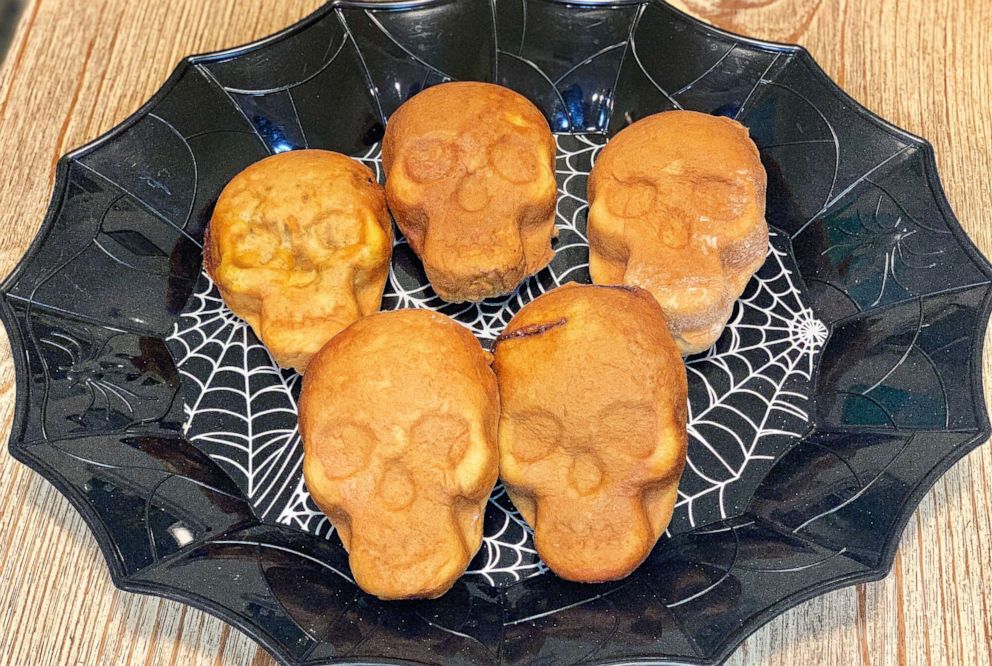 This recipe was delicious and one of the few besides the Mummy pizzas that I got to eat as a real full meal. But I definitely made more modifications to this recipe than the others.
First off, I didn't want to make my own dough from scratch so instead I looked to buy puff pastry sheets of dough. When I couldn't find it, I bought Pillsbury crescent roll dough, but since the perforated lines are already in the dough, I ended up having to flour a table and roll out the dough anyway so I might as well have just made it from scratch.
The crescent roll dough is definitely not the same as the homemade burrito dough -- it's a lot thicker and fluffier -- but it still tasted delicious. The thickness of the dough also prevented it from visibly taking on the shape of the skull, as the recipe's thin burrito dough did, and although you can see they are skulls the effect isn't as dramatic.
I also edited the taco meat recipe, using ground sirloin, taco seasoning, corn and cheddar cheese like the recipe calls for, but subbing in a cup of jar salsa for the tomatoes, nixing the black beans and adding onions and peppers instead. The recipe was DELICIOUS. This will be a hit at any Halloween party hands down and will go like hot cakes! In fact, I just made five of these since I only bought one package of Pillsbury crescent roll dough and my fiancé and I gobbled them up for dinner and wished we had more.
If I were to recreate this recipe again for a Halloween event, I'd definitely keep the taco meat just as I made it, but would make the dough from scratch so that it looked and felt more like a burrito.
Ingredients
Tortillas
1 cup all-purpose flour
2 1/2 teaspoon baking powder
1 teaspoon kosher salt
1/2 cup lard or shortening
3/4 cup water
Burrito Filling
1 tablespoon vegetable oil
1 pound ground sirloin
1 packet taco seasoning
1 cup shredded cheddar cheese
6 tablespoons black beans
6 tablespoons corn
6 tablespoons chopped tomatoes
Egg wash
1 large egg
1 teaspoon water
Instructions
Tortillas
Combine flour, baking powder, salt in mixing bowl and blend with fork.
Add half of the lard and use a pastry cutter to cut the lard into the flour.
Add the remaining lard and continue to cut it into the flour until it resembles coarse crumbs.
Slowly pour in the water stirring as you go until the dough comes together. Add at least 3/4 of a cup of the water then only add any remaining water as needed.
Knead the dough on a floured surface until the dough is no longer sticky and comes together in a cohesive ball. Cover dough and set aside for 10-20 minutes.
Burrito Filling
Heat the ground sirloin and cook until browned.
Stir in taco seasoning and water.
Bring to a boil then reduce heat to medium low and simmer until most of the water has evaporated.
Assemble
Preheat oven to 350°F.
Cut the dough into 6 equal portions.
Dust your work surface with flour.
Roll out a portion of dough thinning out the edges.
Drape the dough over one skull in a 6 cavity non-stick pan allowing the dough to form the skull shape.
Fill with 1/6th of the taco meat.
Sprinkle on 1/6th of the cheddar cheese, black beans, corn, and tomatoes or you favorite burrito filling.
Fold the dough over the filling, cutting off any excess dough and pinching the seams together.
Whisk together egg and water then brush top of dough with egg wash.
Repeat filling all 6 skulls.
Bake for 24-26 minutes until the tops of the dough turn lightly golden brown.
Recipe reprinted courtesy of Hungry Happenings.
https://giphy.com/gifs/GoodMorningAmerica-J4hGsnlOjco70V8FbR