Make chef Rick Martinez's tlaltequeadas and enchiladas
Beloved food writer and host Rick Martinez takes an intimate look at the beauty and bounty of Mexico in his highly anticipated debut cookbook, "Mi Cocina: Recipes and Rapture from My Kitchen in Mexico."
The pages are filled with over 100 transportive recipes from Martinez's once-in-a-lifetime culinary journey that began in Mexico City and spans 32 states, 256 cities and 20,000 miles. He offers deeply personal recipes throughout to help home cooks transform their kitchens and recreate specialties he tasted throughout his travels, memories and experiences.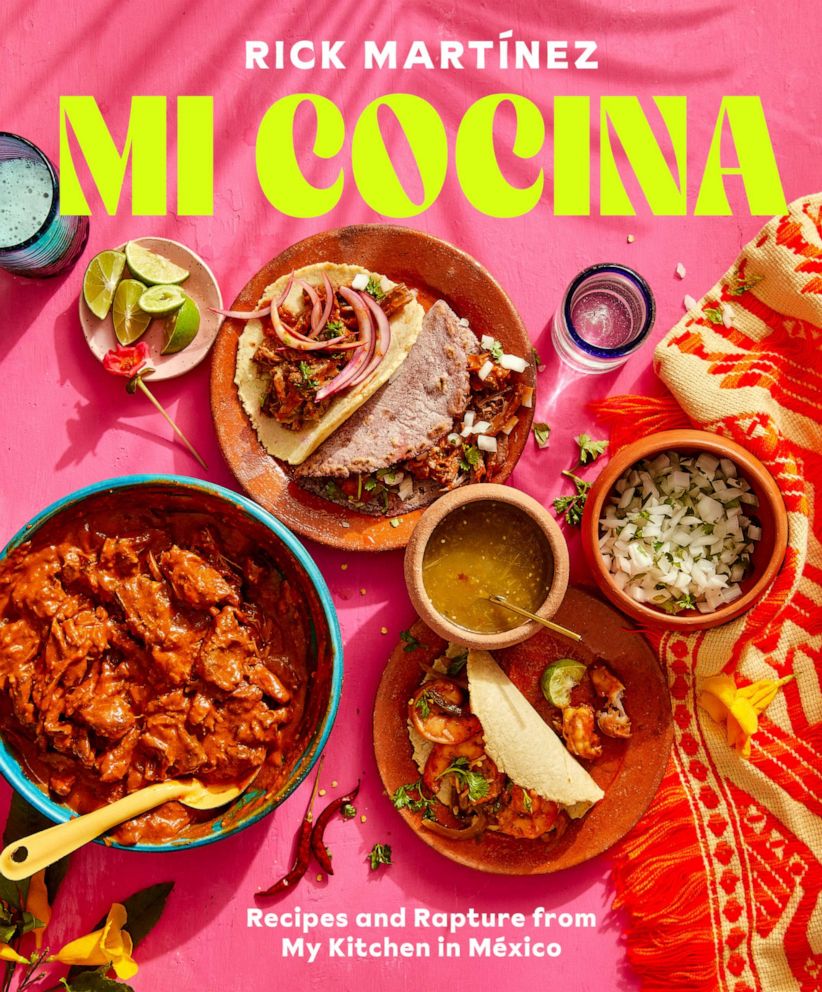 Martinez shared two full recipes for a couple of regional favorites below.
Tlaltequeadas: Spinach and squash blossom fritters with roasted tomato and jalapeño salsa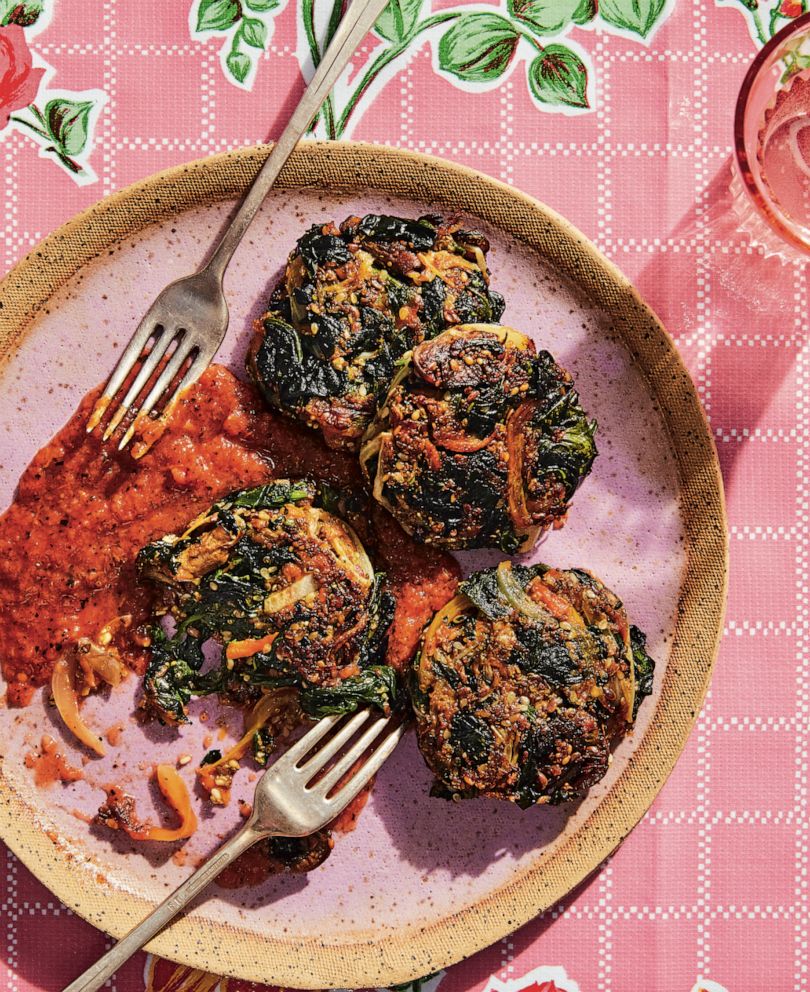 "One of my favorite pueblitos in México is Tepoztlán in the state of Morelos, south of Mexico City. The markets are known for pre-Hispanic food -- food that existed before the arrival of Spanish colonialists," Martinez wrote in the book. "The Spanish brought pigs, cows, wheat, and methods for making cheese to México, but before their arrival, the indigenous people had a very plant-forward diet. They ate mostly vegetables like corn, beans, squash, amaranth, chia, chiles, nuts, and flowers as well as wild fowl and game, insects, fish, and shellfish."
"Crispy-fried tlaltequeada fritters are beautiful and flavorful. I loved seeing the vendors at the market display all of the different kinds. Some were made with beets and were garnet red. Some, made with seasonal native wildflowers, were white, purple, and yellow. Others were made with quelites, different varieties of native leafy wild greens, and were emerald green. I even had one that was pink from red plums and served with a creamy nutbased sauce. Tlaltequeadas can be sweet or savory and spicy or not, depending on what is in season and what flavors you like. The fritters are held together by chia and flaxmeal, both of which mimic the consistency of eggs when added to a liquid."
Makes: 12 fritters
Ingredients
7 large Roma tomatoes (1¾ lb/794 g), cored and left whole
2 large chiles jalapeños (2.5 oz/71 g), stemmed
¾ large white onion (10 oz/300 g),chopped
1 garlic clove, peeled
Morton kosher salt
1 tablespoon fresh lime juice
2 tablespoons chia seeds
2 tablespoons golden flaxmeal
2 tablespoons sesame seeds
1 cup puffed amaranth
½ cup extra-virgin olive oil, plus more if necessary
8 ounces (225 g) mixed wild mushrooms, torn into small pieces (stemmed if using shiitakes)
2 medium carrots (5.6 oz/160 g), shredded on the large holes of a box grater
1 cup mung bean sprouts (4.58 oz/130 g)
3 garlic cloves, thinly sliced
12 ounces (340 g) mature spinach, torn into 1-inch pieces
16 squash blossoms (4 oz/113 g), stems, stamen, and pistils removed, blossoms torn
Directions
1. Arrange a rack in the center of the oven; preheat to 475 degrees. Line a sheet pan with parchment paper or foil.
2. Arrange the tomatoes and chiles jalapeños on the prepared pan and roast until the skin of the tomatoes and jalapeños is dark brown in places and starting to peel away from the flesh, for 30 to 35 minutes.
3. Transfer the tomatoes and jalapeños to a blender, add ¼ cup of the onion, the garlic, and 1½ teaspoons (0.2 oz/8 g) of the salt and process until completely smooth. Transfer the roasted tomato salsa to a small bowl, stir in the lime juice, and set aside (this can be made up to 8 hours in advance).
4. In a large bowl, stir together the chia seeds, flaxmeal, sesame seeds, and amaranth until combined.
5. In a large skillet, preferably cast-iron, over medium-high, heat 3 tablespoons oil. Add the mushrooms and cook, without stirring, until browned, for 3 to 4 minutes. Toss and continue to cook, stirring occasionally, until the mushrooms are browned on all sides and tender, for 4 to 5 minutes more. Season with salt and transfer to the bowl with the chia mixture.
6. In the same skillet, heat 1 tablespoon oil over medium-high heat. Add the carrots, sprouts, remaining onion, garlic and 2¼ teaspoons (0.4 oz/12 g) salt. Cook, tossing occasionally, until all of the vegetables are tender, for 6 to 8 minutes.
7. Add the spinach, blossoms and ¼ cup water. Bring to a boil, then reduce to a simmer, cover, and cook until the spinach is wilted and tender, for about 5 minutes. Transfer the spinach mixture to the bowl with the chia mixture and stir until completely combined. Set aside for 30 minutes to set. During this time, the seeds will absorb any excess liquid and the mixture should hold its shape when squeezed.
8. Using a large ice cream scoop or ¼-cup measure, scoop out the tlaltequeadas mixture and form it into small patties that are about ¾ inch thick and arrange them on a sheet pan.
9. Wipe the skillet clean and heat the remaining ¼ cup oil over medium heat. Working in batches to not overcrowd the pan, fry the tlaltequeadas until deep golden brown on both sides, for 4 to 5 minutes per side. Transfer to a large plate lined with paper towels. Continue to fry the remaining patties, adding more oil if necessary.
10. Serve the fried tlaltequeadas warm with the roasted tomato salsa.
Enchiladas Mineras: Salsa guajillo-dipped tortillas with roasted chicken and queso fresco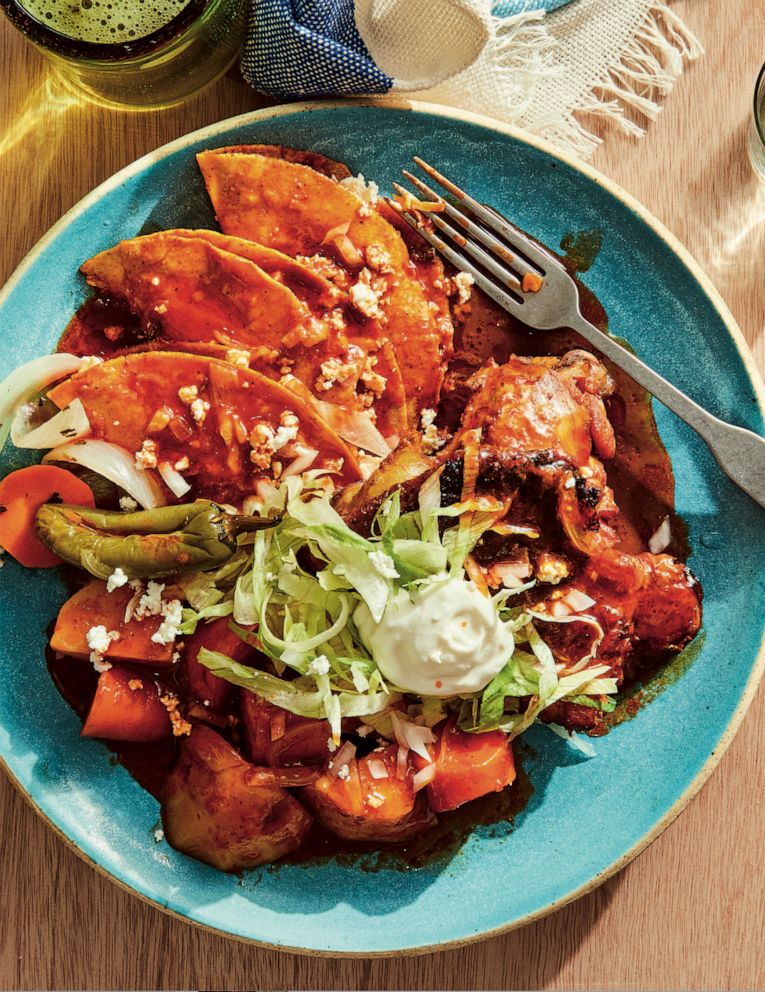 "Before driving northwest of Mexico City to Guanajuato, I asked all my friends and social followers to recommend their favorite places to eat. One hundred percent said, 'You have to eat at Las Originales Enchiladas Mineras Doña Lupe,'" Martinez recalled in the book. "Enchiladas in México do not have any resemblance to the ones in the US. Don't get me wrong, I love a good Tex-Mex enchilada platter, but Mexican enchiladas are much lighter and easier to make."
"Mexican enchiladas are almost never baked; occasionally they are put under the broiler to melt and brown cheese, but usually they are corn tortillas dipped in a chile sauce and then stuffed with a light filling. The word enchilada means to be bathed or surrounded in a chile sauce or paste."
"Doña Lupe's restaurant seats about eight people at a communal table. She makes everything to order—and by everything I mean the three-item menu consisting of enchiladas mineras, with or without chicken, and on Saturdays and Sundays, pozole rojo. The intoxicating smell that wafted down the street made it easy to find this tiny spot. Years of practice have made her incredibly skilled at frying and bathing the tortillas. Like everyone said it'd be, eating at Doña Lupe's was a life-changing experience."
Serves: 4
Ingredients
8 Tortillas de Maíz
5 tablespoons vegetable oil, divided
2¼ cups homemade chicken stock or store-bought low-sodium chicken broth
5 large chiles guajillos (1 oz/30 g), stemmed and seeded
2 medium chiles cascabeles (0.25 oz/5 g), stemmed and seeded
2 garlic cloves, lightly crushed
2 teaspoons Morton kosher salt (0.5 oz/16 g)
1/2 teaspoon dried oregano, preferably Mexican
1/4 teaspoon freshly ground black pepper
4 large chicken thighs (6 oz/170 g each)
2 medium Yukon gold potatoes (12 oz/340 g), peeled and cut into 2-inch pieces
3 medium carrots (8 oz/226 g), cut into 2-inch pieces
1/2 large white onion (7 oz/200 g), sliced
1 tablespoon apple cider vinegar
12 ounces (340 g) queso fresco or Cotija, crumbled
For serving
Shredded iceberg lettuce
Chopped onion
Crema
Chiles Jalapeños en Escabeche
Directions
1. Brush both sides of the tortillas with 2 tablespoons of the oil. Heat a large skillet over medium-high. Working in batches, sear the tortillas until they're lightly browned and starting to crisp, for about 1 minute per side. Set the tortillas aside until you're ready to assemble.
2. In a medium saucepan, bring the broth, chiles guajillos, chiles cascabeles, garlic, salt, oregano, and pepper to a boil. Remove from the heat, cover, and let sit until the chiles are soft, for 30 minutes. Transfer to a blender and puree until smooth.
3. In a large heavy pot over medium-high, heat 2 tablespoons of the oil. Cook the chicken, skin-side down, until deep golden brown, for 5 to 6 minutes. Turn the pieces over and brown the other side, for 5 to 6 minutes more. Transfer the chicken to a plate. If there isn't at least 1 tablespoon of fat in the pot, add the remaining 1 tablespoon oil along with the potatoes, carrots, and onion. Cook, tossing occasionally, until the vegetables are lightly browned, for 4 to 6 minutes.
4. Pour the chile puree into the pot with the vegetables; scrape up any browned bits from the bottom of the pot. Nestle the chicken into the sauce and bring the mixture to a boil. Cover the pot, reduce the heat to low, and simmer until the chicken is completely tender and cooked through, for about 30 minutes.
5. Stir the vinegar into the pot and mound the chicken and vegetables on one side so there's room on the other side to dip the tortillas into the sauce.
6. Using tongs and working with one tortilla at a time, dip into the chile sauce, turning to coat, and cook in the sauce until softened (they will soften more as they sit), for about 3 seconds per side. Transfer the tortillas to a baking sheet as you go. Spoon 2 tablespoons of the queso fresco across the center of each tortilla and fold over like a taco.
7. Divide the enchiladas among four plates and spoon more chile sauce over top. Top with lettuce, more onion, crema, and any remaining queso. Serve with the chicken, vegetables, remaining sauce, and pickled jalapeños
Reprinted with permission from Mi Cocina: Recipes and Rapture from My Kitchen in Mexico by Rick Martinez copyright© 2022. Photographs copyright © 2022 by Ren Fuller. Published by Clarkson Potter/Publishers, an imprint of Penguin Random House.