How to make Popeyes chicken sandwich at home
Get a fried chicken sandwich without waiting in line or dealing with the chaos that comes with trying to get your hands on the most popular fast food item of the year.
Whether you've tried the mouthwatering, crispy, buttery and briny, savory chicken sandwich from Popeyes or not, chef Michael Symon shared the best way to recreate one (or four) in your own kitchen.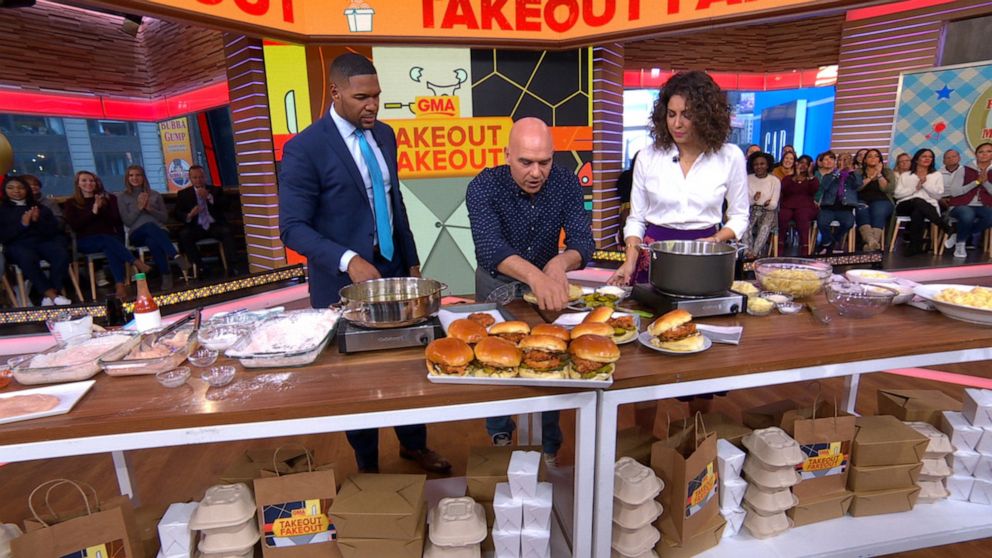 The chef joined "Good Morning America" for Takeout Fakeout to recreate two highly popular food delivery items, fried chicken and macaroni and cheese.
The key to perfectly recreating the coveted chicken sandwich? Start with really good brioche buns and let the chicken soak submerged in buttermilk overnight to keep it juicy and tender.
Check out the full recipes below and get a taste of the two southern favorites right at home.
Buttermilk Fried Chicken Sandwich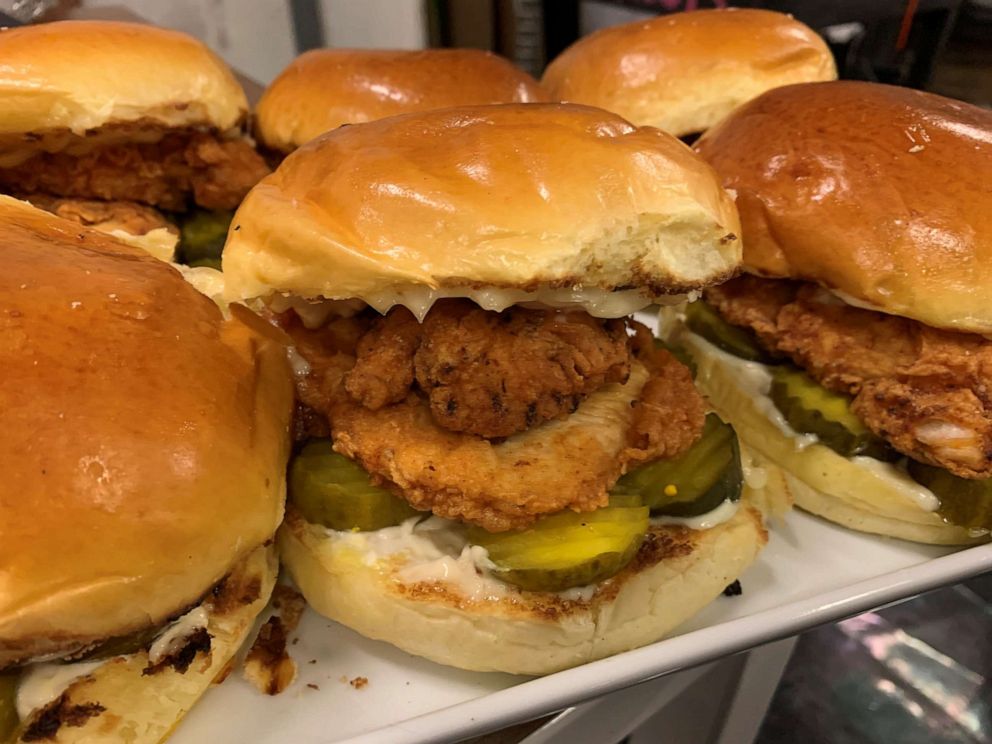 Ingredients
4, 6 ounce boneless skinless chicken breasts
1 cup buttermilk
1 teaspoon sweet paprika
1 teaspoon garlic powder
1 teaspoon kosher salt
1 teaspoon black pepper
1 tablespoon Louisiana Hot Sauce (increase to 2 tablespoons if making the spicy version)
1 cup all purpose flour
1 cup cornstarch
1 tablespoon sweet paprika
1 tablespoon garlic powder
1 tablespoon cayenne (if making the spicy version)
Oil for frying
4 soft brioche hamburger buns
1 tablespoon unsalted butter, melted
Dill pickle chips, for serving
Hellman's or Dukes Mayo, for serving
Directions
Lay out your chicken breasts on a cutting board and cover with a piece of plastic wrap. Using a meat mallet, pound the chicken to an even half-inch thickness. Trim down to the size of your bun if preferred.
In a mixing bowl whisk together the buttermilk and next five ingredients. Submerge the chicken in the buttermilk overnight or for at least four hours.
In the meantime, heat a pot of oil to 350 degrees for deep frying.
In a mixing bowl whisk together the flour, cornstarch and seasonings.
Drizzle two to three tablespoons of the buttermilk into the flour mixture and mix loosely with a fork, creating some small clumps. This will help the chicken achieve a jagged, flakey crunch.
Remove one piece of chicken from the buttermilk, letting the excess drip off. Place it in the flour mixture and turn to coat evenly. Gently press the breading into the chicken and repeat with the remaining pieces.
Deep fry for four to five minutes, until the chicken is crunchy and cooked to an internal temperature of 160 degrees. Remove to a draining rack and season with salt.
Brush the cut side of the brioche buns with melted butter and toast.
To assemble, spread the bottom half of the bun with mayo and add a few pickle slices. Place a piece of chicken on and top with the other half of the bun. Serve.
Decadent Stove Top Mac and Cheese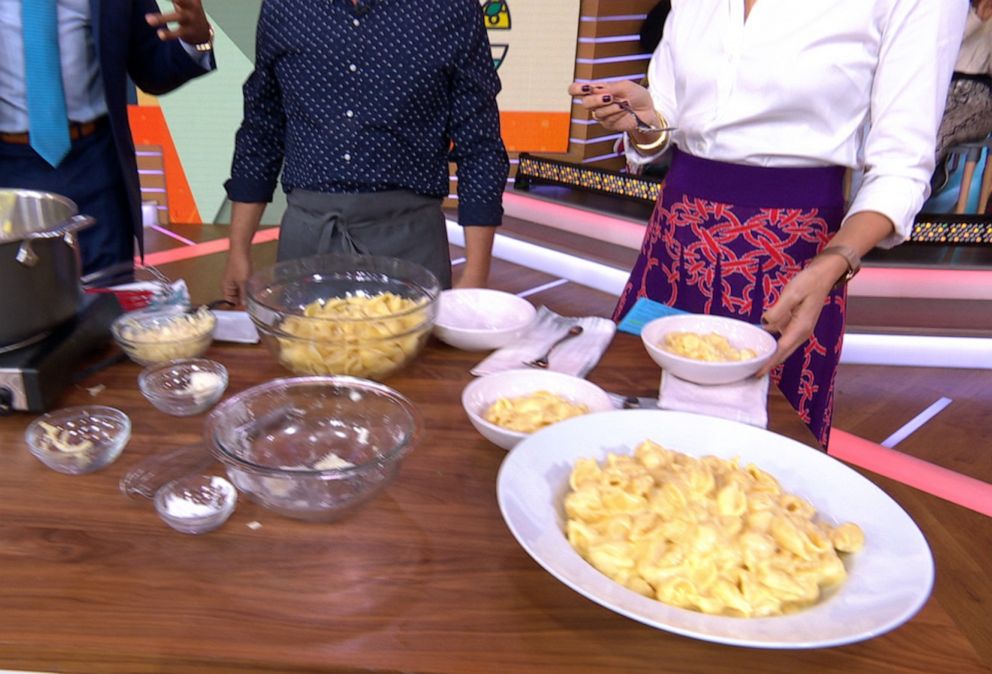 Ingredients
Kosher salt, to taste
1 pound box medium shells pasta
5 cups heavy cream
1 clove fresh garlic, minced or grated on a microplane
4 ounces cream cheese
8 ounces cheddar cheese, grated on the large holes of a box grater (abt. 3 cups)
4 ounces Monterrey jack cheese, grated on the large holes of a box grater (about 1 1/2 cups)
1/3 cup freshly grated parmesan cheese
2 teaspoons cornstarch
Your favorite hot sauce, to taste (Franks Red Hot)
Directions:
Bring a large pot of salted water to a boil. Cook the pasta according to package directions then strain and rinse under cold water. Set aside.
Place the pot back over medium heat and add the cream and garlic. Bring to a gentle boil and reduce by half, whisking occasionally so the cream doesn't boil over. About one hour.
In the meantime, combine the shredded cheeses and parmesan with the cornstarch in a mixing bowl.
When the cream has thickened and reduced, whisk in the cream cheese followed by the remaining cheese mixture. Season with salt and hot sauce to taste. Mix in the cooked pasta and serve.
This story was first published on November 8, 2019.