It's peak football season, which makes it the perfect time to MVP your meal.
Celebrity chefs David Rose, Damaris Philips, Samantha Davis and George Duran, joined "GMA" to dish up their best game-day burger recipes.
George Duran's Short Rib Whiskey Burger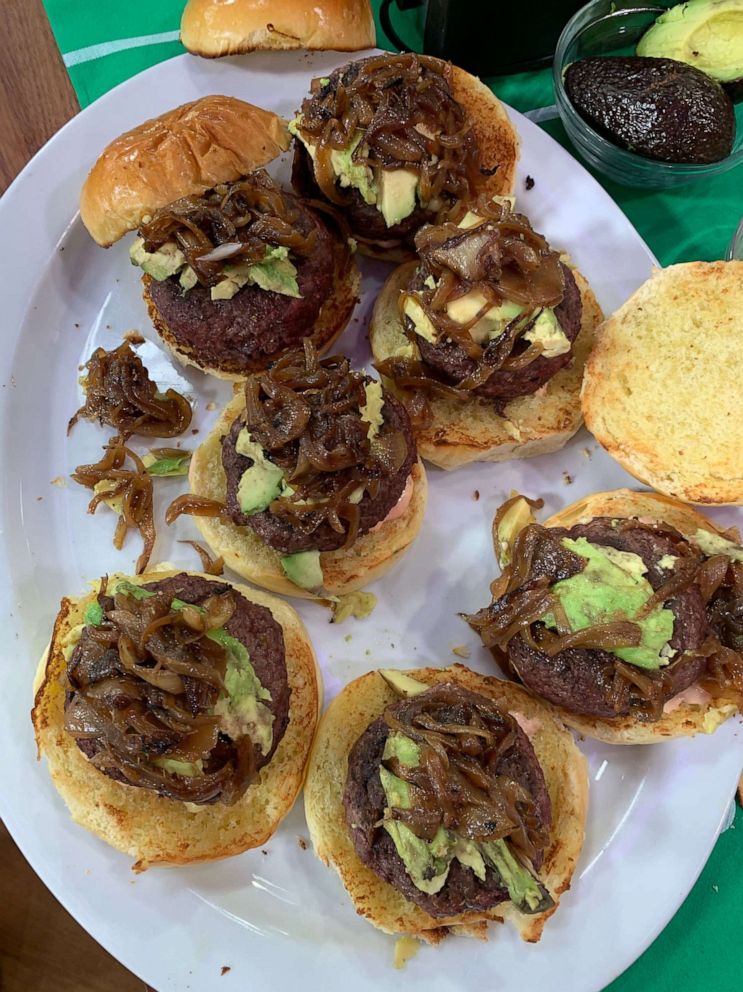 Whiskey is Duran's magic ingredient to enhance the onions and add a sweet, oak barrel flavor.
Ingredients: 1 lb. ground short rib
1/2 teaspoon kosher salt 1/2 teaspoon freshly ground pepper
2 Jarlsberg cheese cubes, cut into 1-inch square by 1/2 inch high
Pickled red onions
Arugula
Olive oil
Brioche buns
For Caramelized Whiskey Onions
1/2 tablespoon vegetable oil
1 tablespoon butter
1 lb. yellow onions, sliced 1/4 inch thick
1 tablespoon light brown sugar
1/2 teaspoon kosher salt
1/4 teaspoon freshly ground pepper
1/2 cup whiskey of your choice
Mayo Sauce
4 tablespoons mayo
2 tablespoons ketchup
1 teaspoon sweet relish
Directions:
Make caramelized whiskey onions by heating vegetable oil and butter in a nonstick pan on high heat. Once butter stops foaming, add onions and sauce for three to four minutes, until softened.
Mix in brown sugar, salt and pepper and continue cooking until lightly browned. Add whiskey and allow to reduce until you have a thick browned onion. Set aside.
Preheat an outdoor grill or griddle on high heat.
Make mayo sauce by whisking all three ingredients and set aside.
Divide ground short rib into two balls and place the cheese cube in the center. Mold a burger around the cheese until you have a patty covering the entire square cheese. Season with plenty of salt and pepper on all sides.
Grill burgers to desired doneness and toast buns with some olive oil.
Assemble burger on bottom toasted bun with caramelized onion, burger, sauce, pickled onion, arugula and top bun. You will now be officially in burger heaven.
David Rose's All American Burger with Black Pepper Bacon Candy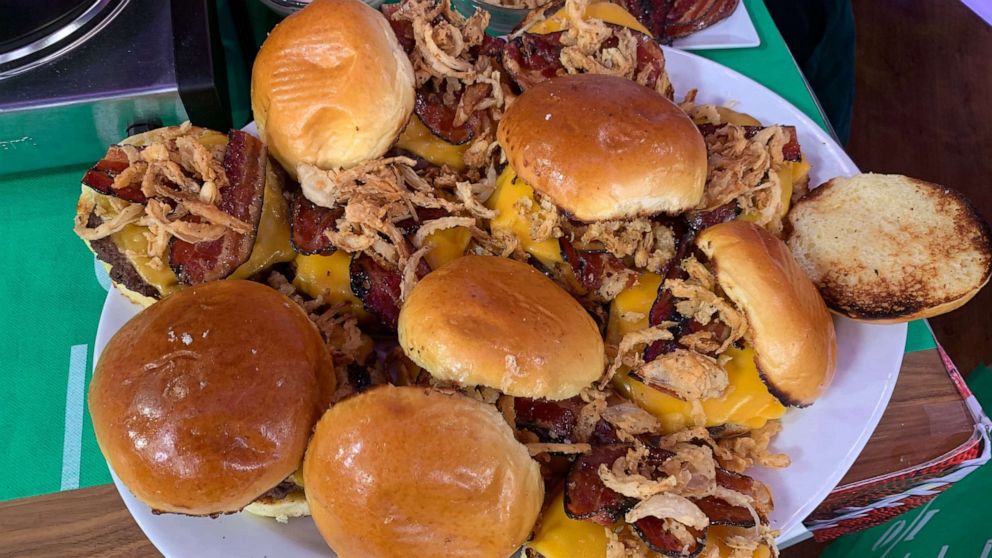 Crispy fried onionsIngredients:
1 medium yellow onion (sliced in half & julienned)
1 cup buttermilk
1 cup flour
1.5 teaspoon salt
1 teaspoon black pepper
1/2 teaspoon garlic powder
1/4 teaspoon paprika
Canola oil for frying
Directions for crispy onions:
Place all in dry ingredients into a medium mixing bowl, and whisk together until well incorporated.
Add canola oil to sauce pot, until about 2" high, turn to medium high heat.
Place onions in buttermilk, and then toss into flour mixture; shake off excess flour.
Fry onions in small batch, to not overcrowd sauce pot; fry until onion straws are golden brown about four to six mins. Drain on paper towel lined plate.
Chipotle aioliIngredients:
1 cup kewpie mayo
1/4 cup diced bread & butter pickles
1/2 of a chipotle pepper in adobo
Juice is 1/2 a lemon
1/2 teaspoon rice wine vinegar
1/2 teaspoon black pepper
1/2 teaspoon garlic powder
1/2 teaspoon paprika
1 teaspoon salt
1 tablespoon bread & butter pickle brine/juice
Add all ingredients into food processor and blend until smooth; season to taste with salt and pepper.
Black Pepper Bacon Candy 10 slices thick cut bacon
1 cup maple syrup
1 tablespoon brown sugar
1 teaspoon black pepper
1/4 teaspoon cayenne pepper
Directions:
Preheat oven to 375 degrees. Place bacon on wire rack over sheet pan. When oven reaches 375 degrees, place bacon in center of oven.
In a medium sized bowl whisk together maple syrup, brown sugar, black pepper and cayenne pepper.
After 18 to 20 mins flip bacon and continue cooking until slight brown.
Brush the bacon with the maple syrup/brown sugar mixture, cook another five minutes, flip bacon again and brush with mixture.
Continue to bake until golden brown, lacquered and crispy, about another 10 mins. Remove bacon from wire rack and completely cool to room temperature on parchment paper.
All American Burger
1 lb ground beef (80/20 mix meat to fat ratio)
4 slices American cheese
Kosher salt
black pepper
4 sesame seed buns
Canola oil
1 tablespoon unsalted butter
Directions:
Divide and roll ground beef into four equal size meatballs.
Using a piece of parchment paper on each side of the meatball, place on tortilla press and flatten patty until about half an inch thick.
Season liberally with salt and black pepper on both sides.
Use griddle or cast iron pan on medium high heat, add a thin layer of canola oil.
Place patty on cast iron until a nice hard crust begins to form on bottom of patty; about four to six minutes.
Flip patties, and place one slice American cheese on each patty, continue to cook until cheese melt about three to four minutes.
Butter and toast and sesame seed buns. To assemble, spread a thin layer of chipotle aioli on each side of bun. Place burger on bottom bun. Top with two strips of black pepper bacon candy and finish with a heaping mound of crispy onions straws and top bun.
Damaris Phillips' Reuben Burgers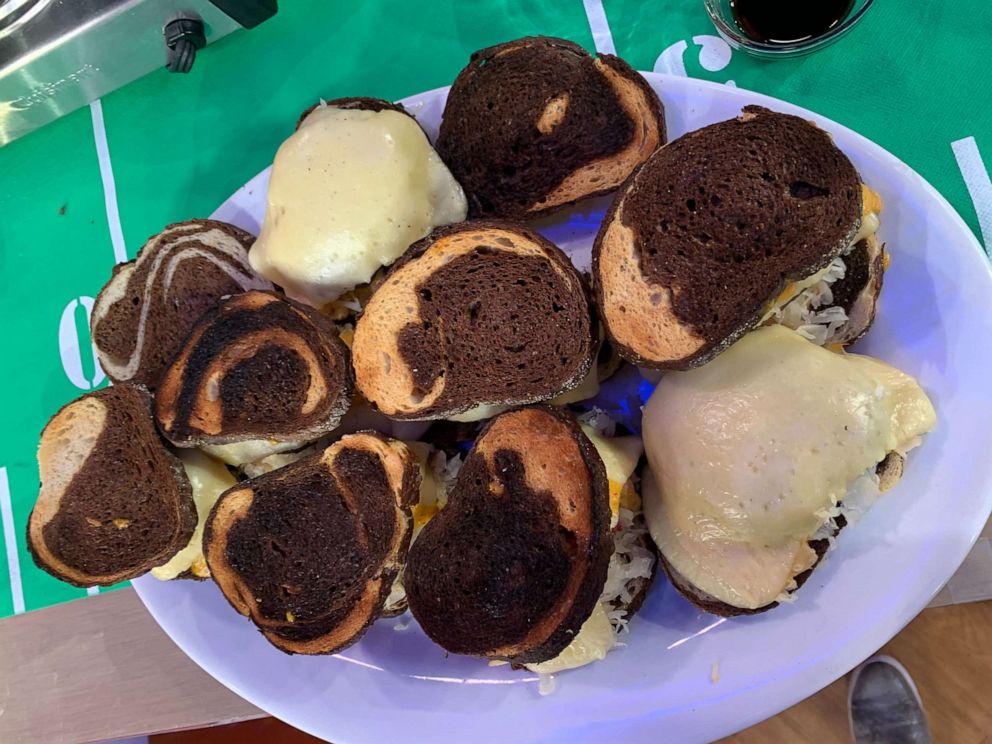 Ingredients:
1/2 cup corned beef, thinly sliced, chopped
12 oz ground beef
1 teaspoon kosher salt and 1 tablespoon freshly ground black pepper
1 1/2 cups sauerkraut, drained and warmed
8 sliced marble rye or seeded rye bread, toasted
4 - 6 slices Lacey Swiss cheese
KY style Russian dressing (recipe below)
Directions:
In a large bowl combine the ground beef, corned beef, salt and pepper. Stir to combine. Shape into 4 Evan ovals. Heat a cast iron pan over medium high heat until hot. Sprinkle pan with kosher salt. Add the burgers and press down with the back of a spatula until 1/8 inch thick. The burger should be similar in shape to the bread.Cook two to three minutes, until just a bit of red is visible on top. Flip. Add cheese, cover and cook another 30-60 seconds. Torn off the heat.
To each slice of bread add one tablespoon Russian dressing. Now let's build.
Bottom layer of bread, dressing, burger, sauerkraut, dressing bread.
KY style Russian dressing
2 cup full fat mayonnaise
1/4 cup ketchup
2 tablespoon hot dill relish
2 tablespoons whole grain Dijon mustard
1 tablespoon bourbon
1/2 - 1 teaspoon liquid smoke
1/4 teaspoon garlic powder
Kosher salt and freshly ground black pepper, to taste
Add all the ingredients except the salt and pepper to a large bowl and stir until smooth and evenly combine. Taste and season with salt and pepper.
Samantha Davis' Spicy Quinoa Veggie Burger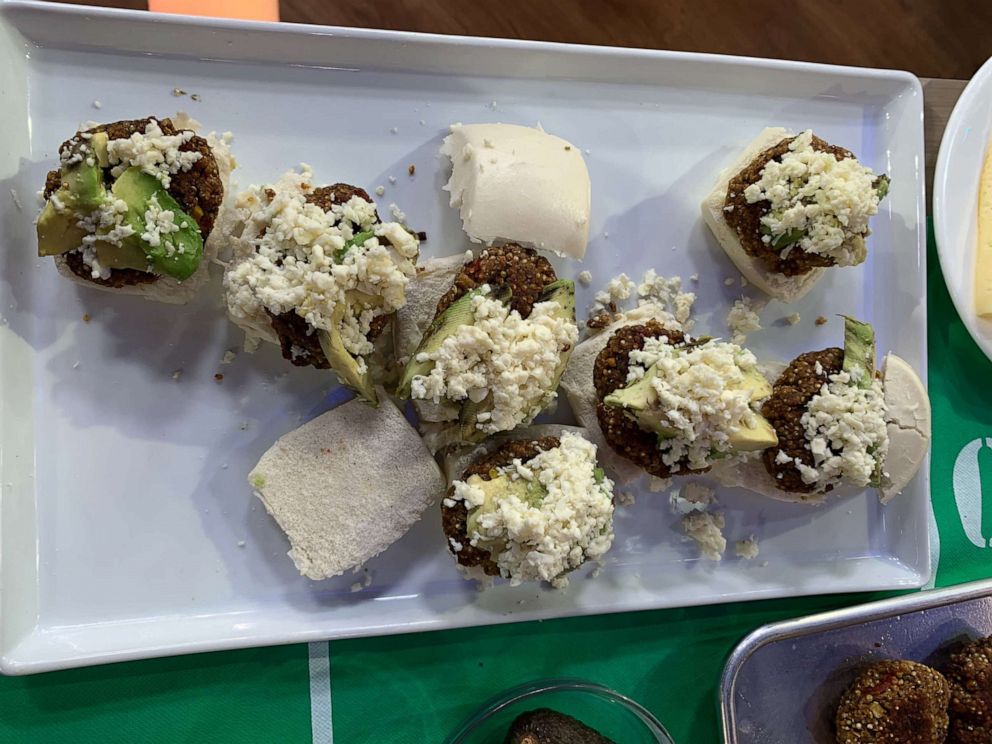 Ingredients:
2 cups black beans
1/2 sprigs thyme
1 quart white quinoa, rinsed
1 corn, husked, and charred/roasted
1 cup sliced cremini mushrooms
1 white onions, diced
1/2 large red pepper, roasted and diced
1 poblano pepper, roasted and diced
1 1/2 cloves garlic, sliced
2 cups chickpeas
1 large egg, beaten
1 tablespoon lemon juice
3-4 cups panko bread crumbs
1 tablespoon Dijon mustard
1 tablespoon curry powder
1 tablespoon cumin
1 tablespoon smoked paprika
1 teaspoon cayenne pepper
Kosher salt (to taste)
Directions:
Bring quinoa, thyme and two cups cold water to a simmer in a small saucepan with lid over medium heat for seven to 10 minutes. Remove from heat and let sit, covered for five minutes.
Char corn all over on grill until evenly charred all over. Let cool, then cut kernels from cob and set aside.
Roast red pepper in oven until soft. Deseed, rough chop.
Preheat oven to 400 degrees. Grease a baking sheet with vegetable oil. Spread mushrooms over baking sheet. Roast in oven until dry, 15 to 20 minutes. Remove from oven and reduce temperature to 350 degrees. Remove and season with salt and pepper.
Heat two tablespoons vegetable oil in a large sauté pan over medium-high heat. Add garlic and toast, then add onions and poblanos and a pinch of salt, stir and cover. Cook until onions and poblanos soften, about eight minutes. Uncover, reduce heat to medium-low and continue cooking, stirring often and scraping up browned bits from pan, until onions caramelize.
To a large bowl, add black beans, chickpeas, mushrooms, corn, red pepper, quinoa, and onions and poblanos mixture. Mix all ingredients.
Pulse black beans, quinoa, onion mixture, corn, and chickpeas in a food processor until mixture resembles quinoa grains. Transfer to a large bowl and stir in egg, bread crumbs, Dijon mustard, curry powder, smoked paprika, cayenne, cumin, and salt to taste.Shape mixture into half-cup patties and place on a parchment-paper-lined baking sheet.
Sear to order in a well-oiled nonstick pan. Finish in the oven.
Steam a large bao bun and the burger is topped with stracciatella cheese and sliced avocado.